Kick-starting our festive excitement Seven Days of Us by Francesca Hornak, is a heart-warming study of family and forgiveness
@FrancescaHornak #SevenDaysOfUs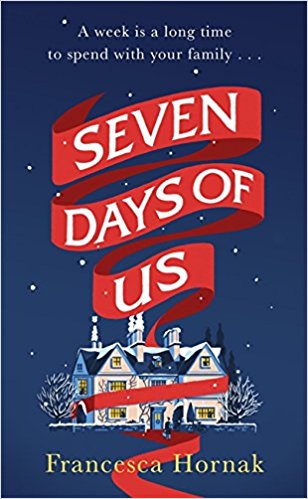 Kick-starting our festive excitement (before the reality of Christmas kicks in, perhaps – something the book deals with impeccably) Seven Days of Us is a heart-warming study of family and forgiveness: when a family is quarantined in Norfolk for Christmas on account of a daughter's exposure to an exotic virus, tensions are incubated (UGH, family!), but it's crucially so empathetic, too: there's a relatable voice for every reader and no one's perfect, but the book teaches us that we can love them and ourselves anyway, which is the sort of satisfying takeaway we might get from a Richard Curtis film, or from books by Nick Hornby or David Nicholls, with perhaps a more delicate handling of gender politics than they're criticised for. The book observes, pokes-fun-at, uplifts, entertains.
FRANCESCA HORNAK is a journalist and writer, whose work has appeared in newspapers and magazines including the Sunday Times, Guardian, Grazia, Stylist, Elle, Marie Claire, Cosmopolitan and Red. Her column 'History Of The World In 100 Modern Objects' first appeared in The Sunday Times Style magazine in 2013 and ran for two years, later becoming a title with Portico. Francesca is also the author of a second nonfiction book, Worry with Mother (Portico).
Hardback | ISBN: 9780349415604 | 19 October 2017 | £12.99 | 320pp Ebook | ISBN: 9780349415581 Audio digital download | ISBN: 9781405538381 | 9hrs 59mins | Read by Jilly Bond | £19.99 SEVEN DAYS OF US | Francesca Hornak
Gripping, powerfully emotional and life-affirming. I read it in one sitting!' Maeve Haran
'Compassionate, witty and wise, Seven Days of Us is hugely entertaining' Saskia Sarginson, bestselling author of The Twins
'Funny, truthful, compelling' Fanny Blake
'Absorbing, insightful and immensely enjoyable' Laura Barnett
Elle book club pick
'Observes, pokes fun and entertains' The Sun 'Touching, funny, emotionally intelligent, Seven Days of Us is pure pleasure from beginning to end. It's stylishly written and totally engrossing. I really, really loved it' Adele Geras
'I [was] captivated by this extraordinary page-turner. The plot is compulsive and doesn't let up till the very last chapter. It has more twists and turns than Hampton Court Maze and yet Francesca Hornak guides one through it all with a confident hand until one puts it down, exhausted but exhilarated by such a rollicking good read. Terrific' Virginia Ironside
'An engrossing and funny study of a middleclass British family in crisis. I loved it!' Keith Stuart, bestselling author of A Boy Made of Blocks
'An emotional but ultimately uplifting holiday story' Kirkus
'Hornak's wry, masterful portrayal of a family in crisis is filled with flawed and funny characters who will capture – and break – your heart' Fiona Davis, author of The Dollhouse
'A farcical gem, perfect for fans of Matthew Norman and Emma Straub. Alternately tender and razorsharp, Seven Days of Us will resonate with anyone who regresses the minute they step inside their childhood home' Booklist starred review
'A warm, funny and sad novel about a family in crisis. I loved it' Woman & Home
'The plot is genius… and the results are hilarious and touching' Daily Mail 'Sharply observed by Hornak's satirical eye, this has 'Working Title film deal' written all over it' Glamour
'A really good book' InStyle.co.uk
'Wonderfully Richard Curtis-esque' Good Housekeeping 'Hot Reads'
'Funny, charming and clever' Refinery29
Meet the Birch Family in this funny, tender, sometimes shocking but ultimately heart-warming family drama about a group of nearest-and-not-always-so-dearest forced into spending a week together at Christmas.
For fans of David Nicholls, Nick Hornby, Laura Barnett & Richard Curtis
It's Christmas, and the Birch family is gathering for the first time in years…
Emma is elated at having everybody under one roof, but her oldest child, Olivia, is only home because she has nowhere else to go. She's just returned from treating an epidemic abroad and must stay in quarantine for a week – and so too should her family.
For the next seven days, no one can leave the house, and no one can enter.
It doesn't sound too hard. But a week with your nearest and dearest can feel like an eternity, especially when they're all harbouring secrets.
One of whom is about to come knocking on their door…