INSTAGRAM | FACEBOOK | PINTEREST | HOUZZ | TWITTER | YOUTUBE
Ashvin Harrison VISUAL ARTIST prints available globally on www.bluethumb.com.au (Shipping Globally)
I create based on my feelings for life and death… dark shadowing, strong contrast and a sense of light from above is often evident in my works.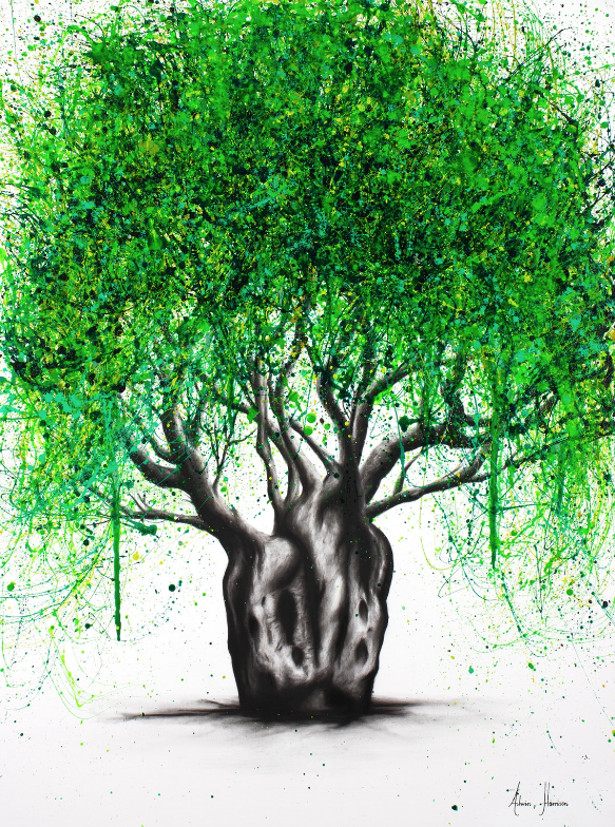 My latest creation is based off an older work I created. I have now created enough tree inspired works to consider them a series. I come back to this idea as it links well to my views on life. You'll notice I create most of my works in a singular form or through a sense of isolation. I also leave most background white to hint at timelessness through an existential view. I aim to make the focus of the piece set without time restriction, as if it could exist in any time or place. This boab tree is based off a boab I took photos of on my travels through Northern WA in 2008. Such a beautiful place to sit and think.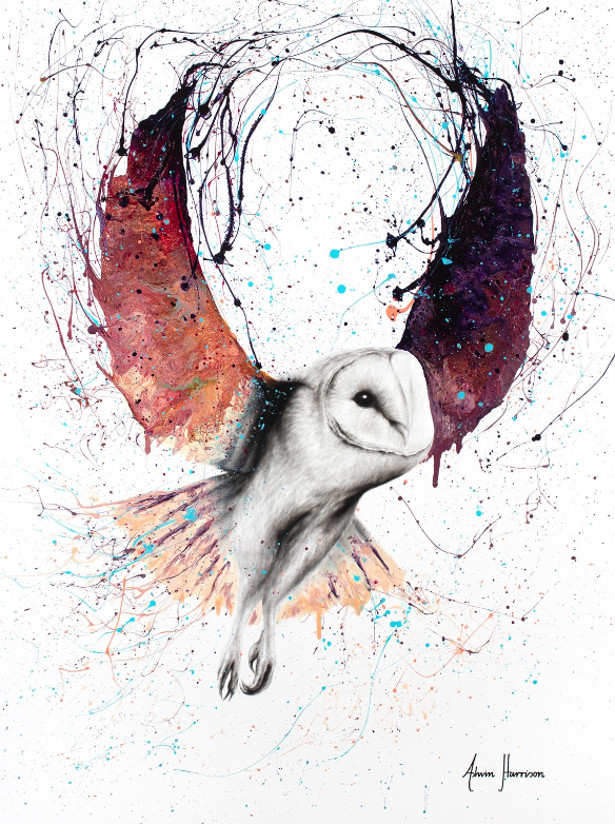 My latest creation is inspired by the beauty and mysterious nature of an owl and also a clear night sky. I, like so many, love owls. I started with charcoal to create a strong angle and deep shadow. I then added highlights to hint at night lighting reflections. A mix of acrylics and resin was then poured and splashed around the canvas to express movement, emotion and vibrant beauty. Ready to hang high quality canvas.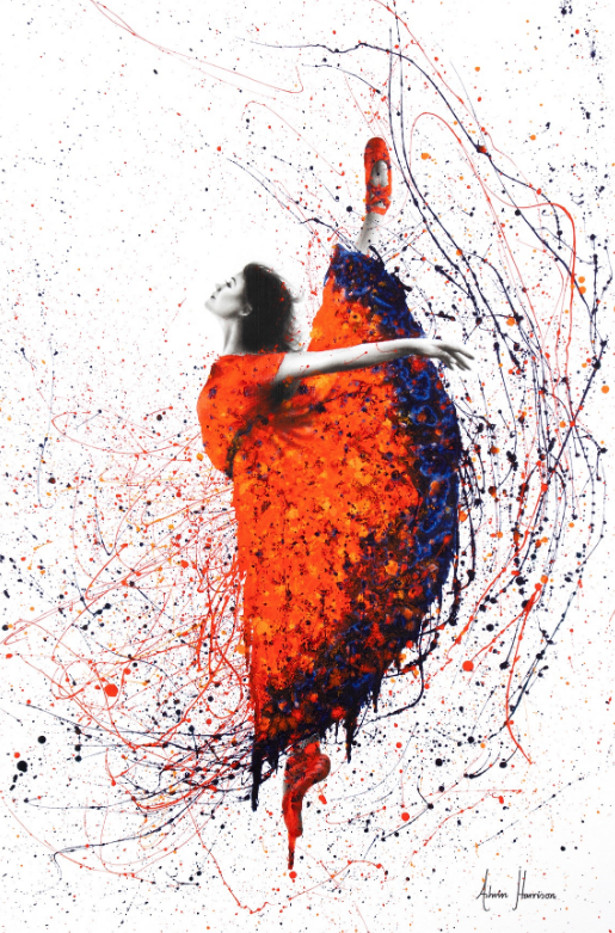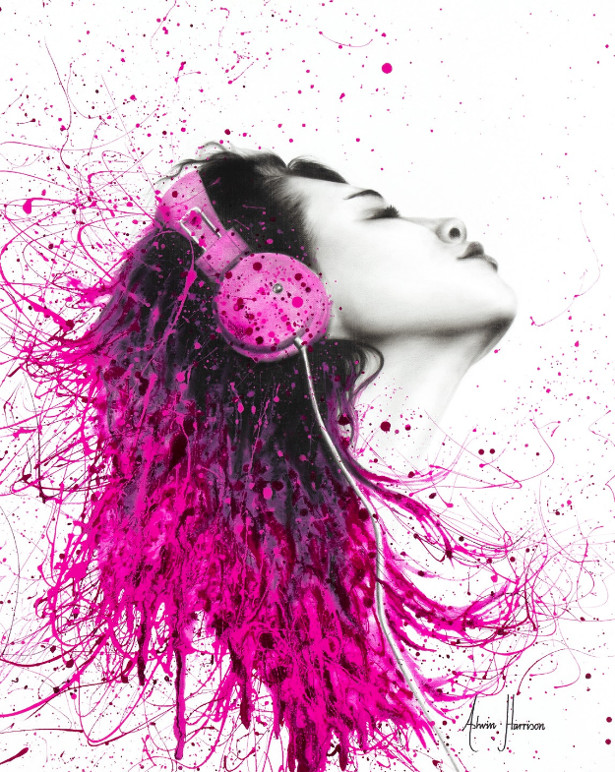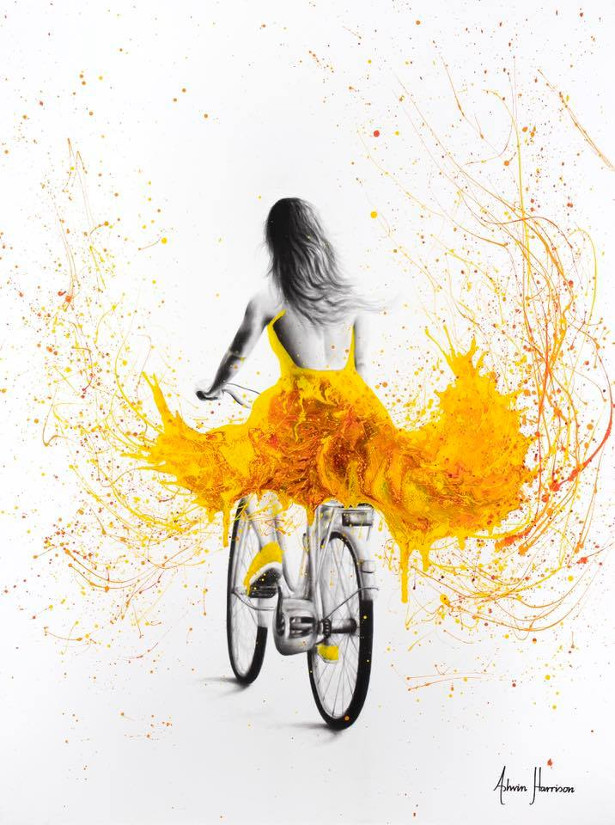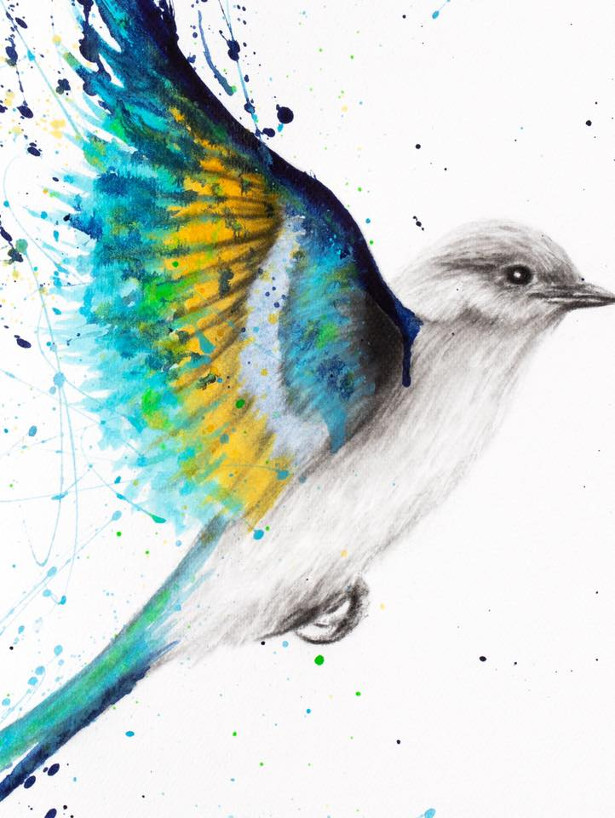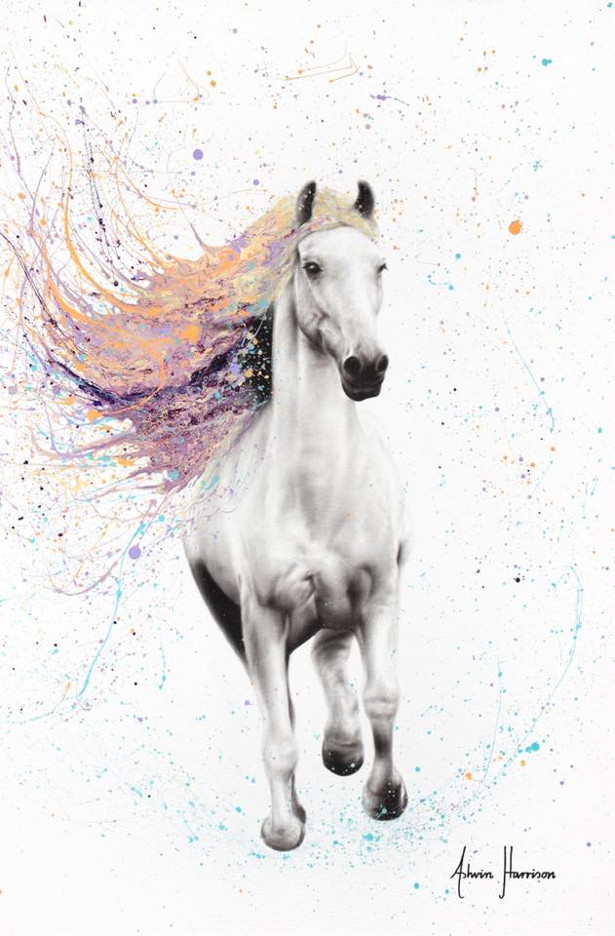 My charcoal and acrylics horse painting is created with a focus on freedom, time and the rhythm of life. I created a photorealistic looking horse with delicate charcoal brushing and smudging. I then splashed acrylics and acrylic mediums throughout with an intension to create motion within my desired theme/perspective on life. This art piece has 8 colours blended in a fluid look. It also created some additional colour blends throughout.
Set of 2 ProCook Crystal Champagne Glasses
Typical price £17
Only £10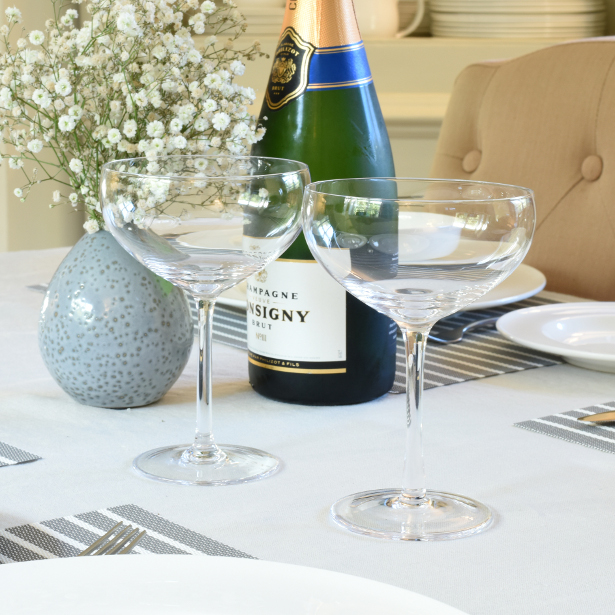 These stunning crystal champagne saucers will make a great gift for Mum when paired with a bottle of her favourite bubbly. Made from fine quality crystal, the saucers have the distinctive wide coupe design, which allows more bubbles to rise to the surface for a delightfully fizzy drinking experience. The saucers perfect for entertaining and make an elegant gift, ideal for Mums with taste and style.
Buy online at procook.com
https://www.procook.co.uk/product/procook-crystal-champagne-saucers-set-of-2?basket=new
Brewing up the perfect gift this Mother's Day
– Essential gift guide from Ringtons –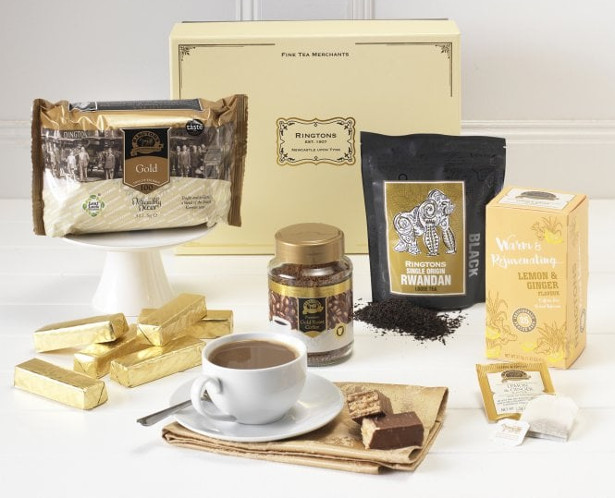 Whether you have a mum who has everything, a mother who deserves to be spoilt rotten, or a mam who you struggle to buy for, this Mother's Day (31st March 2019) look no further than British tea and coffee merchant Ringtons whose range of unique and special gifts will show her just how much you care.
The selection of beautiful gift boxes contain expertly blended teas, rich coffees, luxurious biscuits, delicious fruit and herbal infusions and homeware. With prices starting at just £12.95 the gifts are the perfect treat for mums who deserve some much-needed 'me time' – which let's face it is all of them – and the Ringtons gifts featured are available exclusively via www.ringtons.co.uk.
Lindisfarne Gift BoxRingtons Lindisfarne Gift Box – £14.95
The Lindisfarne Gift box includes a selection of irresistible tea, coffee, infusions and biscuits. This stylish gift includes the company's Gold tea bags which hold a prestigious 3-star Great Taste Award and the award-winning Rwandan Loose Tea (1-star Great Taste Award), making this gift a golden delight!
· Gold Tea Bags x 100
· Premium Gold Instant Coffee (100g)
· Milk Chocolate Caramel Wafers (8 x 30g)
· Lemon & Ginger tag and envelope Tea Bags x 25
· Rwandan Loose Tea (100g)
· Presented in a stylish two-part gift box
The Lindisfarne Gift Box is part of the Ringtons Castle collection – view the full range here: https://www.ringtons.co.uk/search/castle-collection
Rainforest Loose Tea Gift BoxRingtons Rainforest Loose Tea Gift Box – £13.95
This gorgeous green tea gift set is guaranteed to brighten up this Mother's Day. The ideal gift for a mum who loves a health-boosting green tea, the set includes the elegant and floral Green Jasmine tea which holds a 2-star Great Taste Award and the gentle and sweet Green Sencha.
Green Sencha Loose Tea (100g)
Green Jasmine Loose Tea (100g)
Loose tea stick infuser
· Presented in a luxury gift box
The Rainforest Loose Tea Gift Box is part of the Ringtons Loose Tea collection – view the full range here: https://www.ringtons.co.uk/search/loose-tea-gift-box
Favourites Gift BoxRingtons Favourites Gift Box – £12.95
This Ringtons gift box is brimming with a selection of Ringtons best sellers. Including rich and refreshing Traditional tea bags (2-star Great Taste award) and tasty coffee, the box is finished with the company's best-selling Ginger Snap and Caramel Wafer biscuits. The perfect introduction to Ringtons or treat for a fan!
· Traditional Tea Bags x 100
· Premium Gold Instant Coffee (100g)
· Hand Baked Ginger Snaps (300g)
· Milk Chocolate Caramel Wafers (8 x 30g)
· Presented in a Ringtons gift box
https://www.ringtons.co.uk/images/ringtons-strawberries-cream-loose-tea-lovers-gift-box-p1087-4130_image.jpgStrawberries & Cream Loose Tea Lovers Gift Box – £34.99
This beautiful gift box contains a stylish stump teapot and Ringtons delicious Strawberries & Cream infusion. The rich and fruity infusion is inspired by the classic flavours of British summer, contains real strawberry pieces and is blended with creamy vanilla flavour. The result is a delicious blend that is full of character and naturally caffeine-free.
· Red stump teapot with removable infuser (14oz/400ml)
· Loose-Leaf Strawberries & Cream Infusion (100g)
· Presented in a solid two-part gift box
The Strawberries & Cream Loose Tea Lovers Gift Box is part of the Ringtons Tea Pot collection – view the full range here: https://www.ringtons.co.uk/loose-tea-lovers-t188
Ringtons Victorian House Biscuit Hamper – Online ExclusiveVictorian House Biscuit Hamper– £10.99
Packed in a traditional Victorian house box, this biscuit hamper includes a selection of Ringtons biscuits as well as some award-winning Breakfast tea – after all you need something to dip all of those biscuits into.
Breakfast Tea Bags x 50
Hand Baked Ginger Snaps (300g)
Chocolate Brazil Nut Biscuits (200g)
Shortbread Rounds (200g)
Sultana Cookies (250g)
Triple Chocolate Cookies (200g)
Presented in Victorian house style box
Woodland Loose Tea Gift BoxRingtons Woodland Loose Tea Gift Box – £13.95
An ideal gift for loose leaf fans, the Woodland Gift Box contains a duo of classic blends including the 2-star Great Taste Award winning Earl Grey and a light and fragrant Afternoon Loose Tea blend.
· Afternoon Blend Loose Tea (100g)
· Earl Grey Loose Tea (100g)
· Loose tea stick infuser
· Presented in a luxury Ringtons gift box
The Woodland Loose Tea Gift Box is part of the Ringtons Loose Tea collection – view the full range here: https://www.ringtons.co.uk/search/loose-tea-gift-box

Half a day with a HomeMaker!
www.theorganisershomemaker.com
How fabulous, sit back and enjoy a cup of tea whilst someone declutters your home … or better still, get taken out to lunch and come back to it all organised!
From £400 + VAT ….
DIDSBURY GIN
A MOTHER'S DAY GIFT FOR ANY GIN LOVER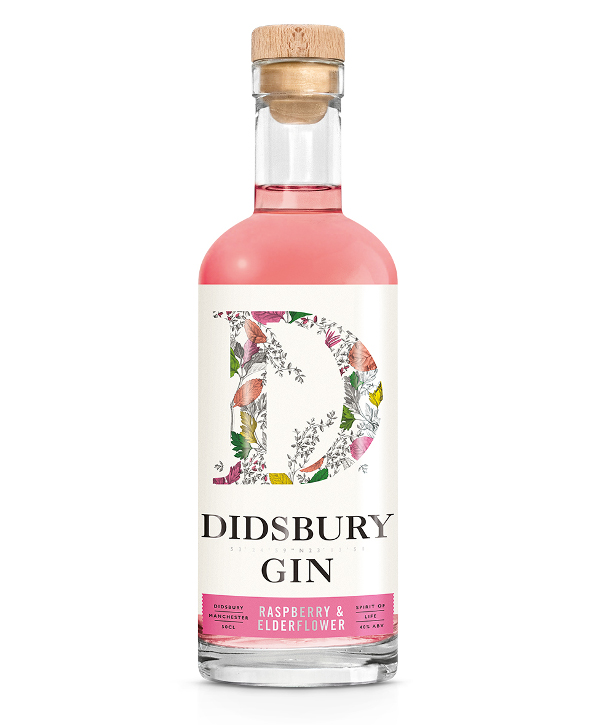 This Mother's Day, buy the important lady in your life a gift that keeps on giving in the form of Didsbury Gin's Raspberry and Elderflower pink gin – as seen on Dragons' Den.
A welcome alternative to flowers and chocolates this year, this pink gin in a floral bottle (RRP £19) is the perfect gift for any gin lover, and can be paired with tonic or copa glasses as a thoughtful gift this March.
Hand crafted in eco-friendly copper stills it is a combination of Didsbury Gin's original gin, fresh British raspberries with subtle notes from locally foraged elderflower.
A range of bright, vibrant and zesty gins created by gin drinkers for gin drinkers. Created by two Manchester gin enthusiasts Mark Smallwood and Liam Manton, Didsbury Gin, has been hailed by Vogue Magazine as 'one of the most exciting new British gins'.
Taking inspiration from the vibrancy and colourful nature of Parsonage and Fletcher Moss botanical Gardens in south Manchester, Didsbury Gin is a refreshing citrus twist on a classic London dry gin, with a Mancunian background.
Already stocked in Selfridges and Harvey Nichols, Didsbury Gin is set to be the Gin of 2019. For more information visit https://www.didsburygin.com/.
In January 2019, Liam and Mark were seen on BBC Two's hit show Dragons' Den, as they pitched in front of the show's five resident multi-millionaires in a bid to convince them to invest their own cash in the craft gin company.
After some initial banter between the multi-millionaires, Liam and Mark hooked in offers from both Jenny Campbell and Tej Lalvani. Ex-career banker turned business turnaround specialist and European cash machine entrepreneur Jenny prides herself on helping young talent realise their potential and the gin-makers felt an instant chemistry with her. With Jenny's well documented love of gin and her own home gin bar already, they knew she was the right choice and have since gone through an upscale, rebrand, and are soon set to announce a number of listings with some of the UK's biggest bar groups.
Mama Knows
Iris Silicone Teething Necklace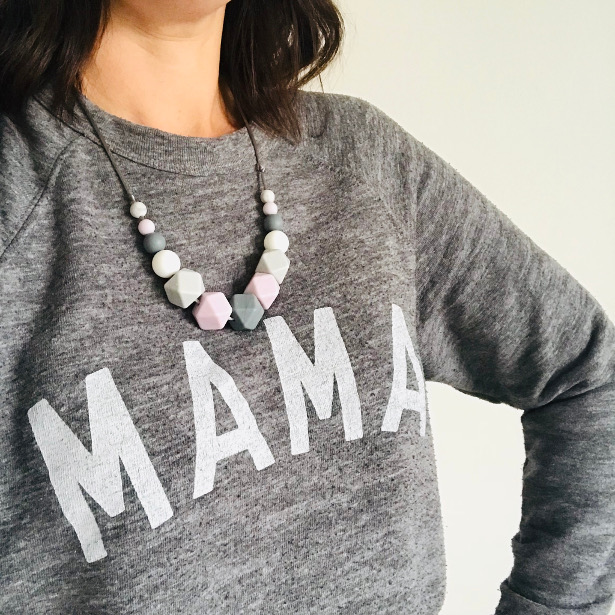 Stylish silicone teething necklace which doubles as a distraction when breastfeeding. Safe for babies to grab and chew whilst still being stylish for mum. Perfect gift for first Mother's Day, a new mum or baby shower gift.
View product on company website:https://www.mamaknows.co.uk
Price: £15.00
Dr. Bronner's
America's No. 1 Selling Natural Soap Cleans Everything and Leaves You with a Clean Conscience
… a simple loving gift this Mother's Day. Focused on cleanliness and kind to skin.

TWITTER | FACEBOOK | PINTEREST | INSTAGRAM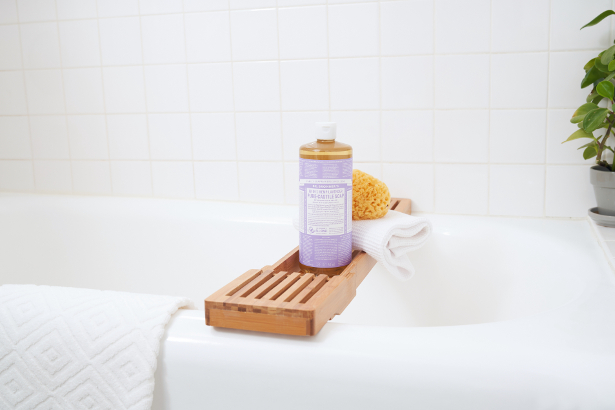 Dr. Bronner's is the USA's No. 1 selling natural soap brand and the leader in organic and Fair Trade skin care. With famous fans including Kate Hudson, Lady Gaga, Natalie Portman, Drew Barrymore, Sandra Bullock, Eminem and Bobbi Brown, this soap is lathering its way into British homes and hearts with its philosophical labels, certified Fair Trade and organic ingredients and uncommon quality. Make up artist Bobbi Brown championed Dr Bronner's on The Oprah Show "It's probably the finest soap in the universe. I'm obsessed with it. I cannot get enough of it!"
The magic of Dr. Bronner's is its affordability and versatility, with 18 uses from 1 bottle of liquid soap at £6.99 per 237ml bottle. Best used with a cloth, towel, loofah or sponge you can use it to clean your body, your mouth & teeth, your fruit & vegetables, your bathroom and kitchen, your clothes and even your pets! It comes in 9 main varieties, the original being the famous tingly Peppermint – "nature's own unsurpassed fragrant Deodorant!" – followed by Lavender, Green Tea, Eucalyptus, Citrus, Almond, Rose, unscented Baby Mild and Tea Tree which can even be used to treat minor cuts.
The soaps are most popular for at-home washing, but are also the soap of choice for many campers and hikers. They contain no synthetic foaming agents, thickeners, preservatives, fragrances, dyes or whiteners and use 100% post consumer recycled (PCR) cylinder bottles and paper labels. Completely biodegradable, the soaps are made with certified Fair Trade and organic ingredients sourced from India, Ghana, Palestine, Israel, and Sri Lanka.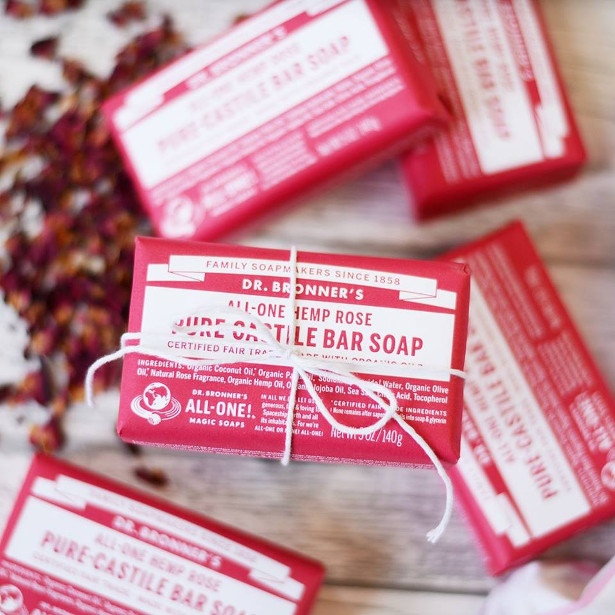 Dr. Bronner's takes its organic credentials very seriously unlike many "natural" body care companies who masquerade their synthetically derived ingredients by using floral water as the main natural ingredient, while the functional ingredients are petrochemical derived and thus non-sustainable. The100% Pure Castile Soap recipe used in Dr. Bronner's soap is a simple, ecological, vegetable based formulation, named after the Castile region of Spain where olive oil soaps where invented long ago. The high foaming lather of the soap is from its high coconut oil content, which makes a more luxurious and rich lather compared to any detergent formulation commonly found even in "natural stores." Dr. Bronner's superfat their soaps with organic hemp and jojoba oils for a milder, smoother lather and use natural plant-derived vitamin E and citric acid to protect freshness. Apart from flavouring organic essential oils such peppermint, the base soap ingredients are Water, Saponified Organic Coconut*, Organic Palm* and Organic Olive* Oils (w/Retained Glycerin), Organic Hemp Oil, Organic Jojoba Oil, Essential Oils**, Citric Acid, Vitamin E.
Dr. Bronner's soaps have been certified by the Vegan society UK. This certification assures the growing population of vegans that no animal testing or animal ingredients are used in Dr. Bronner's products that carry the certification.
Other products in the Dr. Bronner's range include Hand & Body Lotions, 4-in-1 Sugar Pump Soaps, Organic Lip Balms, Pure-Castile Bar Soaps, Organic Hand Sanitiser, All-One Toothpastes and – new for 2018 – new Whole Kernel Virgin Coconut Oil.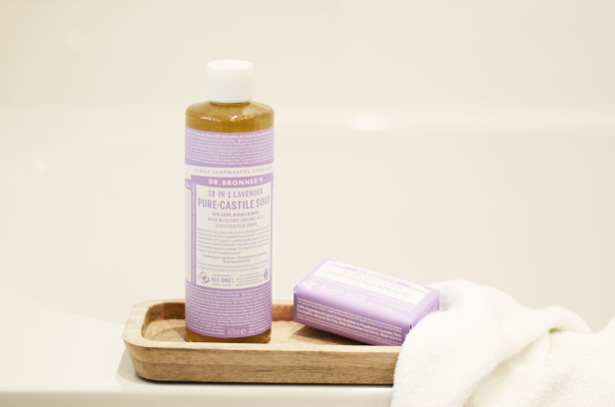 The Background The dramatic exhortations on the labels of the soap packaging come from the mind of Dr. Emanuel Bronner, a third-generation master soap maker who spent his life renouncing hate and war on a personal mission to unite mankind. He was born in 1908 to the German-Jewish Heilbronner family, which had been practicing the traditional local craft since 1858. In 1929, Bronner, then aged 21, immigrated to the US working as a consultant soap manufacturer. But following the death of his family in the Holocaust, he embarked on a mission to spread this message of world peace and the dangers of communism and fascism by giving public lectures on these subjects. His strong views landed him in a mental asylum in Chicago but Bronner escaped eight months later in 1948 and continued giving lectures in California. He also began making peppermint liquid soap under the 'Dr. Bronner's Magic Soaps' brand. He gave away soap during his talks and when he realized people were taking it without listening to him speak, he started writing his philosophy on the bottle in tiny script. These eccentric labels, featuring musings on everything from Hillel to Confucious, are still used today. In the early years the soap enjoyed a small but loyal following. With the emergence of 1960's counterculture, sales rocketed on word of mouth and the quality, as Dr. Bronner's does not advertise. The soaps spread into health food stores across the US, and in recent years into mainstream shops.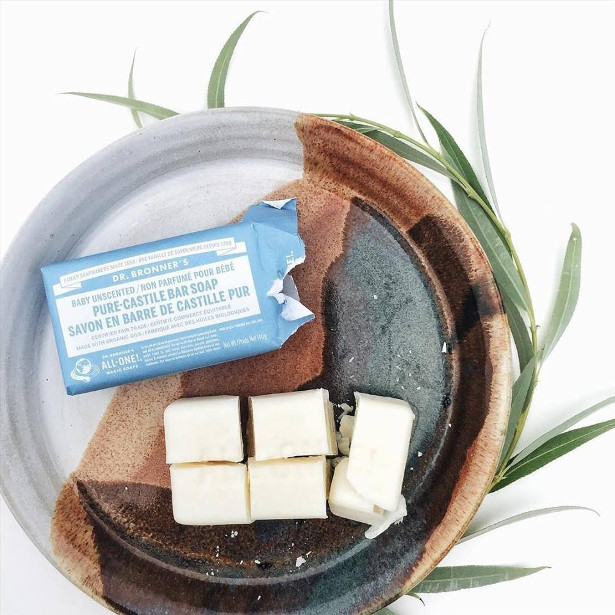 Having always used natural ingredients, Dr. Bronner's became officially certified organic by the US Department of Agriculture in 2003, branching into other organic personal care products in 2005. Today, its products are the top selling organic soap brand in the US and are distributed world wide. Although Dr. Bronner passed away in 1997, his company continued to flourish under his son Ralph, daughter inlaw Trudy and grandsons David and Michael. In a time where CEO compensation can reach as high as 500 times the average worker's wage, Dr. Bronner's Magic Soaps remains true to it's founders' philosophy of sharing profit with the workers and the earth from which it was made by capping the salaries of the highest paid employees/owner's at five times that of the lowest paid full time employee.
Dr Bronner's is available nationwide from leading health stores including Whole Foods, Planet Organic and John Bell & Croydon or visit www.drbronner.co.uk.
RRP for 18-in-1 Hemp Pure Castile Soap £2.15 59ml | £7.69 237ml | £11.69 473ml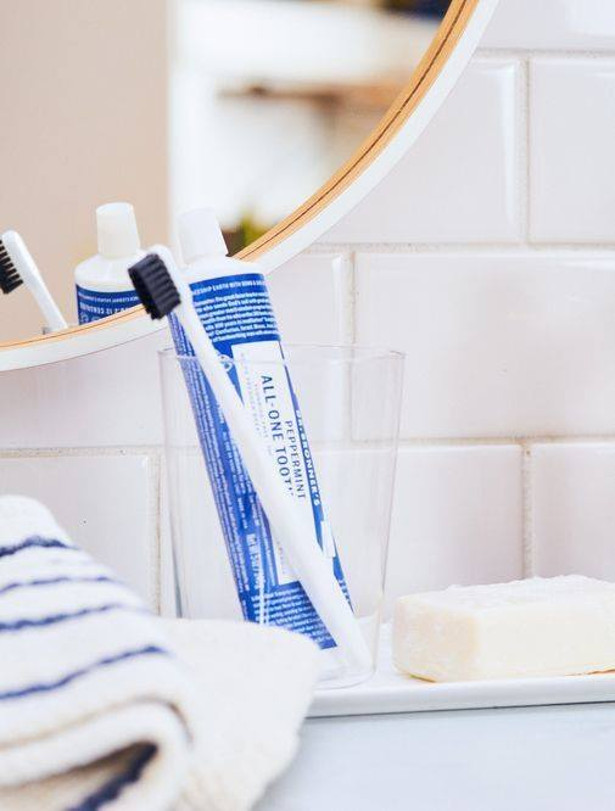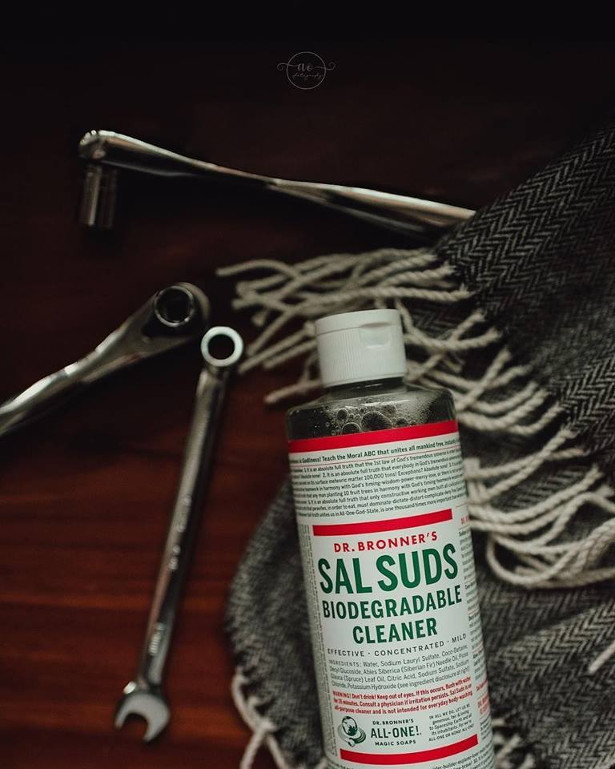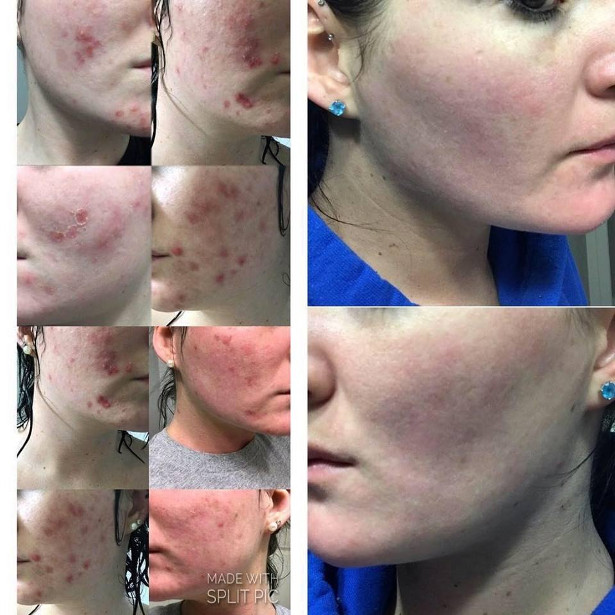 Classical Crossover Soprano Joanna Forest, is releasing her second album The Rhythm of Life on March 22nd and is tipped to be Number 1 on the Classical album charts.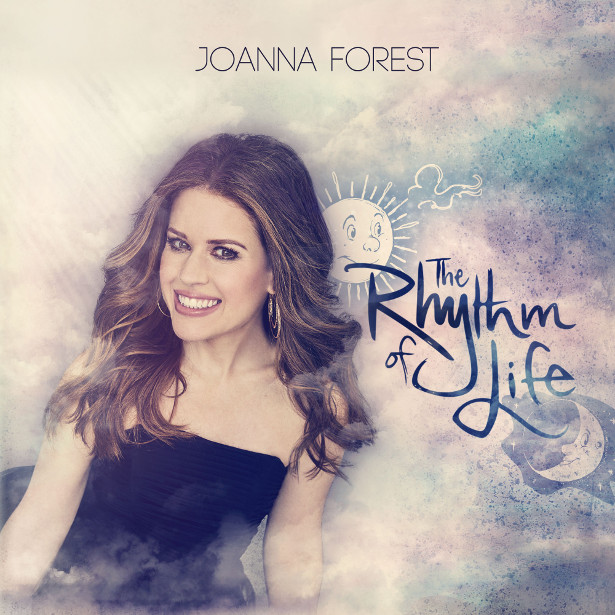 In short, this wonderfully nostalgic album which will bring joy and fond memories to families, grand-parents and children alike. The perfect singalong at home for all the family and perfect Mother's Day gift- it reflects the day in the life of a child through 12 tracks.
When coming up with the concept for the album the key discussions were about the importance of music for children, for their mental health, development and wellbeing. The album features Paul Potts, Andy Day (Cbeebies), Arts Voices, children's choir All The Arts Theatre School and the Arts Symphonic Orchestra, and is produced by Robert Emery (Sir Simon Rattle, Russell Watson, Stewart Copeland and Jim Steinman). It has been beautifully illustrated by 'Doodle- a -Day' Gary Andrews too!
The UK's Best Spa Days & Breaks for Mother's Day
Mother's Day reminds us how special Mums are and while chocolates and flowers are always appreciated, when you want to say an extra special thank you, there's nothing greater than an indulgent experience.
Armathwaite Hall Hotel & Spa, The Lake District
The 'Mother's Day Spa Day' for two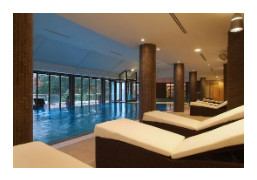 A Mother's Day treat from the depths of the Lake District, Armathwaite Hall's Mother's Day Spa Day is an escape like no other. After a luxury facial or body treatment, guests can head over to the Lake View restaurant for a delicious afternoon tea for two.
Mother's Day Spa Day | From 180 for two people
Includes full use of the spa and relaxation facilities (10am – 2pm), 25-minute luxury facial or body treatment, delicious afternoon tea in the Lake View restaurant plus robe and slipper hire.
Mother's Day Gift voucher | From £110
Includes full use of the spa and relaxation facilities (10am – 2pm) and a 55-minute treatment.
Donnington Valley Hotel and Spa, Berkshire
Sunday Spa Special
Donnington Valley Hotel and Spa provides the ideal Mother's Day escape from the big city at just one hour outside of London. A Sunday Special, one-night break provides a relaxing 25-minute treatment before full use of the spa facilities in the beautiful and daylight-flooded spa. Guests can then enjoy a catch up over a delicious 3-course dinner in the 2AA rosette Winehouse Restaurant.
A full English or continental breakfast follows the next morning before guests leave with a last spa gift of a Decleor gift set.
Sunday Spa Special one-night break | £99 per person
Available every Sunday until 31st March 2019. Includes full use of the spa facilities, a 25-minute treatment, 3 course dinner, full English or continental breakfast and a take home Decleor gift set.
The Spa at Bedford Lodge Hotel, Newmarket
Mum & Me Spa Break
Located in the heart of Newmarket, the luxury hotel and Spa at Bedford Lodge Hotel is the ultimate place to bond. Guests can take advantage of the Hydrotherapy and Heat experiences for dedicated relaxation time before a 30-minute private steam experience with scrub bar selection, followed by a Jessica Deluxe Manicure or a Zen Spa Pedicure in the hotel's spa. Guest can expect a Champagne Afternoon tea before a 3-course dinner in the award winning 2AA Rosette Squires Restaurant.
Guests can wake up in a room at the stylish and peaceful Bedford Lodge Hotel bed with breakfast and use of the access to the health & fitness club before heading home.
Mum & Me Spa Break | £375 for two people
Includes use of the Hydrotherapy and Hear experiences, a Jessica Deluxe Manicure or Zen Spa Pedicure, Champagne Afternoon tea, Private steam experience with scrub bar selection (30 mins), 3-course dinner at our award winning 2AA Rosette Squires Restaurant, Bed and Breakfast at the stylish Bedford Lodge Hotel & Spa and access to the health & fitness club
Moddershall Oaks Country Spa Retreat, Staffordshire
Mum & Me Spa Day – from £99 per person
In a tranquil countryside setting, Moddershall Oaks provides an excellent backdrop for some quality time together. Guest's will be welcomed with a signature Moddershall welcome drink each with full access to the indoor and outdoor spa facilities, followed by a 25-minute relaxing treatment.
Guests can enjoy a £20 lunch allowance and a cream tea deli board later on in the day in the luxurious lakeside restaurant.
Mum & Me Spa Day | From £99 per person
Includes a signature welcome drink, full use of indoor and outdoor spa facilities, £20 lunch allowance, 25 minute treatment and a cream tea deli board.
Titanic Spa, Huddersfield
Time to Indulge Spa Break
The UK's first eco-spa brings an indulgent spa break to Yorkshire to pair bonding time with guilt-free sustainability. Guests can relax in the luxury spa with access to all spa facilities before indulging in separate massage and facial treatments for two. After taking full use of the sustainable facilities and salt-regulated swimming pool, guests can head up to the stylish Bar 1911 before a delicious 2 course evening meal. Lucky guests will spend the night in one of Titanic's luxury private spa apartments and wake up to a private continental breakfast to indulge in.
Time to Indulge Spa Break | from £219 per person
Includes 1-night accommodation & continental morning breakfast, 1 course light lunch, 2 course evening meal, Access to Bar 1911 (open from 6pm), Titanic Heat & Ice experience, full use of spa facilities, 1 x 55-minute treatment each, 1 x 55-minute facial treatment.
The Spa at The Midland, Manchester
Just For Her Spa day
Located in the heart of Manchester, The Spa at The Midland brings an indulgent Spa Break for the most important woman. With full access to the spa's award-winning facilities, guests can also take a 25-minute break for a treatment not to be missed. Followed by a luxurious champagne afternoon tea away from the hustle and bustle of daily life in the Tea Room at The Midland and take home a ESPA gift worth £65!
Just For Her Spa day | From £99 per person
Includes a 25-minute treatment, champagne afternoon tea and an ESPA gift with £65. Valid up until 30th April 2019.
Ham Bag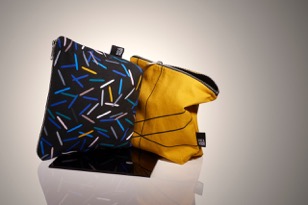 About Ham
Ham the perfect balance of Purpose, Elegance & Design.
A flat bottomed, lined, zip bag designed to suit so many uses. Ham sits upright, keeping everything in it, 'in'. A Travel Bag, Wash Bag, Make Up Bag, Bag to put your sunnies, pencils or your headphones in… Ham is just big enough, and small enough and only available in trademark R&M fabrics.
Retailing at £29.00 : Dimensions 200Hx250W mm the Ham is machine washable; Outer made of 100% Cotton Panama, Inner a wipeable waterproof lightweight Black Canvas, finished with a metal YKK Zip.
About Rye&Moor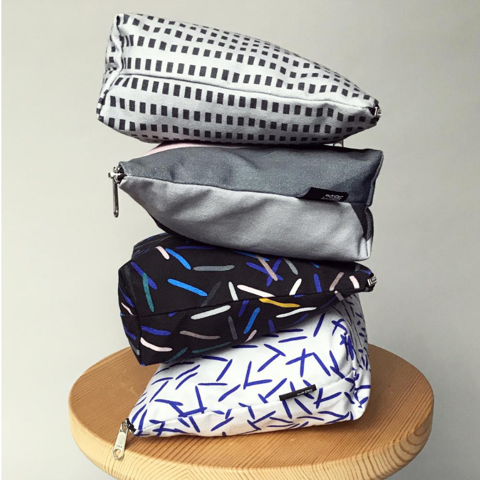 Rye&Moor is an independent Furniture & Textile company, shortlisted for the Spotted Award for emerging brand/designers at this years Top Drawer Show (the UK's biggest Homeware & Gifting Tradeshow) for its contemporary collection of Furniture, Textiles & Prints.
A Designer/Maker team, we, Alex & Lucy, create elegant, uncomplicated, useful pieces, featuring our own contemporary fabric designs, specifically chosen & artworked per piece, our founding principle is to deliver a collection of remarkable items made for modern living. We are proud to be supporting British Manufacturing, we design, print & make in the UK, (from our Ilkley Studio & Lewes Workshop) you can see our Collection at www.ryeandmoor.co.uk – it includes, 3,2 & 1 seater benches, footstools, cushions, bedheads, bar stools, washbags, prints and lampshades – all in our signature designs.
www.ryeandmoor.co.uk
@ryeandmoor
Baboo Gelato Launch New Gin & Tonic Sorbet with Fordington Gin
Spring is just around the corner and what better way to celebrate than with award-winning ice cream maker Baboo Gelato's new Gin & Tonic sorbet.
The new sorbet uses Fordington's Gin from Dorchester and reproduces the subtle botanical flavours of juniper, star anise, and lemon balm as a refreshing dessert. Founder of Baboo, Annie Hanbury, concocted the recipe in Baboo's kitchen located in Bridport, Dorset. Annie takes great care in sourcing the highest quality ingredients she can find, and particularly enjoys working with local producers.
Fordington Gin says of the partnership:
"Dorchester based Fordington Gin, created with a unique combination of carefully sourced botanicals, is delighted to be collaborating with Baboo Gelato in their production of a wonderful artisanal Gin and Tonic sorbet – or more specifically a Fordington Gin and Tonic sorbet! The combination is delicious and refreshing!"
Baboo Gelato's new Gin & Tonic flavour can be purchased from farm shops local to Bridport and Lyme Regis from £5 per tub.

TRANSFORMED INSIDE AND OUT: RELAUNCHED JOHNSON'S® RANGE AVAILABLE NOW
JOHNSON'S® launches over 50 new products, now available across the UK and Ireland and promising only the best for baby
#ChooseGentle
JOHNSON'S® brand has completely improved, inside and out, to deliver everything parents want and nothing that they don't. With a mission to create the gentlest baby products in the world, backed by science and testing, JOHNSON'S® has transformed to meet the needs of today's modern parents with products and packaging to provide only the best for baby. Now available at major stockists in the UK and Ireland, the new products mark a major milestone in the iconic brand's 125 year history.
As the number one baby brand in the UK, JOHNSON'S® understands that today's parents have different wants and needs from the products they use on their babies, both inside and out. With decades of pioneering research in baby care and rigorous testing, JOHNSON'S® has worked with thousands of real parents to improve everything about their products so they can trust and feel confident using them. Over 400 ingredients were completely rejected during the reformulation. The simpler, gentler products are free from parabens, sulphates and dyes and are hypoallergenic with more than 90% naturally derived ingredients.
The relaunch has not only reformulated existing products, but also sees the introduction of revolutionary technology and scientific expertise in baby skincare. The new JOHNSON'S® CottontouchTM range is specially designed for newborns' sensitive skin. The ultra-light, and perfectly pH balanced wash and lotion are made with real cotton and enhance an ultra-gentle touch. The products use purposeful ingredients, and no parabens, phthalates or sulphates. The CottontouchTM fragrance was tested worldwide and has been scientifically proven to elevate the emotional bond between parent and baby, for a less stressful bath time, assisting with infant development and emotional growth.
Senior Director, Global Scientific Engagement at Johnson & Johnson Consumer, David Mays: "We have always put parents at the heart of our brand. For this monumental relaunch, we have really listened to parents to truly understand exactly what they need from their skincare products. As a brand, we are committed to rigorous testing and have worked tirelessly with scientists, paediatricians and dermatologists to create products as gentle as we want the world to be. Johnson & Johnson has pioneered the science in baby skincare for 125 years and we're very proud of this heritage. So, we are thrilled to be able to offer families the opportunity to try the entire range and know they are giving their baby the best care."
New Ages and Stages icons help parents easily distinguish between the products. All the new products have been specifically designed to fit into four categories caring for newborns straight from birth, active babies on the move, independent toddlers and not forgetting the iconic, loved classics.
Newborn: designed to celebrate bonding and encourage the feeling of security between parent and child with the introduction of CottontouchTM.
Active Baby: specifically created for little ones on the move to aid discovery and exploration. The Bedtime range with Natural CalmTM aroma can be used as part of a clinically proven routine to help baby to fall asleep faster and stay asleep for longer.
Toddler+: for the independent toddlers, the new range is designed with both parents and children at the core, with fun packaging and new characters and detangling and strengthening ingredients to make bath time easier for parents.
Originals: the scent that is truly associated with baby, a range can't be forgotten, the Originals have also been reformulated to remove dyes and unwanted ingredients that don't benefit baby, but still retaining their iconic scent and performance.
The new JOHNSON'S® range can be found in major retailers across UK and Ireland including ASDA, Boots, and Tesco now.
Notes to editors:
Johnson & Johnson Ltd has been an Alliance Partner with the Royal College of Midwives (RCM) since 2004, and is proud to support midwives in their work to care for mothers and newborn babies. Together, JOHNSON'S® and the RCM have developed information to help pregnant women and new families.
As a result of this Alliance Partnership, certain JOHNSON'S® products now have a 'Supported by RCM' logo on pack. The RCM believes that the research and science behind the JOHNSON'S® products which have the RCM logo is strong and evidence-based, although the RCM does not endorse any specific products or brands.
JOHNSON'S® baby skincare products have been specifically formulated for baby's delicate skin, and robustly tested to ensure they are mild, gentle and effective. As a result, the RCM has chosen to support specific JOHNSON'S® products so parents can feel confident in choosing to use JOHNSON'S® products for their baby, if they choose to do so.
The Timmy Care co. (intimate care product)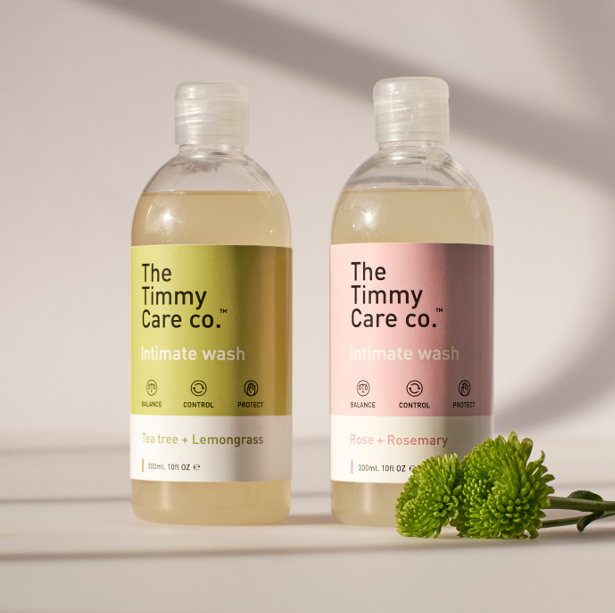 Specifically formulated for the female body, The Timmy Care co. is an eco-friendly brand for the conscious consumer, launched in January 2019. Founder of The Timmy Care co. recognised how harsh some products are harsh on the female body and skin, for example- intimate care products that are harsh on the vagina, leaving women feeling irritated and dried out. Noligwa (founder) saw this problem as an opportunity to start her business venture, which has introduced its first offering, an intimate plant-based care product that cleanses the intimate area without any harsh side effects.
The Timmy Care co. intimate care product range is specifically formulated to cleanse and compliment the female body. Derived from plant-based ingredients, The Timmy Care co. intimate care product is free from parabens, petrochemicals, animal ingredients, synthetic fragrances and colourants. Offering simple, yet effective solutions intended for daily use for women.
OUR OLD MASTER ARTWORK OF THE WEEK:
Errol Boyley's The Barn
S4736 – Errol Boyley, The Barn, Oil on Board, 45cm x 35cm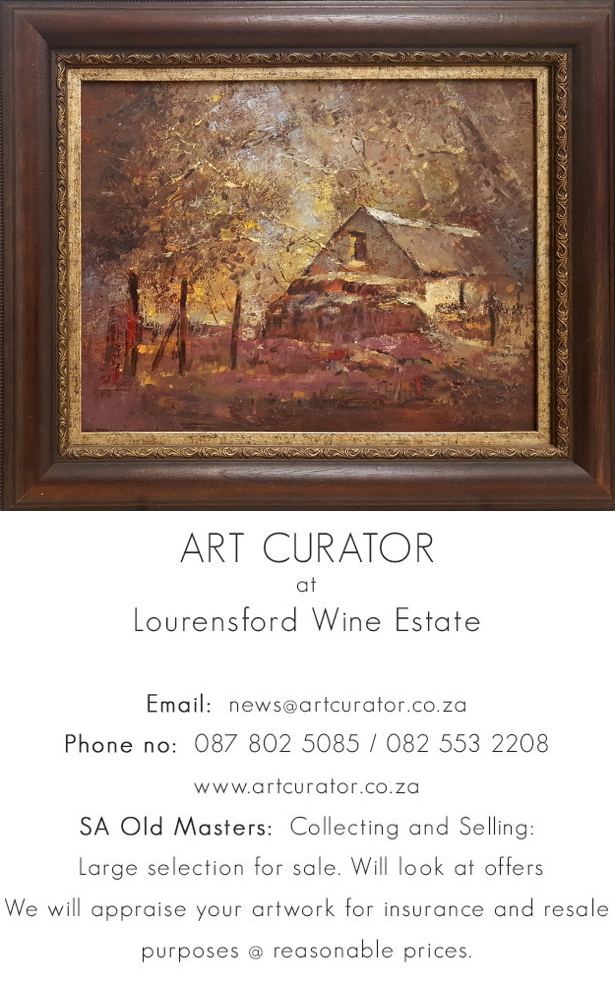 Super-Mums Deserve A Super Gift This Mother's Day – And Speck Has Got You Covered!
Our mothers are our role models. They look after us and lead by example, in true superhero style. At Speck, we know that no two superheroes are the same, which is why we have a phone accessory for every type of Mum this Mother's Day!
For The Multi-Tasker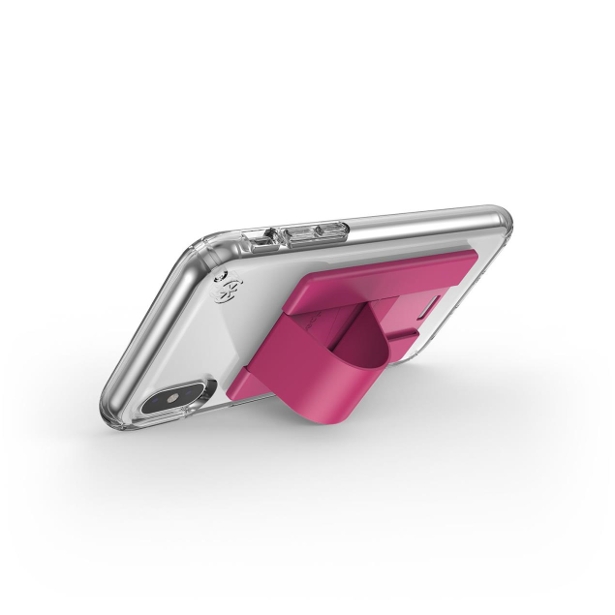 Every superhero has superpowers, and mothers are no exception. For those that have been blessed with the power of multi-tasking, a GrabTab will make for the ultimate side-kick. The Speck GrabTab is a slim grip-assist accessory that provides a secure hold on your device without adding extra bulk. This nifty little accessory even doubles up as a phone stand, which is perfect for sending e-mails, cooking with a recipe, or winding down with a movie at the end of a tough day.
For The Mom-Boss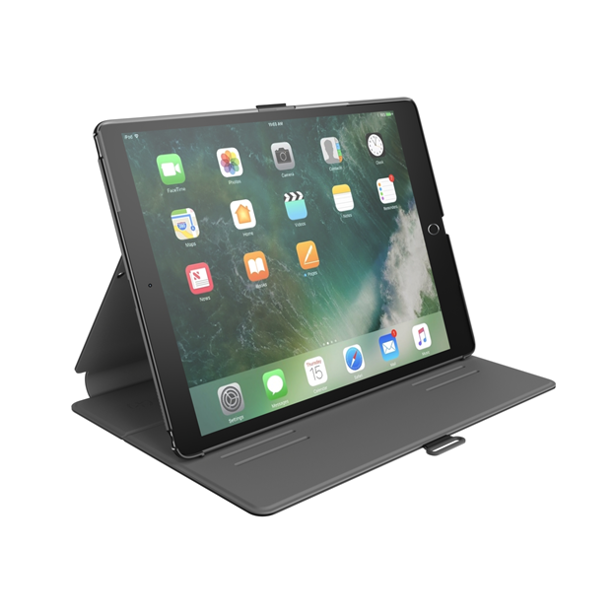 For mothers that balance a busy work-schedule with a bustling home life, why not gift them the Balance FOLIO case for iPad – a slim yet durable case that will protect your Mum's iPad without sacrificing style. An adjustable stand will make it easy for Mum to work on documents and catch up on e-mails, whether she's in the office or on-the-go. This case is made with durable, easy-to-clean polyurethane materials, and has a clasp that keeps the case secured, so your Mum's iPad will be safe from bumps and scratches when travelling to work in a brief-case!
For The Fit-Mom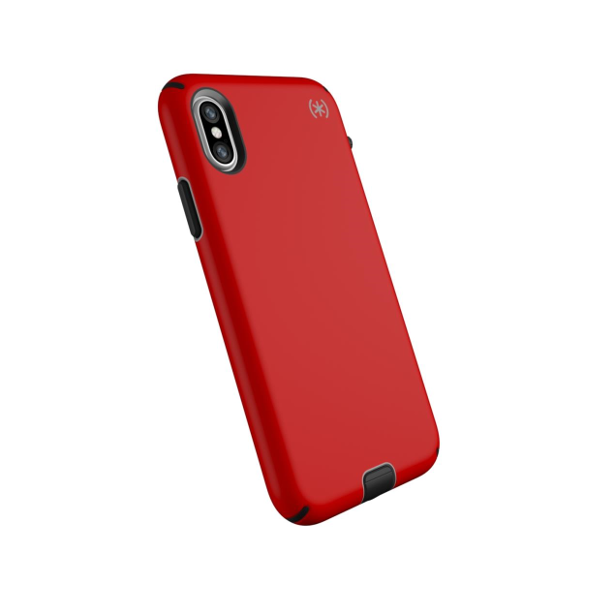 Is she a super-mum by day, and a fitness enthusiast by night? Speck's Presidio Sport is the perfect case for any gym-goer. It features an anti-microbial layer, 360 degree port coverage and 3-meter drop protection, making it ideal for the gym or outdoor walks.
For the Glam Mom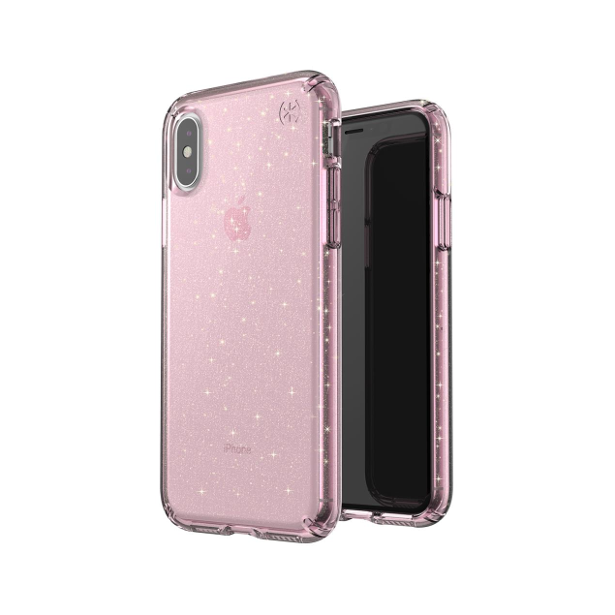 When in doubt, give them something shiny! The Speck Presidio Clear + Glitter is embedded with glitter crystals for a showstopping shimmer. But this case is more than just a statement accessory, it also has 2.4-meter drop protection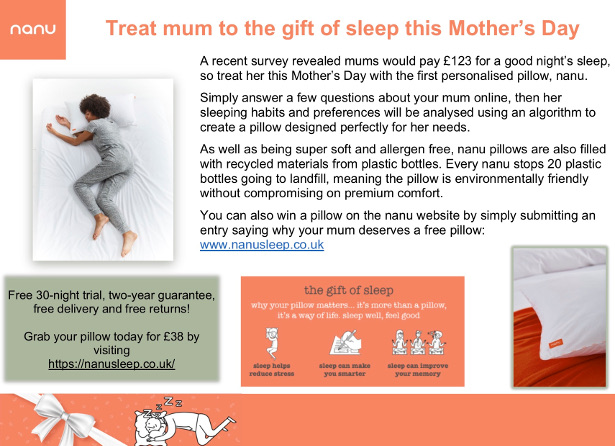 Sass & Belle Ceramic Jewellery Trinket Ring Holder Dish Decoration Home Gift
Price: £7.20
Mother's Day gift ideas from APlaceForEverything.co.uk
These might be suitable for the Tech Essentials, Beauty & Fashion Gift Ideas and the Gits for Mother's & Grandmother's guides – especially for those with green-fingers!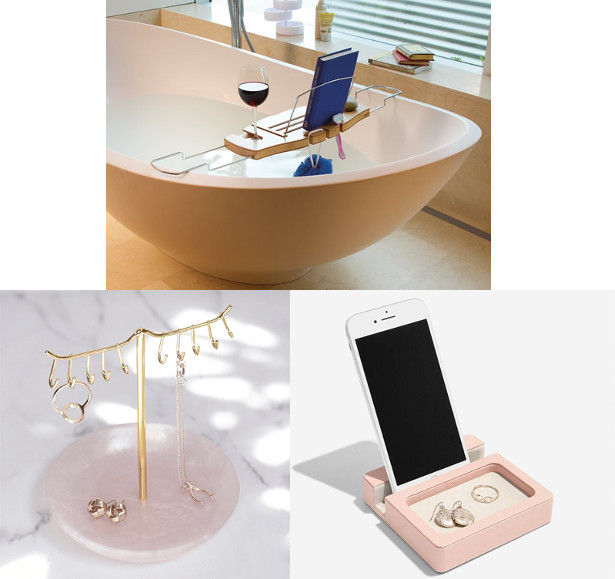 Bath Caddy – Aquala – £45.00
Pink Quartz & Rose Gold Jewellery Stand – £12.00
Smart Phone & Trinket Stand – Stackers – £12.00
Coz-e-reader Tablet Stand – £16.00 (Was £19.99)
Greetings Card Holder – Trickle – £20.00
Maraca Cocktail Shaker – £15.00 (Was £25.00)
Busy Life Diary 2019 – £6.00 (Was £10.00)
Tesora Jewellery Storage Box – £30.00
The below are perfect for green-fingered mums!
Bee House – £12.00
Hedgehog House – £19.00
Garden Bucket Tool Bag – £9.00
2 Person Traditional Hamper – £45.00
BRITISH CHOCOLATIER CHOC ON CHOC LAUNCHES CHOCOLATE FRUIT & VEG PATCH POP-UP IN SELFRIDGES, LONDON
ARTISAN CHOCOLATIER MAKES IT EASIER THAN EVER TO ENJOY 'FIVE-A-DAY' WITH FRUIT & VEG CHOCOLATE CREATIONS
British chocolatier Choc on Choc (www.choconchoc.co.uk) is set to bring new meaning to "getting your five-a-day" with the launch of its Belgian chocolate fruit and veg patch Pop-Up in Selfridges Foodhall.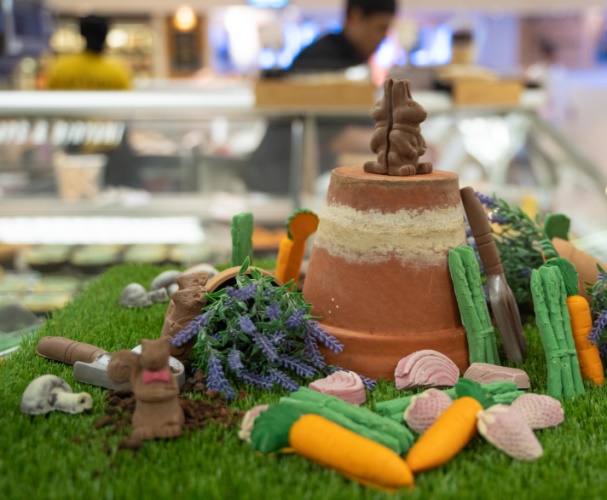 From 11th – 23rd March 2019, Selfridges customers will be able to visit Choc on Choc's rustic wooden Garden Cart in the Foodhall and pick 'n mix their five favourite fruit and vegetables from an array of Greengrocer's classics in pure Belgian chocolate.
The Pop-Up will allow consumers to forage, berry-pick and harvest a selection of their favourite fresh fruit and veg staples in a traditional punnet: from crunchy sweetcorn, to marvellous mushrooms and red onion, crisp bundles of asparagus, florets of broccoli and cauliflower, sweet strawberries, grapes and bananas.
The delicious chocolate fruit and veg are handmade in Somerset and created using Choc on Choc's patented production method that layers chocolate on top of chocolate, allowing its master chocolatiers to produce incredibly lifelike creations in any design imaginable.
Choc on Choc's Mini Woodland Trio (RRP: £14.00), featuring a very debonair rabbit, squirrel and hedgehog, will also be available to purchase from the Selfridges Pop-Up. The trio are carefully handcrafted from the finest Belgian milk chocolate and make the perfect gift to take home on the day, ideal for any Beatrix Potter enthusiasts.
A single punnet containing five fruit and veg chocolates will be priced at £9.99 and available from the Choc on Choc fruit and veg patch Pop-Up in the Selfridges Foodhall from 11th – 23rd March 2019.

PRETTYPEGS, LAUNCHES EXCITING NEW CONCEPT
TO PERSONALIZE YOUR WALLS!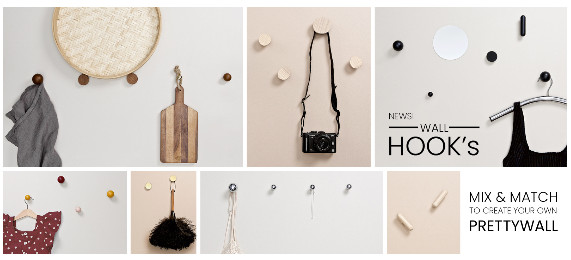 Prettypegs, the Swedish company known for their customized legs for IKEA furniture, now takes personalization one step further with a new concept moving beyond the 'shoe of the furniture,' to the wall, literally. Launching this March, Prettypegs is pleased to introduce their new concept PRETTYWALLS. First out is their rich collection of wall hooks that will let you store your favorite pieces in a stylish, practical and personal way!
Round, assymetric or oval. Wood or steel. Playful or classic. – With Prettypegs new wall hook collection, you can choose between 11 different models in different colors and finishes. And the options for personalizing your walls are almost endless if you choose to combine the different models and colors.
"We're excited to broaden our product range with a new concept and with all the different colorful options and array of styles, we feel bold enough to say that anyone can easily find their own unique combination to express their personal style" says Mikael Söderblom, co-founder and creative lead at Prettypegs.
The steel hooks are available in four different models and in three colors: Brass, Chrome, Mat Black. The wooden hooks are available in four different models and in several colors including: Ochra Yellow, Sherwood Green, Cloudy Pink, Midnight Blue, Mint, Grey, Black, White, Burgundy Red, Teak, Ash, Walnut. The hooks can also be used on various IKEA and other furniture as knobs when using the bolt (included). That way you can match your wall hooks with the knobs of your IKEA Bestå unit for example.
"As striking as they are functional, the new collection of wall hooks doubles as an art installation and brings the New Scandinavian look to any entryway, kitchen or bathroom with their artful mix of shapes, colors and materials", says Stina Löfgren, product designer at Prettypegs.
Prices: From 7USD (wall screw included)
Material: Steel and ash wood. Wooden hooks are made from recycled wood.
Purchased: www.prettypegs.com
ABOUT PRETTYPEGS:
Prettypegs is a Swedish company born in 2012. Prettypegs creates the perfect accessories for any home, with a vast selection of furniture legs and smart parts, in a variety of shapes and sizes to personalize IKEA furniture. The business idea struck the founders Jana and Mikael while searching for a new way to bring life to their own IKEA sofa. Prettypegs aims to add character to each individual's homes and to inspire upcycling.
BAD MAMA! Aprons. Bags & Bad Mama Classic Chili & Garlic Hot Sauce! >> www.badmamaclassic.com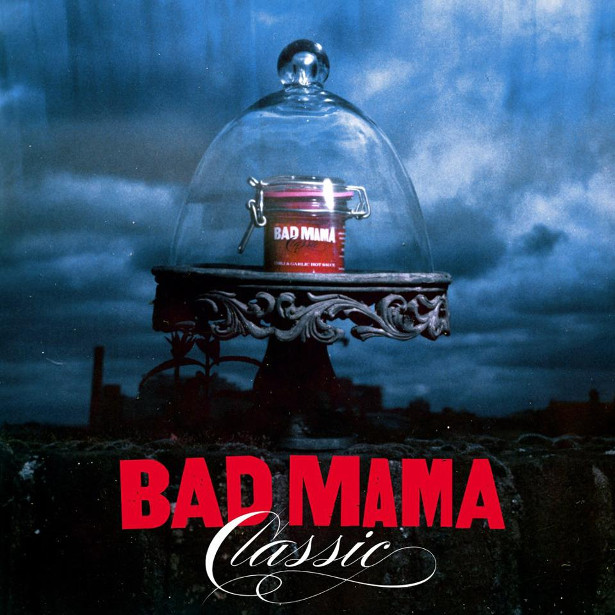 FACEBOOK | INSTAGRAM | PINTEREST | TWITTER | YOUTUBE
BAD MAMA CLASSIC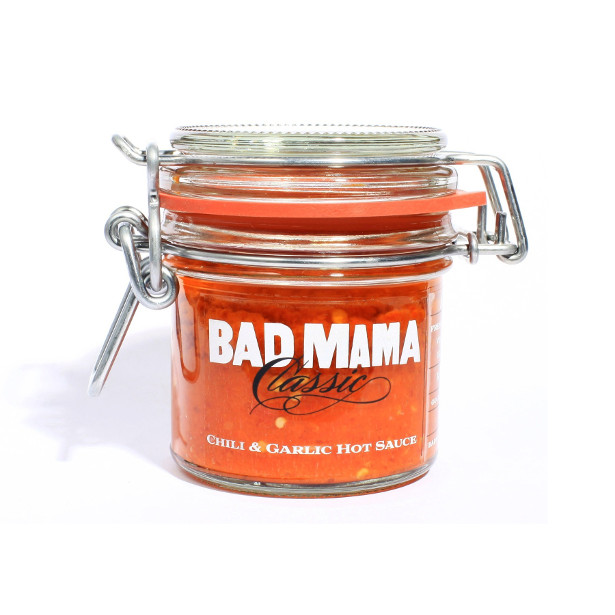 The Original one and only !
Inspired by Mama,
made in the UK
The original recipe is a burst
of scotch bonnet chilies, garlic
and a touch of Guerande salt.
The most versatile Bad Mama
will enhance the flavours of your
favourite dish without eradicating any tone of it.
See more and buy at :- www.badmamaclassic.com/product/bad-mama-classic/
A MUST HAVE BAD MAMA SHOPPING BAG !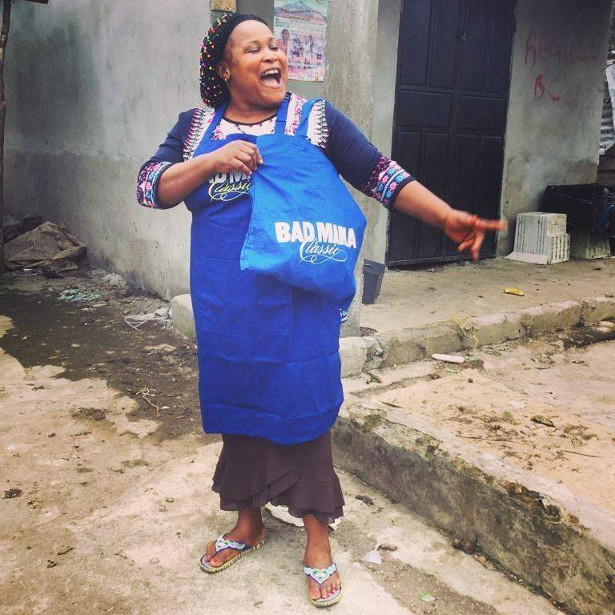 The tote bags are made from 100% cotton with dimension of 42 x 38cm with a Bad Mama screen print.
These bags can be carried by hand or over the shoulder and have a capacity of 10 Litres.
See more at :- www.badmamaclassic.com/product/bags/
Bad Mama embroidered aprons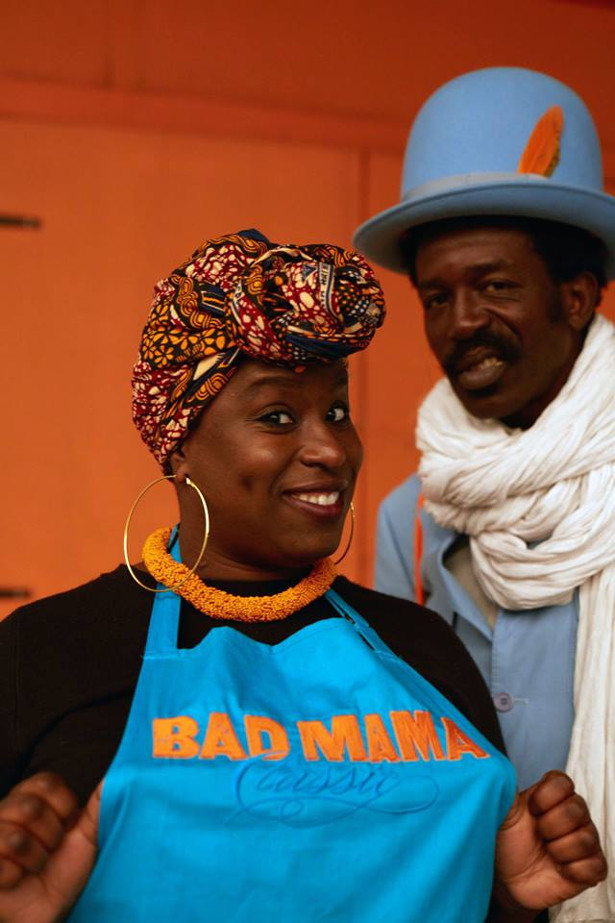 Bad Mama embroidered aprons are unique,
colours and materials will differ from time to time.
Fabric
65% Polyester, 35% Cotton twill.
Denim: 70% Cotton, 30% Polyester
Weight
195gsm
Size
One size – width 72cm, length 86cm
See more at :- www.badmamaclassic.com/product/aprons/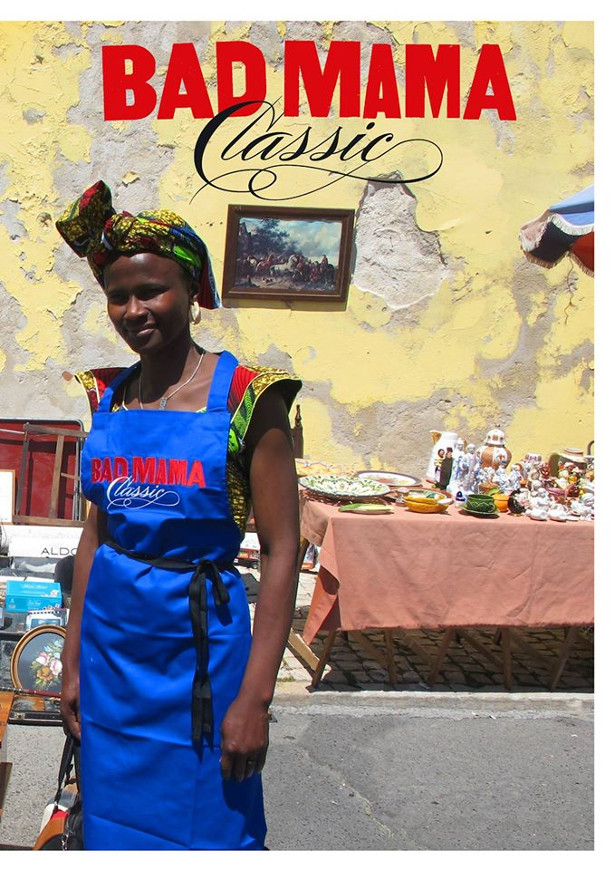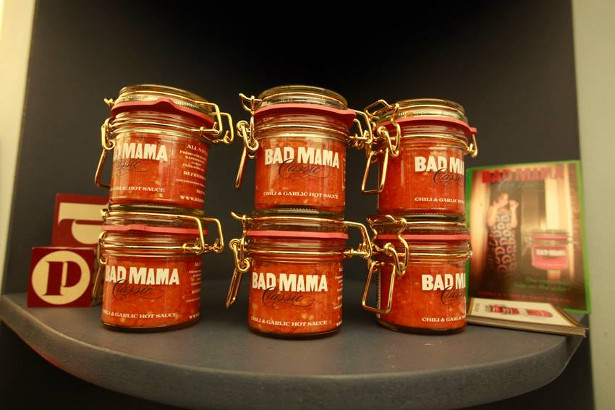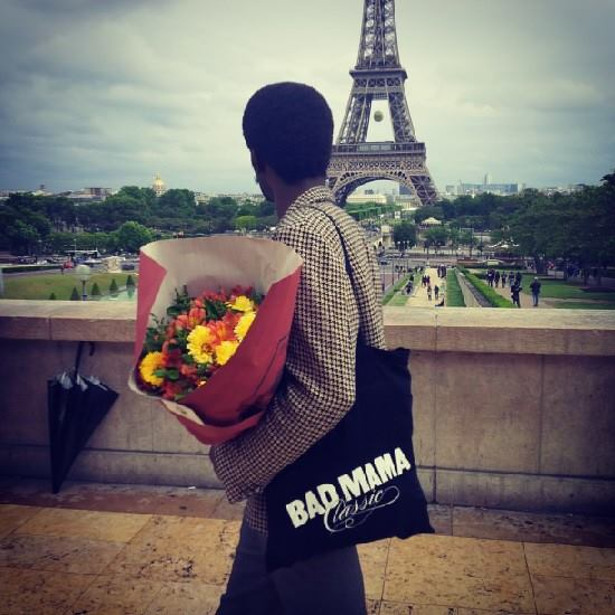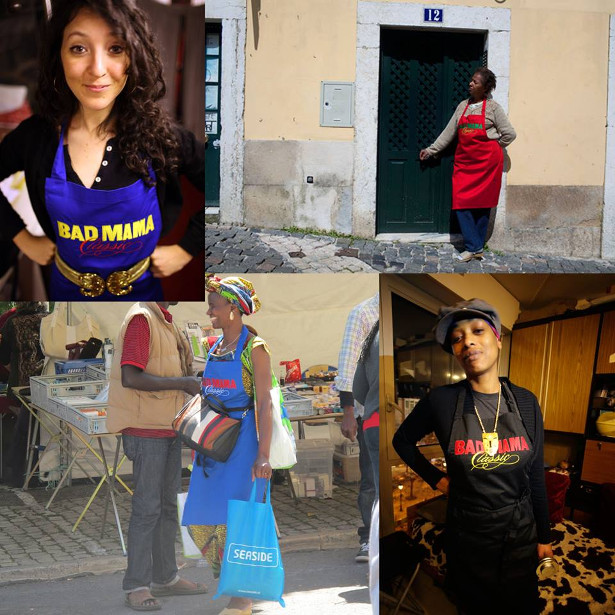 FOR A MOM IN PAIN – SALONPAS
www.salonpas.us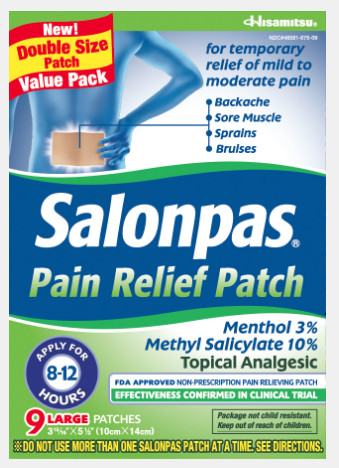 Greetings, the Salonpas Pain Relief Patch LARGE is the ideal gift for a mom who is in pain. Hisamitsu America, a division of Hisamitsu Pharmaceutical Co., Inc., and the marketers of the Salonpas® line of pain relieving products, announced the availability of the Salonpas® Pain Relief Patch LARGE (SRP: $17.99) in a new double size value pack that includes nine large patches.
"There is only one OTC topical pain reliever that is FDA-approved like prescription medicine, and that's the Salonpas® Pain Relief Patch," sa id John Incledon, President & CEO, Hisamitsu America. "We understand that many consumers suffer from back pain, as it is the most common area of pain. As a response, we decided to launch the new Salonpas® Pain Relief Patch LARGE. They're twice the size as before with the power to target large pain areas. We also included nine patches in this new product to provide a better value to our consumers. Since the patches are now double the size, there is a 35% savings on an equivalized patch basis."
"Clinical trials demonstrated that the Salonpas® Pain Relief Patch works up to 12 hours on mild to tougher moderate pain," said award-winning journalist Dr. Bob Arnot, M.D., internal medicine, who is the author of twelve books on nutrition and health, and previously Chief Medical Correspondent for NBC and CBS New s. "As a 70-year old active athlete, I suffer from pain as a result of training and competing. I was a huge fan of the previous Salonpas Pain Relief Patch and it is great that it is now available as a double-size, larger patch which targets my back pain."
Wild Lotus Mother's Day Gifts
www.wildlotusbrand.com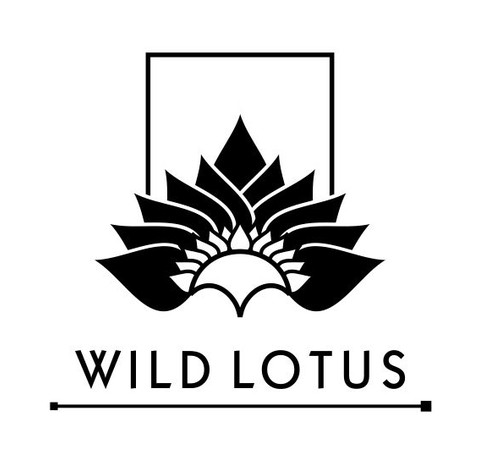 Specializing in the field of boutique fashion, our selection features high-quality merchandise, sourced from artisans in India. Elegant, one of kind Sterling Silver Jewelry, encased with Natural Fine Gemstones. Accessorize with Scarves, Handbags, Belts, and Purses. For Home Decor fans, browse uni que tapestry designs. 100% Cotton, there is a list of dimensions to choose from. This includes Full, Twin, and Round variations.
11PCS Pro Mermaid Makeup Brush Set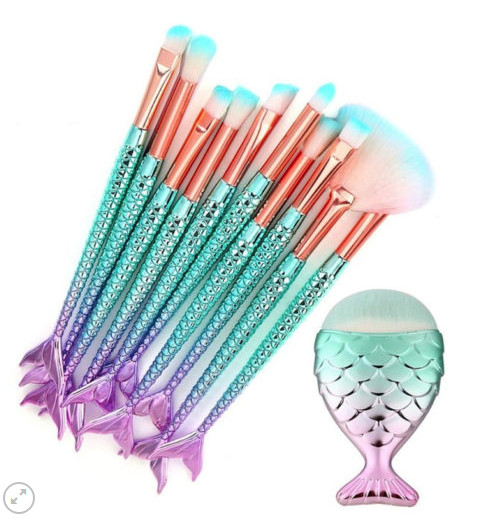 https://qooru.com/product/11pcs-pro-mermaid-makeup-brush-set/
Made with super soft nylon hair, these shiny, beautiful Mermaid Makeup Brushes are high in quality and perfect for professional or home use. Get this set of 11 piece/set fabulous makeup brushes to enchant your inner mermaid!
Reset Your Biological Clock with the Amazing Power of 'Natural Hormone Balance'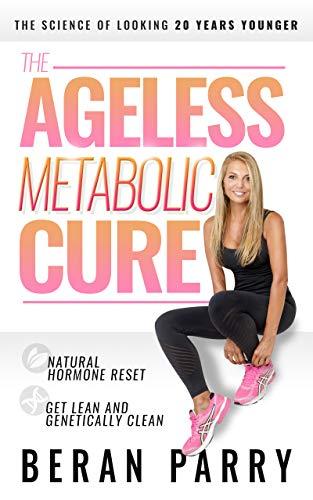 Exciting New book, 'The Ageless Metabolic Cure', teaches women like you the secrets of engaging the hidden power of your hormones to look and feel 20 years younger
Best-selling Author, international speaker and mid-life wellness expert reveals the science behind maintaining natural youth in new book
Beran Parry has written over 35 books on the subjects of total health and wellbeing, hitting the coveted Amazon no.1 spot with 25 of her titles
She's guided, helped and inspired thousands of people to live leaner, cleaner, healthier and happier lives for more than 35 years
The Ageless Metabolic Cure: Reset Your Natural Hormone Balance: The Science of Looking 20 Years Younger by [Parry, Beran]
London, UK – Want to know the secret to looking and feeling younger? Well, now you can turn back the clock with Beran Parry's new book, The Ageless Metabolic Cure, the fabulous go-to manual which teaches women the secrets of engaging the power of natural hormone balance to look and feel younger.
Beran Parry (58) has helped thousands of people with their health and weight issues for more than 35 years, and now she's letting you in on the secrets of controlling your health, your vitality, your weight and your wellbeing. Beran specialises in mid-life health issues and believes that, contrary to the popular perception, our health is absolutely not controlled by our genes. Rather, according to the latest medical research, it's almost entirely determined by our lifestyle choices. This surprising revelation means that you can now take control of your health by favouring natural hormone balance and simple, better and healthier lifestyle choices.
"If you want to learn how to analyse and take control of your own health, then this book is for you." said Beran. "Within the book, I share with you how to build a personalised eating programme, how to build new muscle and also how to completely recharge your energy levels. It'll change the way you view your health, how you manage your life and get you started on the exciting journey towards restoring natural, glowing, vigorous health." she continued.
The book features insights, tips, action plans, case-studies and recipes and is available for [PRICE] here.
Sample recipe:
Beran Parry's Apple Peach Skinny Bars
Ingredients: 6 Eggs 2 tbs (30mL) liquid stevia 1 tbsp (15 mL) Coconut Oil 1/2 tsp (2.5 mL) Vanilla Extract 1/3 cup (40g) Coconut Flour 1/4 tsp (1.25 mL) Baking Soda, optional 1/4 tsp (1.25 mL) low sodium salt 2 tbsp (30 mL) Applesauce 1/2 Peach, diced 1/2 Apple, diced 1/8 tsp (1 mL) Nutmeg 1/8 tsp (1 mL) Ginger 1/4 tsp (1.25 mL) Cinnamon
Instructions: Preheat your oven to 325° F (163° C). Grease an 8×8 inch pan (20 x 20 cm square) and line it with parchment paper. Puree the eggs, liquid stevia, coconut oil, applesauce, and vanilla in a food processor or blender. Add the coconut flour, baking soda, low sodium salt, and spices and blend until smooth. Fold in the apple and peach Pour the batter into the prepared pan and bake for 35-40 min or until a toothpick inserted into the center comes out clean.