Skincare but for your hair!
untameduk.com & on Amazon!
TWITTER | INSTAGRAM | FACEBOOK
The new brand in electrical haircare.
The only dryer on the market that lets you nourish your hair as you dry by diffusing Argan Oil into your hair as you dry!
The creators of Untamed are obsessed with all things hair, especially frizz and have worked hard to develop a dryer that truly helps calms frizz, soften and smooth hair.
Untamed launch a defrizz hair dryer that transforms your hair using a nozzle that integrates a bottle of argan oil. Meaning you can dry, style and hydrate your hair all at the same time. The oil infuses moisture into your hair, leaving it smooth, glossy and hydrated.
Not only does this 2000w powerful AC motor dryer with a 3m salon cable tackle the frizziest of hair it also has ionic technology that allows the dryer to emit negative ions meaning less static and frizz to your hair in general. The ceramic grill also helps distribute the temperature evenly.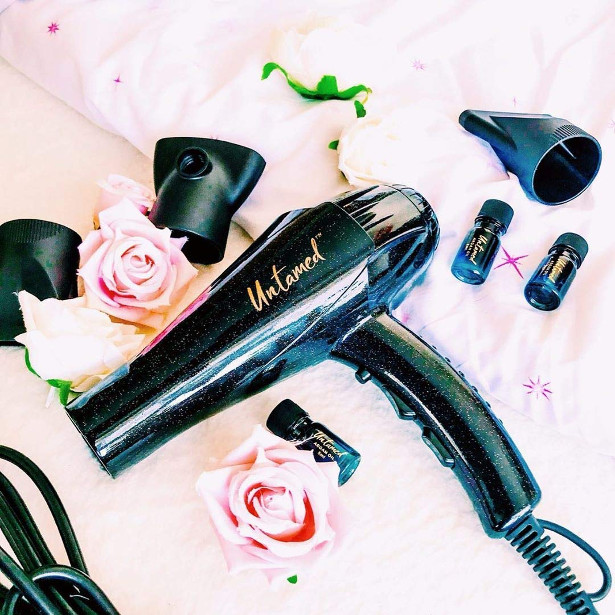 Compared to a standard DC dryer this powerful AC machine will last almost 3 times longer and 1 ½ times longer than your average AC dryer. Stronger airflow means faster drying and this is what helps distribute the argan oil through your hair. Don't forget the cold shot!
The Argan oil spritzing nozzle can be used as a weekly treatment to make hair feel smooth, hydrated and shiny. All hail argan oil!
Founder Clare Misra Burns said 'After sixteen years of working in electrical hair care, we have never come across a product that adds oil to your hair that you can see working and making a difference. This led us to the launch of Untamed, a brand that will tame the wildest of hair.'
Powerful, lightweight, high shine drying – priced from £69.99 at untameduk.com and Amazon.co.uk