Entrepreneur Creates Edible Straws After Getting Frustrated By Floppy Paper Alternative
An entrepreneur created sustainable drinking straws you can eat after getting frustrated with the paper alternatives.
Keith Wearing was drinking a McDonalds milkshake when he came up with the idea for his business – Edible Straws. He found the paper straw he was using was breaking down and becoming soft and floppy before he'd even finished his drink.
Keith said: "It felt like I was eating the straw while drinking the shake, which was driving me crazy. That was the moment I was inspired to create edible straws, which would not only be sustainable but also something customers could enjoy as a treat."
After his lightbulb moment, Keith, who had worked in the hospitality industry for more than 15 years, set about making his vision a reality. He knew both consumers and businesses were dissatisfied by the paper products brought in to replace single use plastic straws after they were banned in October 2020 to reduce waste.
As well as becoming soft quickly when wet, many paper straws are challenging to recycle as they are covered in a plastic coating.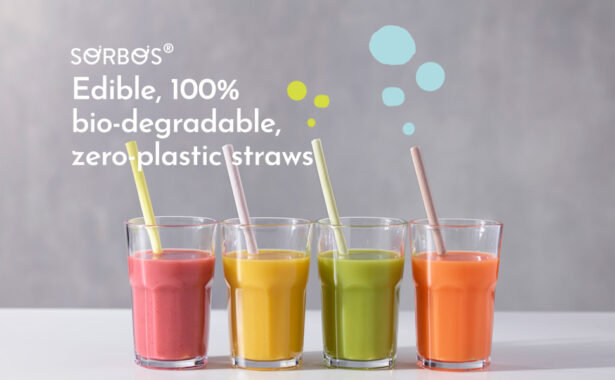 Edible Straws are more sustainable than both the paper and plastic alternatives and consumers can simply eat them when they have finished using them. Available in a number of flavours, including chocolate,
coffee, lime, vanilla, lemon, strawberry and neutral, the straws last for 40 minutes in cold drinks and don't have an impact on the flavour of the beverage.
Keith, who comes from Manchester, said: "Our vision is to be the world's number one replacement for both paper and plastic straws. We strongly believe that our amazing edible straws are an absolute industry game changer that customers desperately want and need.
"An edible straw is a no-brainer and a win-win for everyone. We all need to do our bit for the environment and make a difference one way or another."
Edible straws are already being used by major clients, including Disney, Tropical Café and Iberostar Hotels. Carnival Cruises has also started using the straws and aims to introduce them on all its ships to reduce onboard waste.
The straws themselves contain no allergens or genetically modified organisms (GMOs) and are gluten-free. And Keith is now working on developing edible cups, plates and spoons for use in the hospitality industry.
To find out more, visit www.ediblestraws.com