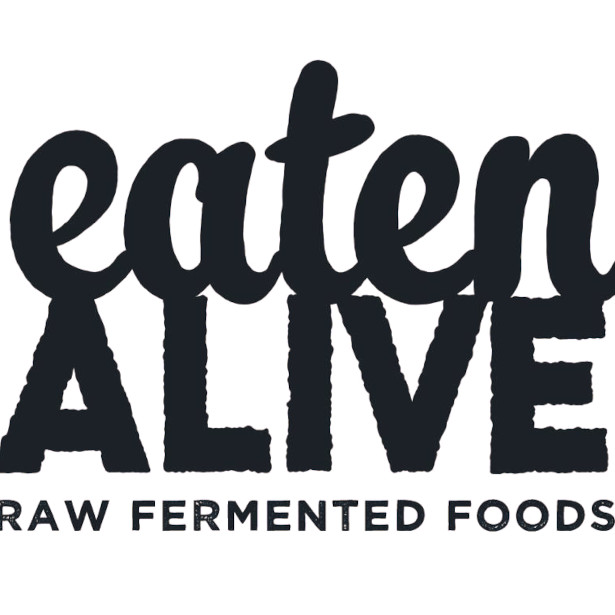 'Eaten Alive', is an award-winning fermented foods producer based in Battersea and created by two former Michelin starred chefs. Their hot sauces are used across top London restaurants – from the Gordon Ramsay restaurant group to Soho House. They are also stocked in Whole Foods and Planet Organic, and now consumers can buy them direct.
Eaten Alive are launching their 'Discovery Pack' for Christmas.
'Eaten Alive' Discovery Pack: The perfect Christmas gift for foodies and hot sauce lovers!
'Eaten Alive', the award-winning fermented foods producer created by two former Michelin starred chefs, has launched its first 'Discovery Pack' featuring four of its best-selling fermented hot sauces – all bursting with flavour and the beneficial bacteria that helped create them. An explosively delicious gift for fermented food fans and spice lovers, the pack includes the Smoked Sriracha, Chocolate BBQ, Scotch Bonnet and Preserved Lemon sauces (£14.99, available from amazon and eatenalive.co.uk).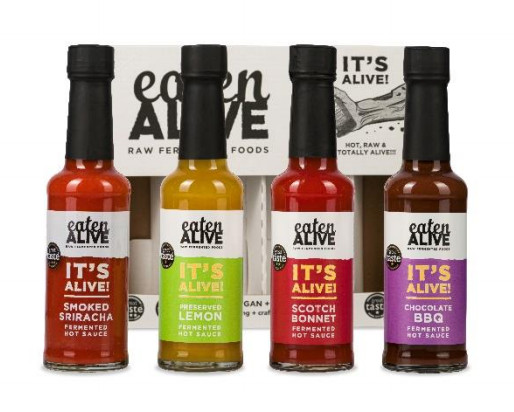 n Alive Hot Sauces are the must-have gift for food lovers this Christmas and a brilliant stocking filler for friends and family – from just £3.99 150ml. Guaranteed to liven up the festive season with seven different flavours to choose – from the new Lime & Jalapeno and Kimchi Hot Sauce, to the classic Smoked Sriracha, they are all brimming with good bacteria, additive free, completely raw and vegan.
Eaten Alive is a fermented foods producer, making award-winning kimchis, sauerkrauts and hot sauces. Founded in 2016, it is the creation of two chefs – Pat Bingley and Glyn Gordon, who after over 20 years combined experience in some of the UK's top restaurants (The Ledbury, L'Enclume, Fera), bonded over a shared passion for fermentation, flavour and the link between live cultures and health.
The pair started with a stall at London's Borough Market, demand soared and they are now on the shelves of Whole Foods, Planet Organic, various independent Deli's and the Eaten Alive online shop.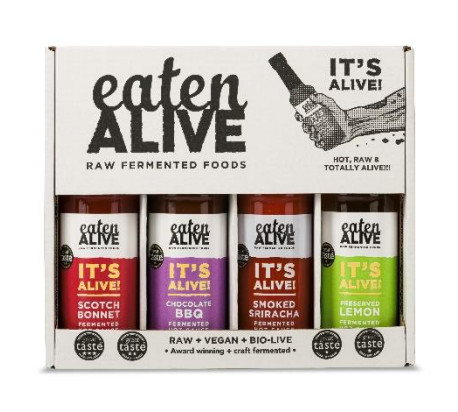 There are thousands of hot sauces, but only a handful have been through the fermentation process, which produces addictive, satisfyingly savoury characteristics and well-rounded heat. Eaten Alive's are made with exciting combinations of ingredients, some of which are smoked in-house before being lacto-fermented over several months. When these ingredients have developed the complex flavours, they are blended with raw, unfiltered cider vinegar and cane sugar to produce a hot sauce brimming with the fruity characteristics of scotch bonnets, intense – full of nuance and flavour, and rich in live cultures.
Not only a delicious gift the sauces are also a brilliant alternative condiment for Christmas leftovers – from your turkey sandwich to Christmas hash. Ideas include: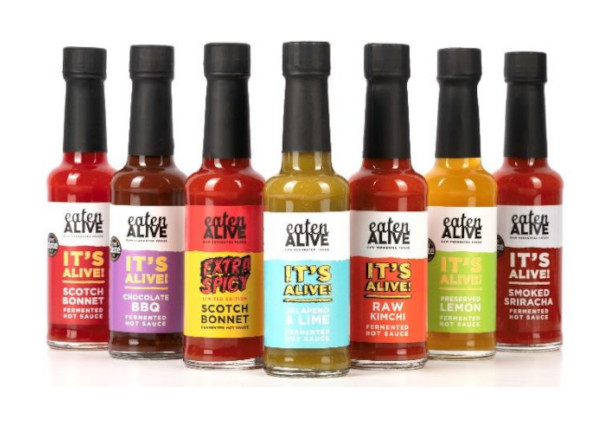 Try mixing 'It's Alive Preserved Lemon' hot sauce into mayonnaise for your turkey sandwich or Boxing Day potato salad
The 'It's Alive Scotch Bonnet' hot sauce is just the thing for pepping up your prawn cocktail; just mix equal parts ketchup and mayo, a few dashes of It's Alive Scotch bonnet, a squeeze of lemon and a shake of Worcestershire – perfect
For a party snack, combine the Chocolate Habanero BBQ with a little honey and a squeeze of ketchup and use as a sticky glaze for sausages or chicken wings
The Smoked Sriracha goes with almost anything, but is the business for breakfast – eggs, bacon, sausages…you name it, this sauce is the one.
The Fermented Hot Sauce Range:
Extra Spicy Scotch Bonnet Sauce (150ml, £4.99) – Eaten Alive's hottest ever sauce, using super-hot scotch bonnet chillies from a French grower, they have imparted all the complexity of flavour brought by fermentation with lots of fruity scotch bonnet flavour to create the ultimate hot sauce that balances fiery heat with a great taste. Not for the faint-hearted, it is a step-up in heat from the original 'Scotch Bonnet Hot Sauce', made with fermented peppers, live cider vinegar and raw sugar – the new version is perfect for 'chilli-heads' looking for the ultimate spice hit.
Lime and Jalapeno Sauce (150ml £3.99) – super fresh, and as tangy as it is spicy; super addictive and perfect for chicken and fish, or try adding to dressings, gaucamole or salsa for a fiery kick
Kimchi Hot Sauce (150ml, £4.99) – created using the Eaten Alive 'Classic Kimchi' and kimchi brined chillies, peppers and traditional gochgaru (dried Korean chilli) all fermented and blended into the perfect fusion of Eaten Alive's two passions!
Smoked Sriracha (£3.99 150ml) – Combination of chillies, sweet peppers, garlic and onions are smoked over oak before being fermented for several months to develop tantalisingly complex flavours. Smoky, rich and tangy with a deep chilli kick.
Chocolate Habanero BBQ (£3.99 150ml) – An explosive mix of habanero, cayenne and ancho chillies, smoked over bourbon barrel chips, then slowly fermented to intensify the flavour. Blended with raw cacao and preserved limes its deeply savoury.
Preserved Lemon (£3.99 150ml) – A fiery yellow chilli sauce with the fresh, zesty magic of ripe lemons. Yellow habanero chillies, sweet peppers and lemons, slowly fermented over several months then blended with raw unfiltered cider vinegar, fresh lemon juice and a touch of pure cane sugar.
Scotch Bonnet (£3.99 150ml) – Scotch bonnets and sweet peppers with a touch of garlic, slowly fermented to develop intense, fruity flavours then blended with raw unfiltered cider vinegar and a touch of pure cane sugar – use wherever you would Tabasco!