DISCOVER THE ART OF CIDER™ THIS HARVEST SEASON, WITH KENTISH PIP
Kentish Pip, one of the most exciting new cideries to emerge in the UK in the last decade, is inviting consumers to make the most of the apple harvest season and experience The Art of CiderTM from tree to glass.
The family-run craft cider business combines traditional skill with modern innovative thinking, taking consumers on a journey of discovery into the world of craft cider making. While remaining true to its heritage, Kentish Pip is a brand that plays far from the rule book, continuously evolving to meet the demands of the contemporary cider-drinker looking for exciting flavours and quality craft brands.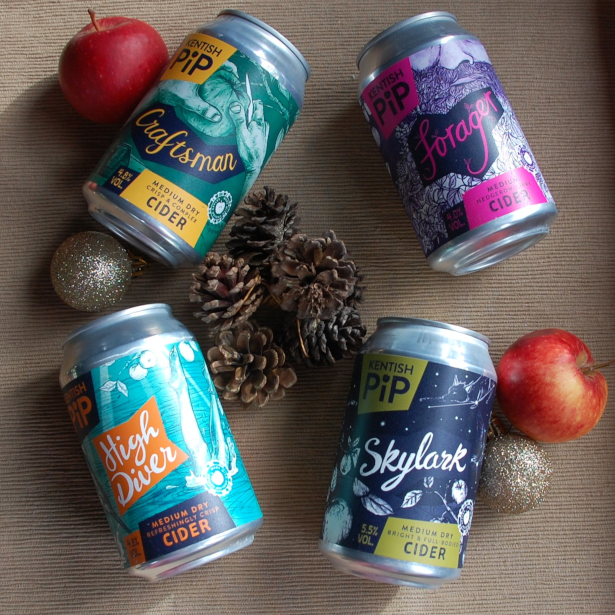 Produced by the Mount Family who have been growing apples for over 100 years and producing high-quality cider since 2012, Kentish Pip ciders are distinguished by apple variety and cutting-edge production techniques which all take place on site at Woolton Farm, near Canterbury in Kent. The farm was founded by Herbert Mount, who started growing fruit over a century ago. Fast forward to today and it has diversified into a thriving mixed crop farm and successful drinks business.
Sam Mount, Managing Director at Kentish Pip comments: "We believe Cider is a story of people, places, variety, and discovery. We're a small team with a big ambition who want to challenge the status quo, push aside the mediocre and reignite the nation's love affair with cider.
Cider making is fundamentally an art and the activities that take place in our cidery at Woolton Farm, particularly at maturation stage, are microscopic. We want cider to be consumed in a way that promotes that understanding, and above all, to be enjoyed! We're so excited to share our story and passion with our customers. We invite them to experience our craft from the orchard to the finished product, and fall in love with the good stuff, one step at a time".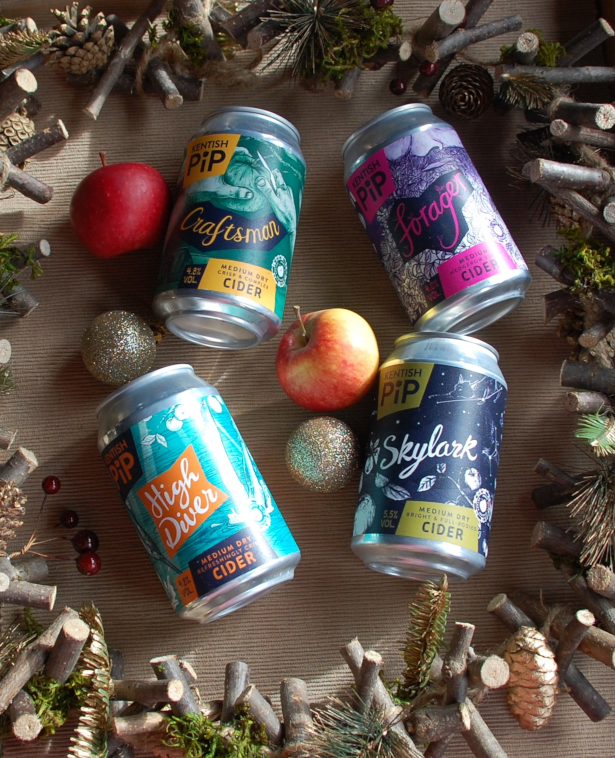 All Kentish Pip ciders are made on site and have a distinctive regional style made from a high percentage of cider, dessert and culinary apples. With just a stone's throw between the orchards and the cidery, the fruit-forward ciders are made with the best fresh English apples, contain a whopping 75 – 100% of real fruit juice and can be ready within only a few months of pressing.
Discover The Art of CiderTM at Woolton Farm, home to Kentish Pip
With Harvest season in full swing, thousands of delicately nurtured apples across dessert, culinary, and our own heritage bittersweet and bittersharp varieties, grown at Woolton Farm and from local growers, are hitting the mill. Why not visit to see apple harvest in all its glory and follow the humble apple from tree to tastebud, Kentish Pip style.
https://www.kentishpip.co.uk/collections/gift-ideas.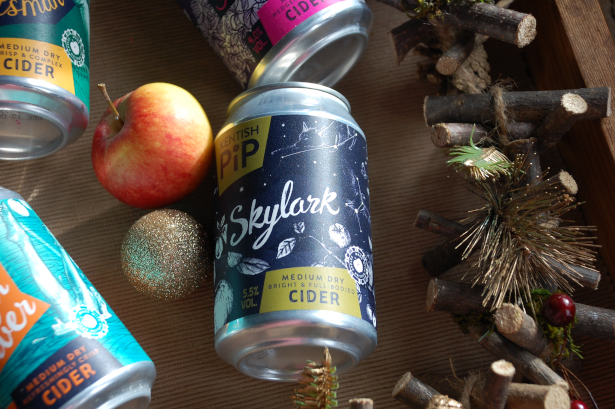 Step into the world of real craft cider with Kentish Pip:
Kentish Pip currently have a core range of four award-winning ciders which are available in both cans and bottles. Not only do they taste great, but the cans themselves are mini works of art, decorated with specially commissioned, beautiful hand-drawn illustrations by the talented Kingdom & Sparrow to capture true artisan storytelling. Kentish Pip also release limited-edition varieties throughout the year and have a Christmas gift range available at the Barn at Woolton Farm and online for the festive season.
All varieties within the Kentish Pip cider range are vegan and gluten free and are only fermented with natural sugars – no chaptalisation in sight!
Kentish Pip Craftsman Cider, the original, is the people's favourite, from the connoisseur to the enthusiast. A sublime balance of fresh apple, complex notes and subtle tannins. Medium dry, combining crisp and aromatic dessert apples with heritage cider varieties. Don't settle for anything less.
Ingredients: Apples, Water, Sugar, Malic/Citric Acid, Yeast, Sulphites. 4.8% vol.
RRP: £28.50 for X12 case, 330ml cans. 330ml bottles also available.
Kentish Pip Skylark Cider is a next generation sparkling cider, popping with big notes of fresh Kentish dessert apples, followed by a flourish of complex cider tannins. Slow fermentation of this special blend of dessert and cider varieties creates a deeply refreshing, medium dry cider for people who expect the beyond.
Ingredients: Apples, Water, Sugar, Malic/Citric Acid, Yeast, Sulphites. 5.5% vol.
RRP: £28.50 for X12 case, 330ml cans. 330ml bottles also available.
Kentish Pip Forager Cider is a taste sensation packed full of juicy hedgerow berries and bursting with flavour. Hidden gems of autumn hedgerows are paired with crisp Kentish apple cider. Not overly sweet with rich fruit character and notes of ripe pear to finish. Fruit cider just got an upgrade!
Ingredients: Apples, Pears, Water, Berries, Sugar, Malic/Citric Acid, Yeast, Sulphites. 4.0% vol.
RRP: £34 for X12 case, 330ml cans. 330ml bottles also available.
Kentish Pip High Diver Cider plunges you into a world of fine bubbles and bobbing apples. A luxurious blend with Cox and Bramley apples, medium dry, marrying fresh acidity with a bright aromatic fruit character. Take a dive and see what you find.
Ingredients: Apples, Water, Sugar, Malic/Citric Acid, Yeast, Sulphites. 4.8% vol.
RRP: £28.50 for X12 case, 330ml cans. 330ml bottles also available.
Also explore Kentish Pip's fine ciders:
Kentish Pip Discovery Pet Nat 2020 Fine Cider has a crisp, dry, and fresh taste with soft apple, lingering acidity, and a lively fizz with notes of pineapple, apricot and strawberry on the nose. This single variety cider was bottled part way through its primary fermentation to naturally carbonate and capture the wonderful fruity esters – method known as Pétillant Naturel or Pét-Nat. Enjoy as an aperitif or with a light lunch. 6.2% vol.
RRP: £29.70 for X3 750ml bottles.
Kentish Pip ciders are available in independent retailers in the South East, Shepherd Neame pubs, independent pubs and restaurants, and to buy online here: https://www.kentishpip.co.uk/collections. Standard shipping on orders to mainland UK is £5.99.