Did you know that more than 6.5 million adults intend to participate in Dry January – up from 3.9 million last year (source: Alcohol Change UK)? That's the equivalent of one in five of people who drink alcohol.
NONSUCH SHRUBS – for the trend hunters
Shrubs are fruit and vinegar based syrups that add depth and complexity to both alcoholic and non-alcoholic serves. More than a simple cordial, due to the mouthfeel attained by the vinegar element of the shrub, the syrups can either be added to non-alcoholic cocktail recipes or simply be mixed with tonic or soda to create an impressively delicious non-alcoholic serve. For those looking to participate in mindful drinking come January, Nonsuch has four flavoured shrub syrups available: Caramelised Pineapple & Ginger, Wild Hedgerow & Rose, Bittersweet Apple & Cardamom and Blood Orange & Bitter Lemon, as well as an array of pre-mixed shrub sodas.
Nonsuch products are available to purchase from the Nonsuch online shop, prices as follows:
Syrups (1 x 500ml bottle RRP £22)
Sodas (3 x 250ml bottles RRP £9.99 / 6 x 250ml bottles RRP £18)
HAYMAN'S SMALL GIN – for the mindful drinkers
For those who don't want to forego alcohol entirely but are looking for a more mindful approach, Hayman's Small Gin offers all the joy of the gin & tonic moment with 80% less alcohol and 80% less calories than a regular serve. The brainchild of London's family gin distiller, Hayman's, Small Gin packs all the flavour of a regular gin and tonic in a guilt-free format for those after a lower alcohol yet full-flavoured serve. Due to an increased intensity of botanicals used in the distilling process, each thimble sized serving offers the same delicious drinking experience of a regular gin and tonic but with reduced alcohol and only 40 calories when served with light tonic.
Hayman's Small Gin is available to purchase from the Hayman's online shop RRP £26.
ESTRELLA GALICIA 0,0% – for the comfort seekers
Estrella Galicia is renowned for being a beer that pairs effortlessly with great food due to its light body and fine texture. The aromas provided by the hops and the light flavour of malt make it easy to drink and the perfect refreshing beer to enjoy. Estrella Galicia 0,0% offers all the great taste of enjoying a regular Estrella Galicia beer, without needing to worry about the after-effects or health implications of alcohol consumption. Perfect for pairing with winter warmers this January, such as pies and stews.
Available to purchase through the Greene King online shop, £9/6x330ml
The Sabor en Casa Box with Estrella Galicia from Michelin-starred Sabor offers an indulgent, eight-course Spanish tapas feast with accompanying Estrella Galicia beers for two this Valentine's Day. The box transports diners to the sun-soaked shores of Spain despite not being able to escape the country, and is priced at £96 for 2 people, with delivery available nationwide.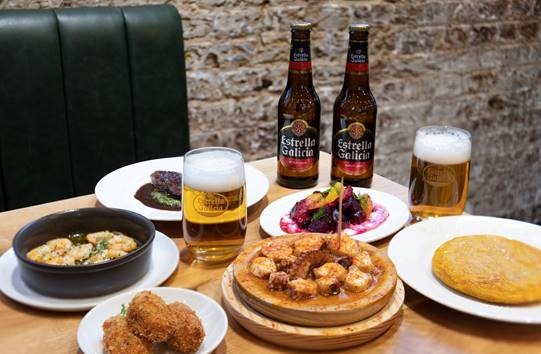 The box includes some of Sabor's best-selling dishes that are now available to feast on from home, including Ham Croquetas – deep fried croquettes filled with Spanish ham; Tortilla – a potato-based Spanish omelette; Gambas al Ajillo – prawns in a garlic oil; Pulpo a la Gallega – a traditional Galician dish of sliced, paprika-dusted octopus atop a bed of potatoes; Arroz Negro – a traditional Spanish dish created using rice and squid ink; Iberian Pig's Cheeks; Beetroot Salad with Horseradish Cream and a Basque Cheesecake to finish. To enhance the Spanish gastronomic experience, diners will also enjoy two 330ml bottles of Estrella Galicia alongside their tapas – one of Sabor's all-time favourite beers. Sabor has chosen Estrella Galicia as the perfect pairing to the dishes included in the box, due to its refreshing, smooth and delicately balanced flavour profile.
The Sabor en Casa Box with Estrella Galicia is available to purchase from the Sabor en Casa online shop for nationwide delivery, £96 for 2 people.