Deliver inimitable English taste this Christmas with Ramsbury Single Estate Spirit
Why not give a truly spirited gift this Christmas, with a beautiful bottle of Single Estate Spirit from Ramsbury?
Single Estate simply means that the complete process from field to bottle takes place on the Ramsbury Estate in
Wiltshire. It sows, grows and distils the primary ingredients itself. Operating a true grain to glass approach, everything
from the estate is used in the production. Making its offering among the most sustainable spirits sold in the UK.
The award-winning spirits will be a sure-fire winner for Christmas gifting for friends and family that enjoy a premium pour.
Ramsbury Single Estate Gin £33.50, 700ml, 40% ABV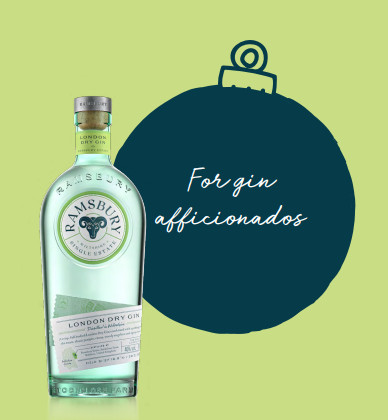 A crisp, full-bodied London Dry Gin combined with quince grown on the estate, classic juniper, citrus, woody angelica and spicy cinnamon. The result is a London Dry Gin with a modern twist, complex but balanced. Enjoy in Ramsbury's signature G&T, with a slice of green apple and a slice of lime. Awards: SIP Platinum Award 2021 and SIP Consumer Choice Award 2021
Ramsbury Single Estate Vodka £33.50, 700ml, 43% ABV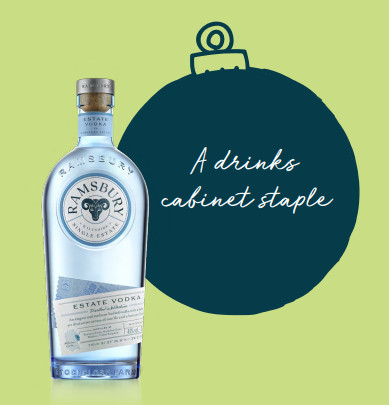 A smooth and rich vodka, crafted from the finest Horatio wheat grown on the Ramsbury Estate. The vodka provides an initial taste of dried fruits, then cocoa and layers of caramel. Each bottle can be traced back to the very field in which the wheat originated. Awards: SIP Gold Award 2021, SIP Consumer Choice Award 2021, ISC Gold Award 2021, LSC Gold Award 2021
Christmas mixology
Ramsbury Single Estate Spirits aren't just for gifting, they can be used to elevate Christmas parties too, with world-class
cocktails. Ramsbury Global Brand Ambassador Mikul Kalyan has created festive cocktails, Mikul says; For gin afficionados "These cocktails, featuring popular festive flavours, make the perfect drinks for a winter's evening".
Ruby Red Nose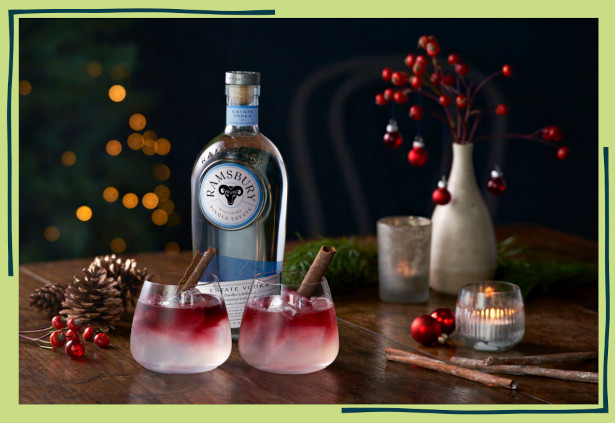 Add 50ml Ramsbury Single Estate Vodka, 20ml lemon juice and 15ml sugar syrup to a cocktail shaker.
• Shake with ice. • Strain over ice into rocks glass.
• Pour 20ml of Ruby Port slowly down the back of a spoon to create a red wine float. Garnish with cinnamon stick.
Farmhouse Fizz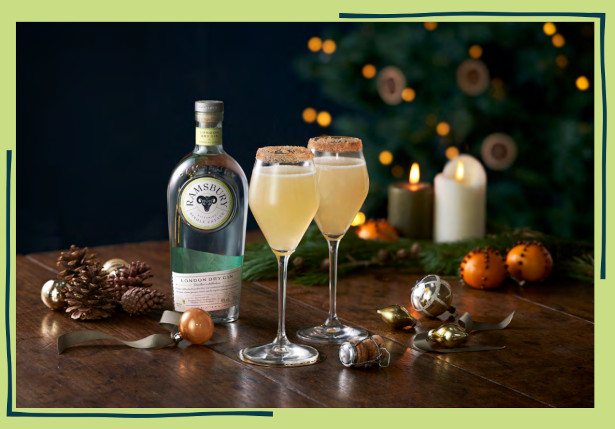 Prepare a champagne flute by rolling the rim in lemon juice followed by a blend of cinnamon powder and white sugar.
• Add 35ml Ramsbury Single Estate Gin, 25ml clementine juice (or 3 wedges of clementine), 10ml sugar syrup and 10ml lemon juice to a cocktail shaker.
• Shake with ice.
• Strain into flute and top up with champagne.
Visit www.Ramsbury.com or follow us at @ramsbury_distillery on Instagram