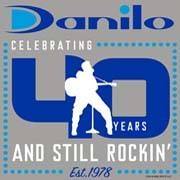 This time next Father's Day, we'll all be Millionaires! Whether your Dad's 'Lovely Jubbly', 'Cushty' or 'Triffic', Danilo has just the card for your Peckham Pop this Father's Day >> in Clintons, ASDA Tesco, Morrisons, Sainsbury's & more! www.danilo.com/Shop/Cards-and-Wrap/fathers-day-cards
FACEBOOK | TWITTER | PINTEREST | GOOGLE+ | LINKEDIN | YOUTUBE
This time next Father's Day, we'll all be Millionaires!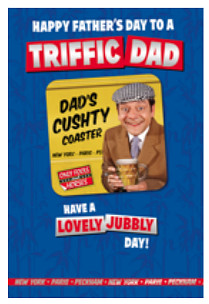 Whether your Dad's 'Lovely Jubbly', 'Cushty' or 'Triffic', Danilo has just the card for your Peckham Pop this Father's Day.
Capitalising on the nation's love for the Trotters, the range of cards features Del Boy and some of his best-known catchphrases
to make your Dad's day this June 16th.
With an added gift, one card has a 'cushty' coaster as a lasting memento for your dad to use for his cup of tea or Piña Colada, in
true Del Boy style.
So, whether your dad is a rogue trader, rough diamond or wheeler dealer, Only Fools and Horses will bring a smile to his face on
his special day.
The official range of cards is available from danilo.com with free first class delivery, all good card retailers including Clintons,
ASDA Tesco, Morrisons and Sainsbury's and independent card shops. And the Trotters Independent Trading Co., of course.
RRP £1.50-£3.