De-Twat Your Life: 2 (Twats Trilogy) by Carolyn Hobdey
The Twats Trilogy (1 book series)
by Carolyn Hobdey (Author)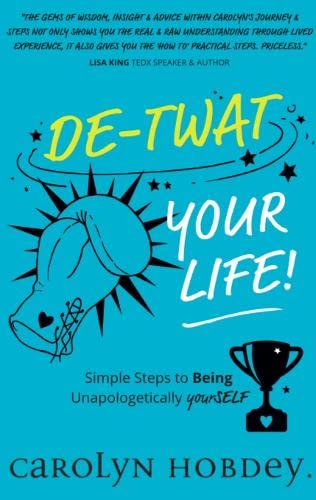 From Book 1: De-Twat Your Life! charts the challenging and remarkable story of Carolyn Hobdey's path out of despair following the loss of everything she had known: a long-term relationship, beautiful home, high-powered job and 'ready-made' family. It's a tale from self-loathing to self-love, and of finding the courage to stop dimming her inner light.
Documenting Carolyn's trials and triumphs as she pieced together the disparate parts of her shattered life and embarked on a long-overdue transformation that changed her mind and body, she shares the breakthrough moments that led her to develop the unique SELF Steps. They are the 'how to' guide for anyone who wants (or is forced) to undergo change in any area of their life.
This is practical, honest change, not out of a textbook but learnt from real life. Its heartfelt style will resonate if you've ever struggled with self-doubt, feeling 'lost' in your life, or with simply Being yourSELF. Are you left wondering if 'this is it'?
No longer will you need to flounder alone, De-Twat Your Life! with Carolyn's straight-talking SELF Steps to guide you along a new path to fun and fulfilment in a life that you choose and you define.