Danske Bank Ulster Schools' Round Up Saturday 29th May 2021
Following a long lay-off from playing due to the Covid restrictions, and having completed their appropriate Return to Play protocols, Ballyclare High School and Ballymena Academy did manage to get some game time by playing controlled fixtures against an Ulster Clubs' U18 team and an Ulster U19 team respectively.
Director of Rugby, Michael -Orchin McKeever, took a Ballyclare High School U17 squad to play an Ulster Clubs' U18 squad in a fixture at the excellent Meadowbank facilities in Magherafelt on Monday 24th May. Using the Gamify approach to this run out the players on both teams really enjoyed getting back on to the pitch again. This was not only the first fixture played by a Ballyclare High School team in the course of the current season but, in fact, the first fixture played since March 2020.The games were played on a 12-a-side basis, with all members of both squads getting their fair share of pitch time. Played on a full pitch each series of five touches saw possession being turned over.
The Gamify approach to this game is designed to encourage and reward creative play and to develop player's reactions to those non coached moments that can appear in the normal game. Ballyclare High School selected a mixture of Year 12 and Year 13 players to take to the field, reconnect and play. In the build up to the game the aims and focus of preparation had been around getting players on the pitch in their school jersey, developing their return to rugby pathway, encourage players to use a wider range of skills within rugby that they may be reluctant to use in a normal game. All players have access to their "super powers" but are at times shy to develop other elements and this format of game enables all the players, regardless of position in the team, to realise they can.
Harry White contributed greatly to the Ballyclare High School cause when he picked up 3 intercepts and scored 3 tries. Luke McIlrath got to display excellent organisation skills and leadership skills through his positive communications with the referee as well as his teammates. Prop forward, Tom McAllister, displayed some real super power plays with his ball carrying and footwork and was putting kicks into space to keep attacks moving forward. James Spence has always had a high level of work rate but is now developing into coaching other players using great communication skills. Bryn McCallan will be going into his cricket season now and his fielding of highballs under pressure in the game saw him using the transfer of skills available from one game to the other, Matthew Knocker was enabled into making more decisions with ball in hand than might have taken place in a normal fixture. These are only a few small examples of the success of the Gamify approach but will only go towards making players better at unlocking the complexities of the game and, most importantly, enjoying a lot of fun following their long lay-off from any form of competitive fixtures. Hopefully all the players involved will look back on their return to play with smiles on their faces following this run out.
The Ballyclare High School coaches and players would like to say a big thank to Gavin Hogg, Chris Galway and Neill Alcorn for their willingness, co-operation and opportunity for this fixture to happen. Everyone involved will be hoping that September will see a shape of normality back to school life, sport and rugby football.
Ballyclare High School Playing Squad
Blake English, Brynn McCallan, Callum Cochrane, Callum Lockhart, Gareth Purdy, Harry White, Jamie Young, Josh Laney, Luke McIlrath, Matthew Knocker, Ross Brannigan, Zachary Scarlett, Angus Catherwood, James Spence, Jamie Purdy, David Gillespie and Tom McAllister.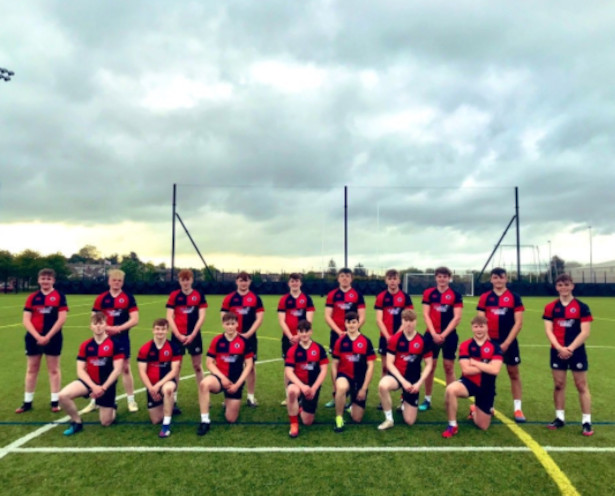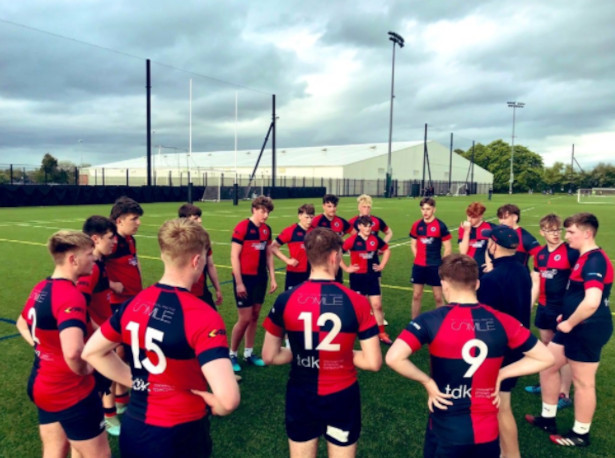 The Ulster Clubs' U18 Squad culminated their Regional Development Squad programme with this gamified fixture against the Ballyclare High School U17 Select Squad. From an Ulster Clubs' perspective, it was extremely encouraging to see all the players involved implementing the skills they have worked so hard on throughout their programme and using the gamified approach to challenge and develop their tactical decision making. Their coaches, Gavin Hogg, Chris Galway and Neill Alcorn, were delighted with the performances of all their players and everyone associated with the squad was able to take a lot from the game. The fact that the fixture was non-contact in nature did not seem to in any way affect the competitiveness shown on the pitch by the players from both teams.
The Ulster U18 Clubs' Management team would like to thank Michael-Orchin McKeever, Aaron Playfair and all the Ballyclare High School players for making this run out such a worthwhile experience for everyone concerned.
Ulster U18 Clubs' Squad v Ballyclare HS: Wallace Blair, Leon Thornton, Stephen Callaghan, Cormac Carr, Jamie Hayes, Jack Dang, Ryan Knox, Mark Lee, Pauric Loughran, Jojo Naga, Noah Parks, Adam Redmond, Kai Shields, Denis Taylor, Zak Wilson, Josh Young, Ciaran Peterson, Zakk Stevenson.
Ballymena Academy, sponsored by Rainey and Gregg, played an Ulster U19 team at the recently refurbished facilities at Newforge Country Club on Friday 28th May. The game was played over 3×20 minute sessions and was designed to give all the members of both squads the opportunity to play. All the players involved played under the watchful eyes of the Ulster Rugby Academy staff, led by Gavin Hogg, with a view to assisting the Ulster Rugby Age Grade Management teams in identifying players who could be involved with the Ulster Rugby Age Grade Summer programme. Both John Andrews, Head Coach of the Ballymena Academy team, and Jonny Gillespie, Head Coach of the Ulster U19 team, were delighted with the performances of all their players. With the emphasis of the sessions being on enjoyment and fun, the Ballymena Academy team emerged as 26-24 victors at the end of the three very entertaining sessions.
The game was refereed by Mark Patton who added considerably to the occasion by encouraging the players to take advantage of using the possession they had in a positive manner.
Ballymena Academy had some sustained early pressure, but good defensive work from the Ulster team ensured they could not get over the try line. With Ulster's first break out of defence a kick and chase by Coleraine Grammar School fullback, Rory Telfer, saw the Ballymena Academy outhalf, Ross McKay, concede a penalty under his posts. Ulster were awarded the penalty and, from the resultant scrum, Cambridge House Grammar School No 8, James McNabney, barged over the line for a try. Oli Ralston added the extras to see the Ulster team into a 7-0 lead. Ballymena Academy then kicked into gear and scored the try of the night. Following some excellent ball retention, and a good offload from Paddy Browne, Conor Drain made a line break and, after some neat interplay involving both forwards and back, Andrew Chesney crossed the line to touch down for a try. Ross McKay was successful with the conversion to see the scores level at 7-7.
The Ulster U19 team struck back quickly after the break and Cameron Doak touched down for an unconverted try to see his team into a 12-7 lead. Ross McKay then intercepted a loose pass in his own half and ran in unopposed to touch down for a try which levelled the scores at 12-12. Ross then converted his try to see the Ballymena Academy team into a 14-12 lead. Five mins later Conor Drain rounded off another excellent Ballymena Academy attack with an unconverted try in the corner to see the Ballymena Academy team take a 19-12 lead into the final session.
At the start of the third session, following some sustained pressure, the Ulster team ran in another unconverted try through Oli Ralston to reduce their deficit to 19-17. Ballymena Academy then struck again with another intercept try-this time from Josh Drain-with the Ross McKay conversion making the score 26- 17 with eight minutes of play remaining. With three minutes to go the Ulster U19 team took advantage of a loose kick and James Campbell finished things off with a try having gained possession on his 10m line. Ben McFarlane added the conversion to see the scoreboard reading Ulster Schools' 24 Ballymena Academy 26 at the end of this entertaining 3×20 minutes run out.
The Ballymena Academy boys showed up well with Adam Lamont, Andew Donald, Paddy Browne, Harry Andrews and Andrew Chesney all very prominent at set piece time and when carrying the ball. Jordan Millar, Josh Drain and Conor Drain proved to be a handful in the Academy back division with halfbacks, James Wright and Ross McKay showing great individual and positional skills in the course of the three sessions.
For the Ulster U19 squad all the players displayed great skills and commitment in the course of the game. Players such as Adam McNamee, Cameron Doak, and Callum Smyton impressed in the pack while Zac Moraghan, Rory Telfer, Oli Ralston and Ross Taylor displayed good skills in the back division.
Ulster U19 Squad:-
CAMERON DOAK WALLACE HS JACK BOALCCB BEN MCCULLOCH RAINEY RFC ROBBIE GRANT BANGOR GS SCOTT WILSON WALLACE HS DAVID BRADEN OMAGH ACADEMY ADAM MCNAMEE MCB CHARLIE IRVINE WALLACE HS JACK NORTON BELFAST HSFP JOE HOPES CCB MICHAEL CROTHERS MCB CALLUM SMYTON ERGS JAMES MCNABNEY CAMBRIDGE HOUSE OLI RALSTON CCB PETER O'HAGAN MCB ROSS TAYLOR RS ARMAGH ETHAN GRAHAM MONAGHAN RFC ZAC MORAGHAN SULLIVAN UPPER CAMERON MCCAUGHEY DOWN HS RORY TELFER COLERAINE GS ARTHUR JOHNSON CCB BEN MCFARLANE MCB LUKE GRAHAM MCB JAMES CAMPBELL RS ARMAGH
Ballymena Academy Squad:-
Timmy Douglas Andrew Donald Andrew Chesney Paddy Browne Andrew Lawther Harry Andrews Adam Lamont (c) Matthew French
James Wright Ross McKay Conor Drain Josh drain Jordan MillarTim Baillie Richard Mallon
Connor Louw Harry Marcus Sam McDonald James Craig Josh Cooper Alex McBurney Lewis Wharry Ben King