Danske Bank Ulster Schools' Round Up Saturday 26th June 2021
Various Ballymena Academy, Limavady Grammar School, Dalriada School, Enniskillen Royal Grammar School, Methodist College, Belfast, Foyle and Londonderry College and Ballynahinch RFC teams played games in the course of the last week.
On Friday 18th June Ballymena Academy and Methodist College, Belfast played in a Year 8 Tournament which involved four teams each from both schools. All the players involved enjoyed the fun as well as the experience of playing for their school teams.
All the games were closely contested and players such as Patrick McCarey, Dylan Harrison, Zac Topping and Billy Wylie impressed with their performances in the Ballymena Academy teams.
The Methodist College, Belfast teams had talented players such as James Reid, Alex Turkington, Brody McGowan-Gould and Zach Neill on display.
On Monday 21st June the Ballymena Academy U14 team travelled to play the Limavady Grammar School team in glorious conditions at the Ballyquin Road venue. Both teams were in a position to use extended squads and all the players put on a first class display of running rugby. Everyone involved was delighted with the high standard of rugby on display, in particular, Jordan Foster, the Ballymena Academy U14 coach.
Jordan has been on placement from the University of Ulster throughout the year and was given the responsibility of working with this squad during the lockdown period. His hard work with the young Ballymena Academy team came to fruition with their positive performance in the course of this game. Tom Wylie, Reuben Allen, Matthew Cahoon, Matthew Wright, Peter Bailie, Zac Fleming and Harry Young were among the Ballymena players who impressed with the ball in hand while Reuben Allen was deadly accurate off the tee.
Limavady Grammar School not only provided great facilities for the game but great hospitality following the game which was enjoyed by all the participants.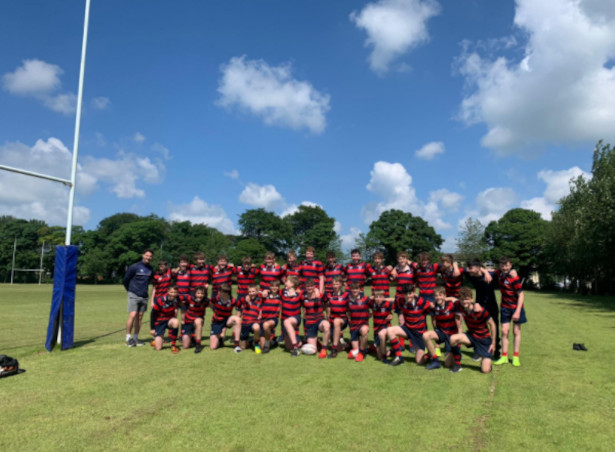 On Tuesday 22nd June Enniskillen Royal Grammar School and Foyle and Londonderry College Medallion teams played out an exciting and highly entertaining game which was played with great spirit by both teams.
The Enniskillen team won the game with players such as Toby Newman, Morgan Whittaker, James Morrison, Jake Woods, James Trotter and Tadhg Hambly all impressing.
Sam Pollin, James Kelly and Jack Craig impressed with their performances for the Foyle College team.
On Wednesday 23rd June Foyle and Londonderry College travelled with their U17 and U13 teams to play their Cambridge House Grammar School counterparts in Ballymena.
The U17 game was closely contested with the Cambridge House team emerging as winners following an exciting game. Deane Agnew, Ben Goodfellow, Dylan McNeilly and Tristan Ferguson stood out with their performances for the Cambridge House team while James McKillop, Chris Boyd and JF Bayliss all performed well for the Foyle College team.
The U13 game was another closely contested affair with Henry Kyle and Reuben McClintock performing well for the home team with Shay Grimes, Darwyn Nutt, William Gamble and Garbhan Duffy impressing for the visitors.
Meanwhile at the excellent Foyle and Londonderry College pitches the Cambridge House Grammar School U12 teams arrived to play out a number of exciting, high scoring games.
Players such as Ethan Gallick, Tom O'Neill, James Mackey, Sam Reilly, Joshua Nutt, Luke Wilson, Alex Withrow, Sam Donnelly and Cian O'Leary were among the top performers for the Foyle College team.
For the Cambridge House team Jacob Agnew, Isaac Aitchison, Thomas Calwell, Cody Colgan, Charlie Davidson, Jake Dempster, Shay Gill, Matthew Herron, Scott Lorimer, Josh McCaw, Tom McCrory, Joel Mills and Josh Waddell showed great skills and commitment in the course of the games.
Dalriada School and Ballymena Academy U12 teams met on Wednesday 23rd June in Ballymoney and played out a series of small sided games.
The games were highly competitive in nature and the scores were, in many ways, irrelevant. The emphasis instilled into all the players by their coaches was to have fun and enjoy the games.
Ballymena Academy players such as Billy Wylie, Pearse Kane, Dylan Harrison, Nathan Glenn, Jonas McClintock, Daniel Thompson, Conor McAllister, Alfie McLean, Ruairi Simms, Matthew McKean, Noah Scott, Peter Willis, Matthew McIlroy, Henry Fisher and Kenzie McFall impressed with their performances.
On Thursday 24th June Ballymena Academy and Limavady Grammar School played out a series of smaller sided games at U13 level. These games were very competitive with all the players involved displaying a great range of skills in the course of the games.
On Saturday 26th the Ballymena Academy U12 teams played their final games of the season when they hosted a series of games against the Ballynahinch Rugby Club U12 teams.
Both teams enjoyed the games with Ballymena Academy players such as Billy Wylie, Dylan Harrison, Oliver Shaw and Alex Comiskey impressing with their performances. Another Ballymena Academy player, Nathan Glenn, really enjoyed the experience as he managed to score a try against players who had been his team mates when he played mini-rugby at Ballynahinch Rugby Club before he moved to Ballymena Academy.