Danske Bank Ulster Schools' Round Up Saturday 12th June 2021.
Having completed the Return to Play protocols, and built up from 7-a-side through to 10 and 12-a-side internal games, quite a few schools played controlled games at junior level against other school teams in recent days.
Foyle and Londonderry College, Royal School, Armagh, Enniskillen Royal Grammar School, Banbridge Academy and Ballymena Academy all put out junior teams with the annual Royal School, Armagh leaver's game taking place as well.
Foyle and Londonderry College hosted the Enniskillen Royal Grammar School U13 and U14 teams in games that were played in a great spirit of fun with lots of attacking rugby on display. The results were in many ways irrelevant with the overall winner being the game of rugby. All the players involved were delighted to get their school jerseys worn and really enjoyed playing in the games.
Enniskillen Royal Grammar School narrowly won both fixtures but no doubt the overall winner was rugby and it was great to see the players back out enjoying their rugby.
Both games were high scoring with Nick Boyd, Thomas Williamson, Adam Woods and Luke Barr-Hogan all scoring points for the Foyle College U14 team.
For the Enniskillen Royal Grammar School U14 team Toby Newman, Morgan Whitaker, Paul Hawthorne and Thomas Barnet all impressed with their ability to score points both in terms of tries as well as off the tee.
The U13 game proved to be another high scoring game with Ben Kennedy, William Gamble and Darwyn Nutt all contributing to the Foyle College account.
For the Enniskillen team Jake Irwin and Adam Cathcart impressed with their try scoring abilities when they took advantage of good work from their hard-working pack.
Ballymena Academy then hosted the Foyle and Londonderry College team at Medallion level before travelling to play the Foyle College U12 and U13 teams.
Ballymena Academy fielded two Medallion teams with their A team recording comfortable wins against both their B team and the Foyle College team for whom Cahir McKay impressed with his performances. These games were played at 10-a-side over 2 x 15 minute halves.
At U13 level Ballymena Academy took 30 players to play against their Foyle College counterparts with all the players from both schools getting plenty of game time. Charlie Hargy, Ben Collins, Reuben Burnett, Ollie Collins, Callum Ritchie and Ben Collins all stood out with their performances for the Ballymena Academy teams while Ben Kennedy, William Gamble and Darwyn Nutt continued their recent run of good performances in the Foyle College colours.
All the players impressed by playing the games in the true spirit of rugby football and were delighted to play competitive rugby after such a long lay-off and absence from the game.
The U12 games between the two schools saw some fifty players from each school taking part in competitive, but very controlled, fixtures. All the games saw both teams scoring a lot of tries but the important thing was the enjoyment experienced by all the players involved.
For the Ballymena Academy teams Patrick McCarey, Ruairi Simms, Zac Topping, Dylan Harrison, Billy Wylie, David Akin and Alfie McLean were among the try scorers.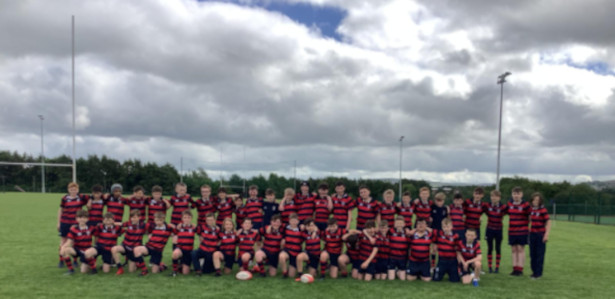 Banbridge Academy and Royal School, Armagh, having completed the Return to Play protocols, and played at seven and ten-a-side within their own schools over the past seven weeks, played out a series of 12-a-side junior games in the course of the past week.
All matches were played with full contact but with moderations in place to ensure it was a more gradual return to rugby after nearly a year out.
The U14 A teams met first with Armagh proving the stronger but Banbridge were well up for the challenge with their new Ulster U16 Squad training player, No 8 Ryan Hanna, to the fore ably assisted by out half, Andrew Jackson, centre, Elijah Dempsey, and flanker, Callum Little. The B game was a close affair which Armagh just pipped at the death.
The U13 teams then met on another sunny day and, once again, the A game was a close encounter with Armagh pulling away at the end to record a win. Noah Haughey and Warren Hooke were to the fore for Banbridge team at all times. The B match saw Banbridge run out comfortable winners not least thanks to a hat trick of tries from winger, Matthew Grimes.
The U12 teams then met for their first full games for their respective schools. Both games saw excellent attacking rugby and huge amounts of endeavour. The A games were honours-even over 3 matches with Armagh winning one, Banbridge one and the third game finishing as a draw. For the Banbridge team forward, Patrick McIlroy, was prominent in the loose as was wing, Reuben Walsh, who tackled well. The B team toiled hard in the sun but Armagh had too much firepower and ran out winners. Syd Moore and Ellis Humphries played well for the B team with Isaac McIlwaine showing good skills and commitment class in his first ever game of rugby.
The Medallion teams finished the series and the A game was a nip and tuck affair with Banbridge triumphing by just a single score. Ulster U16 player, Connor Magee, was powerful in the loose and Ulster U17 player, Daniel Hutchinson, was excellent in the centre. The B fixture was more one sided to Armagh but Banbridge were brave throughout the game despite being overpowered by a very strong Royal School, Armagh team.
All the players from both schools thought it was simply brilliant to be playing again and all the players, as well as their coaches, were delighted with not only the quality of rugby played but also the excellent spirit in which all 8 games were played.
The Royal School, Armagh annual leaver's game ended with the remainer's team defeating the leaver's team recording a well-deserved 29-15 victory.
James Anderson and Daniel Eshaghian featured strongly for the remainers with Dylan Poyntz and Ross Taylor putting in good performances for the leavers.