D-Robe Outdoors… Free to Be
https://www.d-robeoutdoors.com/
D-Robe Outdoors, a functionally stylish piece of outerwear inspired by the ease and protection of a changing robe, resistant to all weather conditions and timeless in design. Whether strolling seaside or zig zagging through a bustling city, this classic jacket integrates high-performance features and inspired elements, to keep you covered regardless of what life throws your way. Featuring a recycled fleece interior lining and embodying the length of a trench coat and style of a modern parka, the Beaufort Robe is the ultimate shield for daily life when it comes to staying warm and dry against harsh outdoor conditions. D-Robe's durable and versatile selections are genderless, ageless and stand the test of time. Effortlessly limiting overconsumption as a go-to staple that fits perfectly with any capsule collection, using sustainable, plastic-free packaging and eco-friendly materials.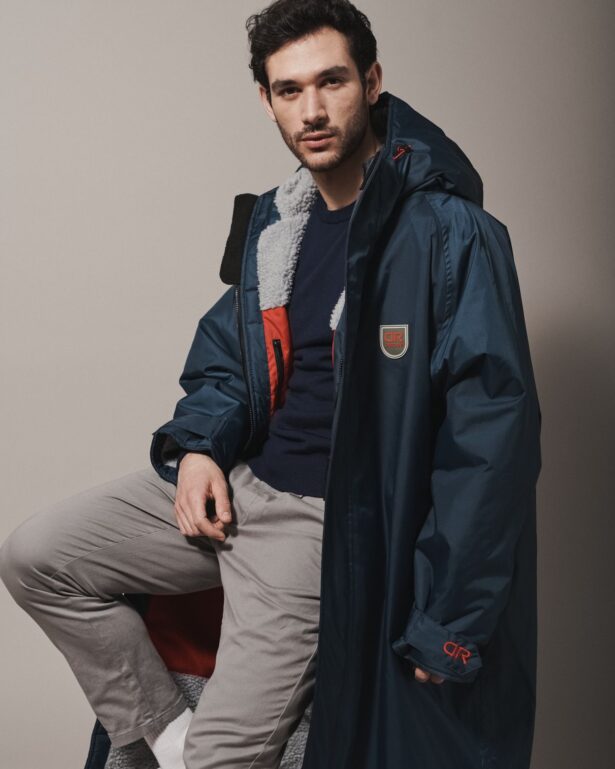 D-Robe was specifically designed to transform and adapt to your needs. It is the perfect outerwear companion and can be worn at work and at play, in the city or by the sea, on and off the rugby pitch. Whether you need to keep warm during half time, are cooling down post-match in the rain, or are supporting your team from the side-lines, our versatile Robes are perfect to throw on and are guaranteed to keep you warm and dry so you can be ready for every eventuality.
Fully waterproof, wind-resistant and crafted with a breathable outer shell, the robes are made of recycled nylon and finished with taped seams, to enhance the waterproof protection (un-taped needle stitching leaves tiny holes for water to seep through in wet conditions). The outer shell is fully wipeable making it easy to clean your robe after a day on the muddy pitch. The irresistibly soft fleece lining of recycled polyester houses multiple functional pockets that protect your everyday essentials, including a detachable inner pocket that can be easily removed and washed to keep your robe fresh. Our signature D-Ring is fitted to the outer shell and serves to hang your robe for quick drying or easy storage – in the changing room or back at home. For a personalised fit, and maximised protection, you can quickly adjust the Velcro sleeve straps and hood drawstrings. They have also been designed with a quick close placket to cover the double-way zip for additional warmth and shielding.
The brand has been created by a collective group of individuals passionate about the outdoors, the environment, sport and good design. Each bringing their own industry experience and demands for what the perfect everyday jacket should fulfil. One of those individuals is the brands Director, Matt, who states,
"Through family surf trips, Devon holidays and athletics track days we each began to see the advantage of a changing robe, but none currently on the market were ones we would personally choose to wear. Whilst they served a practical purpose, none were stylish or versatile and although this current product suited surfers well, they seemed to only live on the beach. The team therefore noted that by improving the functionality, quality and style of the classic change robe, we could create an incredibly versatile jacket – the best of its kind on the market – that's both sustainable and affordable. A jacket that would not only be better suited for all water sports, but also to keep you warm and dry walking the dog and commuting to work, chilling with friends at a BBQ or watching a match from the side-lines – ideal for sports enthusiasts and everyday heroes alike."
Their brand attitude is encapsulated in the phrase Free to Be – with a Beaufort Robe in your arsenal you don't need to worry about anything that life, or nature, could throw at you, you can just simply be.
"Free to Be"
Website URLs: https://www.d-robeoutdoors.com
Facebook: https://www.facebook.com/drobeoutdoors
Instagram: https://www.instagram.com/d_robeoutdoors/