CREATE THE ULTIMATE HOMEMADE PIZZA AND PASTA THIS SUMMER WITH CARR'S FLOUR'S 00 GRADE FLOUR
Whether you're hoping to entertain outside, looking for a school holiday project or wanting to level up your skills in the kitchen, with Summer upon us, you can whip up fantastic pizza and pasta dough thanks to Carr's Flour's premium fine 00 Grade Pizza & Pasta Flour.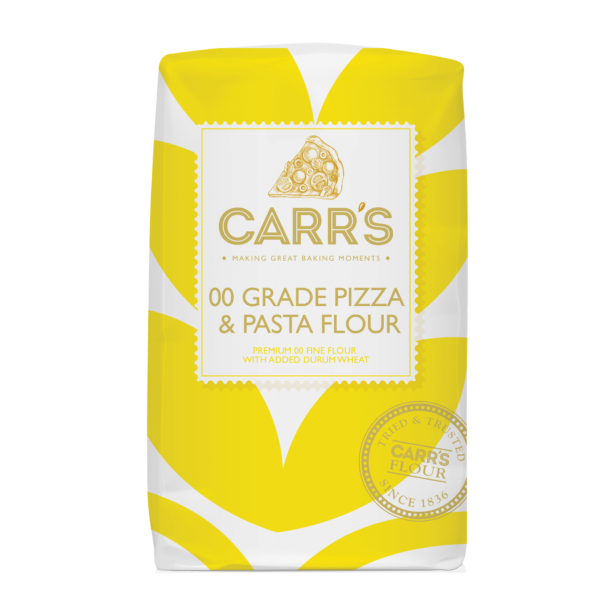 Considered the gold standard for pizza and pasta dough, 00 Grade Flour, which has added durum wheat, produces dough with high elasticity, perfect for kneading and delicate enough to produce desirable al dente pasta and light, open texture pizza dough.
With the rise of home pizza ovens and a huge desire for mastering on-trend Italian favourites like Carbonara, Cacio e Pepe and filled Ravioli, there's so much fun to be had in creating your favourite pasta and pizza dishes at home – the only difficulty will be sharing the fruits of your labour!
Carr's Flour's 00 Grade Pizza & Pasta Flour is available in 1kg bags, and can be purchased via their online shop for £1.65 or on Amazon.
Carr's Flour have been producing a range of premium quality flours from their mills for nearly 200 years. A firm favourite of artisan bakers right through to home cooks, Carr's Flour pride themselves on combining their traditional craft with modern milling methods. Their teams of dedicated millers pour knowledge and expertise into every bag of flour, creating great baking moments for customers, every time.