CONSOLE VAULT® SHOWCASES TOYOTA HALF-CONSOLE SAFE
(10% Off Here by entering the code RUGBY).
You can find the full-size and half-size safes for the Tundra on www.consolevault.com Shop by Vehicle.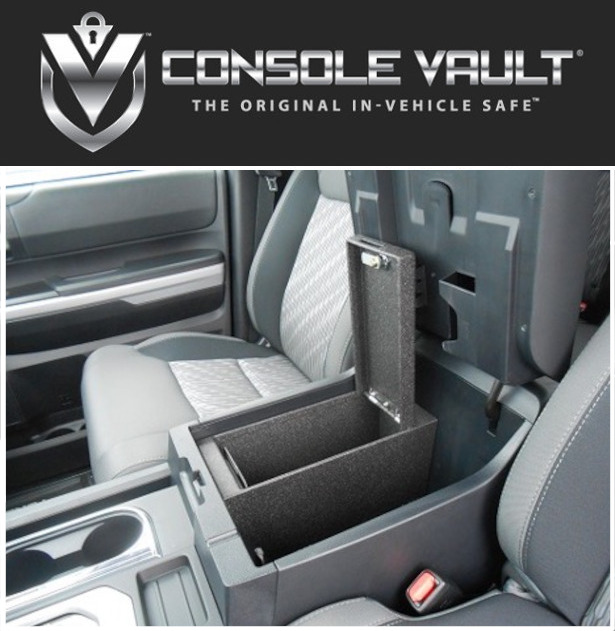 Console Vault is the original in-vehicle safe designed for those people who want worry-free storage for their valuables while they are enjoying the great outdoors…for businesspeople who are constantly in and out of their vehicles…or for those who need safe, secure storage for their firearms. Whether for yourself or a loved one, Console Vault in-vehicle safes protect your most valuable possessions whenever or wherever your journeys take you.
Columbus, OH—April 27, 2021—Console Vault®, is showcasing the Toyota Half-Console Safe for those customers looking for a secure place to hold their valuables while also having the opportunity to utilize the other half of the console for items that don't need to be locked up.
Scott Bonvissuto, co-founder of Console Vault, said: "We listen to the feedback from our customers and take their ideas very seriously. The inside console for Toyota Tundra's 2014 – 2021 models have a larger dimension in comparison to other vehicles. With this in mind, we were able to design a half-console safe so that Tundra owners have an efficient choice between that and the full size safe."
The Console Vault In-Vehicle Safe for the Toyota Tundra Half-Console Safe measures: Interior: 14″ L x 5.5″ W x 9.25″ H and the Lid Opening: 9.25″ L x 5.375″ W.
The Full-Console Safe for the Toyota Tundra measures: Interior: 14″ L x 11.75″ W x 9.25″ H
Lid Opening: 9.25″ L x 11.25″ W
"I liked that I had the option of the half-console safe or full console safe for my Tundra because there were things, I wanted easy access to and other items like my jewelry, handgun and wallet that I wanted locked up," said a recent satisfied customer. "The Console Vault half-console safe is perfect for having the security to store my valuables while providing the room in the center console for other things that don't need to be locked up."
As with all Console Vault products, the safes for the Toyota Tundra are made from 12-gauge steel, exceeding all automotive quality standards and fit in the console of your vehicle, concealed from view. They are easy to install and require no modifications to your vehicle. All models include free shipping anywhere in the continental United States.
About Console Vault, LLC
Headquartered in Columbus, OH, Console Vault was founded in 2002 by an entrepreneur who decided to provide a solution for the rash of smash and grab car thefts he was seeing. The creation of an in-vehicle safe proved to be a viable solution that could secure both valuables and handguns in owners' vehicles.
Console Vault in-vehicle safes are designed to be the most innovative, highest quality products with guaranteed fit, styling and durability. Each safe is custom designed for easy installation for a wide and ever-growing range of vehicles. We are committed to providing peace of mind and a strong sense of security wherever you need to be. To learn more or review the entire Console Vault collection, visit www.consolevault.com