'TRY' ALDI'S SIX NATIONS CLOTHING RANGE
www.aldi.co.uk/c/specialbuys/clothing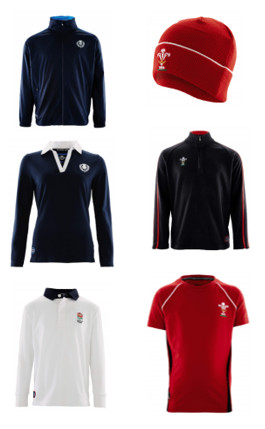 YOUTUBE | TWITTER | PINTEREST | FACEBOOK | INSTAGRAM
• Aldi launches Six Nations rugby range to kick off the tournament
• Official RFU merchandise in England and Wales
• Available in-store from 1st February
• Available to pre-order online from 28th January
Kick off the Six Nations Championship with Aldi's new Six Nations range, available in stores and online www.aldi.co.uk/c/specialbuys/sports-and-leisure from 28th January, days before the tournament officially starts.
Fans heading to the games can get kitted out from head to toe with Aldi's ultimate supporter bundle, available for English, Scottish and Welsh fans alike. This Rugby Rain Jacket (£19.99), a Rugby Hoody (£14,99), complete with a handy front kangaroo pocket to keep hands toasty, a Rugby T-Shirt (£6.99) and this Rugby Beanie (£4.99) are on sale for under £47 and are embellished with the team crest logos.
Available in sizes small to XXL, this Rugby Long Sleeved Top (£12.99), featuring a classic collar and V-neck design, can be paired with this Rugby Fleece (£12.99), specially made from 100% polyester micro fleece to provide extra comfort whilst cheering on the players this Championship.
The kids' don't need to miss out, too, with this matching mini-me Children's Rugby Top (£8.99) – a cotton jersey with a classic button and collar design – perfect to wear whilst supporting from the sofa. If you're lucky enough to be watching live at the stadium, little ones can layer up with this Children's Rugby T-Shirt (£4.99) and Children's Rugby Hoody (£9.99) – just the thing to keep the cold at bay whilst supporting!
The full range of Aldi's Six Nations range is available in stores and online from 1st February, available whilst stock lasts.
www.aldi.co.uk/c/specialbuys/clothing
PRODUCT DESCRIPTION PRICE
RUGBY RAIN JACKET £19.99
RUGBY HOODY £14.99
IPA SELECTION PACK £14.99
RUGBY FLEECE £12.99
RUGBY LONG SLEEVED TOP £12.99
CHILDREN'S RUGBY HOODY £9.99
CHILDREN'S RUGBY TOP £8.99
RUGBY T-SHIRT £6.99
CHILDREN'S RUGBY T-SHIRT £4.99
RUGBY BEANIE £4.99