Perfect Christmas Gifts From Microplane (hartsofstur.com)
Microplane (available from hartsofstur.com)
• NEW Adjustable V-Blade Slicer – the compact Mandolin offers two slicing options, from paper-thin to thick (RRP £49.95)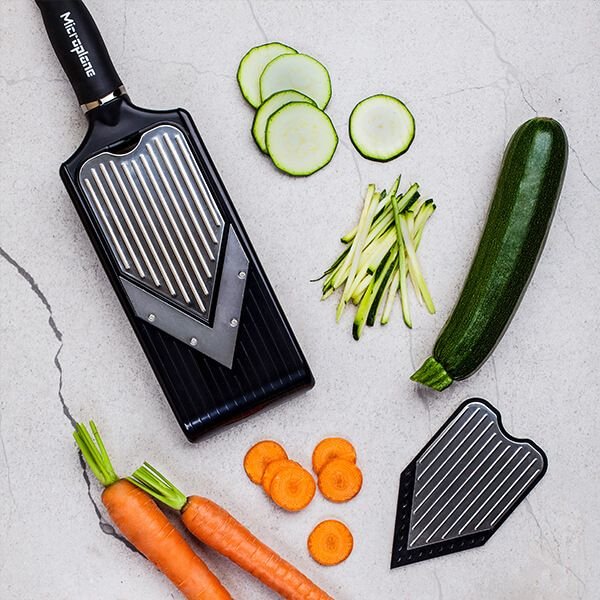 • NEW Professional Serrated Peeler (RRP £19.95)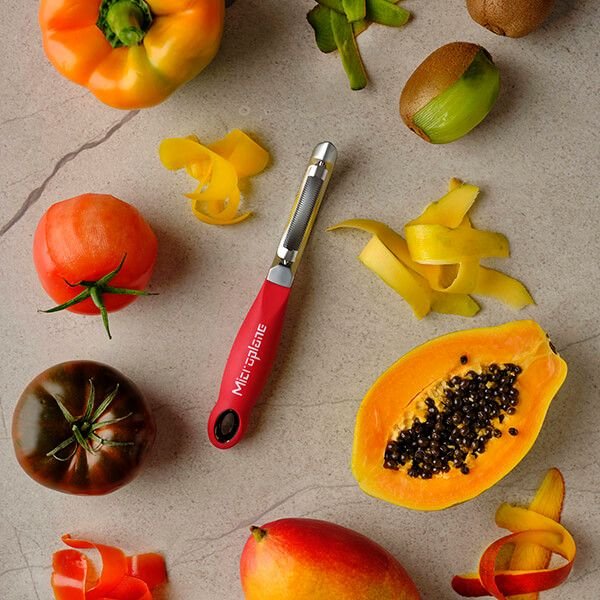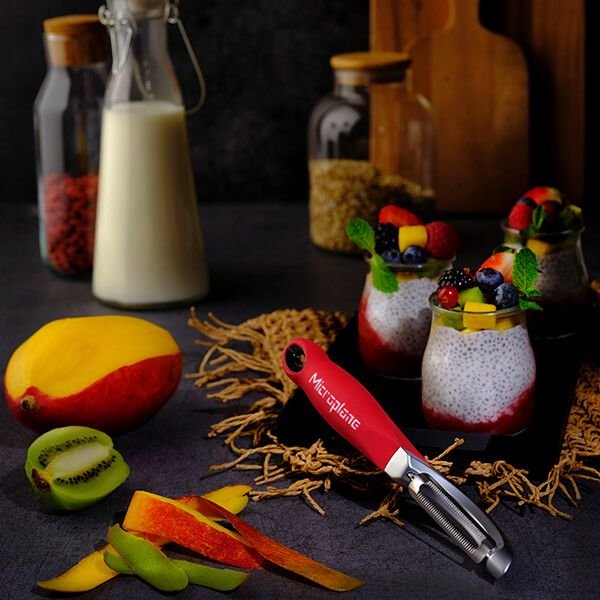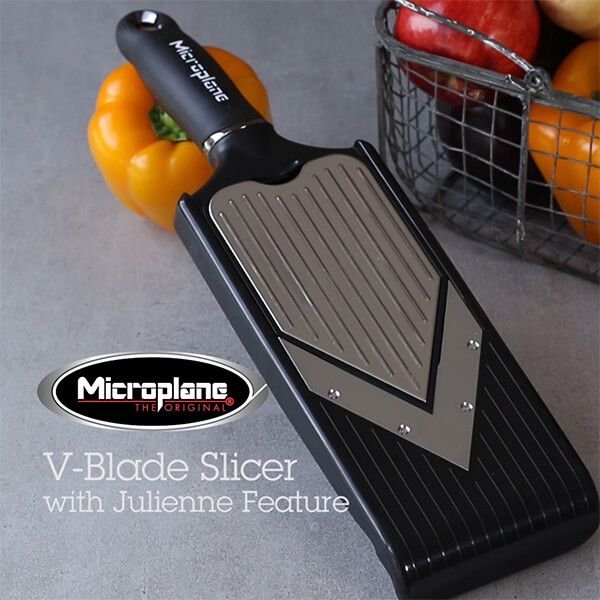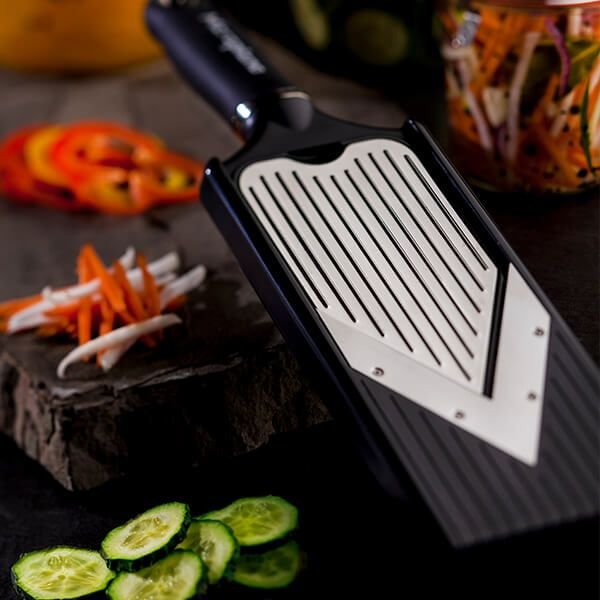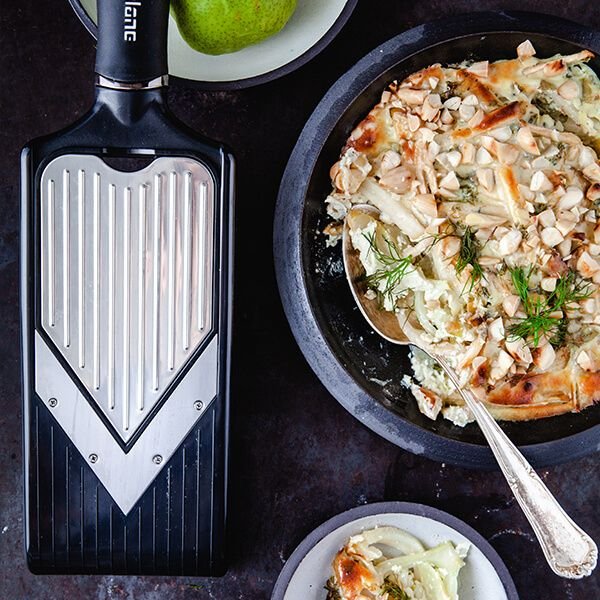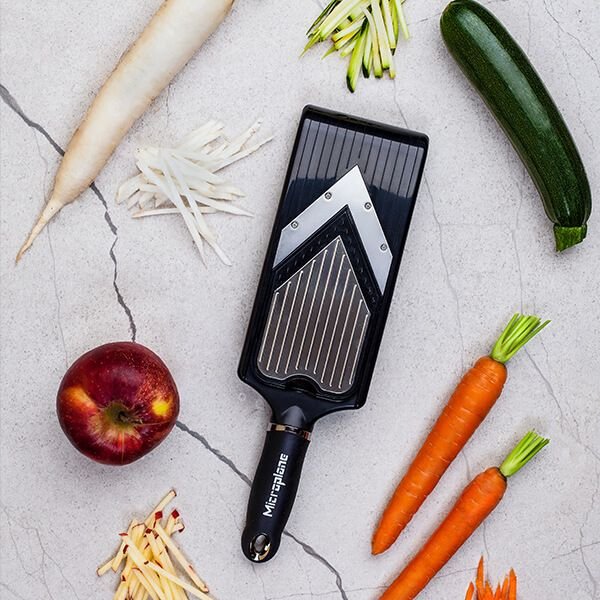 Check out these massive Christmas deals from some amazing brands!
BISSELL (available from major electrical retailers and bisselldirect.co.uk)
• NEW SpotClean Pro – combines powerful vacuum suction, brushing action and cleaning solution to remove dirt & stains (RRP £149.99)
• NEW SmartClean Pet – a pet-owner's best friend, exceptional bag-less vacuuming power rapidly removes dust and debris (RRP £249.99)
KitchenAid (available from kitchenaid.co.uk)
• Pebbled Palm Artisan Stand Mixer with NEW Gold Metallic Seasonal Bowl (RRP £599)
• Artisan K400 Blender in NEW Pebbled Palm (RRP £279)
• Artisan 2-Slice Toaster in NEW Pebbled Palm (RRP £199)
• NEW Artisan 1.5L Kettle in Pebbled Palm (RRP £149)
• Artisan Stand Mixer in NEW colours – Feather Pink and Matcha (RRP £599)
Sacla' (available from www.sacla.co.uk)
• Giandujotti Chocolates by D Barbero (150g £10)
• Le Rustichelle Egg Pasta by Rustichella d'Abruzzo (500g £12)
• Vegan Panettone (750g £15)
• White Truffle Flavoured Olive Oil by Inaudi (100ml £17.50)
• Manicardi Deluxe Balsamic Dressings Triple Pack (3 x 300ml £25)
• Ranieri Extra Virgin Olive Oil Jeroboam by Ranieri (3L £80)
Tracklements (available from tracklements.co.uk and fine food delis and farm shops nationwide)
• NEW Special Edition Rhubarb & Apple Chutney (RRP £3.60, 220g)
• Cranberry, Port & Orange Sauce Le Parfait Jar (RRP £5.80, 310g)
• Christmas Spice Chutney Le Parfait Jar (RRP £5.80, 300g)
• Particularly British Piccalilli Le Parfait Jar (RRP £5.80, 260g
• 9-Mini Jar Gift Set (RRP £6.20, 280g)
Copper water pitcher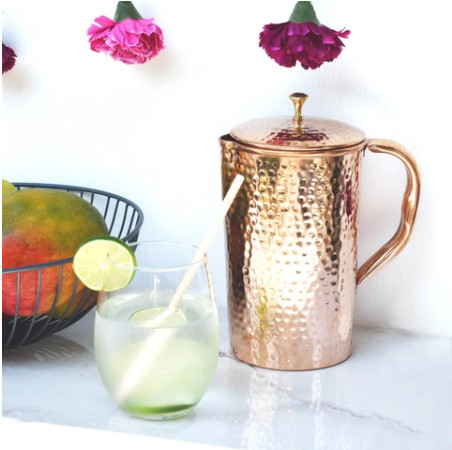 www.shantiva.com/collections/all-products/products/copper-pitcher
Use a water pitcher that supports the environment while also making your kitchen shine. This copper water pitcher is handmade by artisans using sustainably-sourced copper. It is easy to clean and is built to last a lifetime, avoiding the need for replacement. www.shantiva.com
As a professional organizer I am aware that many holiday gifts go unused and even unopened each year.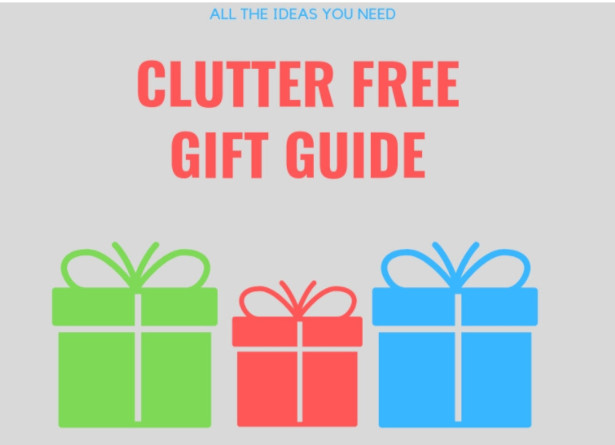 After a survey of kids, teens, parents and grandparents I've complied a gift guide of over 40 items that recipients really want and use. Over the past few years we have been experiencing a positive shift and people of all ages are placing value on experiences over things. Family members and friends love contributing to the magic of the season by giving gifts that recipients really want.
Think activities or adventure:
1 – Support a local business by gifting weekly horseback riding lessons (or something similar) – you can also provide necessary equipment or gear to go along with these types of gifts.
2 – Plane tickets or hotel stay for a traveler – if they are going to new climate or location add something they will need on the trip
3 – Subscription to a monthly service like Audible or even Amazon Prime
4 – Food – Monthly wine or beer clubs are great. Fresh citrus or high quality meats delivered to your door are also delicious and appreciated
Many more gift ideas can be found here >> www.intentionaledit.com/ultimate-gift-guide-clutter-free-gifts
Suits to Masks-Fashion Forward with a Twist
xsuit.com/collections/xsuit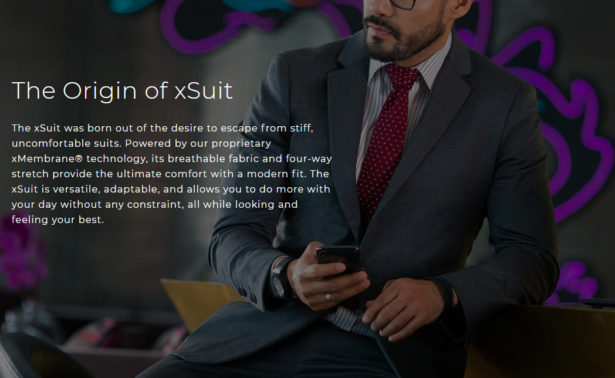 xSuit (the most crowdfunded suit of all time on Kickstarter with over $600k pledged), once again gaining popularity again as men are re-entering the world and looking for a suite as comfortable as sweats. The xSuit is the world's best-in-class tech-infused, wrinkle free, liquid resistant and ultra-stretchable for maximum comfort and zero maintenance. xsuit.com/collections/xsuit HOUSE OF X®, is also the e-fashion house behind the xMask, Premium fashion masks, that are set to replace old standbys like socks/ties/gloves/scarfs as the top stocking stuffer for the holidays. A mask that looks good and is certified for safety. xMask Men combines cutting-edge filter technology with timeless design or fashion forward with a twist. The xMask is the first mask to be engineered with high-tech mesh fabric equipped with 2-way filters, protecting both the air being breathed in and out (to protect the public as well as the wearer). xMask Men is unlike any competitor's brand, combining functionality, fashion, style and safety. Plus, for every mask bought one is donated, to a hospital in need. To date xMask has donated over 50,000 masks to hospitals across the USA. xsuit.com/collections/xmask-men
Harlequins and Gordon's School announce landmark D.i.S.E rugby programme partnership.

Harlequins and Gordons School are working in partnership to develop promising young rugby players in the Harlequins catchment area. The Diploma in Sporting Excellence (D.I.S.E) programme, which they deliver together, aims to provide an outstanding rugby and academic development programme for talented young players to achieve their potential both on and off the pitch. The partnership provides a much-needed state school pathway to high level rugby, to mirror the well-established and successful existing partnerships that Harlequins has with a number of independent schools.
Harlequins Academy Coach Jim Evans said: "We're thrilled to announce our partnership with Gordon's School through the DiSE programme. This is something we have wanted to do for several years, to form a partnership with a school that would complement the fantastic schools we already have relationships with within the counties of Surrey and Sussex. We feel having one school that allows us a little more contact time, up to twelve hours a week, is an excellent opportunity for anyone that comes to Gordon's both from an academic and rugby perspective.
"The students that are part of the programme will have the opportunity to play in the ACE league next season, where the standard of rugby is very high, whilst also receiving a first-class education.
"This is also another opportunity for the Club to provide more entry points than exit points into the sport. We are hugely excited to work with Gordon's and the students in the DiSE programme."
Jamie Harrison, Gordons School Director of Sport (quote) is excited by the programme: "Gordons School is delighted to be working closely with Harlequins. We recognise there is great rugby talent in the region and this offers young players an opportunity that did not previously exist. Hopefully, some of these players are going to secure professional contracts, but obviously not all will and it is important they receive a strong academic programme alongside the development of their rugby skills."
As part of the programme, Gordons school (will in 2021-2022) enter a Sixth Form team into the RFU's National ACE League, playing fixtures against the ACE School/Colleges of the other 11 Aviva Premiership clubs.
Chris Davis Director of Rugby, who coordinates the DiSE programme, says: "The ACE League is a very high standard of rugby, but with Harlequins support in areas such as strength and conditioning, match analysis, positional one on one coaching and physiotherapy, the players have the best opportunity to achieve their full potential."
The programme is targeted primarily at 16-year old's rugby players from within Harlequins catchment area, who join the school's Sixth Form for their A Levels and BTEC courses. Some players elect to board in the school's boarding house.
WHAT IS DISE?
Harlequins and Gordons School DiSE Rugby Programme
The Diploma in Sporting Excellence (DiSE) programme is designed to meet the needs of young people, aged between 16 and 18 who have the potential to achieve excellence in rugby while pursuing an outstanding education at the same time. The scheme operates across a range of sports and is currently running in 12 Gallagher Premiership Rugby Academies in partnership with established local education providers.
The aim of the DiSE partnership between Harlequins and Gordons School is to continually identify, recruit and develop talented young rugby players and bring them through the School and Academy programmes towards a professional contract and the senior squad.
DISE BENEFITS
What are the benefits of this programme to young people?
• Players are allowed to work within the optimum environment to realise their sporting and academic potential.
• They are concentrated in a local school so that they have their education together, train and play together, encouraging motivation and team spirit.
• Outstanding government-funded educational provision.
• High quality and relevant curriculum incorporating vocational and academic qualifications.
• A rugby programme that is managed and delivered by high quality coaches and staff at both Gordons school and Harlequins.
• Top quality training and playing facilities.
• Outstanding Strength and Conditioning facilities, following individualised training programmes set by Harlequins S&C staff.
• Minimum of 12 rugby-related hours a week, two terms of rugby competition and a summer term of rugby development.
• Access to the best of off-field support from Harlequins and school medical, physiotherapy and sports therapy professionals.
• Exposure to a highly competitive environment in which to test themselves (the ACE League is the highest standard of schoolboy rugby available).
• The best opportunity of progression towards the professional game and International age grade representative sides.
• Access to a viable State School alternative to the traditional independent school sports scholarship for 16-19-year-olds.
• Players can, if necessary, take advantage of the school's boarding facilities.
• Those players not securing a professional contract are guided to alternative Higher Education pathways.
If you have more questions about the DiSE rugby programme being delivered by Harlequins and Gordons School please visit the Gordons school's website or contact: Director of Rugby Chris Davis – CDavies@gordons.school
Harbour Hounds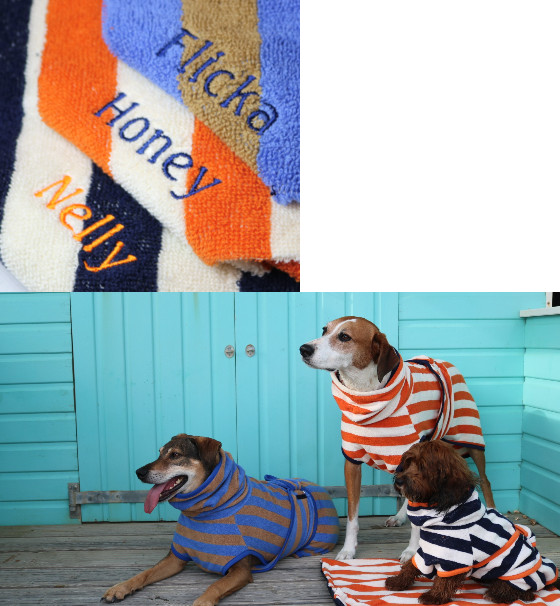 A young business, only started a year ago, offering practical and nautically stylish products for dogs and their owners. Inspired by the fun and beauty of coastal living, Harbour Hounds has everything you and your four-pawed pal need for a great day out at the beach or on the water, or simply for life in general. You can check us out here www.harbourhounds.com
And find out more about our range of dog drying robes here www.harbourhounds.com/products?category=Beach+Dog+Drying+Coat
Pure Synergy: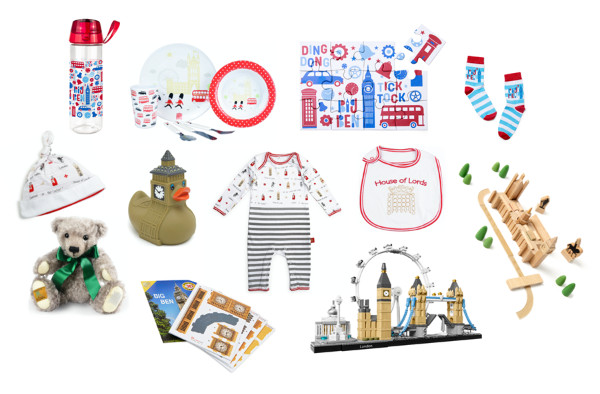 For Your Workout Buddy:
SuperPure Astaxanthin helps bring about optimal athletic performance and recovery, as well as keep the skin healthy and glowing. Also great for that friend really into the ingestible beauty trend!
SuperPure Turmeric protects joints and makes a faster workout recovery… so they can hit that ab class with you tomorrow!
For Your Health-Nut Coworker:
For that Zoom-worker who always counts their steps and makes healthy lunches, Super B Complex is for them. Made from organic fruits and veggies this tablet is the perfect balance of all eight essential B vitamins plus three important cofactors in a potent, energizing formula.
Organic Kale Powder assists in detoxification, nourishes eyes and skin, and supports healthy cells. Great in smoothies or in salad dressings.
For Your Foodie Friends:
Allow them to create their own yummy mocktail recipes with Pure Synergy's Berry Power. This organic powder is deliciously sweet with no added sugar. Just 1.5 teaspoons, this powder promotes optimal heart and blood vessel health, supports the immune system, healthy skin, vision and brain function.
GIFTS LITTLE ONES WILL LOVE!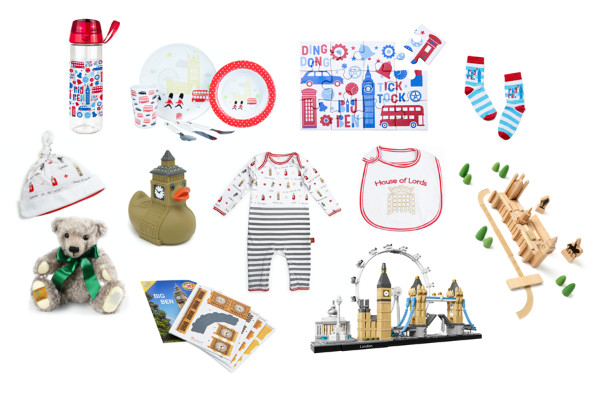 Whether you are looking for the perfect birthday gift, Christmas gift or just wanting to treat your little one to something special,
Houses of Parliament Shop have you covered!
From games to clothing, you will be sure to see their faces light up with joy when they unwrap their fabulous presents!
All available from Houses of Parliament Shop – shop.parliament.uk
Independently-made food & drink gifts from DiscoverDelicious. Wales, home of the largest collection of artisan Welsh food & drink online.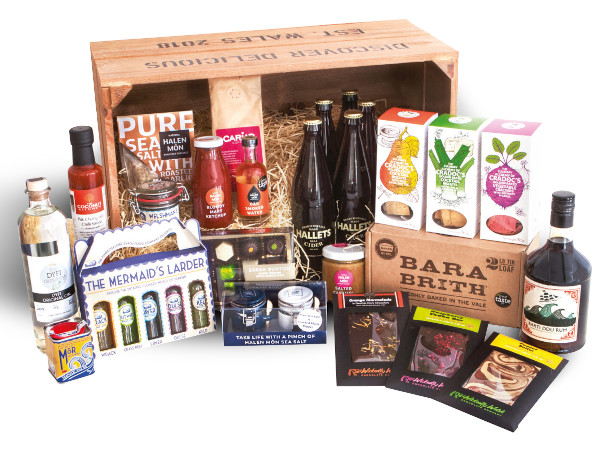 Shopping with DiscoverDelicious.Wales is not only an opportunity for consumers to discover uniquely Welsh food & drink products that can't easily be found elsewhere, it's also an opportunity to be a conscious consumer: bringing ethical values back into shopping through a fair pricing structure, supporting small producers, prioritising provenance and connecting with the people, places and processes behind the food we eat.
THE MAMGU WELSHCAKE SCOFF GIFT BOX
Based in the stunning seaside village of Solva, Pembrokeshire you will find a quaint little café called MamGu Welshcakes. Step inside and you're guaranteed a warm Welsh welcome, a comfy chair and of course a handmade, still-warm Welshcake. At MamGu, they adore the sweet little cakes that have been a rich part of Welsh history for hundreds of years, and theirs are homemade with love, the way they're meant to be.
The MamGu range consists of about 14 different flavours, from the traditional to the alternative. If you can't make it to Solva this autumn, each Scoff Box (£12.50) contains a selection of MamGu's best-selling Welshcake flavours, all beautifully gift wrapped in a stunning gift box and delivered to the doorstep.
BARTI SPICED RUM
Barti Spiced Rum (£29.95, 70cl) was inspired by the story of the infamous Welsh pirate, Barti Ddu. Once known as John Roberts, Barti Ddu started out as a young lad from Little Newcastle in Pembrokeshire who left to work on a naval ship, and later found himself captured by pirates. Making the best of the situation, Roberts went on to be one of the most successful pirates to ever sail the seven seas.
Barti Spiced is made up of a blend of the finest Caribbean rum, seasoned with vibrant notes of vanilla, clove and subtle orange, along with hand-picked laver seaweed from the beautiful Pembrokeshire coast. The seaweed gently mellows the vibrant vanilla, Christmassy clove and zingy citrus to create a smooth spiced spirit, perfect to drink over ice, with cola or with ginger beer.
THE WELSH CHEESE COMPANY'S MEDIUM CHEESEBOARD SELECTION
The Welsh Cheese Company aims to champion the hard working, incredibly talented cheese producers of Wales that are all too often overlooked. This curated collection (£37) of six incredible cheeses from across the country is the perfect choice for your next dinner party, demonstrating the great variety of delicious cheeses made in Wales, from Brie to Blue, and everything in-between.
SILVER CIRCLE DISTILLERY'S WYE VALLEY GIN
Wye Valley Gin (£40, 70cl) is a signature Welsh craft gin inspired by the beautiful countryside and stunning woodland walks of the Wye Valley. It is lovingly handcrafted by the Silver Circle Distillery using locally foraged botanicals and local spring water, ensuring a gin with a true sense of place. The result is a fresh, crisp gin full of floral flavour combined with tangy citrus notes.
Silver Circle Distillery is a brand-new craft spirits distillery based in the heart of Monmouthshire in the delightful village of Catbrook. Their goal is to create a range of vibrant, dynamic spirits that use locally foraged ingredients to create unique spirits with a true sense of place. Their mission is to highlight local flavours and products, focusing on sustainability.
AFON MEL'S HONEY MEAD GIFT SET
Afon Mel is a traditional family-run honey farm based in the stunning seaside town of New Quay, West Wales. They expertly produce a delicious selection of 100% raw honeys and boast a range of distinctive characters of mead, each with their own unique flavour and character.
This Mead Gift Set (£58.50) includes a 75cl bottle of Heather Honey Mead, a 75cl bottle of Cherry Honey Mead and a 75cl bottle of Raspberry Honey Mead; the panel at the 2019 Great Taste Awards commented that the Heather Honey Mead was "crisp, balanced and rounded with an almost sherry-like dryness on the finish" – making it the perfect partner for cheese.
COEDCANLAS' ORGANIC SICILIAN OLIVE OIL
Coedcanlas lies in the far west of Wales, in the heart of Pembrokeshire near the Daugleddau Estuary. Remote and unspoilt, it provides a perfect setting for Coedcanlas to both gather and create their unique range of artisan products. One of those products is this single estate 'medio fruttato' olive oil from Aldo Nava (£14.50, 500ml) – part of the Coedcanlas Sicilian collection.
Aldo Nava's olive grove lies between Castelluzzo and the spectacular San Vito Lo Capo, in the province of Trapani on the North West coast of Sicily, home to the unique Nocellara del Belice olive. During November the olives are handpicked and expertly pressed within 12 hours to create a sweet, fresh grassy aromas, delicate fruit flavours and a mellow peppery finish.
Jane Cook / www.janechicomendes.co.uk
I work flexibly, so while it suits me to email now, I don't expect a response or action outside of your own working hours.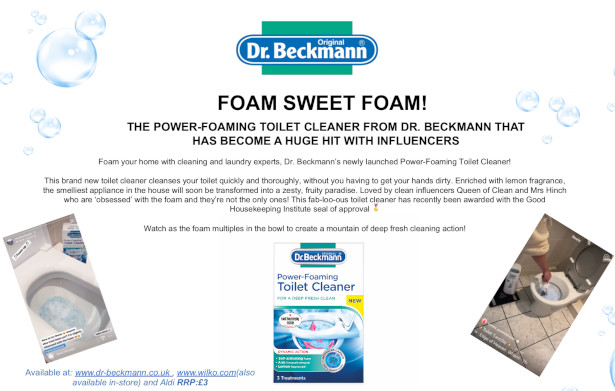 Flavourly Craft Beer CANvent Calendar Launches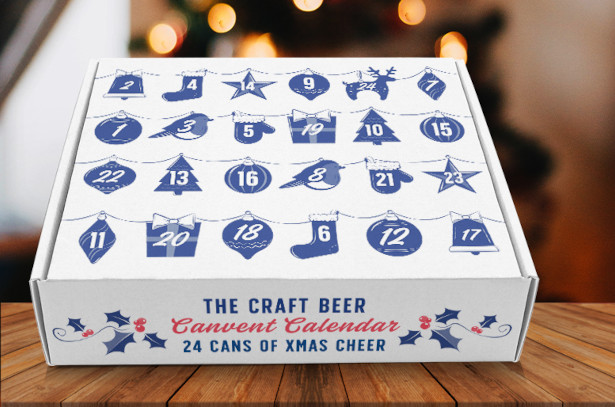 Flavourly's famous Craft Beer Canvent Calendar is back for 2020, launching this week with a special pre-order price of £39.95. The Canvent Calendar contains 24, full sized 330ml, premium beers from independent craft breweries such as Fourpure, Freedom and By The Horns. Returning for its 4th year the Flavourly Canvent Calendar contains the biggest selection of independent premium craft beers for the best price as you countdown to Christmas.
Following the success of the sell out 2019 Canvent Calendar, this year's advent offering maintains the same approach – 24 of the tastiest and most exclusive craft beers for the lowest price on the market. Focused on maximising the quality and variety of the 24 different beers, these are presented in a beautifully designed but simple advent box – with each door revealing a different 330ml beer can.
Flavourly, the online craft beer specialist works with dozens of small local breweries to deliver the widest range of fresh craft beers direct to consumers. With a 4.6 star TrustPilot rating and a partnership with DPD ensuring reliable and trackable deliveries Flavourly is able to deliver small batch and exclusive craft beers at supermarket beating prices.
Flavourly co-founder and CMO, Assean Sheikh said; "The Flavourly Canvent Calendar is the perfect way to try some of the best craft beers being brewed at the moment and if ever there was a time when we all deserve to give ourselves a wee daily treat – 2020 definitely feels like the year."
Pre-ordered Canvent Calendars will be delivered from the 16th November, ensuring they arrive in plenty of time for 1st December. Stock is limited and available on a first come first served basis. Following the pre-order period any Canvent Calendars remaining will be sold at the standard price of £44.95.
Visit www.flavourly.com/CANVENT2020 to order
Embrace your wild side with Christmas decorations from the Natural History Museum Shop
The Natural History Museum shop has announced a range of wild Christmas tree decorations suited to animal lovers and dinosaur enthusiasts. The Museum online shop is the perfect place to buy all your Christmas tree essentials for a truly roar-some Christmas.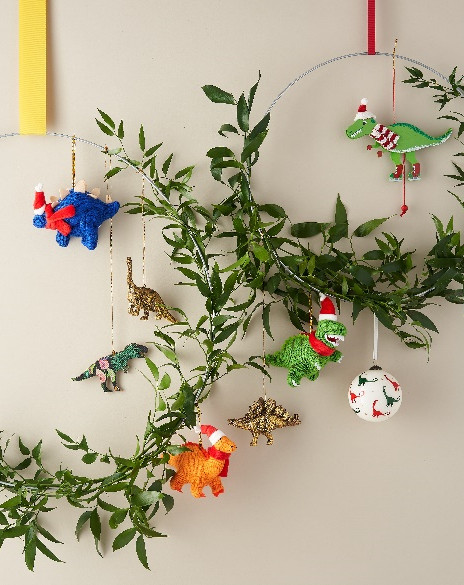 From golden safari animals to knitted dinos, the Museum is a one stop shop for a truly wild Christmas tree, decorated to suit the whole family. Sustainability is at the heart of this year's collection with a variety of wooden, felt and knitted products, and they are all glitter-free.
For more information and to purchase, visit: www.nhmshop.co.uk.
Premium Acupressure Mat, $94.50. www.doshamat.com
Pamper yourself with this luxurious premium acupressure mat. Acupressure is an ancient Ayurvedic treatment which is similar to massage, acupuncture, and reflexology. Acupressure works by massaging and stimulating key points on the body to promote deep relaxation and healing. Acupressure mats benefit the body by relieving tension, soreness and pain in the back, head, neck, shoulders, hips, feet, and other parts of the body. Acupressure mats are also used to help enter a deep state of relaxation, enjoy deeper and more restful sleep, reduce stress, eliminate headaches, increase circulation, positively affect the nervous and immune systems, help muscles recover faster after exercise, and increase energy levels. Dosha Mat acupressure mats are unparalleled in quality and beauty and are 100% eco-friendly. Each mat is carefully handmade using the highest-quality, hypoallergenic natural linen. Each mat also contains a removable cushion made of 100% natural coconut fibre. These mats also feature more than 4,500 high-quality acupressure points in the beautiful shape of lotus flowers.
AusAir masks are designed with sustainable, breathable, reusable materials* and an ergonomically design nose bridge for optimum comfort. Each mask seamlessly combines without sacrifice, factoring in all your essential needs; safety, comfort, eco-friendly and lastly, style.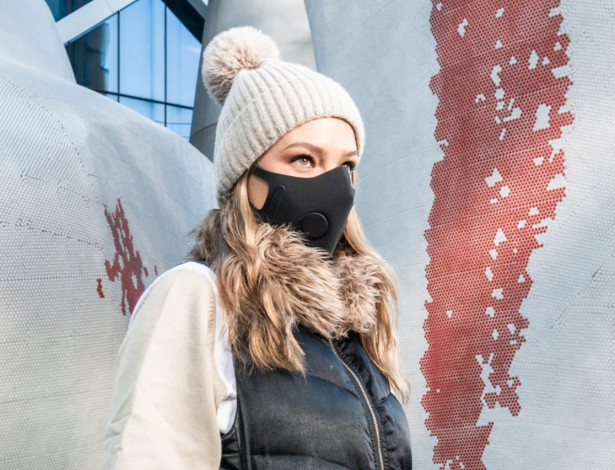 Facemasks are very much apart of our new way of living and so purchasing one that can be used longer term is becoming a necessity (60% of Brits are opting for sustainable fabric options to avoid adding to single-use waste issues) as it is more cost efficient, hassle-free and most importantly enviromently-friendly. In fact, 65% of Brits think only some of the masks available to purchase are safe and a further 1 in 4 (25%) of us believe that any material can be used for a mask and it will still offer the same safety and protection, however, sadly this isn't the case.
Originally designed for Australian bushfire conditions, each mask is fitted with a botanical filter – made from the best Australian botanicals which are responsibly sourced from local farmers – with scents including lavender, tea tree and eucalyptus. These botanicals offer more than just a pretty scent, they have been shown to relax your mood, sharpen your focus and perk up your energy!
Mental Wellness Journal for Creatives
legacyspks.com/shop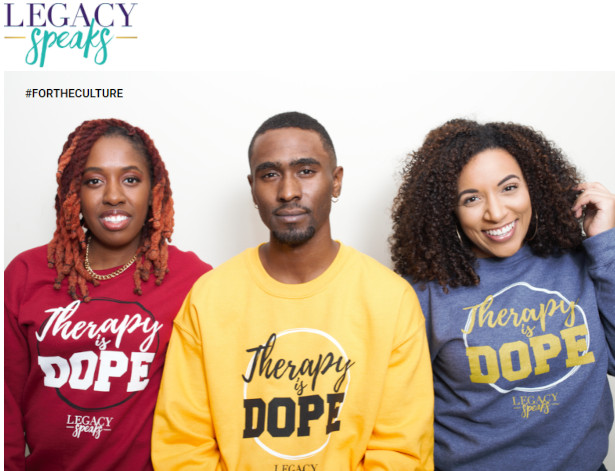 This gift is perfect for those who are creative and are looking to improve in the areas of self-care, productivity, and self-care. Mental health has been a trending topic and area of focus for a lot of people this year.
Attached is an image and below is the product description along with the Amazon link. It is NOT an eBook. Please let me know if any additional information is needed.
Creativity isn't cookie cutter and neither is your mental health journey. Mental Wellness for the Creative is a guided journal dedicated to the visionaries and innovators of the world. Creativity shows up in many forms – painting, fashion, architecture, culinary arts, photography, videography, literature, and so on. Here is a resource that focuses on three target areas: self-esteem, productivity, and self-care. It includes tips for mental and emotional health, goal-setting sheets, and guided prompts to increase insight through mindfulness.
www.amazon.com/gp/product/B08KFWM74M?pf_rd_r=G2TRXH791YFFH9SHWB3E&pf_rd_p=edaba0ee-c2fe-4124-9f5d-b31d6b1bfbee
Help someone special in your life stay hydrated with this classic, hand-crafted copper water bottle.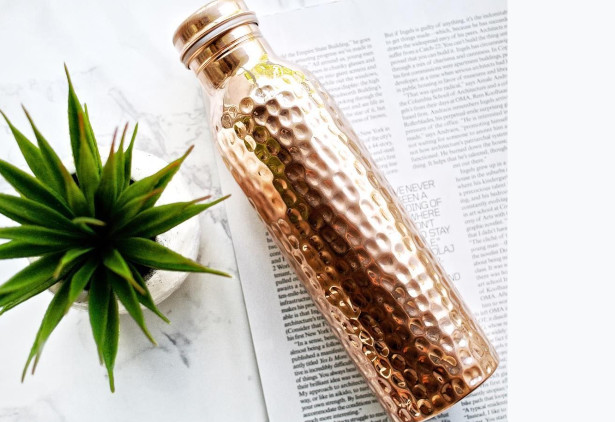 In addition to the environmental benefits of a reusable water bottle and the aesthetic qualities of this bottle, recent studies have shown that copper is naturally anti-bacterial and anti-viral, which makes copper water bottles ideal for an active lifestyle during COVID-19. Price: Starts at $34.50. www.copperh2o.com.
Black Personalised Clip Golf Towel – £12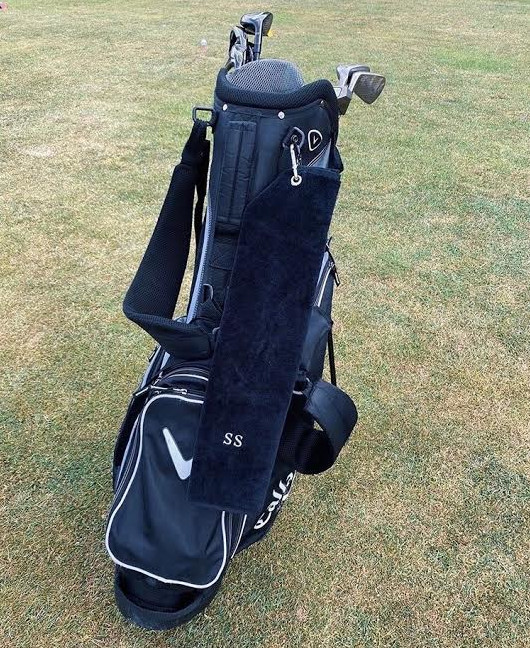 Our black personalised cotton cart towel would make the perfect gift for an avid golfer who gets the most out of their towel whilst on the course. Whether wiping down clubs, drying hands or cleaning golf balls ready for their next putt, this terry towel gets the job done! The carabiner clip means it's easy to attach to a golf bag and the soft absorbent cotton construction makes it a soft touch against clubs. babychum.co.uk/products/black-personalised-clip-golf-towel
Christmas Gifts from Ordo

This Christmas, Ordo is bringing picture perfect gifts for him and her, all for under £55. Ordo is an ideal gift for those wanting an Instagram worthy electric toothbrush or just a great smile. Ordo's Sonic+ Toothbrush is available in three sleek colourways to suit every style preference.
A picture containing sitting, front, table, wine
Description automatically generated
Ordo's bestselling Sonic+ Toothbrush is perfect for those who love their tech, it utilises sonic pulse technology with 40,000 pulses per minute for that dentist clean feeling. The Sonic+ Toothbrush can be purchased separately or as a starter pack with all the essentials including toothpaste, floss, interdentals brushes and their innovative eco-friendly mouthwash. Ordo also offers a bespoke subscription service, delivering all your oral care products straight to your door when you need them.
Ordo Sonic+ Toothbrush
£50, available in Rose Gold, White or Charcoal Grey
Available from Ordo and Boots.
Ordo Sonic+ Toothbrush and Starter Kit
Contains everything you need for your oral care routine, including mouthwash concentrate, reusable mouthwash bottle, interdental brushes, toothpaste and floss.
£55, available in Rose Gold, White or Charcoal Grey
Available from Ordo
Penguin Great Ideas set to return after 10 years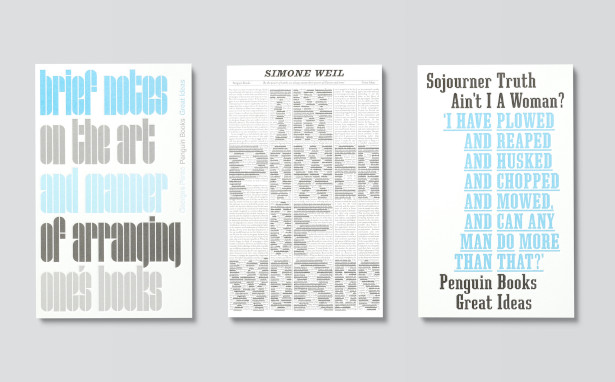 The publishing phenomenon from Penguin Classics returns with a brand new selection of 20 powerfully resonant and thought-provoking titles
Published on 24th September 2020 |Each title priced £5.99 | Available in paperback and eBook
10 years since the last instalment in the series, and with over 4 million copies sold to date, Penguin Great Ideas is back. A brand-new selection of 20 titles marks the return of the renowned non-fiction series from Penguin Classics. Bringing to readers the works of the many great thinkers, pioneers, radicals and visionaries whose ideas have shaken civilization and helped shaped the world around us, the series takes some of their most important, perceptive and powerful works and presents these selections of writings in beautifully designed pocket-sized volumes.
The 20 new titles in the series comprise a varied selection of authors whose work remains deeply resonant with and at times starkly reflective of today's world. From Audre Lorde's searing words on female strength and solidarity to Epicurus' reflections on the pursuit of happiness, from Peter Singer's unflinching vegan philosophies to Sojourner Truth's impassioned speeches on equal rights, and from Simone Weil's exploration of the power of language employed by those in power to Martin Luther King's sermons from the heart of the Civil Rights Movement, this is a timely collection of anarchists and stoics, feminists and prophets, satirists and Zen Buddhists whose work is as vital today as in their own time.
Award-winning designer David Pearson has returned to design many of the 20 covers of this new series, with series art direction by Jim Stoddart, in the trademark and much-celebrated typographic styles of the series.
Simon Winder, Publishing Director at Penguin Press, says: "The Great Ideas series began in 2004 and came from my frustration that within Penguin Classics we assumed that the great non-fiction of the past should just be studied – that it needed notes, a bibliography and introduction. While these were invaluable for students, they might be seen as a lot less fun just for readers. What if a series could be created where readers came as close as possible to the original experience, with nobody holding their hands?
The enormous success of the series has vindicated this view. There really is something wonderful about the raw, direct encounter with great ethical, political, religious and philosophical writing. The concept hardly counts as a very original one. This was, after all, simply the form in which books like The Prince and The Communist Manifesto had been published in the first place! It was also inspired by the famous Italian series, the Piccola Biblioteca.
Millions of copies later Great Ideas continues to inspire, confuse and enrage new generations of readers. This new set of 20 has come about because we had accumulated, from different fans of the series within Penguin Press, 20 really excellent omissions. As usual, the series owes a great deal to the designs of David Pearson (who also came up with the Great Ideas name all those years ago)."
David Pearson, designer, says: "It's a really interesting process – picking up a piece of work that you put down a decade ago. After 100 books it feels like the series has created its own rules and its own version of reality, which is an unbelievably fertile space for a designer to work in. Whereas the first series dealt mainly with straight cover versions it feels like we are now in the realm of thrillingly-inauthentic remixes.
The changing list of books naturally revitalises the look of the series (removing the Medieval and Renaissance periods reduces the scope for all-out decoration for example) but the challenge has always been to develop a sort of pleasing inconsistency, so that books play nicely together but also jar and spar when displayed in different combinations. I've always loved this about the series: the surprising effect that different pairings create and this seems to be reflected in the way that people buy them (it is incredibly rare that anyone would buy all 20 on a visit to a bookshop and the books encourage a kind of pick-and-mix approach to buying, especially given their reduced price and size).
Some covers prescribe, some misguide; some are formal, some informal; some are minimal, some maximal; some shout and some whisper. Some are legible and some – let's be honest – require a good deal of deciphering. It was great fun wearing all these different hats, often on the same day!"
For The Love Of The North, based in Whitely Bay in the North East.

For The Love Of The North was founded in 2017 by husband and wife duo, Paul and Lucy Hull. Born out of their passion for all things northern and a desire to support the talented artists and creatives from around their beloved region, For The Love of The North celebrates all that makes the North such a special place.
One of the best things about their business is that your purchase doesn't just support a small indie business it all also supports over 60 North East creatives. This in turn is supporting the local economy and area and it's something they're incredibly proud of.
They've just finalised their Christmas Gifts, exclusively designed and created by For The Love Of The North. Given its name, items naturally nod to iconic North-East landmarks.
New Holiday Adventure Features Team of Intrepid Youngsters on Quest to Save Santa
New York, NY, Oct. 5, 2020 — Not even the Macy's Thanksgiving Day parade could persuade the people lining the streets to look up from their phones. Only a few small children even noticed that something was horribly amiss: Santa Claus was a no-show. In an era when children practically dictate their wish lists and parents scramble to outdo each other, it seems the holiday spirit — along with Santa — has disappeared. When word spreads that Santa has, in fact, been kidnapped, it's up to a group of unfairly labeled children culled from The Naughty List to rescue Santa and remind everyone of the true meaning of Christmas. Will these intrepid youngsters rise to the challenge? There's only one way to find out!
Author Thomas Conway sets the stage for worldwide adventure in this imaginative, modern Christmas tale that blends elements of pop culture with the age-old tradition of Santa Claus. The Naughty List opens in a world without Santa, where toy manufacturer Eastern Industries has just released a new holiday marketing scheme, monopolizing the attention of the children and draining their holiday spirit. With Christmas fast approaching and the North Pole in chaos, a team of intrepid youngsters recruited from Santa's Naughty List aim to rescue Santa and save the holiday.
While primarily a Santa tale, The Naughty List cleverly incorporates Winter holiday beliefs from around the world, including the legend of Marduk, a Babylonian god; the Roman feast of Saturnalia; the epic story of Jangar from North Asia; Moravian traditions of animal communication; and the present real-life adventures of Israeli Santa Claus, Nicola Abdou.
Also sprinkled with references to holiday favorites such as Miracle on 34th Street, T'was the Night Before Christmas, Rudolph the Red-Nosed Reindeer and others, this wonderfully rich tale promotes right over wrong, good over evil and love over fear.
Suitable for all ages, The Naughty List skillfully weaves valuable lessons about overindulgence and society's tendency to put labels on children, with the overarching theme that when kids misbehave they should not be defined by their bad deeds but rather see it as a learning opportunity, since when we appreciate the best in humanity and combine our talents, we are capable of almost anything.
The Naughty List, winner of the 2020 Indie Book Award in the E-Book Fiction category, is the first release from Thomas Conway. His 30-year career spans various industries. When not at work, he devotes his time to environmental matters and inventing stories for his two children.
The Naughty List
Publisher: Skylands Publishing House
ISBN-10: 1734123400
ISBN-13: 978-1734123401
Available from Amazon.com
Bonnie and Hide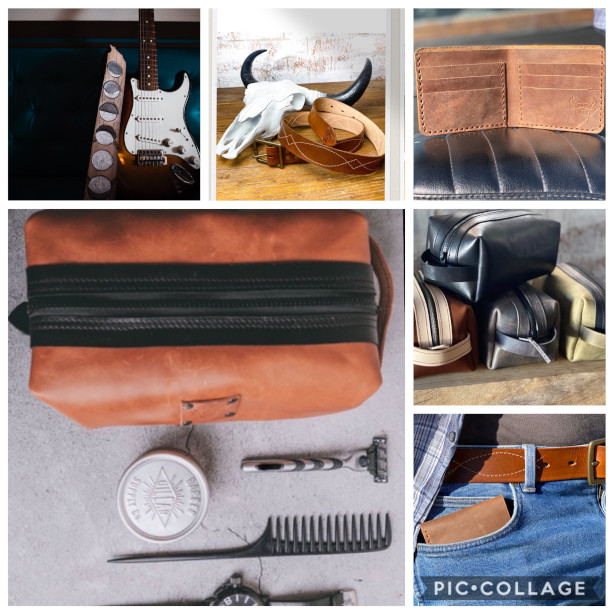 Leather goods handmade in Australia
Wallets, belts, travel accessories, desk accessories, guitar straps etc.
You can check them out @:
www.bonnieandhide.com.au
www.instagram.com/Bonnieandhide
www.facebook.com/Bonnieandhide
Blindlee is a new speed dating service blending the free-flowing style of Tinder with the video function of Zoom.
Blindlee sets up users who match certain criteria on blind dates using 3 minute blurred video calls. The two unfocused faces can instead refocus on shared chemistry or other interests before they lay eyes on each other online. After these three minutes, they can decide by mutual consent if they want to continue the connection.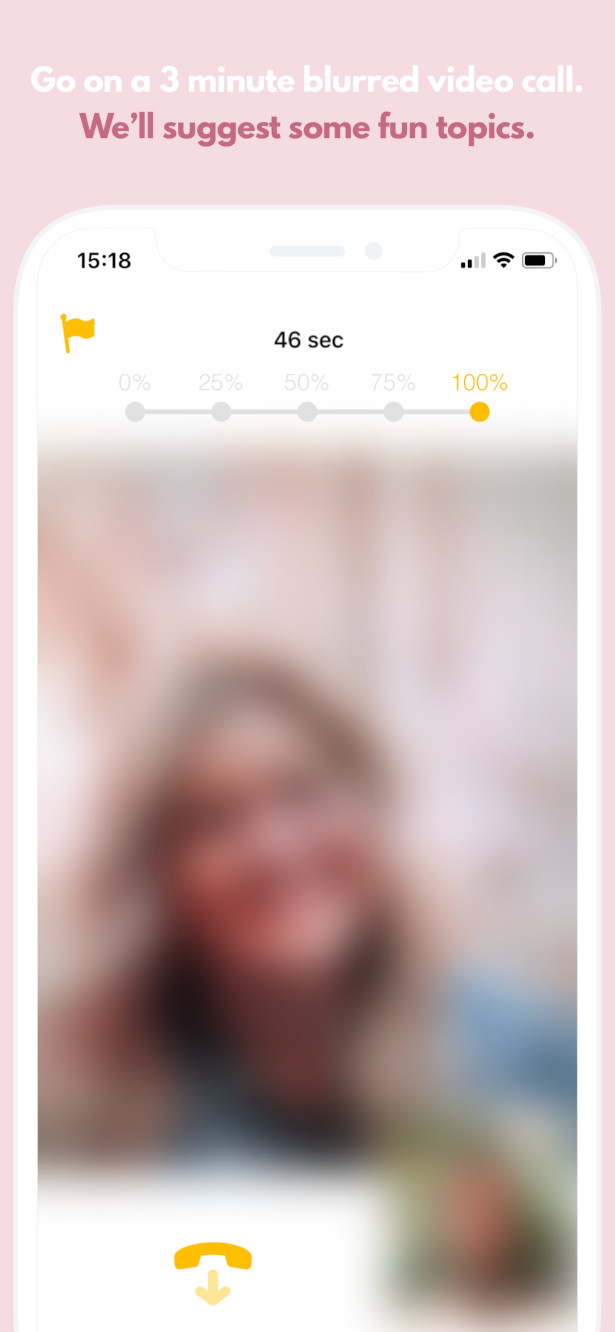 In opposite-sex calls, women control the blur. In same-sex calls, the call receiver has control.
Video dating has becoming increasingly common due to the recent pandemic, and Blindlee are looking to capitalise on that trend by having designed for video at the core. People are always looking for the next exciting dating platform to try out and Blindlee innovate spin to dating has got them a good set of users as well as media mentions by Forbes, Vox, Marie Claire, the WSJ, Business Insider, Esquire, TechCrunch, the Daily Star and many others.
The Genesis Classic Kit from Pain Free For Life, is a microcurrent therapy device. This product provides prescription-level pain relief without the medication. It is eradicating chronic pain for the 1.5 billion people who suffer from chronic pain. The Genesis Classic Kit can be bought without a doctor's prescription, RRSP is £465 ($600 USD).
Buy One Gift And Give Three
www.artefactz.org
Every time you buy a gift from ARTEFACTZ you are not just buying one gift. You are in fact giving three gifts.
You are giving the gift of sustaining the livelihood of the maker and her family.
You are giving the gift of quality healthcare to 30,000 people living in one of the most poverty-stricken areas in rural Tanzania.
And you are giving a beautiful handcrafted gift to a person that matters to you.
ARTEFACTZ is in business to change lives for the better, selling ethically sourced artisan crafts in Australia and worldwide, as part of the solution to poverty reduction in Tanzania.
We have long established ties with talented artisans exhibiting superior craftsmanship and feature a contemporary fusion of African and Western product design.
ARTEFACTZ was launched during lockdown as an alternative income for Australia for Cedar Tanzania as well as for the artisans struggling to sell their products.
ARTEFACTZ, being part of Australia for Cedar Tanzania – an Australian-based ACNC registered not-for-profit – we directly make an impact in health, education, entrepreneurship and women empowerment bringing about positive and sustainable change in some of the most impoverished communities in Tanzania.
Main achievements in Tanzania:
• Construction and management of a hospital servicing 30,000 residents.
• Outreach service delivering healthcare and occupational therapy to people with disabilities.
• Prevention of gender-based violence through Community Activists.
• Sports-led education on HIV/AIDS and sexual health to teenagers.
• Entrepreneurship and skill-based training to young women.
"Through my personal experiences, having lived in Tanzania for 13 years, I have seen for myself what poverty looks like. This has driven my passion for empowering people living in severe poverty to lift themselves unto better lives; and create long-lasting and sustainable change," explains Nina Hjortlund, Founding Director and CEO of Australia for Cedar Tanzania and ARTEFACTZ about her reasons to continue to changing lives.
ARTEFACTZ
Facebook: www.facebook.com/ARTEFACTZArtisanCrafts
Instagram: www.instagram.com/artefactz_artisan_crafts
Australia for Cedar Tanzania:
Facebook: www.facebook.com/AustraliaForCedarTanzania
Instagram: www.instagram.com/aus_for_cedar_tanzania/
Bio
Nina Hjortlund delivers with great insight and knowledge, the reasons why Africa matters and why Global Development has an impact on you and your business.
Dedication, passion and enthusiasm drives her entrepreneurial personality, and she is a firm believer in creating opportunities rather than waiting for them.
She was born in Denmark and has travelled extensively in Europe, lived in the Middle East before settling 13 years in Mwanza, Tanzania. In 2018 she made the decision to relocate to Perth, Australia.
Becoming the Founding Director and CEO for Australia for Cedar Tanzania was the natural continuation of the not-for-profit work she had begun in Tanzania. In 2020 she extended the business with ARTEFACTZ importing handmade crafts with a modern and timeless design from Tanzania. ARTEFACTZ supports the work of Australia for Cedar Tanzania as well as secures the culture and livelihood of artisans across East Africa.
Through her many years in Africa, and in Tanzania in particular, she has developed an understanding for the multifaceted issues people are facing on a daily basis in the developing world.
Believing in continuous learning she is currently undertaking a MicroMasters at Queensland University in Leadership in Global Development.
Nina is a single mum to four children of which two still are living at home. Her two eldest children are currently studying in Denmark. Of the two youngest (aged 7 and 9), one has severe General Anxiety Disorder (GAD) and the other inattentive ADHD. Nina openly talks about the joys and difficulties of parenting neurodiverse children.
Amidst the Lockdown, this South London Plumbing & Heating Company Introduced a Revolutionary New Digital Diagnostics Services
Their customers responded with a whopping rise in demand.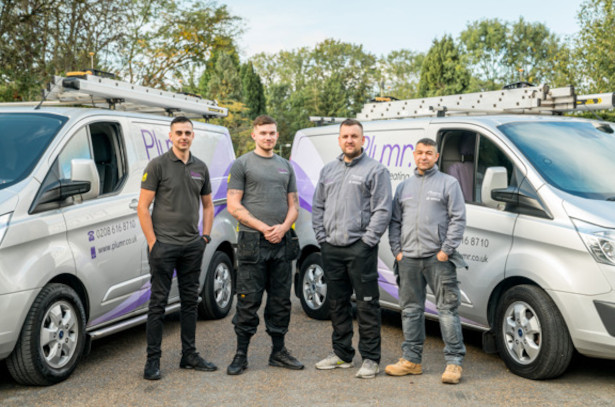 Plumr, a South London-based plumbing and boiler service company, recently introduced a new video quoting service to their customers looking for a new boiler, which resulted in an overwhelming demand for this novel service option during the lockdown.
Under the Covid-19 lockdown many Brits were forced to figure out new ways of dealing with every-day house issues, difficult in a time when they weren't allowed to leave their house, nor could they invite services in to help. Questions quickly arose: Were plumbers allowed to work during the lockdown? How could home issues be solved while maintaining Covid safety protocol? The Plumr team formulated a new response to these lockdown concerns.
"We already knew that there was customer demand for virtual price quoting services even before the lockdown began," – says Connie Maher, Co-Founder at Plumr. "However, it took until we all were stuck at home that the virtual consultation service really came into its own."
Plumr's virtual diagnostics service was launched earlier this year to give easier access to boiler servicing and installation. Based simply on a video call, Plumr engineers can provide a fixed price estimate and some initial advice to the customer- at a convenient time and from the comfort of home. This service not only helps customers better understand the pricing and the process for the work, but it also saves their time. There is no waiting for a plumber to show up at their door and only then begin the analytics of the issue. Once the lockdown started, this new virtual diagnostics service option became one of the most requested services.
"People in London work crazy hours and don't want to waste time waiting for services to show up and give a quote," – shares Mickey Mongiovi, Plumr Co-Founder: "Giving them the option to get a fixed price estimate immediately became one of the most popular and successful services here at Plumr."
Through this virtual consultation with Plumr, customers can obtain fixed price estimates for services as boiler and central heating installation, boiler servicing, and more. Consult Plumr's official website for the entire list of services.
www.plumr.co.uk/heating/boiler-central-heating-installation
The Joker: fundraiser hollows trickery
by Alexander Mesfin (Author)
www.amazon.com/dp/B0844XSCWG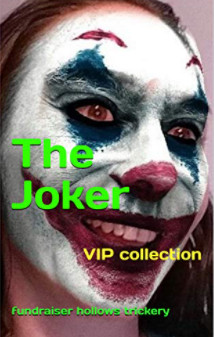 Read this book for fun. It's amazing how dynamic and spontaneous some events may be. This VIP collection contains The Joker fundraiser, The knights of Azimuth, Faces and where they belong and Pranks for pranksters as an extra.
More about the author
Alexander Mesfin
Biography
Alexander Mesfin is a software engineer that writes about his ideas and inventions. He believes that it is important to share ideas as it is to fulfil them. Originally a 3D software graphics expert, he's now practicing as a robotics theoretician and blogging at facebook.com/ithumanoidrobotics. There are also works by him about computer servers. His books can be characterized by simplicity and precision while having character and emotional presence.
Cloudy Lemonade Jewellery
A small handmade jewellery brand who donates £1 from very sale to the mental health charity MQ.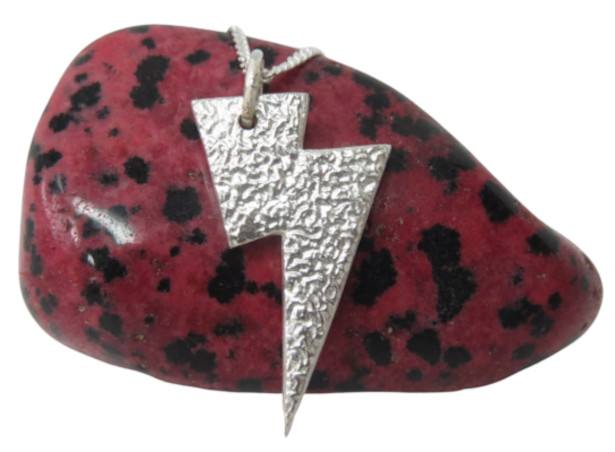 Lightening Bolt Necklace, £40
cloudylemonadejewellery.co.uk/shop/ols/products/lightening-bolt-necklace
Mended Heart Necklace, £40
cloudylemonadejewellery.co.uk/shop/ols/products/mended-heart-necklace-small
cloudylemonadejewellery.co.uk
THINK OUTSIDE THE BOX WITH THESE HANDPACKED SECRET SANTA GIFTS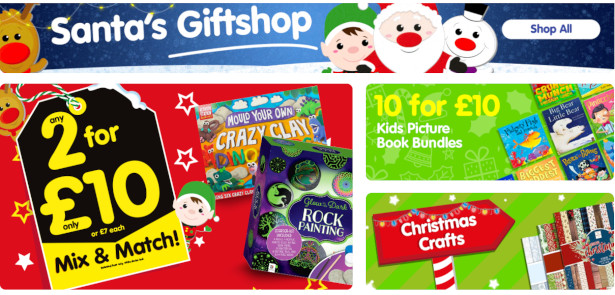 Who doesn't love a round of good ol' Secret Santa? Full of surprises, saves you money and makes you think outside the box when it comes to your gifting during the festive season. But, where do you even start on your gift hunting?
Notoriously known for being an office tradition, Secret Santa may be a little different this year with not everyone back in the office. But why should that change things? Whether you're searching for a funny pressie that will earn you the 'legend' title with your work pals or wanting to be super parent as you dish out a memorable must-have top trending item, The Works has a range of affordable gifts (all under £10!) to suit all ages and tastes. What's more, the list includes a range of lightweight options making it easier to send in the post if need be.
So, it's time to make the tradition as fun and painless as possible thanks to this handpicked selection from the UK leading family-friendly retailer:
Friends Bumper Stationery Set
We all know a Friends fan, right? This stationery set is the ideal gift for lovers of the sitcom. Complete with an exercise book, pencils, pens and a pencil tin, it's the perfect practical but fun present.
£7
Floss Pong
Perfect for your friend, family member of work colleague as they get to show off their best moves and flossing skills when you gift them this fun party game. Simply, 'Work it! Floss it! Win it!' as you watch them shake the balls out of the boxes first by flossing – it really couldn't be any easier!
£4
Table Top Drum Mat
Are you buying for a superstar? Let them express their musical talents with this Table Top Drum Mat. You never know, you might have the world's next greatest drummer in the making!
£10
Harry Potter Gold Stationery Bumper Set
This stationery set will be a magical gift for any Harry Potter fan. Whether they're a Hufflepuff, Ravenclaw, Slytherin or Gryffindor, they can make use of it on their next visit to Hogwarts (or the office!).
£5
Peaky Blinders Puzzle Quiz
This popular TV series has everyone talking. Know a Peaky Blinders fan? Test their knowledge and see how much they really know with this puzzle quiz.
£3
Desktop Dartboard
Looking for some fun on your lunch break in the office (that you all can enjoy!)? Gift your darts fan colleague with this miniature desktop dartboard for ten minutes (or so!) of downtime.
£3
Hover LED Globe
Lovers of travel, this unique gift is the one for them. The Hover LED Globe will be a great edition to their home or office and is sure to inspire them when planning their next trip.
£7
Gadget Prison
Know someone who is always glued to their phone? Lock up all the distracting gadgets with this Table Top Gadget Prison and enjoy some time together this Christmas. Sounds like something we all need!
£5
Harry Potter Puzzle Quiz Book
Combining two British favourites – quizzes and Harry Potter. If you're buying for a Harry Potter fan, put their wizarding knowledge to the test with this Harry Potter Puzzle Quiz Book.
£3
Poo Curling
Know someone who loves a bit of potty humour? Well, combine this sort of humour with curling and you have a slightly addictive and hugely amusing game that all the family will love to play!
£7
For more information on The Works and its Secret Santa gifts see :- www.theworks.co.uk
'PAUL AT HOME'
BREAD BAKING KITS & PRODUCT SETS AVAILABLE NATIONWIDE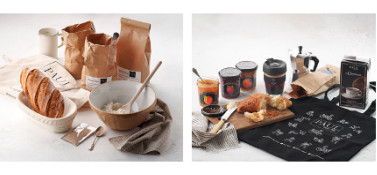 With bread-baking booming and us all spending significantly more time at home, the arrival
of 'PAUL at Home' couldn't come at a better time. The new online range from the muchloved group of French artisan bakeries features bread-baking kits and product sets, and is
available nationwide so you can get your PAUL fix wherever you live. To celebrate the
launch, PAUL has partnered with the 2019 Great British Bake Off (GBBO) winner and probaker, David Atherton, on a 'step-by-step' recipe video using the bread starter kit for fans
to follow along at home.
With GBBO soon to be back on our screens for a new series, now is the perfect time to get
your hands on the PAUL bread kit and get creative in the kitchen. The kit contains
everything you need to create a delicious loaf including 500g strong white bread flour, 15g
active dried yeast, a bread proving basket, a PAUL cotton sac a pain for keeping the bread
fresh, a dough scraper, and recipe booklet (£33); whilst if you opt for the larger bread kit
you will receive rolled oats, 1kg of strong white bread flour and also 1kg of multigrain bread
flour (£38). Stick to the traditional bake or take inspiration from David and follow his 'Seedy
Loaf' recipe with flax meal, potato and seeds for added texture.
As well as the two bread kits, there are also six exciting product sets, all available for next
day delivery across mainland UK. Items from the PAUL pantry include a selection of three
PAUL jams with a branded cotton tote bag (£16.25); a coffee and hot chocolate bundle
featuring a generous 1L box of PAUL hot chocolate, 250g PAUL freshly ground coffee and
a branded Keep Cup (£22.75); and three bags of the finest baguette crisps created using
PAUL bread with flavours such as Provençal Herb, Sea Salt & Jalapeno and Garlic & Herb.
All PAUL at Home products are available to order via the website for nationwide delivery
from https://www.paul-uk.com/paul-at-home.
Watch GBBO 2019 winner David Atherton's PAUL 'Seedy Loaf' bread recipe video on his
IGTV @nomadbakerdavid or on the PAUL website: blog.paul-uk.com/breadmaking-kits-gifts-treats/
www.paul-uk.com
T: @PAUL_BAKERY| I: @paulbakery_uk
IN TIME FOR CHRISTMAS
WILLIE'S CACAO LAUNCH UNIQUE CHOCOLATE SUBSCRIPTION BOX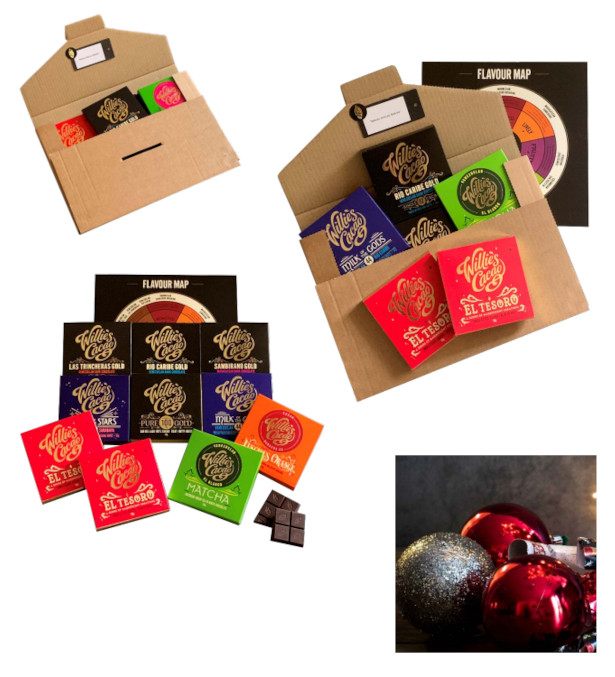 The Chocolate Discovery box: 10 artisan chocolate bars delivered through
your letterbox monthly, 2 of which are Magnificent Creations not available
in the shops.
Willie's Cacao is launching a unique chocolate subscription box where you can receive monthly deliveries of their
incredible, all natural, chocolate through your letterbox. Each month you'll go on a journey with chocolates made
'bean to bar' from some of the best single estate cacaos in the world.
Chocolate pioneer, Willie Harcourt-Cooze, will pick 10 chocolate bars to go in his Chocolate Discovery box in line
with a particular theme. Most exciting, is that these will include two chocolates from his series of Magnificent
Creations, chocolates Willie has made from particularly unusual ingredients or rare beans. "This is my opportunity
to share all the incredible chocolates I have experimented with over the years," says Willie. "These special edition
chocolates won't be in any shop! You can only get them direct from Willie's Cacao in my Chocolate Discovery
Box."
Launched on 9th October, in preparation for Christmas, this is the perfect gift for chocolate lovers and foodies, or
as a treat for yourself. Each month it will be a journey of discovery as Willie guides you through the box with
Tasting Notes, or you can watch his Chocolate Tasting Videos at Willie's TV on the Willie's Cacao website. They
will be full of stories from his cocoa farm in Venezuela, of his visits to remote farms and experiments in his
factory.
Choose between a Milk, White and Dark Chocolate Box, or an All Dark Chocolate Box that is suitable for vegans
and dairy free. Both have something for every mood and taste, and if you are still wanting more you can get 10%
off at williescacao.com for the duration of your subscription.
The monthly subscription can be taken out for 3, 6 or 12 months, and is delivered in a letterbox sized package so
you don't even need to be at home.
3 month subscription: £19.25 per month + Free Delivery
6 month subscription: £18.75 per month + Free Delivery
12 month subscription: £18.00 per month + Free Delivery
Willie's Cacao is known for the incredibly pure flavours of its chocolate. It is all craft made from the worlds' great
single estate cacaos and 100% natural ingredients. This takes up to 3 weeks, compared to industrial chocolate
that is made in a few hours. Willie buys all his cacaos direct trade so the money goes straight to the farmers;
being a farmer himself, giving farmers a fair return is at the heart of his business.
Available online at www.williescacao.com from 9th October 2020.
MARCE.
MARCE pride themselves in the fact that each piece of jewellery is handmade.
They believe in making luxury products at affordable prices for our customers.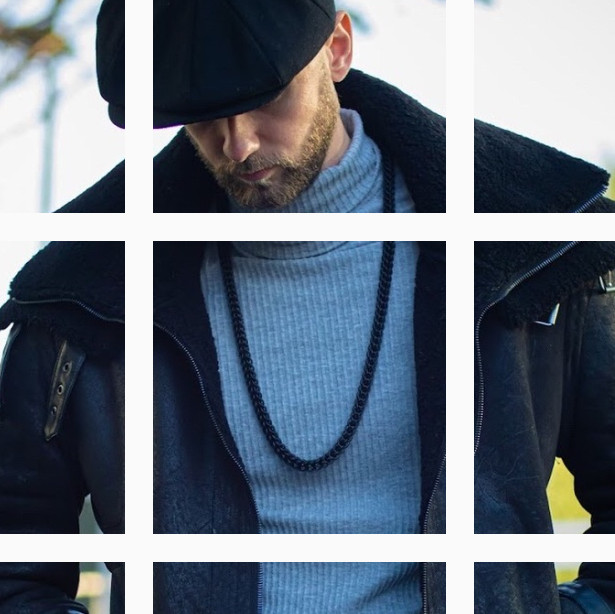 These are perfect gift ideas for brothers, fathers, sons and partners.
The women's range is set to launch 06-11-2020
Have a look at their insta page and website:
www.instagram.com/marce.london
www.marce.london
EARTHBITS' GIFT IDEAS FOR A PLASTIC-FREE CHRISTMAS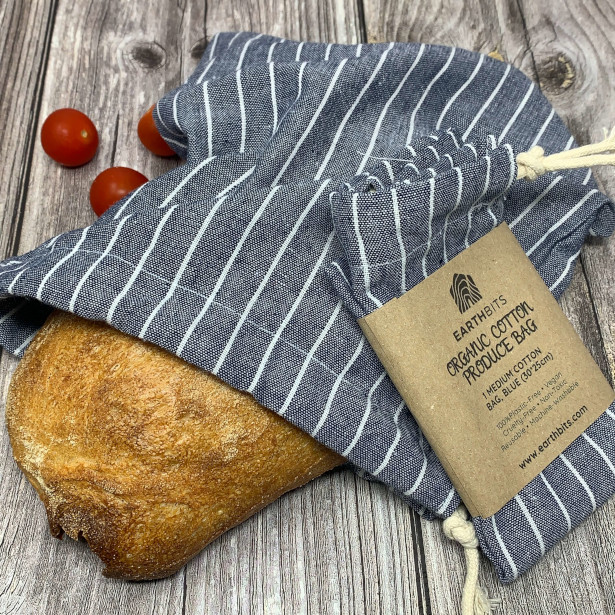 It's that time of the year again. Autumns is here, and we are just a few months away from the most beloved time of the year: Christmas. Innovative plastic-free online brand EarthBits.com is on a mission to make Christmas free from plastic pollution, and make our letters to Santa filled with eco-friendly gift ideas for a greener, more sustainable holiday.
Each present idea is not only a lovely way of saying I love you to our loved ones, but also a great alternative to single-use plastic, and an active solution to cut back on the unnecessary waste that always comes with the most beloved festivity of the year.
Fran Castaldelli, co-founder of EarthBits, says; "Christmas is for most people, a fantastic occasion to celebrate family and friends, and we usually show each other's' love by exchanging gifts, but this tradition also makes Christmas the most wasteful and polluting time of the year globally, In the UK alone, it is estimated that 30% more waste is created during the festive period, which included wrapping, ribbons, Christmas trees, food waste, greeting cards etc., let alone all the plastic packaging. Most of these things cannot or are not recycled and simply end up in landfills, turning a joyful time for us all into a real nightmare for the planet."
"It doesn't have to be that way. There are sustainable ways of celebrating Christmas this 25th December, and wonderful gifts that are not only kind to the people who receive them, but also to Mother Earth, from naturally made artisanal soaps to stylish cotton bags, elegant coconut bowls, handmade vegan bath bombs or fun stocking fillers such as eco-sponges and reusable makeup remover pads, it's all about sustainability and wishing the planet a Christmas full of love too"
The EarthBits' Christmas gift list reflects the changing times we live in and the desire of more and more families to take simple steps towards more ethical living. The top 10 gift ideas for a greener Christmas present this year are as follows:
1. Body scrubbing set, £12.95
Treating your mum to luxury SPA experience doesn't have to break the bank, and can actually avoid any plastic too. Get your mum the ultimate pampering session with this set inclusive of an exfoliating soap pouch, a natural loofah sponge and a scrubbing lavender soap bar. >>>
2. Vegan bath bomb set, £14.95
Round-shaped, fully vegan bath bombs, what better present than gifting your best friend some well-deserved me-time and let the beautiful aromas of natural ingredients embrace and pamper her to the fullest? 100% plant-based, cruelty-free and with biodegradable glitter for extra Christmas sparkle. >>>
3. Eco-friendly cleaning brush set, £15.96
Time together is the best present of all, so let's share the love and promise your partner or spouse you will be in charge of all the house cleaning for a day (or even a week?) . This compostable, sustainable bundle of eco-brushes is made with sustainable natural materials such as coconut fibre, sisal and natural wood, and they are fully compostable at the end of life. >>>
4. Breakfast coconut bowl, from £7.20
Surprise your social media savvy sibling with an Instagram-worthy, healthy breakfast in bed on Christmas day, served in a beautiful bowl made of discarded coconut shells. Granola, yoghurt, berries and banana will make them forget about winter weather, lockdown and make them dream of some exotic destinations, at least for one morning! Available with or without a handmade wooden spoon. >>>
5. Eco-sponges in cotton and bamboo, £6.20 (set of two)
These reusable, handmade scrubbers are not only so cute they will spice up a loved one's kitchen, but they are also 100% sustainable, made with GOTS cotton, bamboo fibre and jute, perfect for washing up pots, pans and plates. >>>
6. Reusable make-up remover pads, £7.99 (set of ten)
These makeup remover pads come in 2 styles, one with velvet bamboo, which is soft and ideal for delicate skin types and removing eye shadow from the eye area, and another one with bamboo and cotton fabrics, more resistant and great for deeper facial cleaning. Once used, they can be washed and they are good to go again, and again and again! >>>
7. Natural Soap gift set, from 11.45
Better for our planet and bodies, a wide range of handmade, vegan and plastic-free soaps is available together with handmade bamboo soaps. Cut down on plastic while saying I love you this year with a wonderful aromatic artisanal soap bar. Because classic presents always work. >>>
8. Cotton Bread Bags, from £3.50
Providing a long-term solution to disposable plastic bags, these lovely and sturdy bread bags are aesthetically beautiful and super handy, and the perfect gift to your friend who is obsessed with baking. They are ideal to bring to supermarkets or the local baker, and to store any homemade sourdough loaf. While also saying goodbye to plastic bags. >>>
9. Body Care Gift Set, from £6.99
A beautiful gift set that includes a beautifully scented body wash and moisturiser. Both 100% vegan and made in the UK, the wonderful jasmine scent of these products will be the perfect gift to tell someone how much you care about them. It comes with recycled bottles so not a trace of plastic in sight! >>>
10. Organic soapnuts, £8.99
The extraordinary 'soap berry' grows on trees in the Himalayas and contains a natural cleansing agent to lift stains off clothes. This natural product is kind to all skin types, and comes with a handy muslin bag for storage. Perfect for that friend who is obsessed with natural products and DIY hacks off Pinterest. >>>
.
Founded by couple of eco-enthusiasts Jason and Fran, EarthBits is based in West Yorkshire, UK. The couple, who are committed to a plastic-free and zero-waste life launched the brand in 2019.
To shop the range, please visit www.earthbits.com and follow @earthbits_ on Instagram.