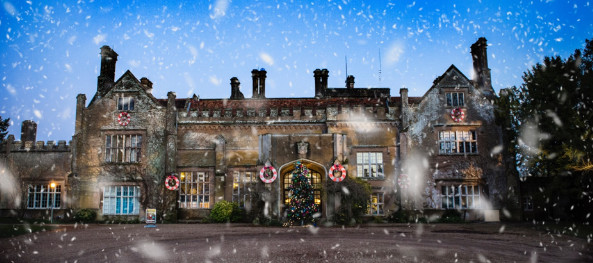 Winchester is dubbed 'England's Christmas Capital', and for a great reason. In mid-November, the ancient city shines brightly with colourful lights and comes to life with fun activities throughout the festive period right into the New Year. Gather the whole family for this season's can't-miss events.
Winchester Cathedral Christmas Market and Ice Rink
Wonderful gifts, decorations and festive foods make this Christmas market one of the best in Europe. Visitors can expect a bustling atmosphere and high-quality exhibitors in abundance. A giant Christmas tree will also take centre stage on the cathedral's ice rink to fill skaters of all ages with festive cheer.
When? 17 Nov – 20 Dec, 10 am
Parent & Toddler only sessions available Monday ­– Friday until 20 Dec.
Christmas Market Opening Times: Sunday to Wednesday, 10:30 am – 6:30 pm Thursday to Saturday, 10:30 am – 8 pm
Ice Rink Opening Times: 10 am – 9 pm daily (last entry at 8 pm). One-hour skate sessions, including time for fitting your skates.
Ice Rink Prices: Adult – £11, Child (aged 4 to 7) – £6.95, Parent & Toddler – £11, Concession – £10, Child (aged 8 to 16) – £8.95, Family – £37.50
Parent & Toddler Season Ticket – £79.50, Off-Peak Season Ticket – £89.50
Christmas Rooftop Tours
Experience the best views over Winchester, the Cathedral Christmas Market and the ice rink from high atop Cathedral Tower, followed by tea, coffee, mulled wine and mince pies.
Prices: Cathedral Tower Tour – £15/ Twilight Tower Tour – £20
Details available from the Cathedral Box Office.
Christmas at Marwell Zoo
"Christmas at Marwell" is a magical experience for all the family. Enjoy tasty refreshments with the elves, join Mother Christmas for Neverland stories, and make your own Christmas present bag before receiving a special gift from Father Christmas. Then capture the perfect family photo as a lasting memory of the day.
While you're there, don't forget to wish season's greetings to all the animals, from ring-tailed lemurs to pygmy hippos and more.
When? 18, 19 Nov (10:30 am – 3:30 pm); 24, 25 Nov (10:30 am – 5:45 pm); 30 Nov (3:30 pm – 6:30 pm); 5, 6, 7, 12, 13 Dec (weekdays, 3:30 pm – 6:30 pm); 1, 2, 8, 9, 14 – 24 Dec (10:30 am – 5:45 pm)
Prices: Adult – £25.50, Child – £28.50, Toddler – £15.50, Babies – £7.50
Winchester Discovery Centre: Footprints in the Snow
Inspired by the mystical tales of Scandinavian folk stories, Wind Song Theatre presents a brand new treat for children and their families. Discover the delightful tale of little Maya as she travels into the wilderness in search of her little sister's only Christmas wish: a blanket of fresh white snow.
Recommended for children aged 3+, but adults and older kids will love the performance too.
Prices: £8 each or 4 for £28
When? 15 Dec – 24 Dec 2018
Sat 15 Dec – 11 am, 2 pm; Sun 16 Dec – 11 am, 2 pm; Mon 17 Dec – no shows;
Tue 18 Dec – 11 am (Relaxed Show); Wed 19 Dec – 11 am (Relaxed Show);
Thu 20 Dec – 11 am, 2 pm or 4:30 pm (TBC); Fri 21 Dec – 11 am, 2 pm or 4:30 pm (TBC); Sat 22 Dec – 11 am, 2 pm, 4:30 pm; Sun 23 Dec – 11:30 am, 2 pm, 4:30pm; Mon 24 Dec – 11 am
Meet Father Christmas at the Great Hall
Leading up to the big day in the historic Great Hall, little ones can meet Santa, receive a festive gift, and take part in themed craft activities. A pop-up café will serve delicious drinks, including hot chocolate, along with a selection of yummy treats.
Prices: £10 per child. Pre-booking is essential.
When? 21 – 23 Dec 2018
Theatre Royal's Christmas Classics, Shows & Pantomimes
Celebrate the delights of Christmas with a full line-up of drama, music, dance, comedy, children's theatre, and pantomime – right in the city's cultural heart.
This year's schedule is jam-packed with holiday spirit:
Beauty and the Beast – A Traditional Family Pantomime
A Victorian Christmas with Robert Powell and Susan Jameson
Christmas Classics with Blake
The Scummy Mummies Christmas Show
Santa's Christmas Party
The Spitfire Sisters' Christmas Special
Visit Theatre Royal Winchester for details, show times and prices.
Where to Stay
Mercure Winchester Wessex Hotel is set mere steps from the glorious cathedral – ideal for visiting local attractions and exploring the beautiful Hampshire countryside.
What's more, the hotel is open 24/7, welcomes pets, and provides connecting rooms for families with young children. There is also a restaurant and bar within the hotel – everything needed for a cosy, care-free stay.
Wonderful Independent Shops Next Door
Beyond the obvious eating and drinking around Christmas, Winchester has lovely independents shops to help you find the perfect presents, from fashion and jewellery, home and lifestyle, to toys, games and gifts.
Find out more: What's on in Winchester this Christmas
Bosch Home and Garden
Christmas gift guide 2018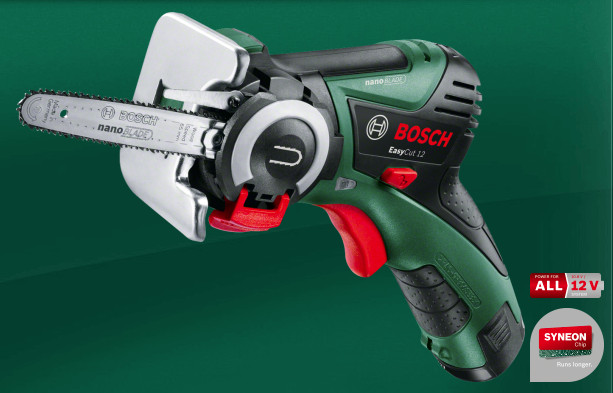 From green-fingered fanatics to keen DIYers, gadget lovers and those who seem to have it all, Bosch Home and Garden has created the ultimate Christmas gift guide featuring some of its latest products, including a finalist in the RHS Product of the Year competition at this year's Chelsea Flower Show.
Bosch Home and Garden's aim is to make light work of both DIY and gardening tasks, and this applies to their gift guide too, taking the stress and hassle out of thinking of gifts for a loved one at this festive and frenetic time of year.
Whether you're looking for a present for a novice or expert DIYer, a gardener who is learning the ropes or has years of experience, or someone who likes the latest gadget to add to their collection, Bosch Home and Garden has the ideal Christmas present for everyone.
THE DIY TOOLS
EasyCut 12, Cordless NanoBlade Saw (RRP £139.99)
RHS Garden Product of the Year finalist at Chelsea Flower Show 2017
With over 40 patents on the blade alone combined with NanoBlade technology, the EasyCut 12 is a world first from Bosch Home and Garden. This nifty tool is the perfect product for those tech-lovers that go crazy for the latest gadgets.
The cordless mini saw is a tool for both inside and outside the home and weighing only 900 grams, it's able to make clean and precise cuts with minimal vibration and is ideal for pruning bushes and cutting small branches.
IXO, Lithium-ion Cordless Screwdriver (RRP £44.99)
Ergonomic and compact, this small, handy and cordless screwdriver can take on a wide variety of everyday screwdriver tasks and is the must-have item in every DIYers toolbox. Simply add a red bow to this nifty tool that is already well presented and packaged in a neat tin and tick another name off your 'nice' list.
Now in its 5th generation, the IXO cordless screwdriver weighs just 300 grams yet is totally versatile with the number of available attachments. Pair the Bosch IXO with one of the quirky accessories sold separately for the ultimate Christmas gift.
The IXO corkscrew accessory (RRP £16.99) is a perfect match for your wine loving friends. The product's stainless-steel design allows it to maintain a sleek look within a modern-day kitchen, and when screw tops get swapped out for expensive wines at Christmas time, this stocking filler makes removing the cork easier than ever.
The IXO spice mill (RRP £16.99) is another kitchen essential for those who love to cook. This IXO accessory can be filled with an array of spices and allows for effortless seasoning of dishes. Along with the Bosch Corkscrew this quirky accessory would make an exciting addition on the Christmas dining table!
Consider an IXO BBQ adapter (RRP £16.99) for the grill master in the family. This handy attachment is ideal for smoothly starting fires in the winter time and barbecues in the summer by helping to maintain heat. Not only does the accessory click into place within seconds but is made of fireproof material and has a safety strap too.
PSB 18 LI-2, Lithium-ion Cordless Two-speed Combi Drill (RRP £106.00)
Every DIYer, no matter what their level of expertise, needs a cordless drill in their tool box and the PSB 18 LI-2 combi drill from Bosch Home and Garden is the one to own.
This cordless combi drill is lightweight at just 1.5 kilos and features a two speed, high performance gear box for better power transfer and smoother use as well as 20 selectable torque settings which helps the user tailor the tool, depending on the task at hand.
THE MEASURING TOOLS
UniversalInspect, Inspection Camera (RRP £84.99)
The UniversalInspect is the ultimate Christmas present for someone that loves DIY and wants to take their knowledge one step further. This inspection camera is the only one of its kind and features a camera head with a small diameter, enabling the user to see what's behind the surface in hard to reach areas in the home.
The cable can temporarily be submerged in water when troubleshooting pipe blockages. Up to eight images can be stored on the UniversalInspect with space for many more thanks to the SD card integrated slot.
This tool can be stored easily with its wrap around cable and comes with a variety of accessories such as a magnet and hook for lost screws and metal objects, ideal at Christmas time when lots of new toys are being assembled in the home, and a mirror for viewing around u-bends.
Zamo, Digital Laser Measure (RRP £55.13)
With its one-button operation and easy-to-read screen, the Zamo makes measuring simple. Lengths and distances of up to 20m can be determined quickly and precisely, ideal for all indoor DIY measuring jobs and far quicker than a regular tape measure! Its small and compact design means it can be tucked away in a pocket for easy transport and accessibility too.
Truvo, Digital Detector (RRP £44.09)
Help your giftee avoid future DIY disasters with the Truvo multi-detector from Bosch Home and Garden. The Truvo detects live cables and metal objects that cannot be seen and automatically calibrates once it's switched on. Due to its one button operation and 'traffic light' LED system with audible warning sounds, the Truvo is easy to use and a must-have for most DIY home décor projects.
THE GARDENING TOOLS
EasyPrune, Cordless Secateur (RRP £85.00)
RHS Garden Product of the Year finalist at Chelsea Flower Show 2018
Where conventional secateurs reach their limits, the EasyPrune's power-assist technology is just getting started: It cuts through branches with a diameter of up to 25 millimetres, effortlessly making light work of cutting all types of branches, thick or thin.
Unlike conventional secateurs, which can get jammed if the branch is too thick, the EasyPrune power-assist technology delivers a far superior performance, eliminating the need to stop, remove the branch from the tool and reposition in order to continue the cut.
Isio, Cordless Shrub and Grass Shear Set (RRP £70.00)
Ideal for everyday gardening tasks such as tidying up and trimming edges to creative shaping of topiary, evergreens, and small leafed plants, the Bosch Isio cordless shrub and grass shear set is perfect for the green-fingered person on your Christmas list.
The lightweight and powerful cordless shrub and grass shear breezes through many garden challenges thanks to its innovative anti-blocking and multi-click system, enabling easy attachment change between shrub and grass blades at a touch of a button.
Feeling generous? There are additional accessories available such as an Isio Sprayer (RRP £12.00) to apply water and pesticides and the Isio Telescopic Handle (RRP £40.00) for extra reach.
UniversalHedgePole 18, Cordless Telescopic Hedgecutter (RRP £190.00)
The UniversalHedgePole 18 is perfect for trimming young shoots and small to medium branches on tall hedges such as conifers, privets, beeches or yew trees, without the need for grabbing a ladder.
The tool, which allows for impressive reach as it can be adjusted to 2.6m in length, has a 43-centimetre blade and its head can be pivoted around 135 degrees, offering even more flexibility.
AdvancedRotak 650, Lawnmower (RRP £269.99)
Winner of Best Buy Award from Which?
The new generation tools, including the AdvancedRotak 650, are the quietest high-performance lawnmowers Bosch has ever made, all thanks to Bosch ProSilence technology. The smooth sound profile of the Bosch ProSilence prevents your lawnmower from disrupting your garden's tranquillity by reducing its sound power level by up to 75% to 89 dB, while delivering an excellent finish.
With its new Ergoslide system, the AdvancedRotak 650 means the user can mow with less effort but maximum control. The Bosch Ergoflex handles allow you to manoeuvre your Rotak with ease and achieve your task quickly while being kinder to your back. The new HOC (height-of-cut) system makes changing the cutting height of your mower easier than ever. A simple one button operation changes the height of cut from 20 to 80mm.
Allaboutdiy.com
Six in ten modern Brits struggle with DIY according to a recent study from Bosch Home and Garden. As a result, Bosch has launched its 'Pass It On' campaign to help encourage the next generation to learn vital new skills and become amateur home DIYers themselves.
To further encourage those looking to gain essential DIY and gardening skills, Bosch Home and Garden has created allaboutdiy.com. This inspirational DIY hub will help individuals find step-by-step guides, DIY hints and tips, project ideas and seasonal projects.
Order Early to Ensure a Truly Regal
Christmas ….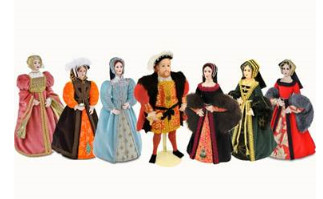 Perfect for even the most difficult to buy for, the extensive range of gifts on offer from Historic Royal Palaces includes bespoke, collectible and made-to-order products. From a handmade 'Henry VIII and his wives' collectible dolls set to made-to-order rocking horses, limited edition enamels, jewellery and personalised map cufflinks, there's plenty to choose from – but you'll need to factor them into your festive shop early due to ordering times! With a little planning these can all be dispatched to arrive in time for Christmas. Order online at https://www.historicroyalpalaces.com .
Henry VIII and Wives handmade dolls
Henry VIII and his wives collectible dolls
This set of exquisite handmade dolls have a 12 week delivery period as each one is made to order, individually numbered and signed by the artist. The head and hands are sculpted in porcelain and the outfits made from highest quality fabrics and trimmings. The full set is £1,450. Individual wives £200 and Henry VIII at £250.
Rocking horse
White Knight Rocking Horse
This limited edition white knight rocking horse is hand carved in England from ash wood, stands 1.2m high and is finished with real horse hair mane and tail. Delivery takes 6 weeks as this product is made exclusively to order for Historic Royal Palaces. An heirloom for any family. Price: £4,500.
Lord Baa BaaBaa Baa range – luxury sheepskin furniture
What could be warmer than a sheepskin lined armchair or stool? Handmade to order in 8 weeks, the Baa Baa range is made with British sheepskin and Shetland wool. Price: chair £2,000 / stool £199.
Feet on stool
012_10438_CHAPELROYAL_GP12_MUSICAL_CLOSED_HIGH
The Chapel Royal limited edition musical box
Part of a range of collectible items inspired by the stunning Tudor blue and gold ceiling of the Chapel Royal at Hampton Court Palace, this gold plated, enamel musical box is a limited edition item produced by Royal Warrant holders Halcyon Days.
Price: £950.
30168095'William' – limited edition teddy bear
Handmade in the UK by renowned toy maker, Merrythought, this collectible teddy bear – named William – has been commissioned by Historic Royal Palaces and is the fourth in the Palace Bear Collection. Each bear is a limited edition of 150 and has a numbered production label.
Price: £125.
3SPAGP
Clogau Kew Pagoda silver and rose gold pendant
This handcrafted pendant is based on The Great Pagoda in Kew Gardens –restored to its former glory and re-opened to visitors this summer – and is the latest addition to Clogau's collectible jewellery range for Historic Royal Palaces. Each piece is crafted from sterling silver and rare Welsh gold and mounted on a silver chain.
Price: £179.
30168353_(02)Map necklace and cufflinks
30168348_(02)
These miniature map cufflinks show the locations of Hampton Court Palace, Kensington Palace or the Tower of London. Also available as a pendant necklace, this range can be personalized to feature any map location of your choosing, and is handmade in the UK.
Price: Necklace £29.99 / Cufflinks £40.00
NEW festive home gifts by Eva Solo & Sagaform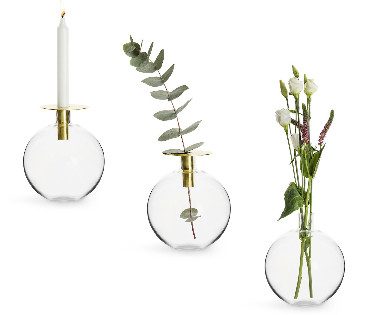 Top Vase – 3in1 by Sagaform
This simple, yet decorative interior detail, is made from mouth blown glass and includes a removable gold candle holder, that works just as well as a vase for a bunch of freshly cut flowers as it does a candlestick.
£25
Loop Candle by Sagaform
Designed to hold pillar candles, this gorgeous table centre piece guarantees to bring a little drama to any festive setting. The golden colourway and soft shape of the holder is purposeful, to create a luxurious, cosy feel, in the home.
£34
Club gold by Sagaform
Produced in Sagaform's iconic and unique club design, the new mouth-blown Gold glass collection will certainly stand out and bring a little stardust to any celebration.
Gold cocktail glasses set of 2 £25 – Gold champagne flutes set of 2 £25 – Gold beer glasses (1/2 pint) £25
Gold squirrel storage & acorn serving bowl by Sagaform
Delicate festive accents really can help create a memorable detail, as part of an overall Christmas or winter interior, and these storage/serving solutions are certainly stand-out when it comes to a spot of detail!
Squirrel container £23 – Cone serving plate £24
Gold serving bowl by Sagaform (2 pack)​
These stunning glass serving bowls with gold dipped rim, are perfect for serving snacks with a cocktail, or glass of bubbles pre-dinner
£20 for set of 2
Nordic kitchen by Eva Solo
This luxury stainless steel cookware set with oiled oak handles is the ultimate gifing solution for a serious home chef with a passion for precision cooking. Suitable for all heat sources (including induction), the pots are also stackable, and only take up a small amount of space within the kitchen… perfect for City dwellers with smaller food prep spaces. On the inside, the pans have a four-layer non-stick coating – reducing the need for fat when cooking.
Prices from £99 for a 16cm saucepan
Nodic Kitchen by Eva Solo: Chrome kettle & cafetiere
Electric kettle
Brushed in stainless steel with an oak handle, the lip is 100% drip free and easy to refil – without having to remove the lid. The kettle rotates 360degrees and is cable free to facilitate filling and pouring.
£199
Thermo cafetiere
This cafetiere keeps coffee hotter for longer because it also functions as a vacuum jug. Made in a brushed stainless steel, the cafetiere is double walled and the pouring spout is 100% drip free.
£140
Gorgeous home gift solutions for family & friends…
Glass bird feeder by Eva Solo
A brilliant gifting solution for all the British bird lovers out there, these feeders are easy to refill and easy to watch the birds feeding thanks to the glass bulb design. The feeders are ready to hang via a thick nylon cord included and feature a drainage hole at the bottom of the glass to ensure food remains dry.
£38
Nordic kitchen knife set by Eva Solo
This dream-gift knife set has been developed according to Japanese knife making traditions. Made from Japanese Damascus steel (67 layers), the blade is super sharp without compromising on quality and the narrow spine design makes it easy to cut through foods. The ergonomic handle is shaped according to the hands anotomy for stress free use.
Complete set incl magnetic holder £1000
Living by Eva Solo – tea light holder with LED lighting
Elegantly simple, these LED tea light holders come in three sizes and are made from transparent porcelain, which allows the light to shine through, offering a warm candlelight glow without smoke and soot for a healthier home climate. The holders can however be used with ordinary tealights if preferred.
Prices from £24.95 for a small tealight holder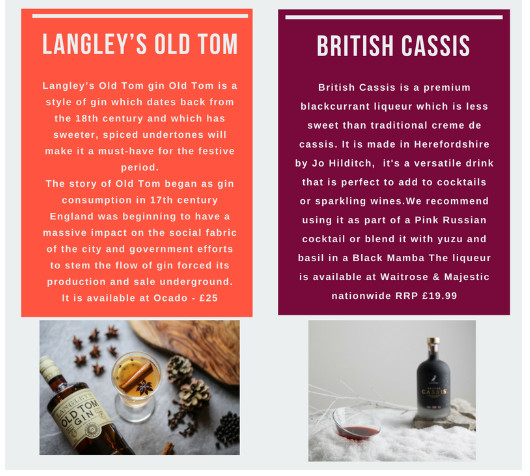 Addis: Made for Life.
Christmas gifting solutions: Addis lap tray £12.99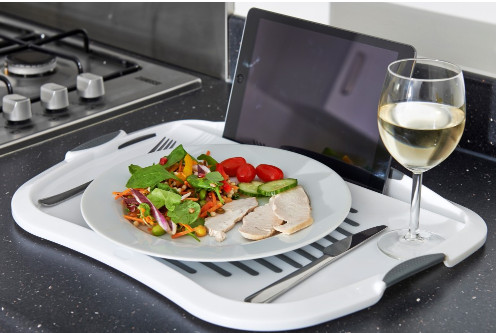 This clever, non-slip tray, is a dream come true for laptop dinner lovers everywhere! And whilst watching the big screen, users can easily flick through the news online, or check out facebook whilst they dine. The double sided non-slip grip also prevents spills and offers wine glass support.
Easy living gadgets: Window squeegee with spray – first of it's kind for indoor use.
NEW FOR A PRACTICAL AUTUMN 2018
This Addis squeegee with built-in bottle and spray pump is ultra convenient and easy to use. The user simply fill's the bottle with their cleaning solution of choice and it's good to go – perfect for keeping glass (bathroom shower or windows) and tile surfaces clean. Addis recommends users make their own eco-friendly chemical free cleaning solution, by mixing equal measures of water and white vinegar, along with a mix of desired natural essential oils. Not only is this kinder to the environment, it also helps cut down on single use plastics within the household.
Fantastic value: £2.49
Pop & Store with Addis
Storage space is precious in most British homes, so Addis have developed this range to help solve the issue of storing clunky lunch boxes and food storage pots in kitchen cupboards. Pop & Store can be collapsed when not in use (thanks to it's collapsible silicone sides), to help save up to 60% of space when put away. Of course the collection is perfect for food on the go, but also super convenient for a consumer to collapse, pop in a bag and then take directly to a Supermarket Deli counter – firstly to save on plastic waste – and secondly, for ease, because the pots can be popped straight into the fridge when arriving home.
Prices from £3.79 for a 300ml round container
The bamboo cleaning collection
AUTUMN SPRING CLEAN KIT FOR 2018
Yes the spring clean season is now officially in sight for many and with over 200 years of cleaning experience, this range comes with the Addis guarantee of quality and durability. Combined with bamboo, the cleaning bristles, fibres, brushes and scrapers have been designed using the very best materials available to give an easy-clean for the user everytime.
Prices from £3.99 for a bamboo brush.
Range comes with a 10 year guarantee.
Seasonal Spuds
www.seasonalspuds.com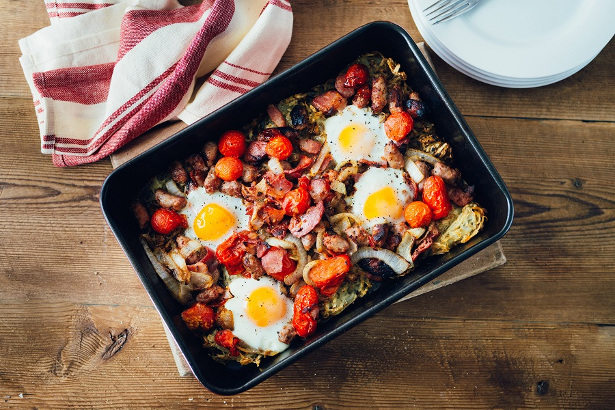 Christmas recipes developed making the best use of potatoes, from a fully gluten free roast dinner perfect for a family gathering to a Christmas jacket potato using the very best festive leftovers.
Christmas breakfast fully loaded hash
Breakfast potato cakes with smoked salmon and poached eggs
Christmas leftover jacket potato
Super easy gluten free roast dinner
Potato peel soup
Vegan curry
Christmas potato cake
Low-fat roasties
Potato stuffed Portobello mushrooms
Potato, leek and stilton bites
Christmas potato hash
Bombay squeak cakes
35-year-old British jewellery designer, Will Odell.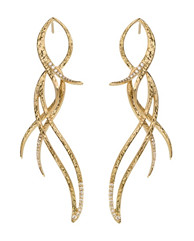 Based in Holborn, Will crafts unique fine jewellery – like his new timeless Cambré Collection, details below – as well as designing bespoke pieces using traditional techniques – the ultimate gift for lads to impress their ladies this Christmas!
Each piece in the Cambré Collection is finished to the highest quality and set by master setters using superior gemstones including blue spinel, pink tourmaline and diamonds. Taking inspiration from the graceful movements found in ballet, the collection features distinctive hammer-textured 18ct gold rings, earrings and pendants.
Hero pieces include the eye-catching statement ring – 'Swift Ring' – an ideal alternative engagement ring or Christmas gift, and the graceful 'Cascade Earrings' which detaches into two different looks for both day and evening wear.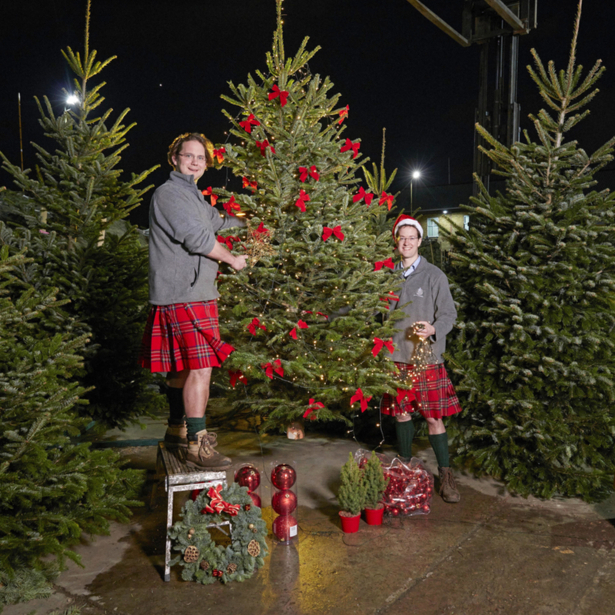 Sam and Josh Lyle, grandsons of the sugar tycoons, set up Pines and Needles when they were 14, flogging trees grown on a patch of farmland in the Highlands outside a dry cleaners in Maida Vale.
Two decades later they're the kings of Christmas trees, planting 60,000 trees a year and selling to everyone from Prince Harry and Meghan Markle to Downing Street.
It's a really fascinating success story, with two plantations now in Scotland growing their firs and more than 25 stores across London and the South East which open in mid-November.

WIN FOXY PANTS!
Brand new for little ones, from Drumond Park Games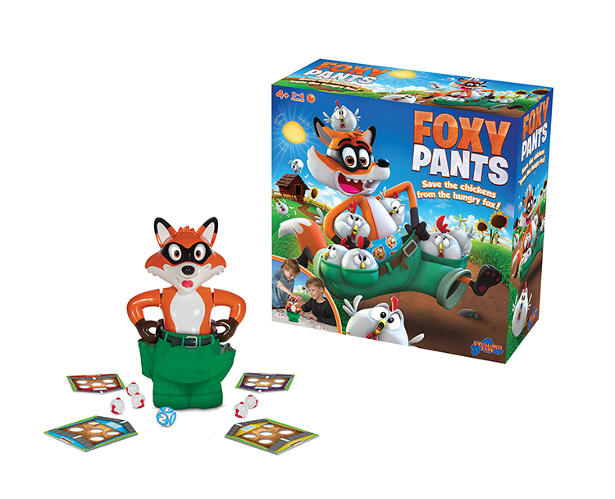 Our friends over at Drumond Park have come up with an absolute corker of a game for little ones this Autumn… the irrepressible, hugely entertaining Foxy Pants (rrp £22.99, for ages 4+) who does, quite literally, get caught with his pants down! Bursting with excitement and thrilling anticipation – but simple to play, this brand new action game is set to be massively popular with little ones with its unbeatable combination of super-fast fun and just a twist of dexterity.
Players will need to watch out for the dastardly Fox who sneaks around the chicken coop, looking to fill his pockets with sleeping chickens. But once Foxy's pants get too full of stolen hens, watch as they suddenly disappear before your eyes, as if by magic! The kids just love it. The chickens are sent flying across the table … and it's time to see who can react the fastest, nimbly gathering up the most hens – using one hand only. There are five spaces in the chicken coops, and the first child to fill their coop is the winner – and that thieving Foxy is beaten once and for all!
To be in with a chance of getting your hands on this hilarious game, simply share our competition post on Twitter HERE or Facebook HERE
For more information and stockists visit www.drumondpark.com
Have a look at Drumond Park's Facebook and Twitter feeds – facebook.com/drumondpark and twitter.com/drumondpark. And to catch up on all the news on their crazy blog go over to drumondpark.com/blog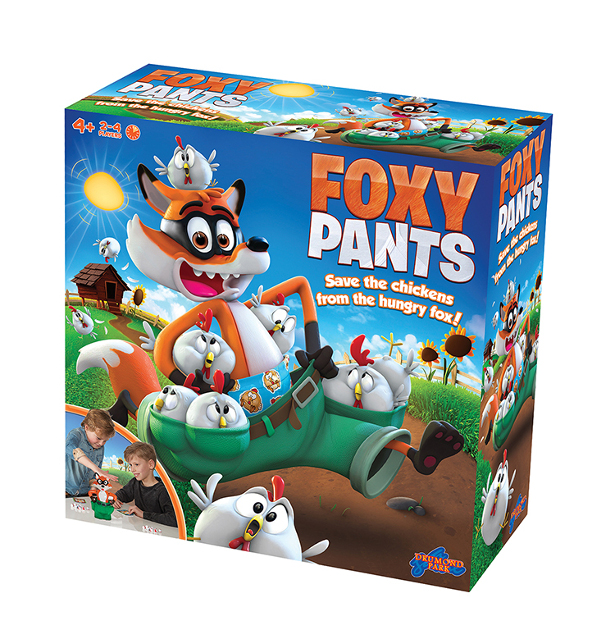 Christmas gift inspiration from Dremel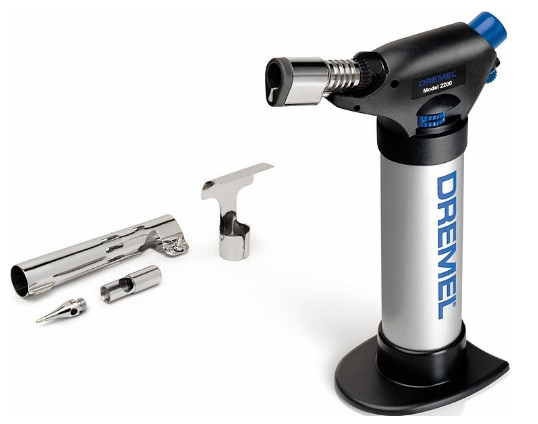 Why not think outside the box this Christmas and inspire your loved one to get their creative juices flowing with their very own crafting tools?
Whether you're shopping for someone at the start of their crafting journey, seasoned professionals, or looking to treat yourself and create personalised gifts of your own, Dremel has offered a helping hand and listed five perfect products to help craft lovers create their own masterpieces.
The gift that keeps on giving
Product name: 3000 / 4000 limited edition Christmas kits
Cost: RRP £99.99 / £139.99
Take on any project with the 3000 (£99.99) / 4000 (RRP £139.99) limited edition Christmas kits. These versatile accessory kits allow makers to work on projects of all shapes and sizes, and in a variety of materials too. Offering complete flexibility, the EZ Twist system on both the 3000 and 4000 multi-tools, means makers can switch between building a wine rack ready for the festive celebrations, carve out wooden wine stoppers or even etch candles for the Christmas Day centrepiece. The possibilities are endless.
Take back control
Product name: Stylo+
Cost: RRP £56.00
Show off your steady hand and create intricate patterns on wood, personalise and engrave leather or even polish a piece of metal with the Stylo+ (RRP £56.00). The craft tool is perfect for novices as it is compact, lightweight and comfortable, and, as it can be held like an ordinary pen, the user can benefit from maximum manoeuvrability. Its versatility means you'll constantly discover new ways to get the most out of this gift.
Pamper your pooch
Product name: Pet Nail Grooming Kit
Cost: RRP £37.99
Don't forget man's best friend this Christmas – give your pooch a well-deserved manicure with the Pet Nail Grooming Kit (RRP £37.99). The kit has been designed to keep claws in check without applying pressure and pinching your pet's nail as scissors and clippers can often do. Dremel's kit grinds the nail down in the same way a nail file does, making the process a lot more controlled and ensuring your pooch stays in the festive spirit.
Taking crafting to the next level
Product name: 3D45 DIGILAB
Cost: RRP £1599.00
Does someone deserve something special this Christmas? Impress your loved one with the ultimate luxury gift: the 3D45 DIGILAB (£1599.00). Dremel's latest printer enables makers to experience a taste of the future by creating and engineering their very own gifts. https://www.dremeleurope.com/gb/en/
Turn up the heat
Product name: Dremel VersaFlame
Cost: RRP £41.38
The Dremel VersaFlame (RRP £41.38) will give your gift that added spark as it's the most versatile stationary burner in the market and can be used for soldering, shrinking, and welding. It could also come in handy if you fancy adorning your Christmas tree with bespoke decorations; use the burner to create festive designs or family names onto wooden ornaments to hang on your tree. You could even create bespoke wooden gift labels to add a rustic, personal touch to presents.
Powered by liquid butane gas for quick heat-up and fast recharge, the tool is perfect for those who put quality first.
If you're looking for more inspiration, then take a look at Dremel's webpage full of projects and inspiration or follow on Facebook for regular hints, tips and competitions.
Skiing: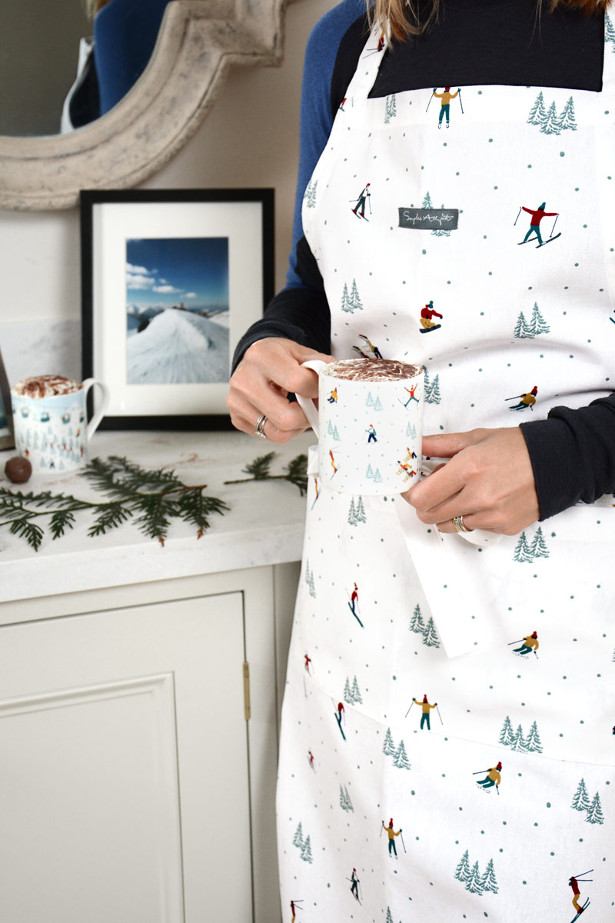 A fun design that celebrates Alpine living. Snowboarders and skiers dot the mountain in colourful outfits with ski schools snaking their way through the snow-capped fir trees with a collection of helmet clad children. A celebration of winter sport that is bound to appeal to ski enthusiasts. There are 23 products in the range including china mugs, kitchen fabrics, napkins, table runner, crackers, stocking, sack, hot water bottle, gift wrap and a selection of bags & accessories. Prices start at £3.50 for gift tags up to £54 for a weekend oilcloth bag.
Holly & Berry: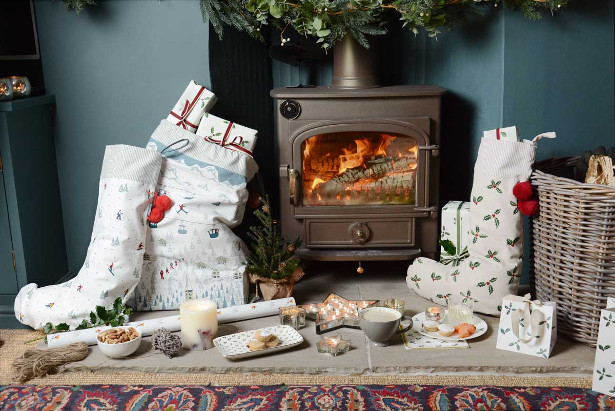 A classic festive design featuring green holly and vibrant red berries on a neutral stone coloured background. The prickly leaves of this Christmas favourite cover everything from tableware and china to crackers and gift wrap. Plenty of Christmas gift inspiration and ideas for decorating your own home during the festive months. There are 38 products in the range with prices starting at £3 for a gift bag up to £22 for a table runner.
Create your own oasis of calm with perfect pastel lighting from Urban Cottage Industries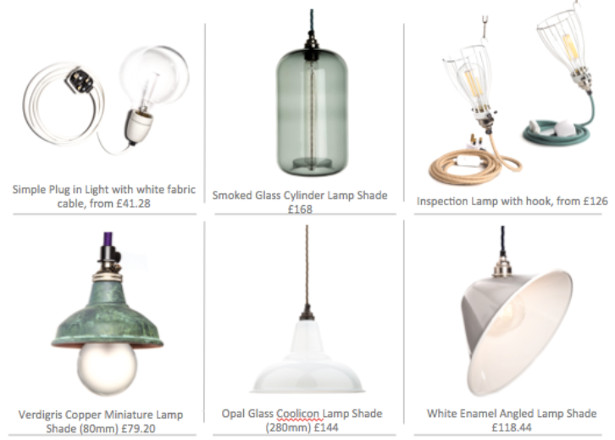 The stunning collection from the British lighting company, famous for bringing the vintage-chic industrial style to modern interiors around the country, has something to suit every space.
From stunning hand-crafted glass shades, through to ice cream toned caged pendants, if you can't find the perfect light you can even design it yourself, using their online 'Made For Your' configurator – the first and only next day bespoke lighting service.
Your perfect pendant will be built and tested in their Yorkshire factory, and delivered straight to your door the next working day!
FREE Next Day Delivery from:
www.urbancottageindustries.com

This Christmas, Rascals bring to you the only games your family will need over the Christmas period. You'll get stockings full of presents with the brand new The Very Merry Christmas Game, Mr & Mrs & the Really Nasty Horse Racing Game!
You can bring out 'your festive side' with The Very Merry Christmas game, your 'really nasty' side, as a scheming gambler in The Really Nasty Horse Racing Game, or 'your competitive side' and see how well you really know your significant other or best friend with the hugely popular Mr & Mrs Family and Pocket Editions.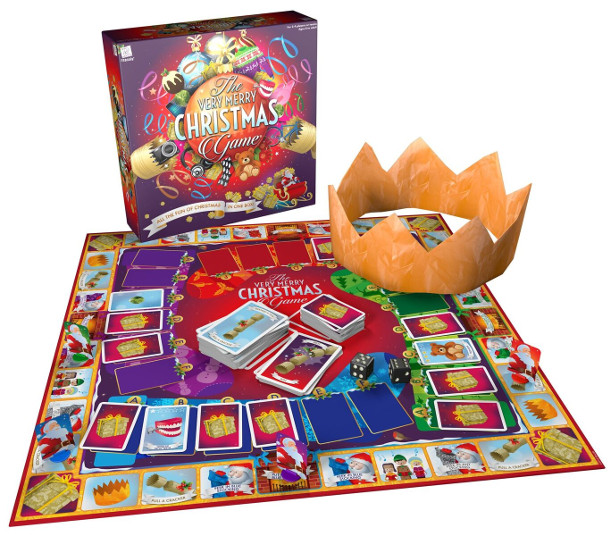 Suitable for ages 8 and above and for 2-4 players or teams, The Very Merry Christmas Game brings the whole family together to compete for the most lavish set of presents to fill their stockings. Be warned though as the presents can be really nice or really naff and players may not find out what they have been given until the end of the game.
Pull a cracker using the Cracker Cards to steal a better present from someone else's stocking. You can even use real crackers if you have them. Land on the Carol Singers space and players have to sing their favourite festive song to avoid losing one their prezzies!
Scheme your way to the best presents in the game but watch out for the dreaded sprout cards as they could have a bad effect on you!
You get all the fun of Christmas in this one box. The Very Merry Christmas Game will become a must for your family every year!
The Very Merry Christmas Game will be available from Debenhams and Amazon for £19.99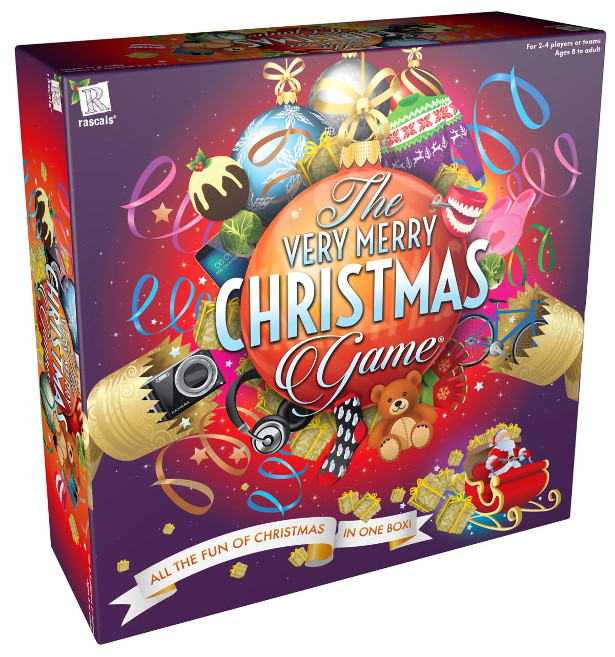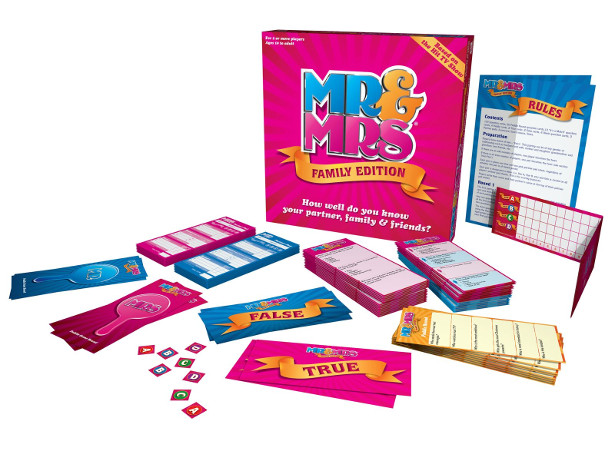 Mr & Mrs is based on the hugely popular All Star Mr & Mrs hit ITV show hosted by Phillip Schofield which is planned to air later this year and have a special Christmas show, where players are challenged to answer in-depth and entertaining questions about their partner, friends or family members. The new Pocket Edition is suitable for age 10+ and allows fans to play whilst on the move. It has over 300 questions and is guaranteed to cause laughter, blushes, blank looks and a whole lot more!
Mr & Mrs Family Edition RRP £19.99 from Debenhams, John Lewis, WHSmith, Amazon, Next, House of Frasier
Mr & Mrs Pocket Edition RRP £9.99 from Debenhams, John Lewis, Amazon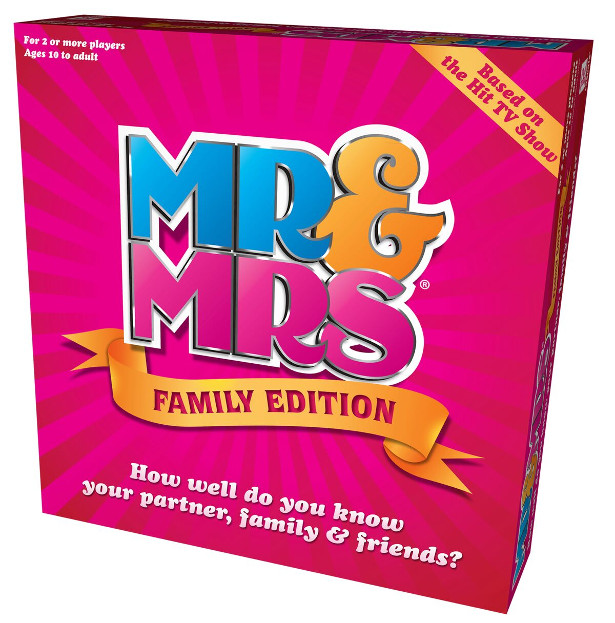 The Really Nasty Horse Racing Game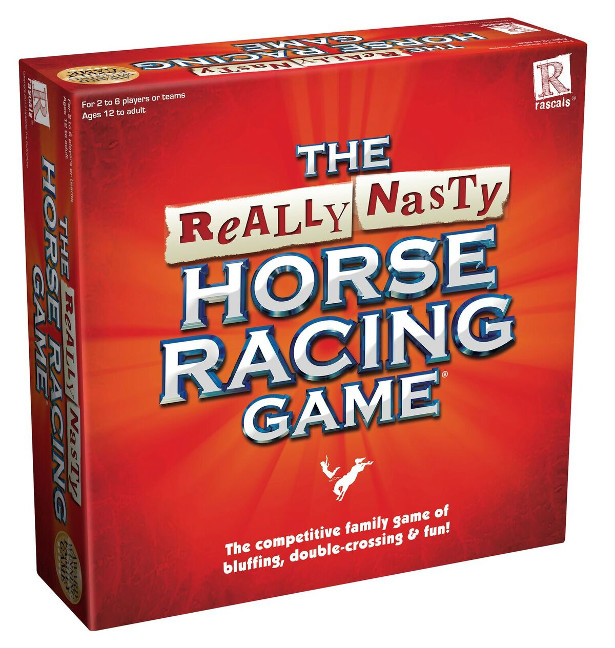 Families can enjoy a 'day at the races' when playing this devious family board game. Just as in a real race meeting, players race their horses around the board to win at all costs. Be devious, bet your own horse or someone else's but don't tell anyone who you've bet on. For 2 to 6 players or teams and ages 12 to adult.
The object of the Really Nasty Horse Racing Game is to win the most money at the race meeting by getting your horse placed first, second or third in a race or by placing bets on winning horses. There is also a set of mischief cards to help you create havoc with the other horses and riders in the race.
Available to buy from: Debenhams, Amazon RRP £19.99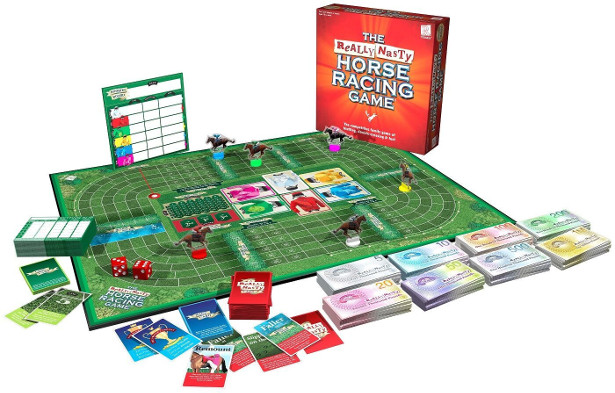 PERFECT HOUSES FOR CHRISTMAS ESCAPES FROM PREMIER COTTAGES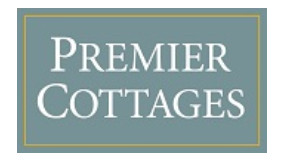 15 August 2018: Premier Cottages is serving up a host of seasonal treats this Christmas from mince pies and trees to welcome packs and bottles of bubbly. The cottage company is providing everything that's needed for a stress free getaway, with early booking advisable.
Properties available include:
For Celebrations – Cossington Park, Somerset
An elegant period house, Cossington Park promises a festive break with a difference. Home to the same family for 400 years, the property is set in 22 acres and offers plenty of space for large multi-generational groups. Think roaring log fires, luxurious roll-top baths, cosy four-poster beds and rooms brimming with antiques and portraits.
With a 250-year old Clementi piano, elegant chaise longues and a wood burner, the grand old drawing room is perfect for pre-dinner drinks. The property also boasts a dining room for 22 where guests can enjoy a magical Christmas lunch. A week's stay in Cossington Park's Park House for 12 guests arriving 21 December costs £5,845. (www.premiercottages.co.uk or call the owner on 08000 433468)
A Cottage for one – Blakelow Farm in the Peak District
With names like Christmas, Candle, Cranberry and Chestnut Cottage, Blakelow Farm Cottages offers the perfect setting for a Christmas break. Idyllically situated on the edge of Winster Moor, there are heart-lifting walks right from the doorstep over the hills and along the numerous dales. There are four cottages to choose from, the smallest and quirkiest being Chestnut Cottage which sleeps just one and was converted from the farm's pigsty. Each property is decorated for Christmas both inside and out and on arrival guests are greeted with a glass of mulled wine, homemade mince pies and a welcome hamper of local produce. Guests can also choose to have Christmas Day lunch prepared and served in their cottage for an additional charge.
A week's stay in Chestnut Cottage for one arriving 21 December costs just £395, a week in Cranberry Cottage for four costs £855 and a week for two in Candle Cottage costs just £740. To book consult: www.premiercottages.co.uk or call 01629 650814.
Family-Friendly Chestnut and Culls Cottage, Gloucestershire
Culls Cottage is a quintessentially Cotswold home that will be stylishly decorated for the festive season. Dating from 1670, it has the charm of the past combined with modern fittings and luxurious extras. Enjoy the warmth of the under floor heating on the flagstone floors, curl up in front of the cosy wood burner or cuddle up under goose down duvets and crisp white linen.
Guests staying over the festive season will be welcomed with a complimentary bottle of champagne and Christmas crackers. Crisp walks can be enjoyed straight from the door and there is a pub within walking distance too. Nearby attractions include: Blenheim Place, the Cotswold Wildlife Park and the Bicester Outlet Village. A week's stay in Culls Cottage arriving 21 December for six guests costs £3450.(www.premiercottages.co.uk, 07860 337763).
Dogs Welcome Wigglesworth House and Cottages, Yorkshire
Celebrate the festive season in style at Wigglesworth House and Cottages' – two lovingly restored properties that are perfect for a Christmas getaway. Each property will be tastefully decorated for the festive season and guests will be welcomed with a bottle of champagne, a special cheeseboard from a local award winning cheese maker plus a pack of locally sourced goodies to get the party started.
Nearby attractions include the village pub, The Plough with its roaring fires, the market town of Settle and Gisburn Forest, a walkers' and cyclists' paradise. A seven night stay for six in the dog-friendly Gamekeeper's Cottage arriving on 21 December costs £1199. (www.premiercottages.co.uk, 01729 840168)
Accessible Wallops Woods, Hampshire
A country retreat in the heart of the South Downs National Park, Wallops Wood offers luxurious, accessible, child and pet-friendly cottages with spectacular views across the countryside to the South Coast. Within easy reach of Winchester, Petersfield, Southampton and Portsmouth, the cottages all feature wood burners, private gardens, hot tubs, underfloor heating and ensuite facilities.
There is also an indoor heated pool, which can be accessed by eight steps with a grab rail on the side or a hoist, and a jacuzzi, which can be accessed by two steps or a hoist.
All cottages are accessible, with Silver Birch, Woodbrook and Teal being M3A-rated, Hedgehunter M2-rated and Early Mist, Glenside, Sundew and Skeldale M1-rated under the National Accessible Scheme. There is a comprehensive list of accessible equipment available for guests to use. A week's stay for eight in Hedgehunter arriving 21 December costs £2395. (www.premiercottages.co.uk, 01489 878 888).

Sass & Belle, exciting and original products designed to make you smile. Have a very merry Christmas.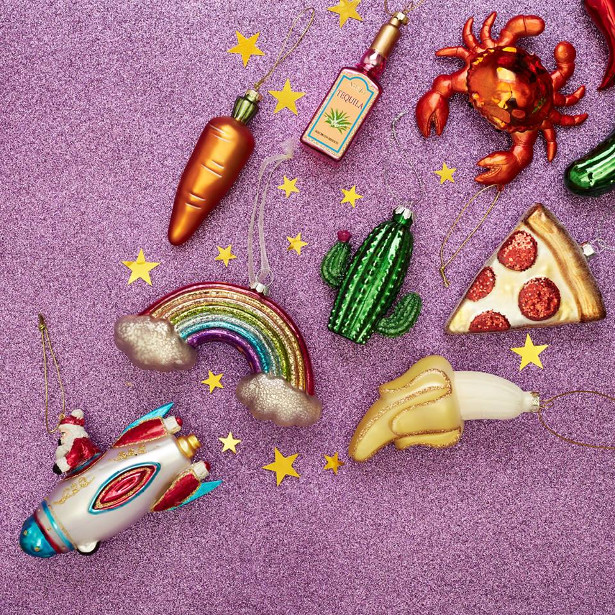 FACEBOOK | TWITTER | INSTAGRAM | PINTEREST | YOUTUBE | LINKEDIN
At Sass & Belle, we create exciting and original products designed to make you smile. Our promise is to provide lovable, trend-led and affordable designs to an ever-evolving gift market.
Our story began in 1998 when our founder, Richard Stone, caught the retail bug. Back from working in Bombay and carrying one thousand homemade juggling balls, he ventured to the Edinburgh Fringe Festival and sold every single one. Inspired by this success, the business RJB Stone was born.
As the company grew, more products were designed in-house, bringing a unique and recognisable style to the product ranges, and Richard realised there was a need for a new brand name that reflected the charming gifts that were being dreamt up. So, in 2009, the Sass & Belle brand was created. Named after his two eldest daughters, Saskia and Alma Belle, the two little birds on the logo represent their fun and lovable nature.
Our brand has been growing ever since, reflecting the whimsical and irresistible nature of our products, and our goal to make our customers smile through happy and original designs. Sass & Belle is fast becoming an internationally recognised brand, spreading joy to Europe and beyond, loved and nurtured by a fabulous and loyal team.
Our wonderful design team is at the heart of everything we do. Inspired by the latest trends, our designers are always busy dreaming up new Sass & Belle gifts, full of charm and character, and all lovingly designed in London.
We have so much more in store for you, our loyal customers of the brand, and we can't wait to take you along on our adventure.