Change Their Lives this Christmas! BEST-SELLING MULTI-FUNCTION PRECISION BLUETOOTH SMART SCALES!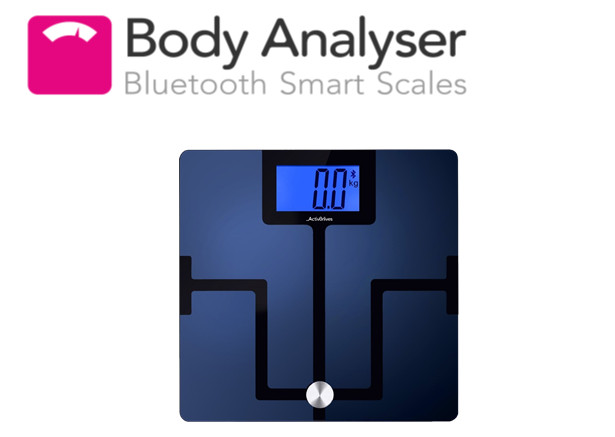 FACEBOOK | INSTAGRAM | TWITTER | LINKEDIN
The Activ8rlives Body Analyser Smart Scales are simple to operate and can be used straight out the box. No pairing required, let the Activ8rlives4 Health+Wellness App take you through the process automatically. Learn from visualisation of combined weight, activity and Food Diary. The device measures your body's composition — especially useful as part of an exercise schedule or weight loss programme. It sends information to your private Activ8rlives account via your Bluetooth 4.0 enabled Smartphone or Tablet (not included) so that you can see how well you are doing and keep track of your health and wellbeing. Unlimited number of users, each individual will need to set-up their own Activ8rlives account.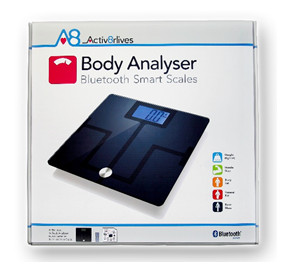 Easy-to-Read Large, Bright Back-Lit Digital Screen
Allows for quick and easy readings direct from the Smart Scales. Our user-friendly Precision Smart Scales accurately measure and display your weight (Kg, St:lb and lbs), Visceral Fat, BMI, BMR, Body Fat, Muscle Mass, Bone Mass and Hydration.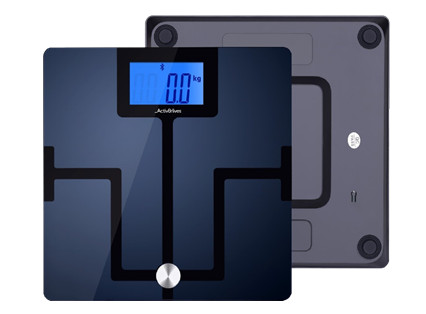 The Activ8rlives Body Analyser Smart Scales does a lot more than just measure your weight— it helps you understand how your body is changing in response to lifestyle choices you are making. It measures your % fat and % protein (muscle). It also measures your visceral fat—a key parameter linked to type 2 diabetes. The quick set-up of your Activ8rlives Body Analyser Smart Scales will take just 5 minutes.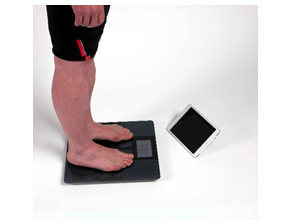 How Does the Activ8rlives Body Analyser Work?
The Activ8rlives Body Analyser Smart Scales uses a measurement principle known as Bioelectrical Impedance Analysis (BIA). A very small electrical current is sent through your body, through your feet and legs. The current flows with little electrical resistance through lean muscular tissue, which is full of fluid. By contrast, body fat has a high electrical resistance—it acts as an electrical insulator. By measuring your body's resistance to the current (its impendence), the proportion of muscle can be calculated. From this, the quantity of fat and water can then be estimated.
The size of the current used is only about 1 mAmp—this is a minuscule current and you will not feel it. However, the Activ8rlives Body Analyser Smart Scales should NOT be used by those fitted with a pace maker or if you have any other electrically-operated medical device fitted. Very lean athletes may find that the measurement of muscle and fat may not be as accurate as a full-body scan technology.
The Activ8rlives Body Analyser Smart Scales can be purchased direct from our website at a discount £59.99 £49.99
Shop Here
What's the Best Time to Measure Your Body Composition
Our water content can vary at different times during the day and since body fat percentage is calculated by measuring the water content, our body fat reading can also vary throughout the day. There is no right or wrong time of the day to take a reading, but we find it most consistent to measure our body weight and water content first thing in the morning before eating or drinking and after using the toilet. It is about making the measurement consistent.
Taking measurements after having a bath or sauna, or following intensive exercise, or within 1-2 hours of drinking in quantity or eating a meal as the water content will distort the values generated.
Never attempt to take readings when you are wet, after a shower or vigorous exercise, because of the risk of slipping. Also, the accuracy of the measurement will be distorted as the water content of the body would have changed.
Bluetooth connecting to your Smartphone or Tablet
The Activ8rlives Body Analyser connects via Bluetooth 4.0 and uploads data to Activ8rlives4 Health+Wellness App. It works with Bluetooth Smart Ready devices (typically Bluetooth 4.0 or later). iPhone 5 or later, iPad 4th Generation or later, iPad Mini 2 or later, all iPad Air and iPad Pro models or iPod Touch 6th generation. Android devices running 5.0 or later. Amazon Kindle Fire devices running Amazon Fire OS 5.0 or later. Scan the QR code above and it will take you to the correct App Store for your device.
Customer Support and Help
Need Help Setting-Up?
View Help Videos within App
Call us 7 days a week, between 09:00—18:00
UK +44 (0)1480 352 821
Complies with EU privacy laws (General Data Protection Regulation – GDPR).
Apple Health App Integration
Included in the Activ8rlives4 Health+Wellness App is the ability to allow users to record data from Activ8rlives' growing range of consumer-focused health monitors and store these data in both the Activ8rlives Cloud servers and Apple's Health App via your iPhone to share data from other health-related Apps.
If you have an appropriate iPhone (iOS 10 or above) you can download the Activ8rlives4 Health+Wellness App from the App store.
By selecting Apple Health in the App it will guide you through step-by-step the process of set-up of Apple Health within the Activ8rlives4 Health+Wellness App.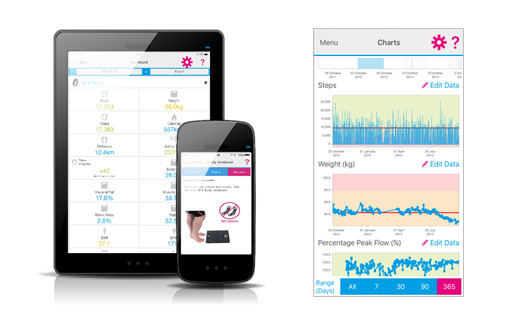 What data is collected?
The reading from the Activ8rlives Body Analyser will display the weight on the smart scale LCD Display. The Activ8rlives4 Health+Wellness App displays as a more comprehensive set of measurements. You will also see your previous 3 readings.
Your data can be shown in a Charts mode and you scroll down the page to see other parameters of your health, such as your BMI, Lung function, wellness or stress levels or anything else you would like to record about your health and wellbeing.
When looking at your data, a Trackball function allows you to touch a bar chart or data point for a specific date and it will give the reading and its date. You can scroll left or right to look at your data. You can display over different timeframes, by changing the time from the bottom Range Days: 7, 30, 90, 365 days or All data.
When you are in the Charts view you can change the Data View for how you would like your data to be displayed. Play around with your settings to optimise the Charts for you.
Colour coding of parameters within normal Green, alert Amber and out of parameter Red readings are easily seen on these Charts where the background colour indicates the population normal ranges.
Within this section you can start to see trends of what affects your other health parameters, and you begin to learn healthy behaviours or detect declining health.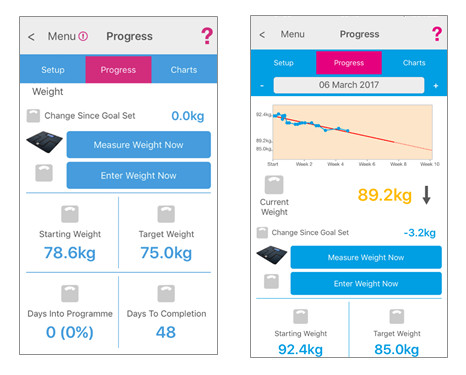 Weight Change Widget
You can also Set-up a short-term goal for Weight Loss or Weight Gain within the Activ8rlives4 Health+Wellness App.
Selecting to use an Advanced or Expert Dashboard, you can add the Weight Change widget to your Dashboard. Follow the instructions to Enter Your Starting Weight (with an option to take a current reading) and Enter Your Current Height.
Next Enter Your Target Weight Loss (or Gain until it shows Green). Tip: Enter a Target Weight that is achievable in the short-term, as a suggestion try for 5% of your body weight.
The next screen allows you to Enter Your Target Date for your Weight Loss or Weight Gain. Try shorter term goals in which to achieve this, and 10 weeks is an ideal length. The Activ8rlives4 Health+Wellness App will then calculate how much each week you will need to change.
The Activ8rlives4 Health+Wellness App will display your Weight Change widget on the Dashboard see above. By touching this it opens to a more detailed screen of your Weight Loss or Weight Gain over your selected time, with a Chart showing your progress and your Change Since Goal Set.
Data secure with Activ8rlives
The storage of your data is hosted on Activ8rlives' private Cloud Server operated by UKCloud (Farnborough, UK). No data ever leaves the UK and we work to the NHS Information Governance (IG) Toolkit Level 2 standard and have certification for Cyber Essentials.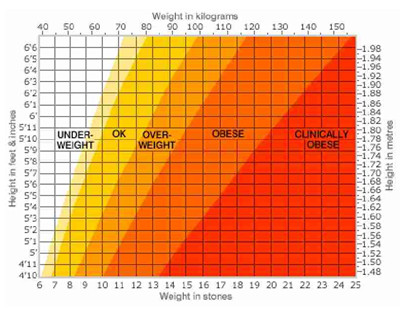 Population tables from World Health Organisation and NHS Choices
BMI is an index of weight-for-height that is routinely used to classify underweight, overweight and obesity in adults.
The Activ8rlives Body Analyser Smart Scales calculates your BMI value for you. The BMI categories shown in the chart above are recognized by the WHO (World Health Organization) and can be used to interpret your BMI value.
Note: The Body Analyser is not calibrated to determine the BMI for children, pregnant women or professional athletes.