CELEBRATE HALLOWEEN AT HOME WITH JOHNSON'S® HAIR CARE RANGES
HELP TAME THEIR LION MANE OR SPARKLE LIKE A PRINCESS WITH RANGES TO SUIT ALL
It's widely known that babies and children have sensitive, delicate skin that require different care to adults, but what is lesser known is that children's hair is also very different and requires unique care, that's why the JOHNSON'S® haircare ranges have been carefully created for your little ones.
Children's hair is three times more delicate than adult hair and is continuously developing until around the age of 12. As a consequence, as children develop their hair changes too; from curly to straight, short to long, or blond to dark, requiring specialist care to nurture it as it develop and grow.
Each range within the JOHNSON'S® haircare portfolio provides unique benefits and the tools every parent needs to unlock knots, boost shine and strengthen hair without compromising on gentle, caring products.
Advice from the experts
Rebecca Bennett from the JOHNSON'S® team comments: 'We all know the feeling of dragging a brush through the tangled hair of a screaming child, desperate to get away and play. As they grow up, children spend more time playing and getting messy, and so they should, however, all this activity can result in tangled locks covered in who knows what so it's really important to look after their hair properly at such a young age, as it continues to develop during this important discovery period of their lives.
The JOHNSON'S® haircare products have been designed to look after different types of children's hair, from long and knotty, to curly and wild and make it easy for parents to identify which product will suit their little ones locks the best. It's really important to understand your child's hair type to determine what it needs, so you can then adopt and follow the correct routine to nurture it in the best way.'
This Halloween, children do not need to turn into little monsters because of their haircare routine. With the help of the JOHNSON'S® haircare range, every little one's unique hair type can be individually cared for and styled for spooky season and beyond.
JOHNSON'S® No More TanglesTM – Win the tangles tug of war with the No More Tangles™ range. Specially formulated to unlock knots and tangles with ingredients that gently cleanse for soft, smooth hair. Help your little one enjoy their new haircare routine and ROAR like a lion, taming curly hair with the JOHNSON'S® 3-step routine and embracing curly locks with cute animal ears: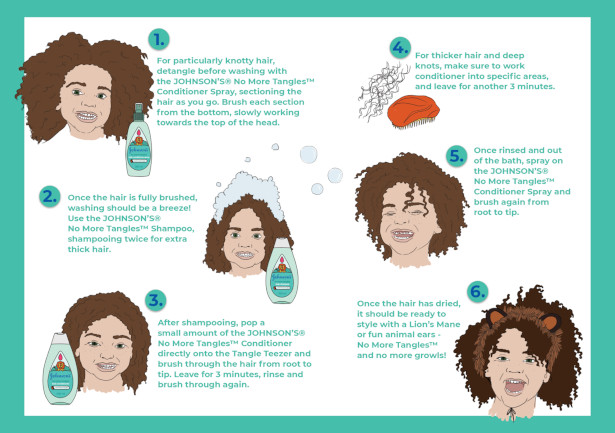 JOHNSON'S Shiny Drops – For hair that needs a little shine and sparkle, try the JOHNSON'S® Shiny Drops range which is enriched with argan oil and is specially designed to boost hair's natural shine for silky smooth, healthy feeling hair. Shine like a star by adding some glitter to your little one's parting on Halloween – perfect pop star material!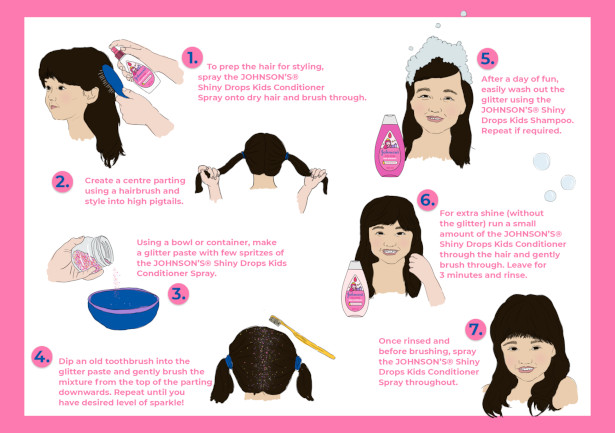 JOHNSON'S Strength Drops – The Strength Drops range is enriched with Vitamin E and is specially designed to help strengthen hair for less breakage as you comb through those bed head knots each morning. Sprinkle some fairy-tale magic this Halloween, to create a magical princess braid: