Pixlplay™: Turn your smartphone into a fun camera!
Inspired by the classic 35mm camera design, Pixlplay unleashes the power of smartphones for kids to enjoy! pixltoys.com
FACEBOOK | TWITTER | PINTEREST | INSTAGRAM
Pixlplay is an award winning toy that turns your smartphone into a fun kids' camera. After running a successful Kickstarter campaign in February, the Pixlplay camera is now available at retailers nationwide!
Pixlplay works with the majority of all standard size smartphones, both Apple and Android. Pixlplay is ideal for kids ages 3 and up and encourages creative expression and active play through photography. At $29.95, Pixlplay is affordable, it comes in blue and orange, includes an iOS app and  fun activities that teach kids about photography. Pixlplay also works with the new iPhone 8 and iPhone X by using the Lightening to Headphone Jack  Adapter included with your device or by simply touching through the protective screen. Tagline: Turn your old smartphone into a fun kids' camera Highlights: Pixlplay raised 260% of their funding goal or $65,000 on Kickstarter and Indiegogo InDemand! Pixlplay shipped to over 1,400 backers in 38 countries ONITIME  Pixlplay has already won three Toy Awards including a PARENTS' CHOICE RECOMMENDED, a  TOP TOY OF THE YEAR AWARD and a CREATIVE PLAY AWARD from the Creative Child Magazine consisting of moms and educators.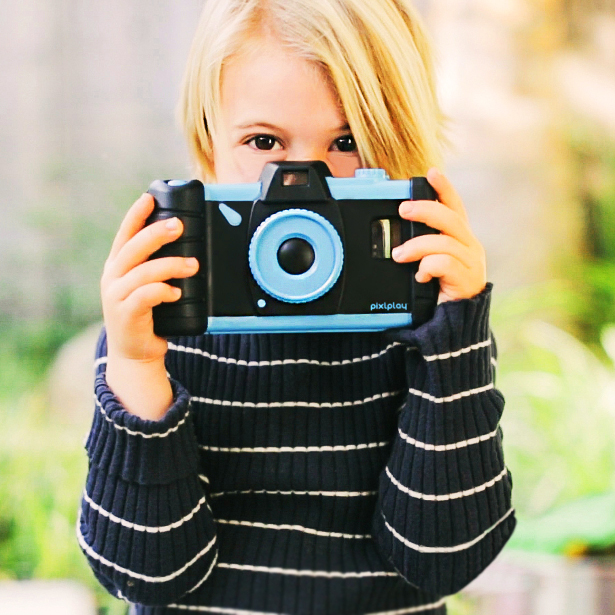 Over 60% of families have an old smartphone sitting unused at home. Pixlplay makes use of those phones! in a way that gets kids active and creative
Availability: ● Best Buy US stores ● Select Barnes & Noble stores and barnesandnoble.com ● AT&T Flagship stores in San Francisco (1 Powell St.) & Chicago (600 North Michigan Ave) ● Uncommongoods catalog and uncommongoods.com, and The Grommet ● SFMOMA Store & The Chicago Museum of Contemporary Art ● Over 50 Specialty Toy Stores nationwide ● Pixltoys.com and of course Amazon Features: ● Ergonomic rubberIgrips and wrist strap for drop protection  ● A builtIin screen protector so you can access your phone while protecting it from dirt and sticky little fingers ● An easyItoIuse adjustable clamp!to!fit!the!majority!of!standard!size!devices!including!the! iPhone 4, 4s, 5, 5s, 5c, 6, 6s, 7, 8 and X, iPod Touch, and many Android phones including the Google Pixel, Samsung Galaxy S5, S6, S7, S8 and similar size phones ● A shutter button that works through the headphone jack (no Bluetooth pairing or cell network needed ) ● A focus lens and film advance knob with 'clicking' sound for pretend play ● An iOS app where kids can have fun creating silly faces and going on scavenger hunts where they will learn colors, numbers, objects and emotions. Android App coming Oct. 1. Pixlplay helps protect your smartphone and gives kids the ability to take photos and blossom into  young photographers. The image quality of modern phones rivals that of good digital cameras and is far superior to any toy camera on the market. Key shortcomings of kids' cameras addressed by the Pixlplay camera include: ● Easy to use. Almost no learning curve since kids and parents already know how to use a smartphone camera. ● Quality. Other toy cameras take low quality photos, have small LCD screens and have limited photo editing options ● Protective. Compared to a real camera or smartphone, Pixlplay protects your device with rubber handles, a screen protector, and wrist strap.
Delightful. Kids and parents alike are drawn to the classic 35mm design and clean app graphics. Plus, the Pixlplay app contains photos from their parent's camera roll. ● Teaches Creative Expression & Photography. With the included activities and iOS app, kids are encouraged to create, explore and learn through photography.
What's in the box?  Each Pixlplay camera includes two activity sheets including a scavenger hunt and photo booth cutdout. Plus, kids can decorate and customize their Pixlplay camera with the included sticker sheet. Pixlplay also includes a FREE iOS app where kids can create and explore with six scavenger hunts. Download  the iOS app here. Requires iOS 8 and up. Pixl Toys will be releasing an Android App in the fall and  Pixlplay also works great with the camera app included with your smartphone or other camera apps in the Google Play store.