Caisteal Chamuis – a mystifying blended malt Scotch whisky from the Hebrides
Celebrating the life, lore and intriguing history of the now ruined castle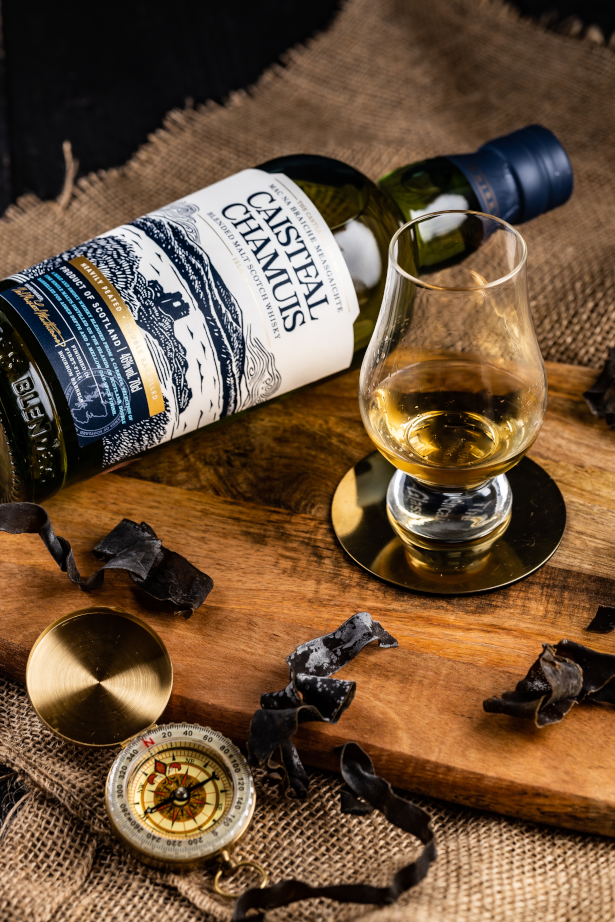 Enigmatic and smoky, yet inexplicably smooth, the two bottlings in the Caisteal Chamuis range of blended malt scotch whisky provide the whisky curious with a gateway into heavily peated malts.
Hailing from the Hebrides on the west coast of Scotland, Caisteal Chamuis is named after a ruined castle on the Sleat Peninsula on the Isle of Skye, shrouded in mystery and surrounded by the ghosts of bloody battles between the historic Macleod and MacDonald clans who fought over this area in the 14th century.
Like it's past, the pronunciation of Caisteal Chamuis is just as mysterious – a name taken from ancient Gaelic and pronounced "Castle Camus" in English. With the whisky being steeped in mystery from its heritage to its name, Caisteal Chamuis is the perfect dram for story-telling around a fire.
An enigma in itself, Caisteal Chamuis is blended to be both heavily peated AND heavily smooth, putting to rest any trepidations whisky drinkers may have about smoky, peated whiskies. The double-barrelled whisky has complex layers which are revealed with every sip.
Caisteal Chamuis Blended Whisky – RRP £39
Double barrelled for an extra smooth finish, Caisteal Chamuis blended malt scotch whisky is first aged in refill and first fill American oak hogsheads, before going through a two-stage re-ageing, with part of the blend in 250l charred virgin American oak barrels, and the rest in refill hogsheads. A final ageing takes place in smaller 200l bourbon barrels.
Tasting notes: the result is a fragrant, layered and complex whisky with soft, smooth peat to start. Honeyed, peppery notes follow with sweet spice and creamy vanilla. It's complex and soft, yet characterful.
Caisteal Chamuis 12 Year-Old Blended Whisky – RRP £49
Double-barrelled sherry finish, aged for 12 years in refill American Oak hogsheads. Re-aged in 230l American Oloroso oak barrels shipped direct from Jerez, with a second finish in specially coopered 500l European oak butts, also seasoned with Oloroso sherry.
Tasting notes: soft and smooth. Peaty yet not medicinal – a complex, fragrant, heathery, lavender-like peat. Fascinatingly complex with floral and sweet, toffeed coal tar notes, with a finish of concentrated sherry, crystalised fruit, peat and oily beeswax.
Caisteal Chamuis blended whiskies are available from all good whisky retailers, including The Whisky Exchange, Master of Malt, Fareham Wine Cellar, Abbey Whisky and Royal Mile Whiskies.