Buzz Beauty… sold @ Harrods, Selfridges and Hamleys. Now Available Online @ >> www.buzzretail.co.uk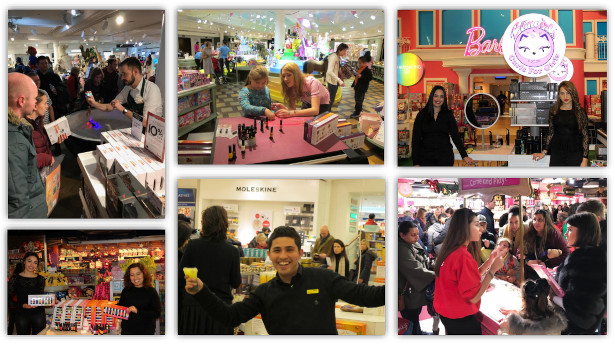 Buzz Retail have two brands in UK : one is Buzz Retail (Toys) and the other one is Buzz Beauty (Beauty Products: Curlers, Straighteners).
@ Intouch we will be featuring a range of items from what is an very very extensive catalogue of awesome toys and hair straighteners!
So you can always check out the ranges at :- www.buzzretail.co.uk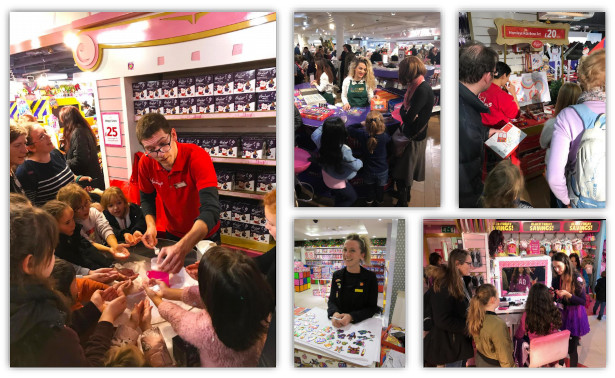 José Eber HST 25mm Clipless Curling Iron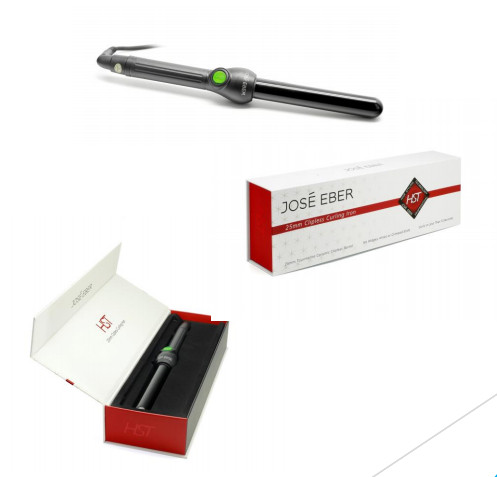 The Jose Eber 25mm Clipless Curling Iron
creates flirtatious curls and beachy,
natural waves that are smoother, shiner,
frizz-free and longer lasting! Transform
your look while reducing the amount of
damage caused by traditional curling
irons. The innovative clipless design
provides consistent and even heat for
faster styling without causing creased or
crimped ends. Create a more natural look
by curling hair from root to tip, reducing
heat at hair's weakest point – the tips –
and save your locks from unnecessary
damage.
José Eber HST Air Styler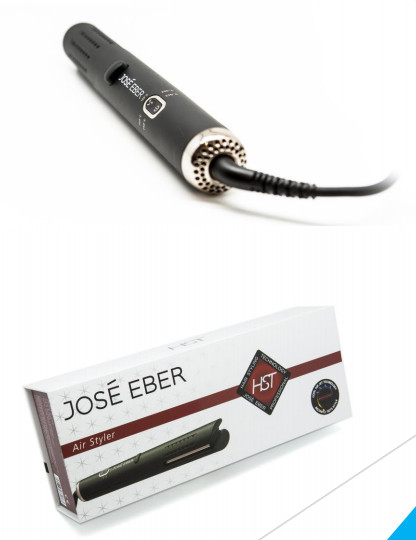 The revolutionary Air Styler by Jose Eber
creates amazing styles using the latest
technology. This innovative iron with
spring-loaded tourmaline ceramic plates
has a cooling fan feature which helps to
set curls, waves and straight styles in
minutes. This iron comes with digital heat
function 140C-220C and fan control.
José Eber HST Wet/Dry Flat Iron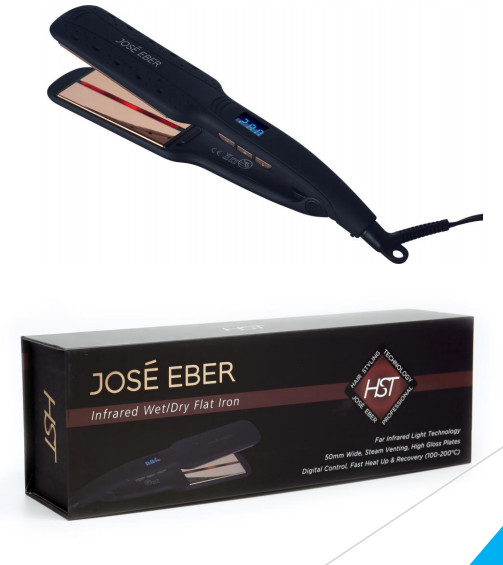 The José Eber HST Infrared Wet/Dry Flat
Iron uses far infrared light technology,
which eliminates frizz and adds shine
while styling. The extra wide high gloss
plates with vented holes works on all hair
types, wet or dry. Features also include
digital display and automatic shut off.
José Eber HST Infusion Straightening Brush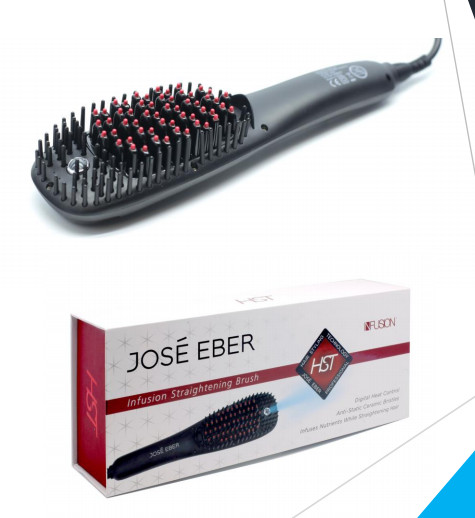 A traditional straightening now becomes a
treatment tool. The easy to use
straightening brush heating and
straightening process to infuse treatment
formulas when the hair cuticle is open and
most receptive. This breakthrough iron
uses a fine vapour to deliver nutrient-rich
treatment while straightening. Now you
can straighten your way to healthier hair!
The Set includes 100ml Solution (Refills
available).
José Eber Heat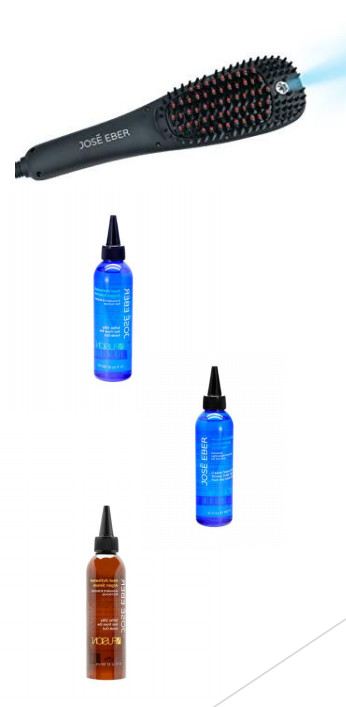 Activated Solutions
For use with the José Eber Infusion Straightening
Brush and José Eber Infusion Straightening Iron only.
Argan Solution – 180ml or 100ml:
This specially-formulated, antioxidant and nutrient rich
solution absorbs into the cuticle of the hair instantly,
treating your hair from the inside out without weighing it
down.
Volumizing Solution – 180ml or 100ml:
This specially-formulated lightweight solution gently
infuses Hydrolysed Wheat Protein into hair to strengthen
while attracting moisture to repair and volumize.
Activated Serum – 180ml or 100ml:
This specially-formulated and nutrient rich Argan solution
connects to the cuticle of the hair and absorbs instantly,
helping repair the look of hair while enhancing its natural
beauty. Leaves hair protected as it bolsters shine.
José Eber HST Trio – 3 in 1 Clipless Curling Iron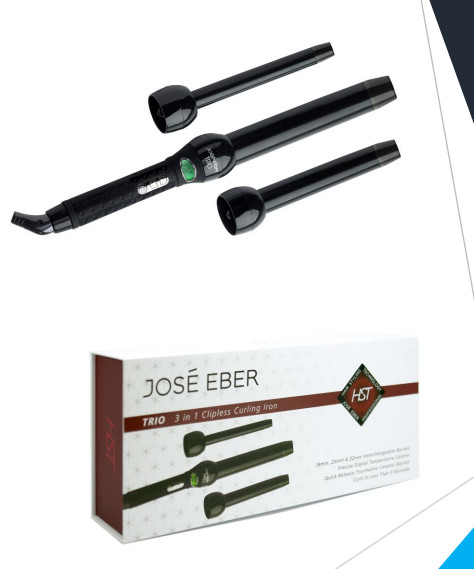 Redefining the traditional curling iron and taking it to the next
level, the versatile José Eber TRIO Clipless Curling Iron is the
ultimate solution for those who want styling freedom and
flexibility. The TRIO multi-barrel iron set is specially designed
with three distinctive curling barrel sizes that are perfect for all
hair types. With easily interchangeable barrels, a multitude of
curly and wavy styles can be created with one simple click of the
quick release handle. The innovative clipless design delivers
perfect, more natural looking curls and waves that are free of
kinks, ridges, and crimped ends. By focusing longer heat at the
roots and not the tips, damage caused by traditional curling irons
is a thing of the past.
José Eber HST Vibrating Flat Iron
 The José Eber HST Vibrating 1.5″ Flat Iron
combines heat and vibration technology
for friction-free, fluid-like glide. This
combination allows hair to flow
effortlessly between the plates for
a smoother, straighter style, with
absolutely no pulling or binding. The
oscillating movement removes kinks and
creases, while the tourmaline ceramic
plates seal in moisture to keep hair silky
smooth for days after use.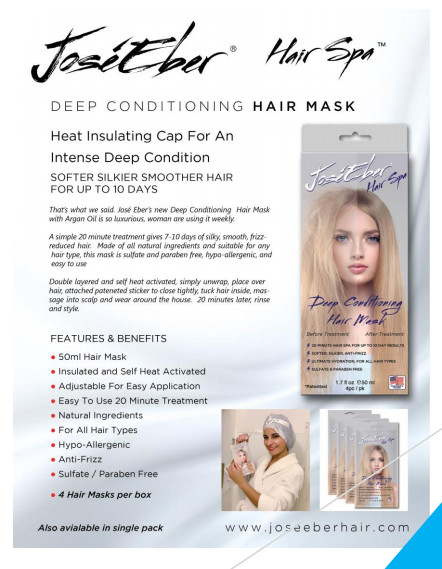 Makes any hair smooth and manageable.
Contains essential proteins that restore
healthy hair. Infused with Argan oil for a
silky soft shine. See and feel the effects for
up to 10 days. Quick 20 minute hair repair,
easy to use at home or on-the-go. The box
contains 4 masks (4 Pack).