Scotland's oldest brewery brings fruity twist of mango to its beer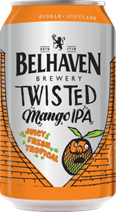 Belhaven Brewery is launching the latest beer in its fruit flavoured range, Twisted Mango IPA!
The 5.1% IPA, which combines the big tropical fruit aroma of Galaxy hops with a unique twist of juicy, fresh mango, is the fourth craft beer to be launched by Belhaven. It follows the success of gold award-winning beers TwistedThistle IPA, crisp citrus hoppy Intergalactic Dry Hop Lager and the bold, fresh taste of Twisted Grapefruit IPA.
Twisted Mango IPA, brewed with Chinook and Galaxy hops, is bursting with tropical hop flavour. Presented in eye-catching 330ml cans with bold names and quirky designs, when you pop open the can of Twisted Mango IPA you will be hit with the delicious aroma of fresh mango, a super refreshing taste of summer to brighten the winter gloom.
Nestled amongst the rolling barley fields of the beautiful East Lothian coast, Belhaven Brewery has been creating Scotland's favourite ales for nearly 300 years. Yet, within the walls of its ancient brewery lies the latest cutting edge brewing equipment and a team of brewers driving the next generation of beer innovation. All of Belhaven's beers are lovingly created using the finest 100% Scottish malt, water from the brewery's ancient well, the very best hops selected from around the world and Belhaven's secret ingredient, its unique yeast.
Twisted Mango IPA is available in 330ml cans in Tesco stores across the UK