ORGANIC SUPERGREENS! An incredible production process by Indigo Nutrition, Superfoods brings you the ultimate High Quality Superfood Blend, Boosting brain function, enhancing mood, so powerfully antioxidant immune boosting & bursting with B Vitamins! Lets get busy!
The direct link to purchase this product now is >> www.indigo-herbs.co.uk/shop/buy/supergreens-powder-blend-product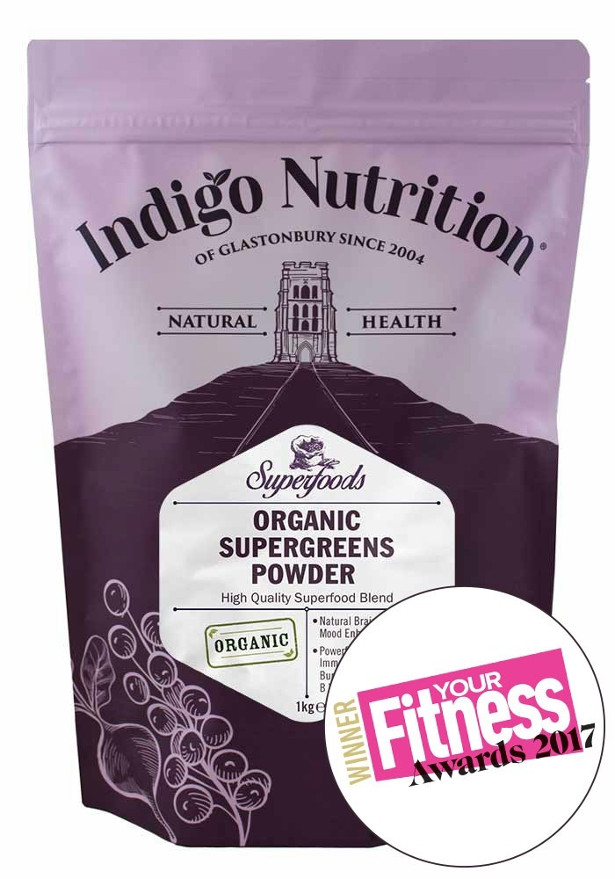 FACEBOOK | TWITTER | INSTAGRAM | GOOGLE+ | PINTEREST | LINKEDIN
Organic Super Greens Powder
NATURAL MULTI VITAMIN & MINERAL SUPPLEMENT
· This superfood powder contains Wheatgrass, Barleygrass, Spirulina, Moringa and Chlorella.
· Provides a broad nutritional profile including vitamins A, C and E, and a wide spectrum of B vitamins.
· Delivers ALL the 9 essential amino acids and that means protein.
· Provides a broad range of minerals including Selenium, Copper and Manganese.
Stepping away from a one tablet multi-vitamin and mineral supplement means that your body can really absorb the nutrients it needs from superfoods and begin to experience optimum nutrition which can substantially improve overall health and wellbeing. Add a scoop of Supergreens to a morning smoothie and give your whole system an energy boost!
100g £6.99, 250g £14.99, 500g £27.99
The direct link to purchase this product now is >> www.indigo-herbs.co.uk/shop/buy/supergreens-powder-blend-product
· Winner of Best Energy Boosters in the Your Fitness Awards 2017