Pablo at the Zoo written by Michael White
5th August 2021
£6.99, Paperback
ISBN: 9780241490280
Pablo's friends meet their families at the zoo – but Noasaurus the dinosaur can't find his family. Pablo and the book animals help Noasaurus realise even though he might feel lost, family is where you find it.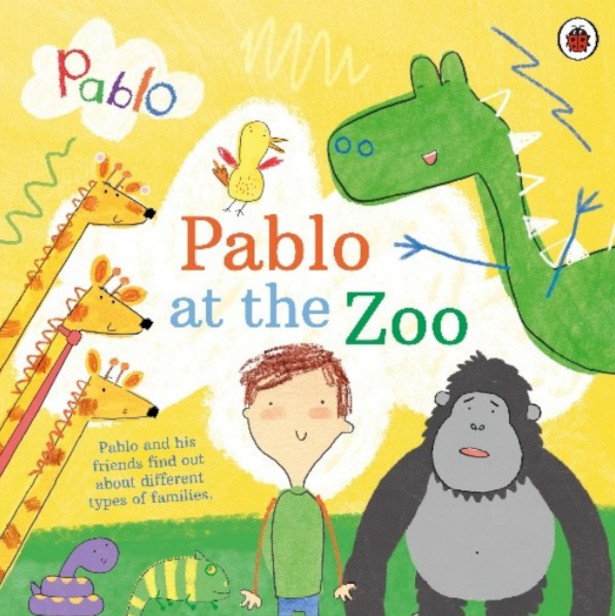 It's a thoughtful, easy-to-grasp way to help your child understand that not everyone thinks and acts in the same way.
– The Independent on Pablo's Feelings
This is a heart-warming bedtime book about Pablo and his friend Wren who don't want to go to sleep because they are afraid they will disappear. With the help of their friends, they learn that there is nothing to be worried about at night-time.
– Good Housekeeping on Goodnight Pablo
Pablo is the first animated TV seriesto star an autistic character and the first TV programme with an all-autistic core cast. Pablo is shown on CBBC, RTE and Netflix, won Best Preschool Programme at the 2019 Broadcast Awards. Its interactive game was nominated at the 2018 Children's BAFTAs for the Digital category, and Season 2 of Pablo is airing on CBeebies. A Pablo stage show is also in development with Selladoor.
The Pablo storybook series won Gold in the Children's Book Series category at the Made For Mums Awards 2021.
This empathetic and heartwarming series of books are written by writers on the autistic spectrum, and are grounded in the reallife joys and challenges of autistic children. Pablo will help readers understand that not everyone thinks the same way. Pablo uses his 'magic' crayons to overcome everyday challenges. He brings the viewer into his 'art world' where he portrays how he bravely takes on real world challenges, turning them into fantastic adventures, and communicates unfamiliar feelings by drawing these colourful characters into life. These characters are his imaginary friends, who each carry traits typical to those on the spectrum.
Click here to purchase – https://www.amazon.co.uk/gp/product/0241490286?tag=prhmarketing2552-21
Also out now in the Pablo series: Pablo Goes Shopping written by Andrew Brenner and Sumita Majumdar
4th March 2021
£6.99, Paperback
ISBN: 9780241490273
Pablo and his friends are going to the supermarket, or as they like to call it, the
super place! Tang loves the super place, but Mouse finds it too bright and too
noisy. Pablo and friends find different ways to have a lovely time among all the
sights and sounds of the Super Place
Paper Owl Films (the creators of Pablo) –
Creators of Pablo and Sol, Paper Owl Films represents a diverse team of creatives bringing content that matters to audiences all over the world. Paper Owl Films Ltd. was founded in 2012 by Grainne McGuinness, Stephen Petticrew and Gavin Halpin, and employs a dedicated collective of storytellers, film makers, animators and creators across their animation and live action collective. Paper Owl specialises in producing content for children and grown-ups across international broadcast and digital platforms. Their work is enjoyed all over the world on channels such as CBeebies, RTÉjr., TG4, BBC, CBC, NBC Universal, Netflix and digital platforms. As well as books being published by Penguin.