BOOK >> John Crossman's Career Killers/ Career Builders is based off his most requested speech, which is The Top 5 Ways to Get Fired and The Top 5 Ways to Keep From Being Fired.
On Amazon @ www.amazon.com/-Killers-Builders-Millennial-Should/dp/1946928003/ref=sr_1_2?s=books&ie=UTF8&qid=1491496712&sr=1-2
John's passion is helping college students and young professionals reach their potential by avoiding the most dangerous life choices that can cause them to ruin their careers. This book has a wide audience, anyone from the ages 18-31, and the people that employ them. The book is not meant for just people in business, it is meant for any professional. What John has seen, on a national level, is a need for additional training resources for the millennial group on core aspects of being a professional. This book helps them lead a healthy and successful life.
Review
"John Crossman is a leading authority and expert on inspiring students to build strong career paths. His impactful speech entitled 'Career Killers' is enjoyed by students and motivates them to truly consider their future and take the necessary steps to grow into successful professionals." — Caryn Beck- Dudley, Dean of the Leavey School of Business at Santa Clara University
"John is one of the most impactful speakers and mentors to our students I have had. He is a pleasure to work with. He doesn't tell students what they want to hear, he tells them what they need to hear. It is that type of honesty and straightforwardness that makes him an amazing asset to our program and why we constantly ask him back to speak." — Joshua A. Harris, PhD, CRE, CAIA, Director, Dr. P. Phillips Institute for Research and Education in Real Estate at the University of Central Florida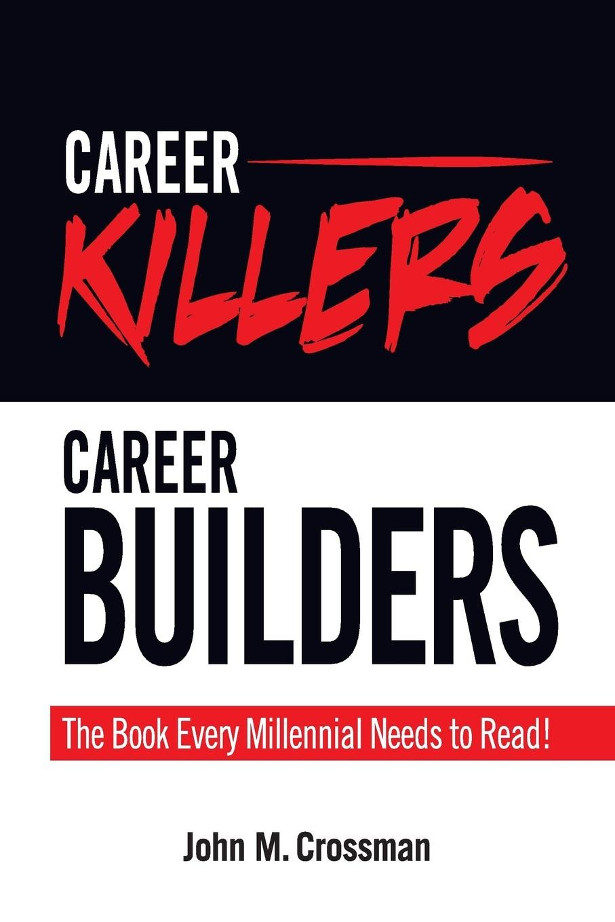 "John is a tremendous resource for students interested in real estate, especially in the retail sector. He understands what it takes to be successful and is willing to share his insights. No need to experience a 'career killer' moment fi rsthand when you can learn in advance from John. He is truly vested in seeing people succeed." — William G. Hardin III, PhD, FRICS, Professor of Finance and Real Estate at Florida International University
"John has spoken to over three thousand of my students through the years. He is highly regarded each year by my students." — Betsy Goodman, JCPenney Director at the Warrington College of Business
"John has spoken to countless students in our college and university. His passion for their success, combined with his unique ability to connect with them on a personal level, has inspired and motivated our students to reach their fullest potential." — Michael D. Hartline, PhD, Dean, College of Business at Florida State University
"A highly successful businessman, respected by his peers, John Crossman has not forgotten his beginnings. Consequently, he has devoted much time, energy, and fi nancial support toward helping students succeed in business. His book, Career Killers/Career Builders, based on a popular series of lectures in business schools, is essential for those who aspire and those who want to learn from a master." — Luder Whitlock, Retired President of Reformed Theological Seminary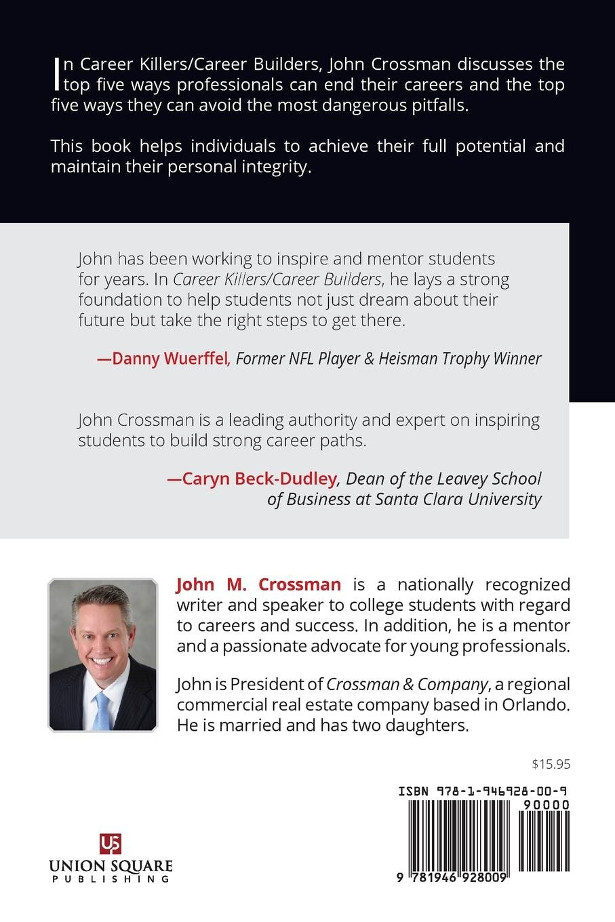 "John Crossman speaks from experience! In business, he has clearly demonstrated that integrity, honesty, and careful preparation are the essential building blocks of a successful career. In Career Killers/Career Builders, his straightforward and down- to- earth approach has made this book a must- read for anyone who wants to get and keep a job!" — Jerry Ross, President of National Entrepreneur Center
"John Crossman has been dedicated to enlightening and mentoring others by creating multiple venues, such as his book Career Killers/Career Builders, to assist young men and women in their professional growth." — Mike Foley, Former Chairman, ICSC Foundation
"John's book provides straightforward advice on how to start and nurture a career." — Peter Linneman, Albert Sussman Professor of Real Estate, Finance, and Public Policy at the Wharton School of the University of Pennsylvania
"John has been working to inspire and mentor students for years. In Career Killers/Career Builders, he lays a strong foundation to help students not just dream about their future but take the right steps to get there." — Danny Wuerffel, Former NFL Player and Heisman Trophy Winner
Read more
About the Author
John M. Crossman is a nationally recognized writer and speaker to college students with regard to careers and success. In addition, he is a mentor and a passionate advocate for young professionals. John is President of Crossman & Company, a regional commercial real estate company based in Orlando. He is married and has two daughters.