Novella Nostalgia by Tony Drury The Perfect Christmas Gift for Book Worms
www.tonydrury.com/the-novella-nostalgia-series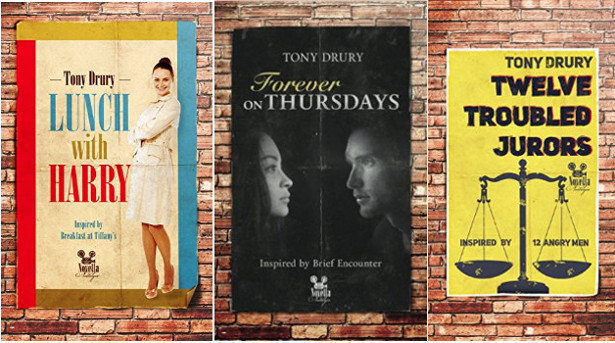 Inspired by some of the Silver Screen's favourite and most memorable classics, author, Tony Drury, has set about penning a series of novella's collectively entitled Novella Nostalgia. Linking iconic cinema classics with modern stories, these short stories are the perfect stocking filler for the book-worms out there!
The Novella Nostalgia collection features three enticing short-stories, Lunch With Harry, Twelve Troubled Jurors, and the newest release, Forever On Thursdays. These stories are greatly fitting for the homeward journey after visiting relatives at Christmas, or for those breaks between checking the Christmas dinner! And if time is limited for reading the whole novella, do not fear as the memorable story-lines will remain in your thinking until you pick up and read again.
"Lunch with Harry" transfers the tale to Regent Street, London in 2016. Audrey Hepburn is recreated in the desirable shape of Dr Ella van Houten who has stood on a man's foot outside Hamleys, the world's oldest toy shop. Ella was imagining that she was Holly Golightly, the character that Hepburn played in one of Hollywood's greatest ever romantic films, in New York- the most Christmassy city of them all.
"Twelve Troubled Jurors" follows an explosive Crown Court case which creates nerve jangling tensions among members of the jury. The weakness of the evidence of financial "insider dealing" is offset by Vicki Rollins' resentment of the wealthy classes in a courtroom drama echoing the strains of "Twelve Angry Men", the film that gave us one of Henry Fonda's greatest performances.
"Forever On Thursdays" is based on the unforgettable British film "Brief Encounter" and tells the tale of Carey and Mark, who meet unexpectedly when Carey is the victim of an assault at a railway station. Mark is her saviour and whisks her away for a coffee; the pair get on well and soon they are meeting every Thursday.
The Novellas have been described by many as so gripping that they can't be put down. With many five-star reviews, you can't miss out on these original reads this holiday time.
A perfect gift for the avid reader in your life, or as a treat for yourself, these short reads are perfect for the winter holiday commute or something to keep to look forward to in the new year!