REVEALED: What kids REALLY want for Christmas ahead of Black Friday – 60% of top choices are under £20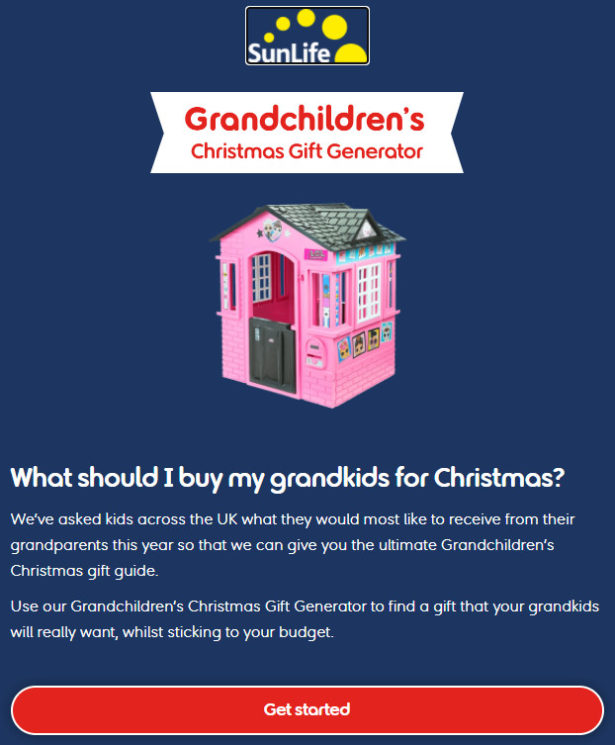 Cars, dinosaurs, books and bubbles are top choices for toddlers
Primary school children want Lego, Fortnite, Barbies and L.O.L Surprise
Older kids are hoping for clothes iPhones, Airpods and Tablets
60% of the top choices cost LESS than £20
Find the perfect gift with SunLife's FREE Kids Gift Finder – search by age, gender, interests and budget
Brand new research released just ahead of Black Friday reveals exactly what kids REALLY want this Christmas, and it is not going to break the bank.
After discovering that almost half (46%) of children have received BAD Christmas gifts from their grandparents, over 50s experts SunLife asked kids what they actually want to help grans and grandads find the perfect gift this year.
SunLife asked 2,155 children aged up to 16 and their parents what they wanted to receive from their grandparents this year and has created six top five lists – one for each age group and gender (see attached and end of release for full top five tables)
The top choice for under threes was story book, for 3-5s, it is Disney figures for girls and dinosaurs for boys. Six-seven years old boys are hoping for Lego, for girls, it is L.O.L Surprise Fluffy Pets, 8-9 year old boys are hoping for Fortnite Figures, for girls of the same age it is clothes.
Girls aged 10-12 also put clothes as number 1 but boys of the same age want an iPhone 11. For teenagers aged 13-16, it is clothes topping the list for both boys and girls.
SunLife has also created a free Grandparent's Christmas Gift Finder at https://www.sunlife.co.uk/kids-christmas-gift-finder/ to help grandparents find the perfect present, within their budget, according to their grandchild's age, gender and interests.
"We know it can be tricky for grandparents to know what to get their grandchildren, and they often don't want to ask as that would spoil the surprise, "says Ian Atkinson, marketing director at Sunlife, "So we have done the asking for them."
"By asking children what they would most like to receive from their grandparents for Christmas this year, we have created a free online tool to help grandparents find the perfect present."
SunLife's research also reveals that grandparents are planning to spend a whopping £103.86 on EACH grandchild, and with four grandchildren on average, that is £415.44 in total.
Last year, grandparents spent an average of £81 on each grandchild, so this year they are planning on £23 MORE. Almost half (46%) of parents think this is too much, with 14% of those saying they worry their parents can't really afford to spend as much as they do.
But SunLife's research shows they don't need to break the bank – 60% of the gifts in the top 12 top five lists SunLife has created come in at under £20!
Visit https://www.sunlife.co.uk/kids-christmas-gift-finder/ for the full guide which splits gifts into five price categories – Under £10, £10 – £20, £20 – £40, £40 – £50 and £50+ so that grandparents can see the top gifts – as voted by children – in their price range, as well as splitting by gender, age and 'interest'.
Top 5 gifts for BOYS by age group
Under 3
3-5yrs
6-7 yrs
8-9 yrs
10-12 yrs
13-16 yrs
1
Any story book
Dinosaur figures
LEGO character pack
Fortnite figures
iPhone 11
Clothes
2
Animal figures
Toy cars/trucks
LEGO classic brick set
Minecraft for Nintendo Switch
FIFA 21
Airpods
3
Dinosaur figures
Any story book
Electric scooter
Bicycle
Airpods
iPhone 11
4
Bubbles
LEGO character pack
LEGO Super Mario Adventures starter course toy game
Nerf Fortnite RL
Fortnite figures
FIFA 21
5
Toy cars/trucks
Hot Wheels monster truck downhill race and go
LEGO Super Mario Bowser's castle Battle expansion set
Fortnite Battle Bus
Tablet/iPad
Xbox One wireless controller
Top 5 gifts for GIRLS by age group
Under 3
3-5yrs
6-7 yrs
8-9 yrs
10-12 yrs
13-16 yrs
1
Any story book
Disney figures
L.O.L Surprise! Fluffy Pets
Clothes
Clothes
Clothes
2
Bubbles
Disney Frozen 2 Fold and Go Arendelle castle
L.O.L Surprise! Fuzzy Pets
Make-up set
Airpods
Airpods
3
Animal figures
Barbie Dreamhouse
Any story book
Barbie Fashionista Girls Make Waves doll
iPhone 11
iPhone 11
4
Build-a-Bear
Any story book
Build-a-Bear
L.O.L Surprise! tin of books
Make-up set
Make-up set
5
Crayon set
Play-Doh
L.O.L Surprise! Surprise House
Painting set
Painting set
Hair curling wand
ENDS
For more information, contact Rachel Mason, prprose@live.co.uk 07759147131
Calculations:
Number of people aged 50-75(ONS)
20,065,347
% of 50-75 grandparents (Finances After 50)
50%
Number of Grand parents
10,032,674
Number of Grandparents that celebrate Christmas
9,330,386
Total GP households (Single and couple)
6,183,020
Total GP households that celebrate Christmas (single and couple)*
5,750,208
Average number of grandchildren (Big50)
4
Average spent on each grandchild (2020 Research)
£103.86
Average spent by each grandparent(s) (2020 Research)
£415.44
415.44Average spent by grandparents
£2,388,866,605
Previous years
2019
2018
2017
Number of people aged 50-75(ONS)
19,289,195
19,035,754
18,820,525
% of 50-75 grandparents (Finances After 50)
50%
50%
50%
Number of Grand parents
9,644,598
9,517,877
9,410,263
Number of Grandparents that celebrate Christmas
8,969,475
8,851,625
8,751,544
Total GP households (Single and couple)
5,943,853
5,865,757
5,799,435
Total GP households that celebrate Christmas (single and couple)*
5,527,783
5,455,154
5,393,475
Average number of grandchildren (Big50)
4
4
4
Average spent on each grandchild (OnePoll Research 2017 & 18, Gingercomms 2019)
£80.54
£67.62
£41.82
Average spent by each grandparent(s) (OnePoll Research 2017 & 18, Gingercomms 2019)
£322.16
£270.48
£167.28
Average spent by grandparents
£1,780,830,705
£1,475,509,998
£902,220,454
*https://www.statista.com/statistics/1084762/christmas-celebration-plans-among-uk-consumers/
60% of gifts are under £20
Under £10
£10 – £20
£20 – £40
£40 – £50
Over £50
Total
% under £20
Boy Under 3
5
5
100%
Boy 3 to 5
4
1
5
80%
Boy 6 to 7
1
1
1
2
5
20%
Boy 8 to 9
1
2
1
1
5
60%
Boy 10 to 12
1
1
3
5
20%
Boy 13 to 16
1
1
1
2
5
20%
Girl Under 3
4
1
5
80%
Girl 3 to 5
3
1
1
5
60%
Girl 6 to 7
3
1
1
5
60%
Girl 8 to 9
4
1
5
100%
Girl 10 to 12
2
1
2
5
60%
Girl 13 to 16
1
2
2
5
60%
Total
30
6
5
5
14
60
60%
Friday deal move38.com/pages/blinks-collection
Blinks Ultimate Collection for $100 off so instead of $299, its $199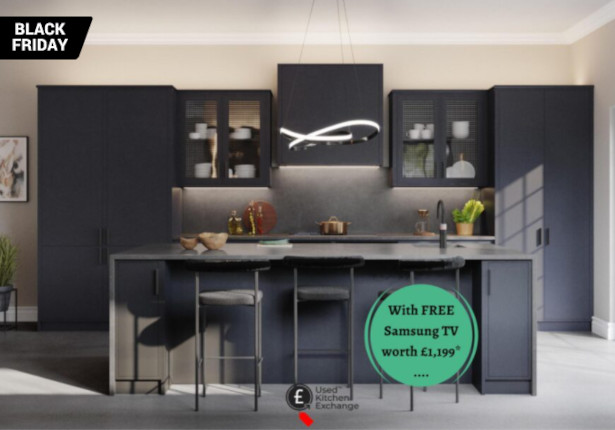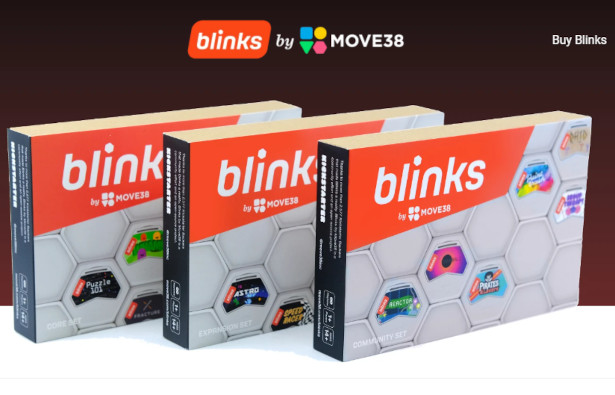 ONYA
With the shopping frenzy that is Black Friday, we see this as an ideal time to put the focus towards doing good for those that share the planet with us and desperately need our help.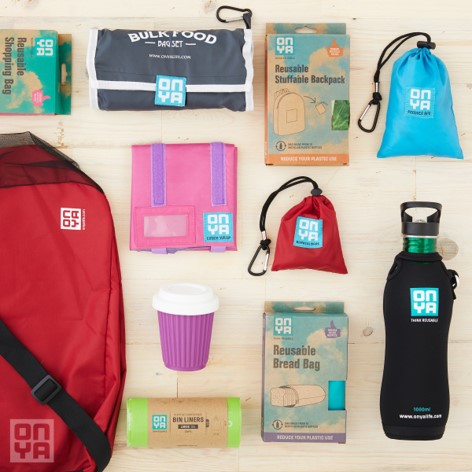 We will donate 40% of all retail website sales on 27 Nov, Black Friday, to Wildlife Aid Foundation who are doing important work to protect native wildlife in the UK.
onyalife.co.uk
Starting on Sat 28 Nov we will be offering 20% off sitewide (excluding gift cards) on both sites with code Change20 (same code for both sites). That can be used as a Cyber Monday announcement or anytime as of Sat, and it will run through 11 Dec.
Named 'Socially Responsible Cause' Winner in the 2020 Eco Excellence Awards, Onya prides itself on creating high quality, useful, reusable products for your everyday life that can easily be kept 'On You'. With multiple award-winning reusable products including bread bags, produce bags, bulk food bags and shopping bags, to backpacks, coffee cups and one of the highest quality stainless steel drink bottle ranges on the market, all Onya reusable products are responsibly made and they are a certified B Corp. Onya also has a range of certified compostable bin liners and dog waste disposal bags that are plant-based and leave no plastic residue behind.
As part of the circular economy, not only are Onya's reusable products all 100% recyclable but they are also made out of recycled material such as rPET which is a fabric produced from recycled plastic water bottles.
Onya has been thinking reusable since 2004. In the past 3 years alone through the sale of Onya products, Onya customers have helped divert more than 114 tonnes of plastic waste from landfill. That's the equivalent of over 10.5 million plastic drink bottles!
Make a simple switch to a reusable product (and encourage others with a gift) today! Use code Change20 and save 20% sitewide during their Holiday Sale.
Osprey's promise to the planet: A plastic free outdoors
Osprey will mark its own Green Friday this year by donating 20% of sales between Friday 27th and Monday 30th of November to long term partner and environmental charity European Outdoor Conservation Association (EOCA). The organisation funds conservation projects and makes a tangible difference to threatened wild areas, species and habitats. The donations from Green Friday will be used to fund multiple worldwide projects focusing on a plastic free outdoors.
Working with EOCA, Osprey will be supporting key projects focusing on cleaning up plastic waste including the Oceans Initiative, which is dedicated to the protection and enhancement of Europe's oceans, seas, beaches, lakes and coastlines. Funds will also be used to support Plastic Free Woodlands UK, set up by the Yorkshire Dales Trust to care for the people, landscape and wildlife of the environmentally significant Dales in the North of England. Other projects include the Magdalena, Colombia River Clean-Up which protects ecosystems by clearing river plastic, empowering communities and protecting ecosystems for future generations.
"Osprey is committed to becoming the most sustainable outdoor hardgoods brand worldwide, with a laser focus on chemistry and fabrics, as well as our social responsibility as the world's number one specialist backpack company" says Jonathan Petty, Osprey Europe MD. "Last Green Friday our community helped to fund the planting of over 1,300 trees, helping to restore tropical forests in Borneo and Ecuador. This year, we look forward to funding another cause which is close to our heart; the reduction of plastic pollution in the outdoors"
Osprey's commitment to a greener outdoors will see nearly 50% of Osprey's packs made from Bluesigh® approved fabrics by 2021, including the new fifth generation of Talon and Tempest, made from the first commercial use of Regen Robic recycled nylon. As of next year, all of Osprey's packaging will be made from 100% recycled content, as well as being fully recylable themselves.Building on this pledge of innovation in green technology and chemistry, by 2023 the entire Osprey pack collection will be PFC free.
The Outdoors Beckons, so head to www.ospreyeurope.com to join the effort towards a plastic free outdoors.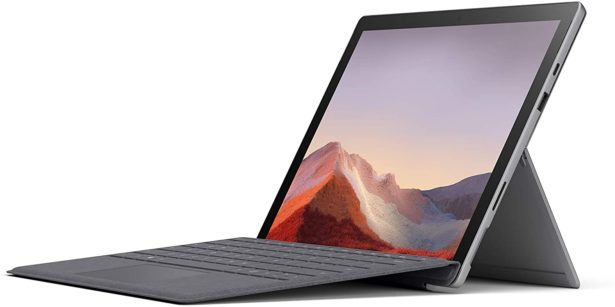 Surface Go 2
Surface Go 2 (64GB) for £379 online at Currys (Save £20)
Surface Go 2 (128GB) for £469 online at Currys (Save £60)
Surface Go 2 (Core M3, 128GB) for £549 online at Microsoft Store (Save £70)
Surface Pro 7:
Surface Pro 7 (i3/128GB) for £629.99 online at Amazon.co.uk (Save £169)
Surface Pro 7 (i3/128GB) for £630 online at Microsoft Store (Save £169)
Surface Pro 7 (i5/128GB) for £659.99 online at Amazon.co.uk (Save £130)
Surface Pro 7 (i5 256GB) for £899 online at – Amazon (Save £270)
Surface Pro 7 (i7/1256B) for £1,299 online at Currys (Save £150)
Surface Laptop 3 13"
Surface Laptop (i5 128GB) for £779 online at Amazon (Save £220)
Surface Laptop (i5 256GB) for £929 online at Amazon (Save £340)
Surface Laptop 3 13" (i7/256GB) £1,379 online at Amazon (Save £170)
Surface Laptop 3 13" (i7/256GB) £1,390 online at Microsoft Store (Save £159)
Surface Laptop (i7 512GB) for £1750 online at Microsoft Store (Save £199)
Surface Laptop 3 15"
Surface Laptop 3 15" (R5: 8GB/128GB) from £1,079 online at Argos (Save £120)
Surface Laptop 3 15" (R5: 8GB/256GB) from £1,319 online at John Lewis (Save £150)
Surface Laptop 3 15" (R5: 16GB/256GB) from £1,529 online at John Lewis (Save £170)
Surface Laptop 3 15" (R7: 16GB/512GB) from £1,839 online at Currys (Save £210)
Surface Book 3:
Surface Book 3 (i5/256GB) for £1,269 online at Amazon.co.uk (Save £330)
Surface Book 3 (i5/256GB) for £1,269 online at Microsoft Store (Save £330)
Surface Book 3 (i7/256GB) for £1,799 online at Currys (Save £200)
Surface Book 3 (i7/256GB) for £1,979 online at John Lewis (Save £220)
Instant Knockout.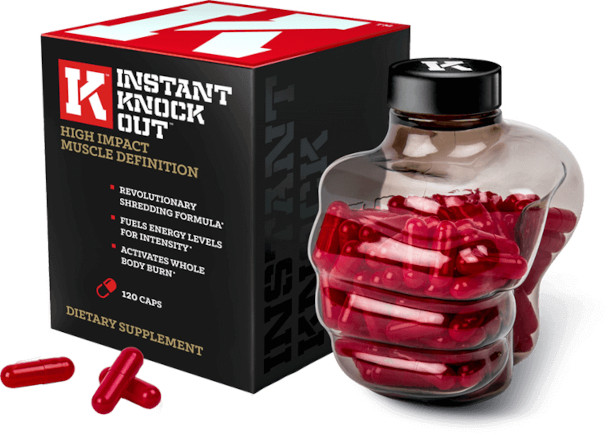 Offering a buy four and get two free deal, meaning £70 off a sixth month subscription.
A link to the deal can be found here: www.roarambition.com/en-gb/deals/?a_aid=5efb2dde7cfa3&chan=pubdm
INCREDIBLE BLACK FRIDAY DEALS: 25% OFF NETATMO PRODUCTS STARTING TODAY!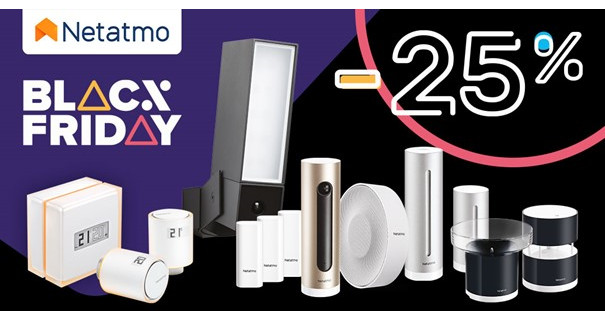 London, 26th November 2020 – For Black Friday, Netatmo, the leading smart home company creating simple, smart solutions for a safer and more comfortable home, is offering 25% off from today onwards on a range of products available on its website. Special offers are also up for grabs on Amazon, Appliance Direct, BT Shop, eBuyer, Maplin, City Plumbing and others. It is the perfect opportunity to give smart gifts this Christmas!
The 25% discount applies to a wide range of smart products, including the following:
The Smart Home Weather Station, which analyses the indoor and outdoor environment in real time, sends alerts to the user's smartphone when the air quality deteriorates and allows the user to monitor changes in the environment through the data history.
The accessories for the Smart Home Weather Station: the Smart Anemometer, which measures wind speed and direction, the Smart Rain Gauge, which measures rainfall, and the Additional Smart Indoor Module, which monitors an extra room with the Smart Home Weather Station.
The Smart Thermostat, designed by Philippe Starck, which saves energy for the user without sacrificing their comfort.
The Additional Smart Radiator Valves, which complete the Smart Thermostat, the Smart Modulating Thermostat, the Starter Pack and the Smarther with Netatmo from Legrand. They are used to control the temperature of every room, at any time.
The Smart Indoor Camera with facial recognition, which sends real-time alerts to the user's smartphone in the event of a break-in at their home.
The accessories for the Smart Indoor Camera: the Smart Door and Window Sensors for alerting the user before a break-in occurs and the Smart Indoor Siren for deterring intruders.
The Smart Outdoor Camera, which sends real-time alerts to the user's smartphone if a trespasser enters their property. The camera can tell the difference between people, vehicles and animals.
The Smart Smoke Alarm, which triggers an 85-dB alarm in the event of a fire, sending an immediate notification to the user's smartphone. It has a battery that lasts 10 years[1], the lifespan of the Alarm.
The Smart Indoor Air Quality Monitor, which helps create a healthier environment by measuring air quality, humidity levels, the temperature and noise.
For the first time, a discount also applies to several Netatmo product packs and certain With Netatmo products, which can be found on the website.
Netatmo's Black Friday deal is available from Thursday 26 November to Monday 30 November 2020 on www.netatmo.com. It is valid while stocks last and cannot be used in conjunction with other discounts or offers.
The Gift of Entertainment: DStv's sleek new Explora Ultra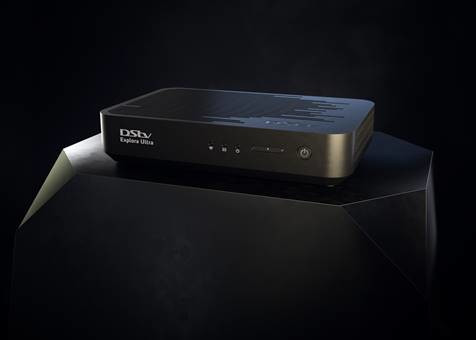 Johannesburg, 26 November 2020: Gift yourself or family and friends with DStv's new Explora Ultra.
This sleek next-generation device is perfect for entertainment fans who want to explore more and love to watch the best local and international content seamlessly.
The decoder comes with built-in Wi-Fi and is 4k Ultra HD and Dolby Atmos capable which together combine to deliver the best in home cinema experience
Enjoy content from third-party streaming services – with access to Netflix – as well as DStv's full vast line-up of viewing. For more information about the ultra vist https://www.dstv.co.za/get-dstv/decoders/dstv-explora-ultra/
Caption: The Explora Ultra decoder comes with built-in Wifi and access to
streaming services Showmax and more recently Netflix.
Now on sale at participating retail stores with a recommended retail price of R2499 for the standalone device or R3699 with installation.
Get the Explora Ultra on Black Friday contract deal which began on 19 November 2020. Purchase a DStv Explora Ultra package for just R999 per month over 12 months.
The deal includes:
The New DStv Explora Ultra decoder
Satellite Installation with Smart LNB and connection to one Xtra View room.
Monthly Premium subscription fee to DStv's world of entertainment
Monthly Access Fee for PVR Functionality and XtraView for a second independent viewing environment
Available at participating retail stores that stock the Explora Ultra and directly from DStv by SMSing 'save' to 34913.
Black Friday deals from smartphone manufacturer, DOOGEE, which are running from 26th November until midnight on 30th November.
With up to 20% off the S58 Pro and £40 off the S88 Pro there are some great bargains to be had. The phones are also available on Amazon Germany, France, Italy and Spain
DOOGEE N20 Pro Android 10 smartphone with 16MP AI quad rear camera, 16MP Samsung front camera – RRP £149.99 – NOW £124.99 – BLACK FRIDAY DEAL WITH ADDITIONAL £10 VOUCHER APPLIED AT CHECKOUT from Amazon UK

The N20 Pro brings an advanced performance and is equipped with a 12-nanometer processing technology Helio P60 Octa-Core processor. The 4400mAh high-capacity battery also uses power optimization to give a longer lasting charge and supports a 10W quick charge.
The N20 Pro has a 6GB large memory and with up to 128GB and a maximum expansion of 256GB, there is a large capacity for storage and the potential to download large-scale games and high-definition videos without the need to sacrifice other applications. The device runs on the newest Android 10 with the system-wide dark theme, privacy controls and many more features. With Bluetooth 5.0, it is a faster and easier experience for the user.
With an impressive screen through an upgraded double coating glass process, the N20 Pro features a 6.3" FHD+ IPS Waterdrop screen with an aspect ratio of 19:9 to bring a movie-level visual experience. Weighing just 175g and the thinnest part of the DOOGEE N20 Pro's body being just 8.8mm, the smartphone is incredibly portable and with a comfortable feel. The ideal travel phone, it also supports Dual Nano SIM cards to make it easier when travelling regularly or on business.
The N20 Pro boasts a 16MP AI quad rear camera with an F.20, 6 element lens which provides superior photos. The high-resolution 16MP main camera provides real clarity with images and gives impressive results. With a 130° ultra-wide camera lens, it is also possible to photograph larger areas as well as a 3x optical zoom making it an ideal everyday camera. Using the AI portrait mode allows for background blur adjustment so that all photos taken with the N20 Pro will have the desired look and quality. The Samsung front camera retains the high resolution 16MP quality so that selfies can be just as impressive as landscape pictures and keeps all images are clear and natural.
DOOGEE S58 Pro – available in Army Green, Fire Orange and Mineral Black – RRP £179.99 – NOW £143.99 BLACK FRIDAY DEAL 20% OFF VOUCHER APPLIED AT CHECKOUT from Amazon UK
The DOOGEE S58 Pro is ideal for outdoor lovers, the IP68 waterproof and dust resistant phone boasts an industry leading rugged rubber shock protection, a large battery all at an incredibly affordable price. The ultra-rugged S58 Pro can survive drops, water, dust and extreme temperatures thanks to its design with industry-leading high-strength rubber, usually found on off-road vehicle tires with many rigid layers and a silicone lining giving excellent shock absorption performance. The S58 also boasts a 5180mAh high-capacity battery, supporting 12V/2A fast charging, a MT6762V/Helio P22 Octa-Core CPU and 6GB super high-speed RAM and 64GB ROM, all running on Android 10.
Cameras: 16Mp Sony IMX298
Battery: 5180mAh
Storage (ROM): 64GB
RAM: 6Gb
CPU: Mediatek Helio P22
Resolution: 1520×720
Display size: 5.71″
Operating system: Android 10.0 (Q)
Dimensions: 162.8 x 81.0 x 15.9mm
DOOGEE S88 Pro IP68 rugged phone with triple camera, unique LED back lighting and 10,000mAh battery – RRP £249.99 – NOW – £209.99 BLACK FRIDAY DEAL £40 VOUCHER APPLIED AT CHECKOUT from Amazon UK
The DOOGEE S88 Pro is a rugged smartphone that is packed full of features including a 10,000 mAh battery, unique LED lights, a triple camera and has IP68 protection. With a Helio P70 processor, the S88 Pro incorporates a powerful Arm Cortex-A73/A53 octa-core CPU complex with an impressive Arm Mali-G72 class GPU.
Boasting an impressive screen, the S88 Pro has support for 20:9 displays at full HD+ resolution that allow users to enjoy the smartphone with full fascia coverage. With 128GB ROM there is plenty of room for storage as well as 6GB RAM. The unique LED back light that is under the black translucent tempered glass works and lights up for calls, messages, music and other notifications in different colours dependent on the notification.
The 6.3" Full HD waterdrop screen is protected by Corning Gorilla Glass to allow it to resist daily drops and scratches easily. The new gesture navigation system is also simple and easy to control by swiping to open different aspects of the menu, apps or to operate Google Assistant.
The rough and rugged DOOGEE S88 Pro has an IP68 rating and has been tested in all conditions to ensure it is resistant to damage from being dropped and water immersion as well as shock and impact. The rugged phone has been tested to be drop-proof up to 1.5 meters height as well as testing to be waterproof up to 2 meters depth and has also had brick pressure and sand immersion tests.
Featuring an impressive SONY 21MP+8MP+8MP AI triple rear camera, the phone is ideal for capturing pictures and clips whilst travelling or exploring. The powerful camera system includes a 21MP SONY IMX230 main camera, 8MP 130° ultra-wide-angle lens and 8MP macro lens to give a premium quality and experience for photography. In addition to the rear camera, the S88 Pro also includes a Samsung S5K3 16MP selfie camera with an 80° wide angle lens.
Going Retro: Francis Francis X7.1 Espresso Machine

This retro-style, new generation appliance is effective, fast and simple to use. The illy patented pannarello milk frother is perfect for creating a soft, velvety foam, and it's able to rapidly switch from cappuccino to coffee mode to suit every coffee order. For those in search of a café-quality espresso in the convenience of their own home, this machine could make all their Christmases come at once!
Usual RRP: £139.00
Black Friday illy.com offer: FREE Francis Francis X7.1 with the purchase of 30 packs of Iperspresso coffee capsules
Promo date: 23.11 – 29.11
For the sophisticated coffee aficionado: Y3.2 iperEspresso Espresso & Coffee Capsule Machine
This elegant and compact machine creates the perfect cup of coffee at the touch of a button. The secret is in the capsules, each one is created to give the harmony and essence of the famous 100% Arabica illy blend in every coffee preparation. Designed by architect, Piero Lissoni, this sophisticated machine offers an intuitive and easy-to-use experience. The capsules guarantee absolute consistency of the coffee in every cup, making it the Christmas gift that keeps on giving.
Usual RRP: £110.00
Black Friday illy.com offer: FREE Y3.2 iperEspresso machine with the purchase of 25 packs of Iperspresso coffee capsules
Promo date: 23.11 – 29.11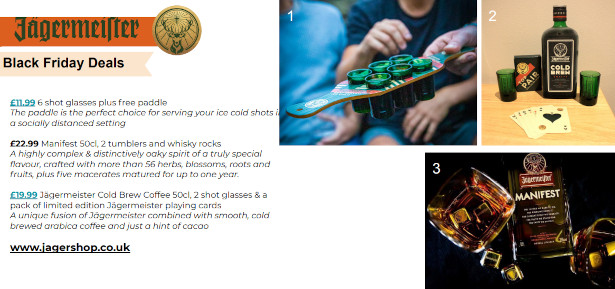 CULTURE CARTON
www.culturecarton.com
Black Friday is coming and so is 45% off
As a member of our newsletter we wanted to let you know that you are getting exclusive access to our Black Friday and Cyber Monday sales. With the code BF2020 you will save 45% off sitewide. That's 45% off of the first month of Culture Carton and anything in our store. Thanks for being a part of the Culture Carton family.
Keep an eye on your email so you know when the sale starts.
Enjoy a range of fabulous Black Friday offers on gin, whisky and other spirits at The Cotswolds Distillery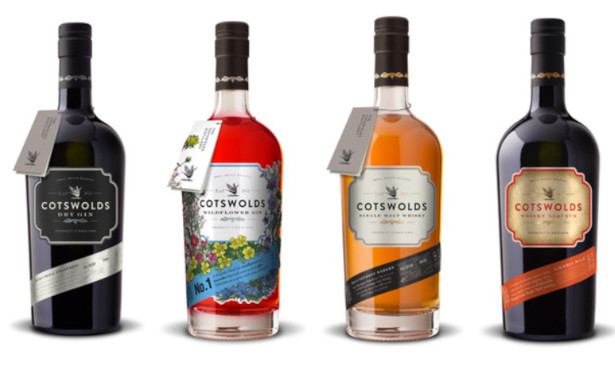 The Cotswolds Distillery has, for a limited time only, a variety of great promotions available to their customers when they
shop online in the run up to and including Black Friday. The offer applies to a range of the distillery's Outstanding Natural Spirits and includes free delivery on all orders over £25.
Customers can enjoy the following offers during this week. Please note exclusions apply – please visit the website www.cotswoldsdistilery.com for more information.
10% off one bottle
15% off two bottles
20% off three or more bottles.
What's more, customers who purchase on Friday, Saturday and Sunday this week, will be automatically put into a daily draw to win a magnum of the distillery's award winning Cotswolds Dry Gin – 1. 5 litres of gin worth £74.95.
During Cyber Week, tado° has some big discounts on its products like the Wired or Wireless Smart Thermostat Starter Kits which help customers to keep their home warm and cosy over the heating season.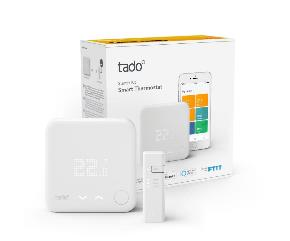 With intelligent and convenient control of the heating system, tado° helps to save up to 31% of the annual heating bill. So users not only save money with the Cyber Week deals, but also over the whole heating period as well as helping the environment. tado° solutions are compatible with 95% of all heating systems, allow for full multi-room control, and work seamlessly with Amazon Alexa, the Google Assistant and Apple HomeKit. The best tado° Cyber Week deals at a glance:
Smart Thermostat (Wired) Starter Kit Discount: Up to 40% RRP: 179.99 GBP Date: 26.11 – 30.11
Smart Thermostat (Wireless) Starter Kit Discount: Up to 40% RRP: 199.99 GBP Date: 26.11 – 30.11
Smart Radiator Thermostat Quattro Pack Discount: Up to 40% RRP: 229.99 GBP Date: 26.11 – 30.11
These and many more deals are available at: Amazon, Very, AO, BT, Dixons, Costco Online & Costco Wholesale, tado.com
An overview of all deals can be found here: www.tado.com/gb-en/discover-the-best-tado-deals
tado°s key Skills include Geofencing, Open Window Detection, Weather Adaptation and Air Comfort to take care of your home's energy efficiency and air freshness. You can control your temperature from anywhere, anytime, via the smartphone app or with your voice. The perfect gift for anyone who wants to save energy while improving comfort and climate at home.
The UK's newest mobile network, To The Moon, has announced its exclusive Black Friday / Cyber Monday bundle offer.

To mark the annual sale, new To The Moon customers will be rewarded with 50% cash back to their mobile account on any bundles purchased between Friday 27 November and Monday 30 November.
The deal comes just weeks after the disruptor brand launched its world-first mobile service in the UK – offering the most flexible tariffs in the country and an integrated crypto wallet. This is the only mobile 'fin-tel' service on the market.
Black Friday deals from Gigi Hadid's favourtie skincare brand, London's hottest wellness detstination and Amazon's best selling skincare brand!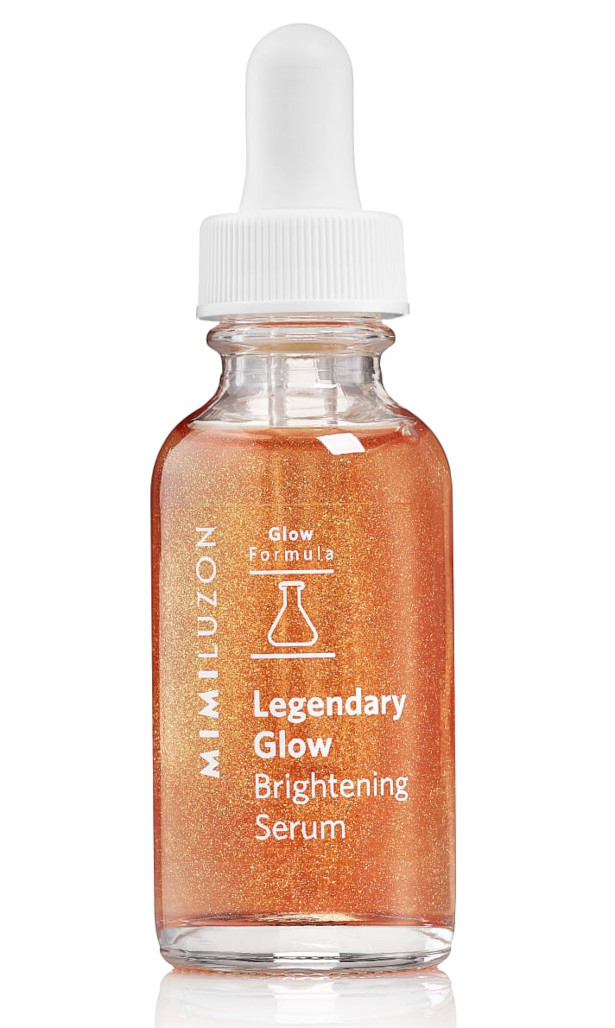 Mimi Luzon
Beauty expert Mimi Luzon launched her eponymous luxury skincare brand with a goal of making a Hollywood glow within reach of everyone. As the hands behind some of LA's most beautiful faces, names like Irina Shayk, Bella Hadid and Kaia Gerber pepper her little black book of clients. Her coveted 24 Karat Gold face mask became one of Instagram's most sought after facials, achieving cult status after appearing on the socials of a string of Victoria Secret angels. Mimi's skincare collection merges her thirty years of experience with innovative skincare technology and high quality, medical grade ingredients. With formulations often enriched with pure Gold Leaf foil, her products look and feel luxurious.Mimi Luzon will be offering 30% off the entire range between Friday 20th of November until Tuesday 2nd of December with code BLACK30. This means you can snap up Irina's personal favourite legendary glow for $195 down from $279. Mimi Luzon ships internationally and the discount will only be valid on Mimi Luzon and not third party stockists.
Disciple
Product name is: Dreamy Skin retinyl oil
Savings: Dreamy skin is down from £35 to £24.50
Description about the brand and savings to be made: With the gap between skincare and wellbeing tightening, Disciple truly recognises and acknowledges the relationship between stress, wellbeing and our skin. Created by psychotherapist Charlotte Ferguson with an ambition to transform the way we deal with inflamed, breakout prone skin, she set about creating products that target and address the root cause of your acne. noticing the impact excessive cortisol has on our body and in turn our skin, their products are specifically formulated to lower cortisol levels within the body and help balance the skin. Recognising that skincare for inflamed, spot prone skin is all too often harsh and strip, Disciple's ethos is to nourish and nurture your skin through the use of powerhouse ingredients like CBD, adaptogens and probiotics. This means you can get Disciple's Dreamy Skin for £24.50 down from £35. Dreamy Skin is pretty much everything you need in a night oil, this powerhouse treatment helps regenerate skin cells while you sleep – reducing pigmentation, pore size, fine lines and boosting firmness. DREAMY SKIN is specifically designed for acne prone skin too – the perfect anti-aging, anti-dark spot, anti huge-pore night treatment to correct damage and boost radiance. Dreamy Skin's three powerhouse ingredients are retional, rosehip and jasmine.
Disciple will be offering 30% off their entire range from Monday 22nd until November 27th. No code needed.
SKINKISSED
Product Name is The Lifestyle Bundle
Code at checkout is BLACK35
Savings: This means you can get the lifestyle bundle for £55.90 down from £86
Description about the brand and savings to be made:SKINKISSED is a beauty and skincare brand with your confidence at the forefront of it's ethos. Their range of serums, cleansers and eye treatments have achieved cult status in the beauty sphere after appearing on the socials of a plethora of skin-conscious influencers and beauty editors. Completely dominating the skin game, their products have made it onto Amazon's most-loved items and repeatedly sell out, thanks to their thousands of rave reviews and phenomenal before and after pictures. Their current best-seller is a vitamin C serum which has quickly earned a name for itself as one of the most coveted miracle serums. Completely Vegan and non- comedogenic, Vitamin C and hyaluronic acid work in harmony to achieve clearer, healthier skin. Promising to address breakouts, inflamed skin, dryness and acne scarring; Skinkissed ensures a radiant, healthy complexion is accessible to all ages, gender and skin types. With products designed with the sole intention to make you look and feel your best self, this best-selling brand insists imperfections should be embraced and treated rather than covered with cosmetics. Founded by Eli Cohen, SKINKISSED prides itself on its honest and transparent stance as a brand, with a community of over 100k instagram followers and an international customer base, it's clearly working.
To celebrate Black Friday SKINKISSED are knocking a huge 35% off their entire range with the code BLACK35, exclusively on their website www.skinkissed.co. Each of their incredible products will benefit from the discount, kicking off from Friday 20th until November 30th
utan (written in lower cases)
Product name is – Face and Body Kit
Code at checkout: UTAN33
Description about the brand and savings to be made: utan is offering a whopper 33% off their entire range with code UTAN33. The award winning self-tan brand created the world's first skincare facial tanning mists & tanning gummies. The leaders in tanning innovation by experts, for u. Dedicated to creating easy to apply tans that mimic a real suntan, utan is PETA vegan & CF approved. Their mission to revolutionise tanning creations which has seen them become the trend-setters across the tanning industry. Their newly launched 50% Darker Face Mists are always making waves within the beauty influencer sphere, designed to be lightly misted over your skincare, or even makeup, a buildable tan will develop in under 4 hours. The kit consists of the best-selling utan x Jamie Genevieve CBD Tanning Water, enriched with Scottish harvested Lavender oil and organically grown cannabis extract to soothe, calm and clear congested skin- many customers have reported this facial tan not to be the only facial tan that doesn't break them up but one that actively fights against breakouts thanks to the antibacterial properties & no added perfume required to mask their signature organic tanning agent. utan's brand new Almond Mylk Mist; packed with repairing almond oil for all day long hydration is another of their fine mists to absorb effortlessly into your skin, calming redness & allowing pores to breathe. Now tanning can truly feel as good as skincare.
utan's formulations are top secret & backed by extensive research to develop advanced formulas to deliver results you won't be used to getting with self-tan. Swiftly earning a name for themselves as one of the most coveted tanning brands on the planet, their products routinely receive a plethora of rave reviews. To celebrate Black Friday, utan will be offering 33% off their entire range with code UTAN33 exclusively on utan.co.uk. This means consumers can purchase the face and body kit for £33.50 down from £50 and a free gift of Skin Idol to the value of £24 PLUS free shipping. That is £74 worth of products for £33.50 delivered in a gift box.
Glow Bar
Product name is: Glow Bar's infrared saunas (please note there is 40% off EVERYTHING)
Code at checkout: GLOWFRIDAY
Savings: one infrared sauna session at £27 as opposed to £45
London's hottest wellness destination Glow Bar has recently been in the press after a string of celebrity visits, with influencers Tanya Burr and Shanina Shaik reaping the benefits of their infrared saunas. Self-care hub Glow Bar is a brand that places your inner and outer peace at its forefront. Launched with an ambition to revolutionise the way the modern woman deals with stress, Glow Bar has a physical central London based space as well a carefully curated online store of mood-lifting, libido-boosting and skin saving elixirs. Self-care and wellbeing are at the very core of Glow Bar's agenda with a range of carefully blended super herbs working as wonder treatments for your happiness, skin and sex, their products demonstrate just how easy it can be to add superfoods and healing herbs to your everyday. Glow Bar will be offering 40% off their infrared saunas, single herbs, herb blends and yoni refill bags from Friday 20th of November until Tuesday 2nd of December with code GLOWFRIDAY at checkout. This means you will be able to purchase a single session infrared sauna for the reduced cost of £27 as opposed to £45. The discount also applies to all their infrared sauna packages so there is massive savings to be made!
001 Skincare
Product name is: Red Carpet Self Care Kit (worth £313)
Savings: £220 down to £154 (Kit is worth £313)
Luxury skincare just got a whole lot more purse friendly, thanks to 001 Skincare's Black Friday discount across the whole range. 001 Skincare is an award-winning luxury skincare brand that puts your inner skin health to the forefront. Founded skincare guru Ada Ooi; 001's main goal is to reset skin to its natural equilibrium. Effortlessly fusing Asian apothecary skincare principles with modern Western technologies, 001 skincare is built on a genuine knowledge of what our skin really needs. 001 is a firm favourite of the likes of Rooney Mara, Ellie Goulding, Lady Gaga and Lily Allen to name but a few. Their capsule collection is made up of serums, oils, cleansers, treatments and beauty gadgets; namely the microSculptor, the eyecicle and the CRYOpress (one of which sells every two minutes). This means you can get 001 Skincare Red Carpet self care kit.The Red Carpet Self Care Kit fully embodies the term luxury beauty. Made up of some of their most cult products, Ada created this kit with the goal of bringing the indulgence of her in-clinic facial treatments to you at home. Thanks to the coveted beauty gadgets and powerhouse formulas included in this set, you can achieve Lily Allen's wedding glow without leaving your house. 001 Skincare will be knocking 30% off the entire range between Friday 20th of November until Tuesday 2nd of December. No code needed/ discount instantly will be applied.
Radiance Cleanse
Product: Three or Five Day Radiance Cleanse
Savings: A three day cleanse is down from £195 to £156
Code: BLACKFRIDAY20
Whilst staying inside, it's essential we give our body, mind and wellbeing the nurture and care it needs.Beyond daily home workouts and upping your vegetable intake, we can all do with a little help and guidance on reaching our optimum health. Radiance Cleanse is a luxury juice cleanse programme with your total health and wellbeing at the core of their ethos specialising in 100% organic cold pressed juices. Juicing detoxes are one of the best and simplest ways of introducing a wealth of vitamins, antioxidants and minerals to your daily life. With minimal mess or faff, Radiance are committed to showing just how simple a health overhaul can be.Kickstart your Lockdown Detox with a Radiance Cleanse, as they offer 20% off their coveted 3 and 5 day cleanses. Flush out the toxins from your body and replace them with an abundance of antioxidants to strengthen your immune system as we move into winter with the pandemic looming. With 4 different cleanses to choose from, Radiance commits to using 100% organic produce of only the highest quality, most nutritious ingredients in order to produce maximum results from your detox. Radiance Cleanse will be offering 20% off their 3 and 5 day cleanses from Friday November 20th until Tuesday 2nd of December with code BLACKFRIDAY20 at checkout.
EZVIZ security cameras
EZVIZ Outdoor Security Cam, with Colour Night Vision & AI Active Defence – discounted from £79.99 to £59.99 from 23rd November until 1st December from Argos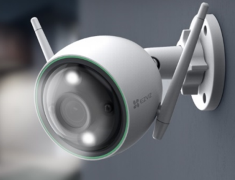 This wall-mounted outdoor Wi-Fi camera uses a built-in strobe light and 100db alarm for aiding deterrence, whilst also offering two-way talk and durability in any type of weather. Colour Night Vision – Providing a clear colour night vision solution to help see every bit of detail at night and delivering a better experience for monitoring your home in the dark.
AI Human Detection –With a built-in deep learning model, the C3N can detect the motion of person and vehicle shapes in real-time. Now you can receive the precise motion alerts you've always wanted. The C3N takes the shift for you. Area Detection – The C3N lets you draw particular zones on the EZVIZ App to protect what matters to you the most. You can decide whether you want to keep people, cars, or both out of the zones. Upon detection of objects of interest, the camera will issue a loud siren and flash the strobe light to drive intruders away. You'll receive a notification in a split second. Compatible with Amazon Screen & Google Home devices.
EZVIZ Full HD Indoor PT Security Cam with Motion Tracking – white colour discounted from 23rd November to 1st December from £59.99 from to £39.99 from Argos and in black from £59.99 to £39.99 from Robert Dyas, Maplin, AO and Very
The Full HD Indoor pan/tilt Security Cam with full HD 1080p video, a 360° field of view, smart auto tracking and two way talk, it is designed so homeowners can effortlessly keep track of activity within the home. Its expansive 360-degree field-of-view ensures full coverage, so nothing is missed and this full HD Wi-Fi pan-tilt camera has a vertical rotation up from 105° down to 15° and horizontally of 340°. No blind spots to be concerned about. The EZVIZ Indoor pan/tilt cam offers users multiple storage solutions. It comes with a built-in MicroSD card slot that can store up to 256 GB of recorded footage and images can be saved to the EZVIZ Cloud* for additional back-up. With the EZVIZ App and EZVIZ Studio Software, users can also capture, save, protect, and share what's valuable to them.
C3W all weather 1080p HD wall-mounted outdoor Wi-Fi camera with IFTTT compatibility – discounted from £99.99 to £74.99 from PC World Very, Argos and AO
The C3W is an all in one outdoor security solution that keeps properties protected throughout all seasons with full HD 1080p video, alarm system, two-way audio, and motion detection all packed into a weatherproof and modern design. The cameras are controlled through an intuitive app and will also show live footage, working alongside Amazon Alexa to voice commands such as "Alexa, show me the front drive." Additionally, the cameras are compatible with Google Assistant as well as Alexa and can be configured to trigger other smart home devices in the home when movement is detected outside.
The C3W features a remote activated alarm system which, when it detects activity, automatically starts to record and sends a notification directly to a linked mobile device using the EZVIZ app. Users can then choose to view the video feed live or watch a short recording. The two-way audio allows users to activate a loud siren from the 100 decibel speakers and switch on the strobe light to scare off the intruders or to shout at them directly.
EZVIZ DB1 3MP Smart Video Doorbell discounted from £134.99 to £109.99 from 23rd November until 1st December from Argos, AO.com and Amazon
The EZVIZ 3MP Smart Video Doorbell is a Wi-Fi video doorbell designed with a 3MP lens that can capture a 180-degree vertical field of view, so users can see visitors from head to toe and see deliveries left on the doorstep in high quality video. It overcome blurry imaging and blind spots, issues which are common with other smart video doorbells. The EZVIZ 3MP Smart Video Doorbell initiates a video call via the EZVIZ App on a user's smartphone when a visitor rings the bell, so the door can be answered anywhere, at any time, even when miles away.
To add an extra layer of security, the EZVIZ 3MP Smart Video Doorbell sends an instant alert to a connected smartphone when it detects any human movement thanks to its built-in Passive Infrared (PIR) human detection sensor. With remote viewing and two-way talk capabilities, users can see and communicate with visitors whilst the customizable detection area feature allows users to keep watch on important areas thus reducing false alarms.
EZVIZ LC1 Floodlight Camera – discounted from £179.99 to £144.99 from 23rd November to 1st December from Amazon, AO and Very
EZVIZ has added its first floodlight surveillance camera to the portfolio with the launch of the LC1 to help families and business owners sleep soundly in the knowledge their outside spaces are being monitored. The EZVIZ LC1 CCTV camera's motion-sensitive floodlight can be set-up to illuminate overnight intruders as well as act as a deterrent.
The EZVIZ Floodlight includes a PIR human detection system, intelligently recognising people who may be trespassing and revealing them with the powerful 2500LM floodlight. The 270° sensor also ensures intruders from all angles cannot avoid detection; even if attempting to do so through sneaking alongside a wall or below the floodlight itself. The product has been innovatively designed to connect to an existing outdoor light or can be installed as a completely new unit; with the latter professional installation is recommended. The lights will activate upon motion detection and you can adjust the areas it covers via the EZVIZ app. The app also enables homeowners to view footage whenever and wherever they please so they can lock their door and head out in the knowledge their home is being monitored at all times.
Trust Gaming
Trust GXT 232 Mantis Streaming Microphone – discounted from £39.99 to £19.99 on 26th and 27th November from Amazon
The Mantis has a USB adapter for high-quality, distortion-free digital audio for any PC or laptop. The shock mount and pop filter, clear audio reproduction makes the microphone perfect for podcasts, music recording or streaming on Twitch or YouTube.
Equipped with a tripod stand and 1.5m cable, the angle of the microphone can be easily adjusted and used in the most comfortable way possible.
Trust GXT 856 Torac Metal Gaming Keyboard – discounted from £34.99 to £20.99 from Amazon
Engineered for serious gaming, the Trust GXT 856 Torac Metal Gaming Keyboard combines durability with usability, with the added colour hit from stunning LED illumination. A glorious LED lights experience is located behind the keys to enhance the gaming experience. Adjust the brightness and speed of the multicolour illumination effects to match in-game actions. The Torac boasts fingertip control with 12 media keys to adjust the volume, open mail, play or pause videos or even mute audio. The Torac also features a dedicated game-mode switch – this puts the Windows key in lock mode while playing, allowing for uninterrupted gaming.
Trust GXT 711 Dominus gaming desk – discounted from 26th to 27th November from £149.99 to £104.99 from Amazon
This strong and robust gaming desk ensures maximum performance with features all gamers will appreciate. The Dominus has a high-end PU top coating. The finely textured surface allows for optimal workings of a mouse: every small movement is perfectly translated onto the screen. Also the 116cm desk easily fits two monitors so full screen gaming possible or to look up gaming strategies or keep an eye on chats on the other screen.
The steel frame with high-quality 18mm MDF desk top comes with in height adjustable feet for perfect ergonomic seating. The rounded front edge makes sure wrists and forearms can be placed on the desk for endless comfort. The desk includes an optional headset and cupholder, for a clean and organised desk at all times so everything required for long gaming sessions. The gaming desk is easy to set up so no missing out on gaming time and the steel frame can even be customised with the two included stickers. Choose from the solid red or jungle camo to create a unique gaming set-up! The cable management system makes sure your desk won't be cluttered with cables for that ultimate sleek gaming look.
Trust Gaming GXT 707G Resto Gaming Chair – discounted from £199.99 to £149.99 on 26th and 27th November from Amazon
The Trust Resto Gaming Chair combines ultimate comfort with a striking gaming design. This fully adjustable, ergonomic gaming chair keeps you focused at your game for hours. The gaming chair is fitted with a class 4 gas lift, the part that allows you to adjust the seat's height from 47 to 54.5 cm. This premium gas lift is durable, reliable and supports up to 150 kg of weight. The back rest is adjustable over 90 degrees, meaning you could even put the back rest flat for a quick rest after a sweeping victory! To top it off, the seat can be tilted for even more comfort. Simply tilt the seat forward to reduce pressure on your legs, or tilt it backwards to properly align your spine to prevent back problems. Needless to say, the armrests' height is adjustable as well.
The Resto gaming chair comes with two removable and adjustable cushions to provide optimal comfort, allowing you to keep on top of your game for hours.
The lumbar pillow provides your back with support and extra relief. The neck cushion features as a headrest and releases tension.
Trust Tyro Full HD All-in-one Webcam with Built-in Microphone – discounted from £59.99 to £32.99 on Amazon
At a time when you want to be able to connect in the best way possible via video, the Trust Tyro Full HD Webcam offers the solution; all the features that make video calling and video streaming that much more comfortable are packed into one device.
With a plug & play setup, video calling has never been easier; once the USB receiver has been plugged into your PC or laptop, you can start calling straight away. The Trust Tyro Full HD Webcam works with Zoom, Teams, Skype and other video calling software. The webcam clips easily onto your monitor, sits nicely on a desk and also comes with a tripod stand, making this ideal device versatile enough to suit any office or home office setup.
With premium audio and video quality, rest assured that you will look and sound great on every call and video stream, regardless of where you are. The full HD 1080p resolution wide angle lens and auto-focus ensure razor-sharp video, while the automatic white balance offers outstanding low-light performance, for clear video in any condition.
Andaseat – Premium Gaming Chairs – 10 percent off all chairs across website
Professional seating specialists, AndaSeat, who previously manufactured race car seats for BMW & Mercedes Benz and partnered with prestigious brands in the sports and Esports field is pleased to offer 10 percent off all of all of its premium gaming chairs. The offer will run from 1st November to 30th November 2020.
AndaSeat Jungle Series Gaming Chair £179.99 – Reduced from £219.99 (£40 saving)
The Jungle is a luxurious racing chair that contours to body shape with high-density one piece 55kg/m³ foam. The removable medium sized headrest pillow and lumbar cushion provides spine and neck support, offering a truly comfortable seated position even after long hours of gaming or work.
With 2D Armrests the Jungle can be easily adapted to deliver optimum comfort by supporting the forearm and relieve wrist pressure and muscle strain. The reclining office chair tilts 90~160 degree with angle lock at 5 different positions. Adjust the height with high performance Class 4 Hydraulic Nitrogen Pistons. Precision manufactured high quality 22mm diameter steel frame is covered with a lifetime warranty. Only the best 2mm thick seamless steal is produced to ensure the chair will last the course of time. The iron 5-point base provides stability and strength, supported by 60mm silent and smooth movement wheels, suitable for all surfaces.
AndaSeat also have an affiliate partnership with Sharesale [merchant ID: 99919] where they can offer 10 percent commission on sales from reviews/features. More information is available here
Puro Sound Labs volume limited headsets (UK & US deals):
The PuroGamer Volume Limiting Gaming Headphones – Discounted from £59.99 to £39.99 on Amazon.co.uk
The PuroGamer headphones are designed specifically for gaming with a slick design, high quality audio through both sound and an omnidirectional, noise cancelling microphone. They are also volume limited to 85dB to ensure that there is no damage to gamers' hearing health when there are explosions or other noises in gameplay. Featuring a 7.1 surround sound technology, the headphones allow gamers to immerse themselves into the world of their games and the 50mm graphene driver and response equaliser provides a balanced and safe sound. Additionally, the headphones have 82% ambient noise isolation at 1kHz to shut the rest of the world out. The Puro Balanced Frequency Response Curve also allows the PuroGamer's to sound great even at lower listening levels and the game dialogue and sound effects to be heard clearly against the full spectrum of audio.
As featured in Expert Reviews Best Gaming headsets, Pocket-Lint's Best PC gaming headsets and iMore
PuroQuiet Active Noise Cancelling Bluetooth headphone – Discounted from £94.99 to £75.99 on Amazon.co.uk for Grey version. Other colours are £84.99
Available in pink, grey and blue – high res imagery is available here
The PuroQuiet was developed by a father who realised his 10 year old daughter had sustained Noise-Induced Hearing Loss from listening to music too loud, for too long. Finding no one was addressing this issue adequately, the family set about designing and developing the highest-quality, studio-grade, volume limiting to 85 decibels children's headphone whilst still at an affordable price.
Made from high-quality aluminium, with plush noise-isolating ear-pads, the latest Bluetooth profiles for CD-like quality wireless audio, a highly sensitive microphone for taking calls or gaming with friends and up to 16-hours of active battery life the PuroQuiet headphones certainly deliver on audio quality and style. In addition to the sleek new design, the PuroQuiet headphones have an active noise cancellation feature found on high-end headphones that suppress ambient noise levels and provides a superior listening experience in even the loudest of environments. It blocks out daily noise and background sounds up to 22 dB, complemented by 82% noise isolation.
Featured in numerous publications including CNET, scoring 8 out of 10, Reviewed.com calling them a 'must buy for every parent' and chosen as the "Best Kids Headphones" in the NYTimes Wirecutter
Puro Sound Labs PuroPro volume limiting, active noise cancelling adult headphones – Discounted from £189.99 to £129.99 on Amazon.co.uk
The PuroPro is the latest addition to the range, with a slick design and studio grade audio quality, providing adults with a listening experience that is both high quality and healthy. In keeping with the Puro Sound Labs mission to protect consumers' hearing, the headphones are also volume limited to 85 dB for up to 8 hours per day, and 95 dB for up to 50 mins per day, as recommended by the World Health Organization. The headphones are equipped with Puro Balanced Response® Curve technology, engineered to deliver an amazing listening experience with clear, crisp vocals, plus two adjustable ANC levels, ensuring that users can listen to their favourite tracks and podcasts undisturbed, or find their own space in shared environments.
The wireless Bluetooth v.5 headphones are complete with a lightweight, foldable design and matching hard cover carrying case and are ideal for travel, with long lasting batteries that provide up to 28 hours playtime with ANC, 32 hours without and 300 hours of standby time.
Scored 4 out 5 stars on Trusted Reviews, featured in best noise cancelling headphones in the Evening Standard, in The Sun Selects and as a feature in Tech Radar
Puro Sound Lab's JuniorJams Studio Quality, Volume Limiting Bluetooth Children's Headphones – Discounted from £69.99 to £49.99 from Amazon
Puro Sound Lab's JuniorJams Bluetooth headphones for kids have been designed to give high quality performance and comfort at an affordable price. Featuring noise isolation and superior sound quality with effective volume limiting, they allow children to shut the world out and focus on their music or show without distraction or damage to their hearing health. The ultra-comfortable protein leather ear cushion also keeps them comfortable whilst they listen and still offers 87% ambient noise isolation. Using the Puro Sound Labs' Balanced Response Curve allows them to give better bass, treble and vocal clarity without the need to turn the volume up. Limiting to 85dB means that they will be at no risk. Up to 22 hours of playback, they can last a long trip so are perfect for taking when travelling and the daisy-chain feature means they can link up with another pair so there's no more fighting over a tablet.
Enacfire – offers begin from 23rd November until 30th November
ENACFIRE Future S2 Bluetooth wireless earbuds –Discounted from £29.99 to £23.99 on Amazon.co.uk
The Enacfire Future earbuds include a built-in high-quality audio chip and deep bass, allowing users to hear their music even in less than ideal environments. Three sizes of ear tips ensure a comfortable fit whilst a stable and smooth Bluetooth connection signal gives a range up to 15 m.
The portable charging cabin allows the earbuds to be charged 4 times, giving an additional 14 hours of play (Up to 4 hours' playtime on a single charge). The Future S2 are IPX7 Waterproof, making them tough enough to endure everything from sweat to all water activities.
ENACFIRE E60 Bluetooth wireless earbuds – discounted from £34.99 to £27.99 in grey and black from Amazon.co.uk
The ENACFIRE E60 Bluetooth wireless earbuds. With premium audio quality, a 48-hour playtime, wireless charging and an IPX8 waterproof rating, the E60 earbuds offer all the functionality needed for keeping fit and maintaining motivation.
The earbuds feature Qualcomm apt-X technology, which delivers powerful, low-bit rate transmission and scalability and the specially tuned bass sound effect ensures premium audio quality. Certificated with IPX8, the highest waterproof rating and made from a nano-coating material, ENACFIRE E60 true wireless headphones are ideal for even the most energetic exercising whether that be in the gym, on a run or cycling in the rain.
Users also need not worry about running out of battery as the ENACFIRE E60's long playtime feature means they can be played for 8 hours after just one charge and the earbuds can be charged 5 times increasing the playtime by another 40 hours. The charging case is capable of wireless charging and Type-C charging so can be used with a wide range of mobile phones offering a flexible and quick charging solution.
The touch and volume control with smart touch sensors enable users to exercise freely without needing to reach for a phone to crank up the volume or switch playlists and, with its ergonomic design, ENACFIRE E60 Bluetooth earbuds are sure to fit snugly and stay secure even when exercising rigorously.
ENACFIRE E90 wireless earbuds with Qualcomm, aptX extra bass and CVC call noise cancellation with dual-microphone reduced from £39.99 to £31.99 on Amazon.co.uk
The ENACFIRE E90 include a Qualcomm chipset and the latest aptX decode technology to deliver an extra deep bass and rich details with audio quality up to 97% [market average 90%]. The powerful, low-bit rate transmission makes it feel like the artist is right there in the room with the wearer. With CVC noise reduction technology and 2 fine-adjusted mics installed, the ENACFIRE E90 wireless earphones are also perfect for hands-free calls and the earphones are able to block out unnecessary ambient noise, ensuring excellent and clear call quality. For ease of use, the E90 earbuds feature intelligent touch controls, allowing the user to play and pause music, answer and hang up calls and turn to the next or previous song. Wearers can also use the touch control to activate a voice assistant like Siri without having to touch their phone whatsoever; delivering a truly hands-free experience. The E90 battery lasts for 8 hours of playtime on a single charge (around 2 times longer than other earbuds on the market), and its charging case allows users to fully recharge the earbuds five times, giving a total playtime up to 48 hours. The Bluetooth earbuds are certificated with IPX8 high waterproof rating, making them perfect for outdoor running, walking or even a strenuous gym session.
Other Amazon Black Friday offers from ENACFIRE include:
UK Marketplace: 7 days deals
Portable Wireless Soundbar: Discounted from £39.99 to £29.99
E18 Plus Bluetooth AptX Stereo Sound CVC 8.0 Noise Cancelling wireless earbuds: Discounted from £29.99 to £23.99
High resolution images for Enacfire UK promotions here and USA here
JLAB audio
JLab Audio GO Air True Wireless Earbud – discounted from £29.99 to £21.99 from November 20th to December 1st available from John Lewis, Argos, Currys PC World, O2
Offering 20+ hour's playtime, custom EQ3 Sound, at an incredibly affordable RRP of £29.99/$29.99, GO Air is the smallest true wireless product JLab has ever created. The lightweight buds deliver clean, crisp, audio for the daily listener and features dual connect, incorporating dual microphones that allow the earbuds to be used individually while the other remains in the charging case. Designed to go anywhere, the GO Air and its case are compact and small enough to fit in any bag or pocket.
Featuring a 20% smaller body than JLab's best-selling JBuds Air, GO Air offers a slimmer profile, great for small ears. The longer earbud stem provides a snug in-ear fit, and comes with three sizes of gel tips so users can customise the fit to each ear. Focused on convenience and accessibility, the GO Air's charging case measures under three inches by one inch and is designed with an integrated charging cable. The earbuds are secured into the open case with strong magnets. JLab's patented cable design ensures you never lose the cable or need to find another to recharge your case. Each earbud will hold a 5-hour battery life and their case provides 15 extra hours.
Users can play, pause, change tracks, and adjust volume by pushing or holding the outside buttons. Custom EQ settings can also be adjusted through the earbud and cycle through three sounds: Signature, Balanced, and Bass Boost. A built-in microphone also allows for phone calls to be answered and hung up, as well as activating voice assistants such as Siri or Google Assistant. An IP44 sweat resistance keeps the earbuds durable for day-to-day activities.
JBuds Air Sport True Wireless Earbuds discounted from £69.99 to £49.99 – November 13th – December 1st at John Lewis
The JBuds Air Sport feature an over-ear hook for sport-focused activities and 40 hours of playtime. The earbuds themselves hold a 6-hour battery life in each earbud and 34+ additional hours in the charging case. Built for fitness, the JBuds Air Sport are IP66 sweat resistant and have Be Aware Audio, designed to let ambient noise for safe listening while running outside or working out with a friend. They also feature stereo audio during calls for crystal clear calling, a compact case with patent pending built in USB charging, and touch sensors. Like all JLab products they are universally compatible with both Apple and Android products.
JBuds Air in-Ear True Wireless Earbuds – discounted from £49.99 to £34.99 – November 27th – December 24th at Argos, Currys, John Lewis, and O2
A 6-hour battery life with Bluetooth 5 gives users just enough power to get through those music moments. The innovative charging case provides 18 extra hours to the earbuds to charge back up quickly. The JBuds Air automatically turn on and connect to each other once taken out of their charging case so you can keep going hassle-free. IP55 Sweat and water resistant.
JBuds Air Executive True Wireless Earbuds – discounted from £69.99 to £49.99 November 13th – December 18th at Argos, Currys, John Lewis
The JBuds Air Executive are designed for travel and business, with stereo audio and dual-microphones providing a crystal-clear listening experience . A 6+ hour battery life in each earbud and 24+ extra hours in the case provide all day listening. An IP55 sweat resistance keeps them durable while you travel.
The JBuds Air Executive feature stereo audio and C3 (crystal clear clarity) phone calls from upgraded dual microphones. One mic picks up and eliminates surrounding noise while the other picks up your voice for clear conversations anywhere, anytime. The earbuds will automatically turn on and connect to each other right out of the case, as well as instant connect to your phone. Utilizing Bluetooth 5, this is our fastest hands-free connection yet.
Kokoon – offer live from 23rd November until 30th November
The world's first sleep aiding headphones 25 percent discount on Amazon UK and the Kokoon website
Discounted from £349.99 to £262.50
Kokoon was founded with the mission to become the non-pharmaceutical, digital 'go to' for helping people relax and sleep easier. The Kokoon app features techniques, tracks and concepts developed with sleep professionals to optimise the chances of falling asleep. Many of these techniques feature in a form of talking therapy known as Cognitive Behavioural Therapy, or CBT. CBT is an evidence-based therapy generally regarded as the gold standard treatment for insomnia with a proven success rate.
Kokoon uses these techniques to help users by delivering a customised content experience developed for the individual using the sensor data gathered from their body and environment. For example, as a wearer falls asleep in a headphone, audio changes in response, fading out the content and introducing white noise to mask out disturbances. The system also tracks what's working for a user then personalising content for greater effect. The Flexmould™ Comfort patented design helps Kokoon headphones mould to the shape of the users head to be comfortable wherever they are worn and thanks to the high quality natural fibre fabric, air flows easily through the ear cups to keep the wearers cool and comfortable. The ear cushions can also be detached and washed to be kept fresh and clean. Also useable as regular Bluetooth 4.0 headphones, the Kokoon Relax features premium acoustics from a 40mm electro dynamic driver and active noise cancelling making them ideal for listening to music or watching movies whilst travelling or simply relaxing. At just 350g/12.03oz they make the perfect travel companion with folding earcups and an included carry case.
Viofo dash cams
The VIOFO UK website will have 20% off promotion for all the cameras from 27-30 November. Amazon.co.uk will also have 10% off from 26th-30th
VIOFO A119 V3 Quad HD Dash Cam
UK Amazon- 10% discount off £99.99 to £89.99
UK Website – 10% discount off £99.95 to £89.95
The VIOFO A119 V3 dash camera offers excellent value for money with advanced 5MP IMX355 Sony Starvis sensor and F1.6 7G lens at 30fps and with WDR, recording at 2K Quad HD+1600P video resolution for stunning quality images. With superb clarity, it is easy to read license plates and capture incidents. Also featuring a 140-degree angle, the A119 V3 gives a wide view of the road to cover all angles and the 2-inch screen allows users to playback video and audio files. Packed full of features including a GPS module for real-time speed, time and GPS route for playback, parking mode function, auto event detection and time lapse, it is the ideal in-car partner.
VIOFO A129 Plus Duo 4K Dash Cam
UK Amazon 10% discount off £179.95 to £161.96
UK Website 10% discount off £179.95 to £161.96
The flagship VIOFO model, the A129 Plus Duo 4K dash cam provides high quality ultra HD 4K for front camera recordings as well as the ability to connect to a rear camera to achieve dual-channel recording. Using a SONY EXMOR CMOS sensor in the front camera and a Sony Starvis sensor in the rear, the A129 Pro Duo provides clearer night vision so clips will be quality in any light conditions. The dual-band Wi-Fi makes it easier for users to download footage from the camera at a faster and more stable transfer speed. Also using features such as advanced parking mode (with three options) and a GPS logger that will track the journey and show speed, route and time data on playback, evidence will be clear and useful in the event of an insurance claim.
Airthings smart air and radon monitors
Available for all regions from 24 Nov 9 am CET to the 1st of Dec
Amazon
Airthings Wave Plus discounted from £169 to £135.20 on Amazon.co.uk
The Airthings Wave Plus is the first wirelessly connected and battery-operated indoor air quality monitor with radon detection and sensors which measure VOC's, CO2, temperature, humidity and air pressure. Measuring radon gas levels has become a public health concern as it is found in every home and is the leading cause of cancer in non-smokers. The Airthings Dashboard includes interpretation of your indoor air quality data with alerts and tips to reduce indoor air hazards, optimize ventilation and save on energy costs. The Wave Plus comes with a free mobile app which is simple and easy to set up and brings your indoor air quality data and radon levels to your fingertips. Versatile for offices, schools, homes or any public space, the Wave Plus is a great addition for improving air quality which is linked to increased productivity, energy levels and decreasing absenteeism.
Airthings House Kit discounted from £228.65 to £182.92 on Amazon.co.uk
Includes the Airthings Wave, Wave Mini and the Hub for Multi-room Radon, Mould Risk & Indoor Air Quality Monitoring.
Wave 2nd Generation – Battery-powered, smart radon detector for continuous, long-term monitoring of your exposure to radon to keep you safe.
Wave Mini – Track the most important indoor air quality factors (Mould Risk, VOCs, Humidity, Temperature) to improve health and comfort
Airthings Hub – The Hub brings your Airthings monitors online 24/7 providing on-demand access to your indoor air quality data at anytime, from anywhere!
Airthings Website deals
Wave Plus 30% off £239 to £167.30
House Kit 10% off £269 to £242.10
Fourfit kids fitness trackers
Fourfit Mini 2 kids fitness tracker with heart rate tracking and full colour screen – discounted to £24.99 from RRP £49.99 and BUY ONE GET ONE FREE throughout November here.
There's never been a better time to take care of the kid's health. Reward the children for being active & set health goals with Fourfit Mini 2. The mini is slim fitness and activity tracker band for children that has all of the features of our best-selling adult band with a smaller strap for kids. The only children's fitness tracker to include heart rate tracking as standard!
Want to get the kids outside? Get them excited about being active? Incentivise them to get more sleep and live healthier lives? Tech meets activity, the perfect synergy keeping the kids engaged and you the parents informed.
Features: Sleep tracking, Activity level monitoring and tracking, Lung health tracking (blood oxygen saturation), Vibration Smart Alarm, Get up & move reminder (vibrates and reminds the kids to get moving in the watch to do activity if they have been inactive for a while), Step tracking, Heart rate tracking, Blood pressure monitoring, Calorie counter, Easy find from the phone app with built in anti-lose feature, 5 colour choices
BRIQ Furniture spa and sofa set
BRIQ Furniture will be running various 20 percent off promotions across the website on Black Friday including the below.
Aurora M spa discounted from £449 [4 person] to £359.20, £499 [6 person] to £399.20 on Briq website from 27th to 30th November
Aurora M spa with optional LED lights and full plug and play system. Featuring the brand new designed bias air chamber making the entire spa more stable, the new AURORA has perfectly placed air jets releasing thousands of cushioning bubbles to massage your body. Available in 4 or 6 seating capacity, AURORA is an excellent choice for couples or small family
· Classic round shape
· Rhino-Tech 6-layer reinforced PVC cover material
· 138 innovative and dynamic air jets positioned
· Compatible with M spa LED Light Strip
· Includes Insulated lid
. Includes digital padlock for a lockable lid. (safety feature to prevent accidents with non swimmers)
QATAR sofa set discounted from £449 to £359.20 [single chair], £559 to £447.20 [twin chair] and £974 to £779.20 on Briq website from 27th to 30th November
The QATAR Sofa set is perfect to inject the colour of the year into your living space.
Add a touch of luxury to your living room with this super soft touch blue velvet sofa.
Single: 87cm x 90cm x 88cm
Two Seat: 146cm x 90cm x 88cm
Three Seat: 205cm x 90cm x 88cm
tado° Smart Thermostats Cyber Week deals – up to 40% off
During Cyber Week tado° has some big discounts on its products like the Wired or Wireless Smart Thermostat Starter Kits which help customers to keep their home warm and cosy over the heating season. With intelligent and convenient control of the heating system, tado° helps to save up to 31% of the annual heating bill. So users not only save money with the Cyber Week deals but also over the whole heating period as well as helping the environment. tado° solutions are compatible with 95% of all heating systems, allow for full multi-room control, and work seamlessly with Amazon Alexa, the Google Assistant and Apple HomeKit. The best tado° Cyber Week deals at a glance:
Smart Thermostat (Wired) Starter Kit Discount: Up to 40% RRP: 179.99 GBP Date: 26.11. – 30.11
Smart Thermostat (Wireless) Starter Kit Discount: Up to 40% RRP: 199.99 GBP Date: 26.11. – 30.11
Smart Radiator Thermostat Quattro Pack Discount: Up to 40% RRP: 229.99 GBP Date: 26.11. – 30.11
These and many more deals are available at: Amazon, Very, AO, BT, Dixons, Costco Online & Costco Wholesale, tado.com
An overview of all deals can be found here: https://www.tado.com/gb-en/discover-the-best-tado-deals
tado°s key Skills include Geofencing, Open Window Detection, Weather Adaptation and Air Comfort to take care of your home's energy efficiency and air freshness. You can control your temperature from anywhere, anytime, via the smartphone app or with your voice. The perfect gift for anyone who wants to save energy while improving comfort and climate at home.
BLACK FRIDAY DEALS across health, beauty & hair, live now!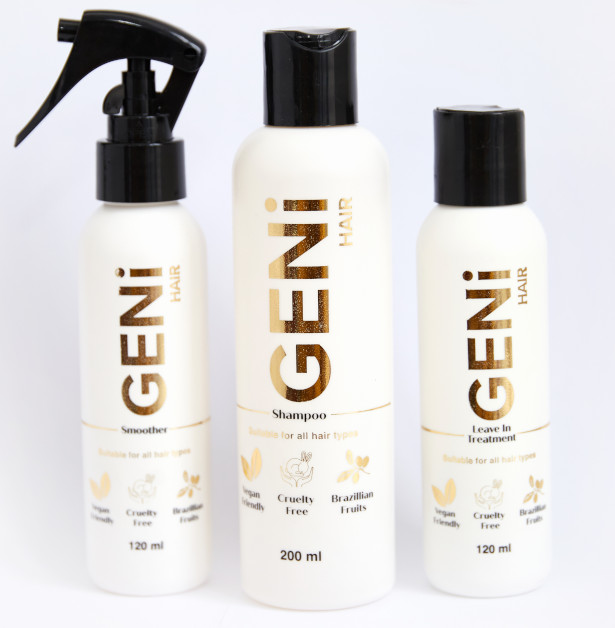 Leading health and wellness company Reverse Life are offering huge Black Friday/Cyber Monday deals for their best-selling collagen supplement and new broad spectrum vitamin drink
:
REVERSE LIFE MARINE COLLAGEN includes a huge dose of 10,000mg bioavailable marine collagen, plus supporting vitamins and Hyaluronic Acid, making it real skin saver and ideal for keeping your skin fresh and giving your hair, nails and lashes a boost!
25 % off all orders
Marine Collagen Original Formula
IMMUNE52 POWER BOOST is a broad spectrum all-in-one supplement designed to support your body and immune system.
One tiny daily dose provides optimum doses of every vitamin, mineral, amino acid, adaptogen needed. So, don't leave anything to chance this winter… take control of your health and immunity to get you through January.
25% of all orders
reverselife.co.uk/products/immune-52
PLUS – new at-home hair smoothing kit GENi Hair is offering a huge half price deal on the VIP Angels Kit, which includes three new products to take frizzy hair to sleek and smooth, with no need for hair straighteners! The salon quality finish lasts for up to 12 washes, meaning no more expensive blow dries.
50% off all orders
www.genihair.com
Robo Wunderkind, the toy robotics kit preparing children for the world of tomorrow

November, 2020 – Robo Wunderkind create award-winning robotics kits and coding apps that empower children (ages 5+) to learn to code through the joy of play.
Built to develop kids' cognitive skills and unlock their creativity, Robo Wunderkind allows kids' imaginations to run wild and changes the way your kids play, learn, and think.
The easy to assemble kit comes with an app that is used to program robotic blocks, which can become anything from a motor to a speaker when programmed by the user, with no previous knowledge needed and the ability to increase complexity if desired.
Robo Wunderkind's latest and greatest robotics kit lineup includes:
Explorer Lite, 6 modules in the box, £199.00
Explorer Prime, 8 modules, £249.00
Explorer Pro, 15 modules, £399.00
So how does Robo Wunderkind work?
Build your robot
With it's Lego compatible blocks (including sounds, lights, and sensors) you can build a car, a nightlight, or a droid. Create anything you can imagine!
Code it
Using the intuitive companion apps tell your Robo what to do. Drive in a circle, turn on a light, it's all your choice.
Learn through play
Let that creativity run wild! Add more blocks, or experiment with changing your code.
Anna Iarotska, Co-founder and CEO of Robo Wunderkind commented:
"Coding may sound complicated and scary to some, but it's not! It nurtures creativity and provides children with the skills to thrive in a complex and challenging world. Technology isn't going anywhere, and our kits offer a chance to give your children a head start, and teach them the skills of tomorrow.
We're aware of the challenges facing parents everywhere in the world right now, with children stuck indoors demanding stimulation. At Robo Wunderkind we aim to not only provide a solution to this through play, but also offer children and their parents, the opportunity to dive into the world of coding, in a fun and rewarding way. "
What are some of the benefits of Robo Wunderkind?
Intuitive coding apps for different ages and development stages
Teaches the basics of engineering and design, which can nurture a positive attitude towards science and technology, vital preparation for the world of the future
Nurtures a positive attitude to 'doing' and 'learning' as well as self-education, digital literacy, and learning from mistakes
Teaches social skills, such as co-operative play with family and friends
The ultimate gift for children and families this Christmas, Robo Wunderkind is available now in the UK and worldwide.
BLACK FRIDAY WEEK 2020
RELAX AFTER ONLINE SHOPPING WITH A TASTY TAKEAWAY TREAT
Foodhub is offering 10% off* on all orders placed via the app during Black Friday Week (Tuesday 24th – Friday 27th November).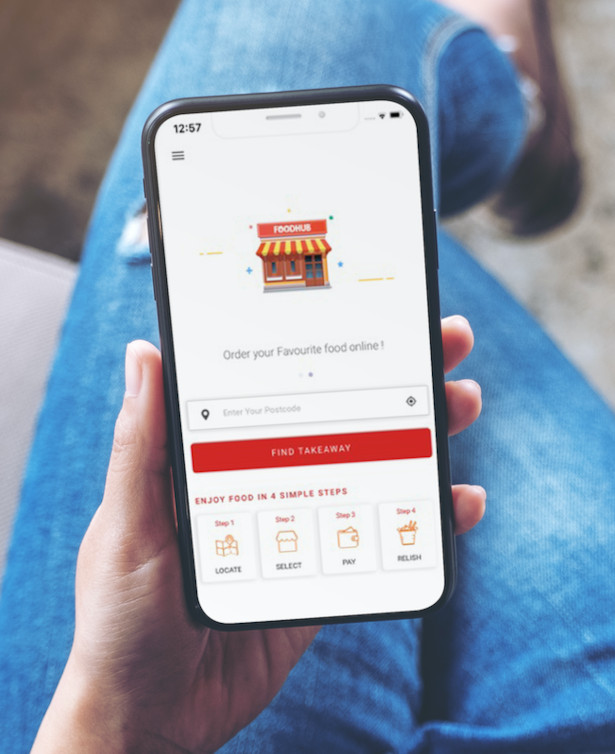 As the Christmas festive season has begun, online shopping has surged, so what better way to rest after a heavy day of scrolling then with a yummy takeaway.
Customers can choose from a huge range of international cuisines such as; Chinese, Indian or the classic Fish 'n' Chips – Foodhub has something for everyone.
A discount of 10% will be provided to all orders on the Foodhub app, simply input code BF2020 and enjoy a tasty treat at your feet!
*offer valid NOW until 23:59 on Friday 27th November
Terms & Conditions
· 10% off all orders over via the Foodhub app
· No minimum order (restaurants may provide their own minimum order value)
· £4 maximum redemption
· Offer only available on the app
· One use per customer
· Full terms – foodhub.co.uk
FLUÈRE Non-Alcoholic Spirits Offer Up To 44% Off for Black Friday 2020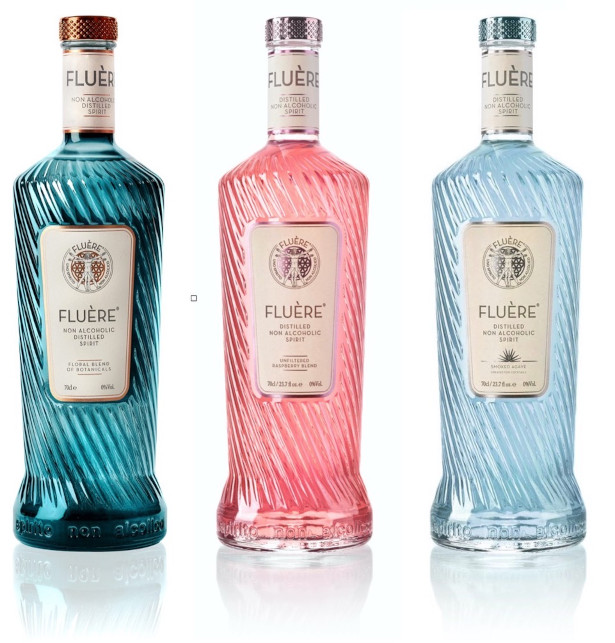 FLUÈRE Original Black Friday Price: £11.30 – 44% off RRP of £20
Available from: Amazon until 29th November
FLUÈRE Original contains carefully selected botanicals that result in a complex yet balanced taste. Both juniper and lime peel give a bright and fresh character to the nose whilst the lavender and coriander add herbal notes.
FLUÈRE Smoked Agave Black Friday Price: £15 – 25% off RRP of £20
Available from: Amazon until 31st December
FLUÈRE Smoked Agave has smoke and honey on the nose with fresh notes of pear. On the palate there is the characteristic vegetal sweetness of agave with some bitter overtones and a hint of black pepper. The flavours develop into eucalyptus and mint for a long, clean finish.
FLUÈRE Raspberry Black Friday Price: £17 – 15% off RRP of £20
Available from: Amazon until 30th November
Carefully distilled with fresh raspberries, FLUÈRE Raspberry is smooth and slightly sweet nose with ripe fruit on the palate, followed with a unique after-bite that normally only alcoholic drinks have.
With Black Friday approaching, Up at The O2 is offering prospective climbers 15% off E-Gift Certificates for our standard daytime, twilight, and sunset climbs. The discount will be available for shoppers to use from Friday 27 November at 00:01 through to Monday 30 November at 23:59.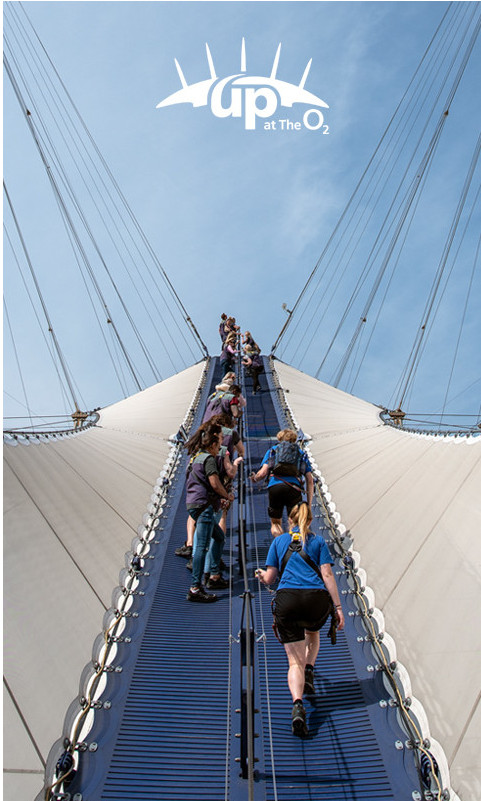 To access the 15% off discount, you will need to input the code 'BlackFriday2020' at the checkout stage when purchasing their E-Gift Certificate. This certificate will then remain valid for 12 months from point of purchase. Please note this offer will not be available for Climb and Dine or Celebration Climb packages.
E-Gift Certificates can be purchased here: tickets.aegeurope.com/upattheo2/up-at-the-o2-gift-certificates/up-at-the-o2-gift-card.html
UK'S NO.1 BABY FOOD BRAND, ELLA'S KITCHEN, GOES GREEN FOR BLACK FRIDAY

This year, Ella's Kitchen, the UK's number one baby food brand, is joining the 'Green Friday' movement to promote sustainability over spending.
To mark the occasion, Ella's Kitchen will be donating all profits from its online sales from 'Black Friday' to 'Cyber Monday' (Friday 27th – Monday 30th November) to Trees for Life, a UK charity that is dedicated to rewilding the Scottish Highlands.
Ella's Kitchen's participation in 'Green Friday' follows the brand's BIG Pledge to Little People, committing:
To be Net Zero by 2030
To reduce emissions by setting externally approved Science Based Targets for direct and indirect emissions across Scopes 1, 2 and 3 as defined by the GHG Protocol
To work with UK and International conservation partners to restore, rewild and protect the eco-systems on which we all rely
Trees for Life is one of Ella's Kitchen's key conservation partners and the donations from 'Green Friday' are part of the business's ongoing commitment to protect the planet for future generations.
Through its tree planting projects, Trees for Life provide an important habitat for wildlife – including red squirrel, pine marten, black grouse, otters, osprey and golden eagles – as well as enabling vital carbon capture from our environment. These donations will go towards ensuring the charity is able to continue its vital work to protect the habitats of thousands of species and regenerate the forests for the future.
Chris Jenkins, who heads up 'The Good Stuff We Do' at Ella's Kitchen, comments: "At Ella's Kitchen we are dedicated to protecting our planet to make sure that all little ones have the future they deserve. So we are proud to be partnered with Trees for Life, who do amazing work to not just plant trees, but also work to protect, restore and provide space for wildlife to thrive. Of course, businesses are facing serious challenges at this time, but we can't afford to forget our determination to address climate change – our children certainly won't and are depending on us to take action, so we'd love to see more businesses working to turn Black Friday Green."
David Haye (ex-World Heavyweight Boxer turned Businessman) launched his line of face masks this year to support in the fight against Covid.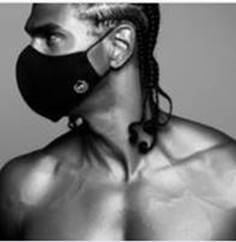 The Black Mask Company launched earlier this year as the UK went into lockdown, the mask is eco-friendly and 30 times washable with the intent to limit the impact of single use plastic face masks on the environment, as 129 billion disposables face masks are being discarded into the environment monthly.
Usually priced at £12.50 per mask, this Black Friday will see up to 50% discount across the range. The masks are available in both black and grey and in a range of sizes which can all be purchased at theblackmaskcompany.com.
For those getting ahead of the Christmas shopping, the product and packaging provides a perfect stocking-filler this year – the mask is purposely sleek, stylish and sweat-proof to encourage a younger audience to wear masks, as they have seemed to be the slowest adopters.
The VP195 Face mask from The Black Mask Company:
• 3-layer, anti-bacterial, anti-microbial, anti-viral
• Certified to 93.7% filtration
• UV resistant
• Sweat absorbent
• Handmade with 100% eco-friendly cotton
• 30x washable
• Available in black
• RRP from £12.50
• To buy visit theblackmaskcompany.com
• Available in five sizes
• Kids (2-5)
• Youth (6-12)
• Small Adult/Teen
• Adult
• XL
Notes to Editor
In January 2020 in response to COVID-19, the Vietnam's Government science & technology engineers created a bespoke mask utilising "Nano Silver" technology specifically for COVID-19.
In March 2020 the Minister of Public Security held a press conference, announcing and praising a 'state of the art' 3-layer mask, developed exclusively for all Vietnamese police departments and Government officials.
Vietnam is a global leader in the fight against COVID-19, with not one fatality despite a population of over 95 million. In April 91% of Vietnamese wore a face masks daily vs 16% in the UK (Source: IPSOS)
The Black Mask Company was created to bring the VP195 face mask to the UK. Manufactured in accordance with the 'Vietnamese Ministry of Health' technical standards. Approved by the Bureau of Accreditation Vietnam which is a member of the 'International Accreditation Forum' (World Association of Conformity Assessment Accreditation Bodies).
This year will see a Black Friday like no other, as analysts predict a record-breaking month for UK online sales coined 'Black November'.
www.teleperformance.com

Ordered to shut up shop until the 2nd December, brands are facing disruption at such a rate in the industry that unless they recalibrate fast, they risk joining the retail apocalypse – set to claim as many as 20,000 stores this year.
How retailers reconnect with customers in an era of brand promiscuity will either make-or-break them.
With loyalty rapidly evaporating, Stephanie Millner, Vice President of Customer Experience Management at Teleperformance, believes the digital customer experience will separate the winners from the losers in a recessionary environment.
Stephanie comments: "The pandemic has effectively re-written the rules of retail this Black Friday. As more consumers move online, retailers must be agile in responding to their needs and remove friction from the digital purchasing experience to ensure customers can access what they want, when they want it. The trick is to allow customers to move seamlessly through the retail journey and make it unlikely that they'll ever want to leave a brand."
Stephanie concludes: "Keeping customer service channels up and running with lockdowns in place can be challenging, but consumers are far more likely to need care this Black Friday with a sole dependence on e-commerce. With loyalty a thing of the past, brands now need to achieve emotional connections, and offer multiple support channels – spanning chat, voice, text and click-to-call – to make life easier for customers. It will be those companies that keep interactions simple, and build value within those engagements, that will be more likely to hold onto their customers beyond Black Friday."
Teleperformance is the global leader in customer experience management, working with leading global retailers to elevate omnichannel experiences for customers and clients, and mitigate the impacts of COVID-19.