Beautiful cat-themed calendar by Axel Scheffler (illustrator of The Gruffalo) – raising money for charity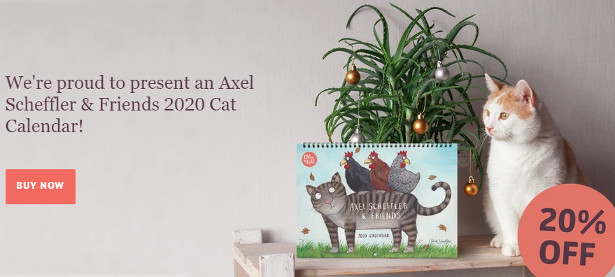 FACEBOOK | INSTAGRAM | TWITTER
Cat in a Flat has teamed up with Axel Scheffler, the illustrator of The Gruffalo, to produce a beautiful cat-themed calendar for 2020 – with all the profits going to support endangered wild cats in the care of Born Free.
The calendar features 12, full colour, beautiful images created by Axel Scheffler and friends. Each image was drawn specifically for the calendar – making it the perfect Christmas gift for any cat lover.
100% of the profits from the sale of the calendar, which can be bought exclusively through Catinaflat.com, will go to bornfree.org.uk to help them care for and protect endangered cats in the wild.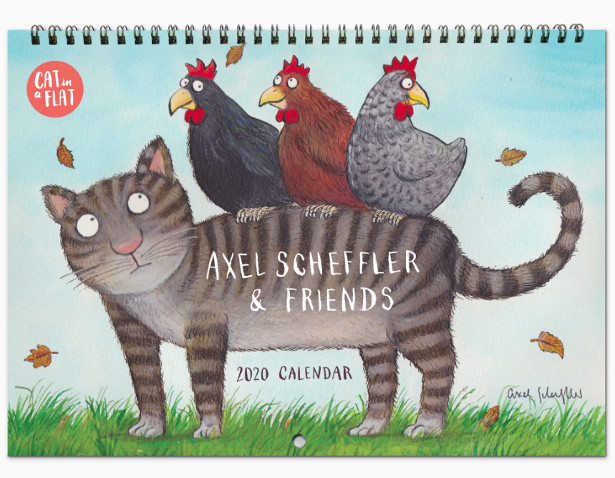 Cat in a Flat is a trusted cat-sitting community created by cat lovers for cat lovers. Its mission is to help cats stay in the comfort of their own homes by connecting cat owners with trusted, insured, local, cat-loving sitters. www.catinaflat.com
The Axel Scheffler and friends calendar is the perfect gift for the cat lover in your family – helping them organise their life, while also saving a cat-life; a win-win for all.
The illustrators are:
Axel Scheffler; Thomas Müller; Rotraut Susanne Berner; Philip Waechter; Jörg Mühle; Beck; Susanne Göhlich; Anke-Irina Kuhl; Moni Port; Yvonne Kuschel; and Tor Freeman.
The calendar is priced £12.99 and is available from:
www.cat-in-a-flat-ltd.myshopify.com