Some Jubilee inspiration with the following collection of delicious recipes to bake over the celebratory weekend (2nd-5th June) from the Easy Peasy Baking Campaign, Carr's Flour and Mr Organic.
With four whole days to celebrate the 70th year of Queen Elizabeth's reign, there's plenty of time to get baking and enjoy eating these regal bakes with friends and family.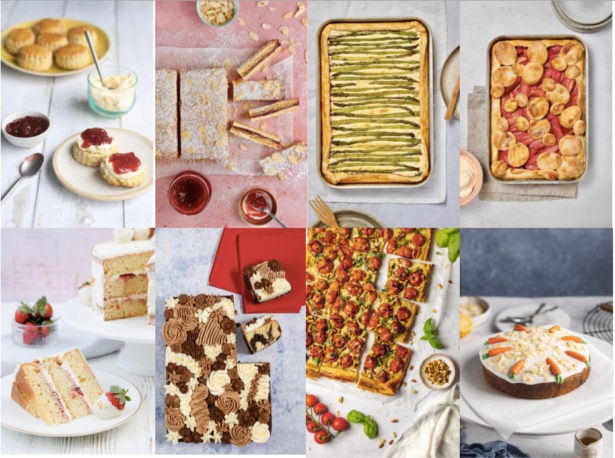 Easy Peasy Baking Campaign: This collection includes a classic scone to please her majesty, as well as 3 fantastic traybakes that are all made with the same sized tray – excellent for street parties!
– Classic Scones
– Bakewell Tart Traybake
– Leek & Asparagus Tart
– Rhubarb Traybake Tart
Carr's Flour: Two fantastic showstopping bakes including a royal favourite, Victoria Sponge, made with an English Sparkling Wine syrup as well as a chocolate-filled traybake with chocolate buttercream icing that is perfect for sharing.
– Juliet Sear's English Sparkling Wine Victoria Sponge Cake
– Juliet Sear's Chocolate & Vanilla Traybake
Mr Organic: Vegan-friendly bakes so you can offer something for everyone to enjoy over the long weekend, including a savoury Tomato Tart and classic Carrot and Almond Cake, ideal for afternoon tea celebrations.
– Tomato Tart
– Carrot and Almond Cake
STRAVA ANNOUNCED AS OFFICIAL RUN PARTNER
OF HACKNEY HALF 2022
This year for the very first time, Strava – the world's leading digital platform for
athletes, will partner with the Hackney Half as Official Run Partner to elevate the preevent and event day experience.
The partnership will include an exclusive, one-of-a-kind training event on 4th May to
help runners stay on-track ahead of race day on 22nd May. The training run along part
of the Hackney Half route will give a taste of what to expect, plus Team Strava's
coaches will share their top tips on how to prepare and conquer the half marathon in
a live Q&A.
On race day, runners will be supported along every stride with the help of the Strava
Pacers; starting with a pre-race 'meet-up' at Strava's Kudos Corner in Festival Village
on Hackney Marshes.
Once on the 13.1 mile route through the streets of East London, Strava will motivate
runners with the 'Kudos KM' Segment Challenge and Cheer Zone near the finish line.
The benefits don't end there. Join the Hackney and Strava communities to relax and
rejuvenate in the Strava 'Kudos Corner' post run, and celebrate those incredible
achievements.
Stay up-to-date with the latest news and unlock exclusive rewards for free by joining
the Hackney Moves Strava Club.
LESS THAN ONE MONTH UNTIL EVENT WEEKEND!
HACKNEY MOVES
21 – 22 May 2022
Hackney Moves is more than a 5K, Half Marathon, and Fitness Festival, it's a
movement! This year, LimeLight Sports Club invites festival goers to join a definitive
weekend of entertainment, community and unforgettable sporting moments in East
London from 21-22 May 2022.
The latest additions to the Hackney Moves 2022 festival line-up have been
announced; including a multitude of local food & drink trucks, fitness classes, live
entertainment and post-race celebrations.
Tickets to the weekend's headline event, the Hackney Half, are on sale now for a
limited time only.
SATURDAY – FITNESS FESTIVAL & HACKNEY 5K RACE DAY
Saturday's main event, the Hackney 5K, is primed and ready for the next generation
of runners aged 13 and above who want that special finish line feeling! The free event
is the perfect starter challenge for young and newbie runners.
You don't have to be a runner to enjoy the day! Festival Village on Hackney Marshes
plays host to an array of pre-race warm ups and mobility masterclasses. Or get a sweat
on with Fight Klub boxing classes, a high tempo HITT class and many other fitness
sessions throughout the day!
The Hackney Moves Fitness Festival line-up includes:
MAIN STAGE
FiiT- join the number one fitness app live on stage, for this post run recovery stretch
Victus Soul – hit, box, run, recover with Victus Soul – a recipe for the ultimate
workout!
HulaFit – a fun and exciting fitness class that utilises hula hoops, mega bass and beats
and your dancing feet to get you fit, fit, FIT!
Urban Touch Carnival Group – bringing together all cultures of the community
through arts, dance, music and entertainment!
Morning Gloryville – the original morning dance and wellness experience!
Fight Klub – the high intensity fun workout that makes getting in shape an addiction.
Set to music, the programme is a combination of boxing, kick boxing and dance.
HACKNEY HOUSE OF FITNESS
Retroglow Studios – friendly, unique & upbeat retro fitness & dance classes.
FunkFit – the dance fitness class which uses Funk, Soul, Disco and Motown to create a
truly unique and exhilarating fitness experience.
AzontoBox – an Afro beats-inspired aerobic high impact fit class created by Edem
Kojo.
Fitzroy Gaynes – the international fitness presenter will be leading his own unique
workout!
WELLNESS HOUSE
Yoga, Mindfulness & Meditation
The return of MARKET ON THE MARSHES will bring together a multitude of Hackney
borough's most exciting markets, breweries, and start-ups for one big pop-up retail
celebration open to the public all weekend.
SUNDAY – HACKNEY HALF RACE DAY
The Hackney Half – London's largest and most vibrant half marathon returns. With
DJs and live music at every mile, there'll be beats to keep runners moving across the
finish line and on to Festival Village where the main stage will host a truly epic
collaboration of high-energy playlists, dynamic stretching and race euphoria!
Spectators are invited down to support the runners along the buzzing 13.1 mile route
and soak-up the festival vibes, with a diverse line up of fitness programming devoted
to the sport of running.
HACKNEY MOVES FESTIVAL
21- 22 May 2022
Access to Hackney Moves Festival – Free
HACKNEY HALF
Sunday 22 May 2022
Race Entry – £54
What's Included:
Finisher's Medal / Swag Bag / Baggage Drop
More Information & Sign-up:
https://limelightsports.club/event/hackney-moves-2022/hackney-half
Socials: #HACKNEYHALF Instagram: @hackneymoves Twitter: @hackneymoves
PRESS CONTACT
To request further press information or media assets please contact EIGHTY4RED:
Daniella Posner or Julian Gregory
daniella@eighty4red.com / julian@eighty4red.com
LIMELIGHT SPORTS CLUB MEMBERSHIP
Runners are invited to become part of the fastest growing active community and get first
access to the UK's most sought after, sold-out events such as Hackney Half, ASICS London 10K
and Oxford Half.
Join as a Founding Member of LimeLight Sports Club to benefit from an incredible array of
discounts, giveaways, curated content and exclusives on the events we love, and from the
brands we value. Members will save up to 60% (£43!) on LimeLight Sports Club Original Events.
Sign up now for just £3.98 a month or £39.98 a year and unlock amazing benefits!
Find out more and apply at limelightsports.club/membership
ABOUT HACKNEY MOVES
Hackney Moves is Limelight Sports Club's signature event, a full weekend festival combining
running and fitness experiences with community celebration. It is home to the Hackney Half,
London's largest half marathon, and a race that cruises through London's most creative
borough, flush with vibrant street art and local charm. The 2022 edition will take place from
21 – 22 May 2022, highlighted by the Hackney Half on Sunday 22 May. Limelight Sports Club
is thrilled to be working in partnership with Hackney Council to produce this irresistible fitness
experience that moves local residents and visitors together.
Hackney Moves was rewarded for an incredible year with a place on the Active Award Official
Shortlist for the Sport Industry Awards 2020 – the industry's biggest night of the year.
ABOUT LIMELIGHT SPORTS CLUB
LimeLight Sports Club is a specialist division within LimeLight Sports Group that creates and
delivers major participation experiences with the purpose of making your active world
experience extraordinary. It provides a sporting journey of unforgettable cheer and challenge,
designed to move you. LimeLight Sports Club and its brand partners share a belief that when
people of all ages and abilities come together and participate in any kind of group exercise,
the benefits can be immense, both for individuals and for society as a whole. This is reflected
in our commitment to sustainability, improving equality and working increasingly on the
mental health benefits of physical activity.
LimeLight Sports Club produces seven multisport and running event experiences throughout
the year: Hackney Moves Festival including Hackney Half, London Duathlon, ASICS London
10K, London Triathlon, Blenheim Palace Triathlon, Oxford Half and Etape Caledonia.
LimeLight Sports Club produces seven multisport and running event experiences throughout
the year: Hackney Moves Festival including Hackney Half, London Duathlon, ASICS London
10K, London Triathlon, Blenheim Palace Triathlon, Oxford Half and Etape Caledonia. Visit
limelightsports.club
For who aren't drinking (or are trying to drink less) but don't want to feel excluded during the drinks had with friends and family this Bank Holiday, Pentire non-alcoholic spirits should be on their essentials list!

Pentire
According to a report by the Portman Group and Yougov published earlier this year, one in three UK drinkers are now choosing no and low drinks options on a regular basis, which has increased from 1 in 4 in 2020. Many of these people are choosing to drink less to promote their mental and physical health – these are the people Pentire has been created for.
Made for individuals who value an active lifestyle and an enjoyment of the great outdoors, Pentire – a non-alcoholic spirits company, centred around active living and an enjoyment of the outdoors – allows people to Drink for Tomorrow and wake up ready for the day ahead. For both the amateur and professional athletes amongst us (and everyone in between), Pentire enables you to drink for a clear mind, a rested body, and a day of adventure tomorrow, without having to compromise on fun had with friends the night before. Please see below for more information on the brand and its products.
Pentire has two products within its range:
Adrift – the founding blend, a coastal, herbaceous and fresh infusion of rock samphire, sage, Pentire plant blend, lemon citrus and Cornish sea salt. Serve with Indian tonic and a sprig of fresh rosemary for the perfect wind-down drink.
AND
Seaward – launched in 2021, a bright, zesty and verdant infusion of sea rosemary, woodruff, sea buckthorn, pink grapefruit and wild seaweed. Serve with light tonic and garnish with a wedge of grapefruit for an uplifting drink.
Pentire is a non-alcoholic spirits company that is inspired by the dramatic North Cornish coastline, its fauna and a desire for active living. It celebrates all that the coast is and its spirits allow us to enjoy it without compromise. Both Adrift and Seaward boast a plethora of health benefits as they contain distilled local botanicals that thrive in the unique climate of the local headland, making them rich in vitamins, carotenoids, flavonoids, antioxidants and omega 3, and always free from added sugar, artificial colourings and flavourings. In a classic Pentire and Tonic (P&T) or in one of the many refreshing serves listed on the Pentire website here, both spirits help you get ready for whatever adventure lays ahead.
Nutritional values of both spirits (per 50ml serve):
• Energy 4Kcal / 15kJ
• Fat 0g of which saturates 0g
• Carbohydrates 0g of which sugars 0g
• Protein 0g
• Salt 0g
The Stripes Company have some fantastic décor items that are perfect for any Royal garden party this summer!
See a selection of items below, including:
 Jubilee bunting
 Table mats and napkins
 Tea towels
 And hats!
They have everything you need to make your jubilee party special, AND they're all handcrafted and made from 100% cotton.
Jubilee Bunting – £20
Get the iconic red, white and blue bunting — the ultimate patriotic decoration! Measuring 5.5 metres, this bunting adds a wonderful splash of celebratory elegance to your gathering!
Boxing Table Matts – £17.50
Planning a Jubilee banquet? The Stripes Company's platinum Jubilee Table Matts will look sensational on your dinner table. Pair with matching red, white and blue napkins and your table set-up will be fit for a queen.
Blue napkin set of 4 – £8 / Red napkin set of 4 – £8
Boxing tea towel – £7.50
In addition to bunting and beautiful banquets, The Stripes Company's classic navy blue, red, and white striped tea towels are made with high-quality cotton and make thoughtful Jubilee gifts, measuring 70x48cms.
Boxing stripe bucket hat – £12
Finally, while it may not be a crown, our Boxing stripe bucket hat is also available to bring an added touch of fun and patriotic spirit. It'll certainly make you smile and will protect your loved ones from the heat of the sun.

Portable jump starter from Fanttik, a young brand focused on outdoor and automotive gear.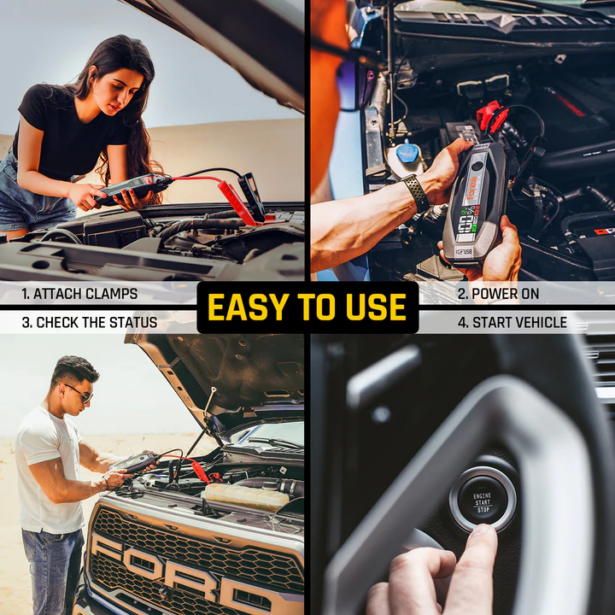 A few highlighted product features of Fanttik T8 APEX include:
• 65W two-way charging: You can enjoy 6 times faster charge for your laptops, phones, and other devices with 65W high-speed output. Completely input recharges in 1.5 hours, or 10 minutes go from 0% to 20% of charge your jump starter. Over 20% of power can already start your cars.
• Furious start: 2000-amp peak current allows jumping start up to 8.5L Gas / 6.0L Diesel vehicles. It can achieve 50 times jump-start with 20000 mAh battery capacity when fully charged.
• Manual override: T8 APEX has a forced start function for dead cars, safe and spark-free operation. Press both the power button and light button at the same time for 3 seconds to get force output, when the "START" indication is shown on the screen, start the vehicle.
• Powerful performance: With 24-Month standby period after full charge, you can activate T8 APEX portable jump starter anytime without losing power during storage.
• Multi-function: Real-time battery status on a 3-inch informative screen offers a more intuitive user experience, you can start your cars easily. 400 lumen LED light offers you three modes (SOS, BLINK, STROBE) under different conditions.
JOIN PEPPA PIG ON HER AQUARIUM ADVENTURE!
SEA LIFE WELCOMES LITTLE PIGGIES TO ENJOY A THEMED INTERACTIVE EXPERIENCE FOR THE WHOLE FAMILY.
WHAT:
A themed and interactive activity trail aimed at pre-schoolers and young families. Join Peppa Pig at SEA LIFE to explore rock pools and oceans and make lots of animal friends along the way!
WHERE: SEA LIFE centres across the UK and Ireland
WHEN: 30th April – 3rd July
PRICE: from £15.95
Join Peppa Pig in a brand-new nationwide event, as she heads to SEA LIFE for an amazing Aquarium Adventure!
Guests will be able to meet Peppa, and dive into the fun of SEA LIFE, meeting some incredible creatures and discovering how to keep them safe in the oceans.
Follow the interactive, immersive trail, where visitors will be tasked with several activities, from spotting seahorses and crabs to counting starfish and learning how fast sharks can swim. There will also be fun workshops where little piggies can create ocean friendship bracelets and help make a jumbo jigsaw.
And that's not all…guests will also have the chance to take photos with Peppa.
Post-adventure, all Peppa fans will then have the opportunity to learn about SEA LIFE's incredible conservation programmes. For those looking for some extra fun and learning during their visit, creature cards with facts and activities will be available across the attraction and online via the SEA LIFE website.
The Peppa Pig Aquarium Adventure begins nationwide on April 30th. To book your tickets to your local SEA LIFE please visit the website here: www.visitsealife.com/explore/uk-eire-events/peppa-pig/
Introducing Prestige Travel – a fresh vision for Prestige Holidays
Tour operator emerges from the pandemic with a new look and name
25 April 2022: Prestige Holidays has been rebranded as Prestige Travel with a memorable new visual identity featuring a shell on a white, sea green or deep ocean coloured background. A revamped website making researching and booking a holiday quicker and easier will be launched shortly. The current holding site can be found at www.prestigetravel.co.uk
The operator is also placing a greater emphasis on tailor-made breaks using its expertise and specialist knowledge in destinations like Australia, New Zealand, Croatia, Canada and Italy to appeal to those looking to reduce their carbon footprint with one long break as well as those seeking bespoke holidays of any duration. It will continue to offer traditional one and two week stays at a range of price points from its portfolio of handpicked hotels in over 20 destinations. Top selling destinations are Australia, New Zealand, the Canaries, Croatia, Sicily, The Channel Islands and Canada. The development of its green credentials is also underway with new initiatives to be introduced later this year.
Summer holidays start from £539 per person for a week's stay at Hotel Monte Cristo in Montenegro on 29th September including return flights from London Gatwick, one piece of luggage per person, private transfers and BB accommodation. (www.prestigetravel.co.uk, 01425 480400).
Image here
Ends
About Prestige Travel
Independent tour operator, Prestige Travel, was established over 30 years ago and was sold to the Embrace Travel Group last year by its founders.
The company offers tailor-made breaks and holidays to over 20 destinations including: the Canary Islands, Madeira, Italy, Croatia, the Channel Islands, Scotland, and the Isles of Scilly. Further afield are holidays to Australia, New Zealand, Canada and the USA. www.prestigetravel.co.uk/our-destinations
HAVING A BALL!
CHARITY BALL SEASON BOUNCES BACK – WITH BRIDGERTON FEVER SWEEPING THE NATION
After two years of cancelled events, charity ball season is officially back, with many of the UK's premier venues booked up for the rest of the year – and Bridgerton has been branded the number one theme for events in 2022.
Manchester's premier five-star hotel, The Lowry Hotel, has revealed that bookings for charity balls are stacking up, with a whopping 80% of Fridays and Saturdays between now and Christmas fully booked.
As a result of the pandemic, charity fundraising balls and events were put on hold, decimating the industry – however 2022 bookings reveal a return to normal, and 'Bridgerton fever' has sparked a frenzy of glamorous period-inspired events across the country.
Hospitality experts at The Lowry Hotel, predict that throughout 2022, Bridgerton-inspired balls will be the hottest trend when it comes to parties in the UK, following the runaway success of season two of the show.
Beloved (and often despised!) characters like Anthony Bridgerton and Kate Sharma were spotted in scene after scene, attending luxurious balls in the mansions of Mayfair – sparking a frenzy for 21st century partygoers.
Experts now anticipate a takeover of powdered wigs, tailcoats, evening gowns, top hats and folding fans, all to the soundtrack of modern hits transformed into classical arrangements and recited by an orchestra – in true Bridgerton style.
While this is great news for fans of the show, other party-goers need not worry, as there are several other summer ball trends making waves this year.
TOP FIVE CHARITY BALL TRENDS FOR 2022
1. Bridgerton fever
2. Peaky Blinders-inspired roaring 20s
3. LA Kardashian glam
4. Royalty banquet for Queen's Jubilee
5. 007 black tie
The Lowry Hotel kicked off the summer season on balls last month, with the return Maggie's Costume Charity Ball – a fairytale-style evening of raucous entertainment that wouldn't have looked out of place in Bridgerton.
The sold-out, 19th century glitzy charity ball played host to hundreds of guests dressed up to the nines in glamorous Regency-style gowns and tailcoats, that Edwina Sharma would be proud of. The event was staged to raise money to Maggie's, a charity that provides essential support to patients and families affected by cancer.
Maggie's Costume Charity Ball is inspired by one of Manchester's most impressive, and flamboyant, historical events. In 1828, generous philanthropists attended the extravagant Manchester Ball to raise money for local charities.
The ball was reimagined and brought back almost 200 years later by The Lowry Hotel's General Manager, Adrian Ellis, alongside Janine Watson and Carolyn Mellor.
Adrian Ellis, General Manager of The Lowry Hotel, said: "We have been inundated with enquiries from groups looking to host balls at the Lowry throughout 2022, and it's amazing how many have been inspired by Bridgerton.
"The booming demand is no doubt a result of the runaway success of the show, and how wonderfully elegant and glamourous the characters looked during the brilliant ball scenes.
"We're incredibly excited to play host to these Regency-style, Bridgerton-inspired events, and continue raising funds for Maggie's, a great UK charity."
GREAT YARMOUTH KICKSTARTS THE 2022 SEASON
19 April 2022: A permanent Big Wheel, entry price drop for Merrivale Model Village, new theme park rides at the Pleasure Beach, Hollywood style light-up letters and spectacular new Hippodrome Circus' shows headline Great Yarmouth's attraction line-up for the 2022 season. www.great-yarmouth.co.uk
Big Wheel Becomes a Permanent Fixture
Offering superb views of up to 10 miles (16km) including the town, the sea and the East Norfolk coastline, Yarmouth will welcome a new permanent 50 metre tall observation wheel this summer. The permanent attraction will be located in the Sea Life Centre Gardens.
Entry price drop at Merrivale Model Village for a peep at the Banksy replica
The new owners of Merrivale Model Village are bucking the trend of price rises and are welcoming visitors to the 2022 season with a price drop. The family-friendly attraction received world-wide fame last year when one of its miniature stables became part of Banksy's 'Spraycation' works and was daubed with the slogan 'Go Big or Go Home'. While the original art installation was sold by the former owners (who subsequently retired) a replica of the artist's creation is in situ at the venue.
Merrivale, an English countryside in miniature, has its own busy town centre, a perfectly kept village inn, farm, travelling fair, sports stadium, zoo, holiday park, country club, castle and cottages. Visitors can explore the gardens and animated scenes, then play the vintage slot machines including one Arm Bandits, Working Models, Strength Testers and Fortune Tellers in the Penny Arcade. There's also a nine-hole crazy golf course that visitors can enjoy. Offering great value for families the new cost £8.99 for an all-day pass. www.merrivalemodelvillage.co.uk
New Tinseltown signs add touch of Hollywood Glamour to Great Yarmouth
Great Yarmouth is exuding some extra razzle dazzle this holiday season following the unveiling of some new Hollywood-style signs. Ideal as selfie backdrops, the permanent installations spell out Yarmouth and Hemsby. Lit up by LED bulbs and approximately 2.4m tall and 1.5m across, Yarmouth's new sign is located on the Golden Mile and the Hemsby sign towers over the Oasis amusements.
The Pleasure Beach welcomes 'The Pendulum' and Floaty Boaty for the new season line up – and celebrates 90th anniversary of its wooden scenic railway
Traditional funfair aficionados will love the two new rides at Great Yarmouth's Pleasure Beach this holiday season. For hardcore thrill seekers, the 'Pendulum' is a 16-seater ride in which passengers sit in a gondola at the end of a long rotating arm with gradually builds up momentum and swings them on a scream-inducing 360 degree turn, 50ft up in the air. Alternatively, the whole family will love, 'Floaty Boaty' – a fun 24-seater tug-boat themed ride in which passengers are driven back and forth along a concave arc as the ride rotates around its centre.
The Pleasure Beach will also celebrate the 90th anniversary of its Scenic Railway this year. A theme park grand dame, it's the only remaining wooden coaster of its kind in the UK. To book tickets and to learn more about its other 25 fun-filled rides and attractions including classic Dodgems and Cups and Saucers plus a traditional Haunted House and Log Flume visit www.pleasure-beach.co.uk
Tickets start from £15.00 for unlimited access to all the rides (height restrictions apply) and attractions for three hours (under threes are free).
Hippodrome Circus' Spectacular Shows
Great Yarmouth's mesmerising water and circus shows will delight crowds again this summer. From the swashbuckling Pirates Live! (throughout April to 2 May) to the Summer Spectacular (6 July to 18 September), the world-famous fixed circus will offer breath taking performances featuring slapstick comedy, amazing acrobats, daring trapeze artists and stunts plus stunning lighting and special effects. The shows also feature the world famous Water Spectacular, which sees the entire rink sink to reveal a giant swimming pool with performances by synchronised swimmers. Tickets from £19 adults and £12 child https://www.hippodromecircus.co.uk
Thrigby Hall Wildlife Gardens unveils new-look Swamp House
Following a major renovation to their Swamp House, the crocs at Thrigby Hall are now welcoming new season guests from the comfort of their new-look home. The wildlife park supports a range of conservation projects both locally and worldwide and visitors can see a special collection of rare animals including a pair of Sumatran tigers and snow leopards, amur and clouded leopards, meerkats, gibbons, red pandas and oriental small-clawed otters.
The landscaped gardens also feature a big play area with 3D Adventure Maze, climbing and ropes plus an expansive lawn for picnics and play. Adults £16.95 and children (4-16) £12.95. www.thrigbyhall.com
WHERE TO STAY:
Close to Great Yarmouth's famous Golden Mile, the family run Andover House hotel offers a contemporary swish to one of the grand Victorian villa-lined streets. This sanctuary by the sea has just 27 rooms and welcomes guests above 13 years of age. Summer prices start from £84 a night for two in a double room with breakfast. www.andoverhouse.co.uk 01493 843490
Haven's Caister-on-Sea park offers direct access to miles of beautiful sandy beach and its Adventure Village is full of exciting activities like Aerial Adventure, 4×4 Off-roaders and indoor play areas. A four night Haven Hideaway breaks start from £529 in July and August www.haven.com, 0333 202 5250
With nearly two miles of wide sandy beach, backed by large grassy sand dunes and a wide range of seaside attractions, Hemsby provides a great location for a family escape. Just a short stroll to the beach, Richardson's Holiday Park has onsite facilities including The Quarterdeck restaurant and Posh Plaice fish bar, indoor and outdoor play areas, a kids' club and Trim Trail. A four night stay for four in a chalet costs from £455 in July or August www.richardsonsholidayparks.co.uk Tel: 01493 809 903
For the latest happenings and events, plus accommodation options see www.great-yarmouth.co.uk
FLASHBACK FAVOURITES
SHOWCASE CINEMAS ANNOUNCE LEGENDARY
FLASHBACK FILM SCHEDULE
Four much-loved movies are returning to the big screen at Showcase Cinema and Showcase Cinema de Lux venues across the country this month for a limited time only. As part of the cinema's Flashback series, the nation can relive their favourite movie moments in a series of special screenings.
First up is iconic thriller Jaws, screening on 8th and 9th May. When a man-eating great white shark attacks a summer resort town, police chief Martin Brody (Roy Scheider) teams up with a marine biologist (Richard Dreyfuss) and a professional shark hunter (Robert Shaw) to take down the terrifying beast. They're going to need a bigger boat!
The following week sees Pixar classic Finding Nemo return to the big screen on 14th and 15th May. The aquatic adventure tells the story of an overprotective clownfish Marlin (Albert Brooks) who joins forces with the loveable Dory (Ellen DeGeneres) to journey across the ocean in search of his missing son, Nemo.
Kicking off the summer season is sing-along romantic-comedy Grease. Dashing high school student Danny Zuko (John Travolta) falls for Australian transfer student Sandy Olsson (Olivia Newton-John) in a summer romance, but when they find themselves attending the same school, they must navigate the drama amongst the Pink Ladies and The T-Birds. Grease will screen on May 22nd and 23rd.
On May 29th, Showcase will be screening British romantic drama Brief Encounter. Starring Celia Johnson and Trevor Howard, the film follows the passionate affair that ignites between two married strangers shortly before WWII.
Mark Barlow, UK General Manager for Showcase Cinemas, said: "Our Flashback screenings have proved to be a huge hit in all our cinemas, so we're bringing even more classics back to the big screen this month.
"Whether you're in the mood for a feel-good musical or a nail-biting thriller, timeless movies like Grease and Jaws were meant to be enjoyed at the cinema. Screening throughout May, Flashback is a perfect way to see those stone cold classics on the big screen, perhaps for the first time. These screenings are not to be missed!"
Tickets for the Flashback Films series can be booked at the cinema box office or online at:
www.showcasecinemas.co.uk/film-info/jaws
www.showcasecinemas.co.uk/film-info/finding-nemo
www.showcasecinemas.co.uk/film-info/_grease
www.showcasecinemas.co.uk/film-info/brief-encounter
FESTIVAL FASHION MADE EASY-PEE(SY)
FASHION BRAND, I SAW IT FIRST LAUNCHES THE PERFECT FESTIVAL OUTFIT THAT WILL HAVE YOU LOOKING UNREAL WHILST BREAKING THE SEAL
Glastonbury, Coachella, Creamfields and many other music festivals are back at the top of the agenda for summer 2022. It's time to get the dancing shoes on, as Brits start to plan their ultimate rave outfits.
To add to its brand-new feel-good festival outfits range, online fashion retailer, I Saw It First have created the perfect wardrobe essential, which offers comfort, style and practicality!
Gone are the days of getting caught naked in the cubicles, as the brand launches the Easy Pee(sy) Playsuit, an on-trend rave unitard style featuring a discreet zip, enabling the visit to the bathroom to be an easy and hassle-free experience.
A buyer from I Saw It First said: "For many people, festivals are a time to let your hair down and get lost in the music and the dreaded thought of going to the portaloos is enough without having to worry about sitting there exposed too. The Easy Pee(sy) festival playsuit is a new innovative take on the iconic style, but with the ability to go to the bathroom with ease. We expect fashion and festival fans up and down the country to go wild for this bespoke product."
To see it, buy it and wear it here first, please view the Easy Pee(sy) Playsuit RRP: £25 here: www.isawitfirst.com/products/easy-peesy-playsuit
You can also shop the full festival collection from I Saw It First here: www.isawitfirst.com/collections/festival-shop
OH, WE DO LOVE TO BE BESIDE THE SEASIDE!
SKEGNESS PIER AND FANTASY ISLAND ARE THE PERFECT HOTSPOTS FOR FAMILY FUN THIS MAY BANK HOLIDAY
As the long Bank Holiday weekend approaches, owners of popular UK family attractions, Fantasy Island and Skegness Pier, Mellors Group, are excited to offer guests the ultimate fun and excitement of over 40 attractions for a bargain price of £30.
The new to 2022 joint wristband offers guests a full day's worth of enjoyment, perfect for the May Day weekend. From big and small rides and rollercoasters, 10-pin bowling, laser quest and much more, there's no better place to spend the Bank Holiday.
The award-winning UK theme park, Fantasy Island has also introduced its newest attraction which is the perfect addition as the warmer weather hits the UK – Wild River Rapids. The new water ride provides the ultimate adrenaline rush as guests of all ages splash and spin along the winding river before plunging into the choppy waters below.
Paige Harris, Head of Marketing at Mellors Group, said: "Excitement seeking families need to look no further this Bank Holiday. Located just a ten-minute drive apart, our attractions will guarantee the little, and big ones aren't bored.
"Since reopening in March it's been amazing to see people experience all the fun and thrills both attractions have to offer. Our new attraction, Wild River Rapids is now open at Fantasy Island and it's already becoming a firm favourite with our regular guests!".
So, what are you waiting for? Get the family together for a fun day out at the seaside this Bank Holiday.
Families can get their joint wristbands online at:
www.fantasyislandresort.co.uk/buy-now/
For further information on Fantasy Island, please visit the website here: www.fantasyislandresort.co.uk/
Cottages for wild swimming from Premier Cottages
26 April 2022: Open water swimming has surged in recent years with many people extolling the mental and physical health benefits of outdoor dips. Premier Cottages picks properties with onsite lakes and ponds ideal for those keen to enjoy a wild swim while on holiday.
Beacon Hill Farm, Northumberland
Situated between the magnificent Northumbrian coastline, the Northumberland National Park and the Cheviot Hills, Beacon Hill Farm is surrounded by 50 acres of ancient beech woods, 300 acres of parkland and comes complete with a two-acre lake set up for wild swimming.
The lake is ideal for wild swimming, paddle boarding and private fly fishing with access limited to those staying at Beacon Hill. It is also a great location for a picnic or barbecue. Beacon Hill boasts a wide range of leisure facilities including a superb spa with indoor heated swimming pool, Jacuzzi, steam room, sauna, gymnasium and beauty salon. A week's summer stay for six in Beacon Hill Farm's South Granary costs from £815, in sleeps four Ash Cottage a stay starts from £1025 and in sleeps two Wood Cottage from £695. (www.premiercottages.co.uk, 07802 517121)
Heath Farm Holiday Cottages, Oxfordshire
Heath Farm Holiday Cottages is home to five award-winning luxury self-catering holiday cottages lovingly converted from old stone farm buildings and set in 70 acres of meadow and woodland.
Tapping into natural springs in the hillside, the onsite pond is a great place for a freshwater dip and swimmers also have the chance to spot deer, geese, ducks and the occasional kingfisher.
Heath Farm's Walnut, Chestnut and Aslan cottages all have private hot tubs and are ideally placed for exploring the Oxfordshire Cotswolds. A five night's summer stay in Heath Farm's Walnut for four guests costs from £1049 and a three night weekend from £906. Alternatively, a week's summer stay in Hazlenut for two guests costs from £592 and a three night weekend break from £486. Further cottages are also available. (www.premiercottages.co.uk, 01608 683270) Images here
Millbrook Estate, Devon
Surrounded by the tranquil North Devon Countryside, Millbrook estate offers four five-star award winning sleeps two properties. Wild swimming and a hot tub cabin can be found along a lantern lit woodland walk and there are two lakes for fishing and one that's good for wild swimming. There's also a BBQ hut for all-weather al-fresco dining and nature trails where visitors might run into a friendly Alpaca or two.
Each cottage is bursting with character, with sweeping views over the estate and there are onsite Type-2 and Tesla EV charging points. A week's summer stay for two at Millbrook Estate's Corncott costs from £1049 and a three night weekend break from £471.(www.premiercottages.co.uk, 01769 629069)
Mendham Mill, Norfolk
With over 1,000 years of history and in perfect harmony with its surroundings, Mendham Mill has often been described as Narnia. The enormous watermill and slow moving river transports families to a world of relaxation and adventure.
Experience the thrill of wild swimming in a river with both deep and shallow sections (popularised by author Roger Deakin in 'Waterlogged' who particularly loved the waters around Mendham Mill). Alternatively, the river can be explored using the property's three canoes and rowing boat and kids can see wildlife up close, including otters, kingfishers and other birds.
Mendham Mill is ideally placed to explore Norfolk. The neighbouring Harleston offers a mixture of both high street and independent shops, and those with a sweet tooth will be delighted to visit the award-winning chocolatier. Southwold's famous beach and lighthouse are nearby, and Norwich and Thetford Forest are also close by. A seven-night summer stay in Mendham Mill's The Miller's House for eight guests and North Meadow Cottage for six starts from £1500 and a three night weekend from £1125. Cottages sleeping two and four are also available. (www.premiercottages.co.uk 01379 855282)
Claire Ptak Partners with Guittard Chocolate to Launch California Cookie
Hackney-based Californian bakery owner, Claire Ptak, is partnering with San Francisco-based Guittard Chocolate Company to create the ultimate chocolate chip cookie: the California Cookie, in celebration of their joint home state. The California Cookie, which uses two chocolates from Guittard's offerings – a 31% cacao Milk Chocolate Baking Chip and a 35% Soie Blanche White Chocolate Baking Wafer – both of which are certified Fair Trade by Fair Trade USA, is available from Claire's East London-based bakery, Violet, for £3.50 for a month.
About the California Cookie:
The cookie uses two chocolates from Guittard's offerings – a 31% cacao Milk Chocolate Baking Chip and a 35% cacao Soie Blanche White Chocolate Baking Wafer – both of which are certified Fair Trade by Fair Trade USA. In the spirit of an uplifting springtime flourish, Claire has paired the two chocolates with powdered strawberries for an intense yet refreshing burst of flavour. Topped with festive rainbow sprinkles to mimic the colours of the season, the California Cookie is thick, chunky and brimming full of fantastic ingredients with each bite.
10% of profits from all of the California Cookie sold will be donated to Bloody Good Period, who fight for menstrual equity, giving period products to those who can't afford them, providing menstrual education to those less likely to access it.
Claire Ptak's Cookie Baking Tips:
– Always use a quick release ice cream scoop for shaping your cookies. You can of course do it by hand but investing in a scoop saves time and keeps your hands and kitchen neat and tidy. We use a 50ml scoop at Violet.
– It isn't necessary, but we love to chill the cookies before baking for a more consistent shape.
– At home I always make a batch of these cookies, scoop them, roll them in the sprinkles and put them in the freezer. Then I just take out and bake what I need when I need it for warm gooey cookies every time. Great for dessert with dinner guests.
– Always weigh out all every ingredient before starting to mix things together. This assures you have everything you need and also that you don't forget to add a key ingredient.
– You can always switch up the chocolate in these cookies. Guittard has so many amazing types of chocolate chips and any combination would be delicious here. Be creative and have fun!
Recipe:
Guittard California Cookie, makes 10
300g plain flour
300g caster sugar
10g fine sea salt
60g desiccated coconut
50g oats
7g bicarbonate of soda
3tsp strawberry powder
250g butter
4 egg yolks
½ tsp vanilla
163g milk chocolate
163g white chocolate
Small white and pink sprinkles, to roll
Maldon salt, for sprinkling
1. Weigh out dry ingredients into a stand mixer and mix on a low speed to combine.
2. Add the very soft butter, egg yolks and vanilla until very well The mix will come together to form a dough that comes away from the sides of the bowl.
3. Scrape down the base of the bowl to ensure all the dry ingredients are incorporated.
4. Add the chocolate pastilles, whole, and mix again briefly to break them up.
5. Scoop the cookies using the 20 scoop. Roll in the sprinkles and freeze.
6. To bake, sprinkle with Maldon salt and bake on 175C for 15 minutes.
Press release:
VIOLET CAKES AND GUITTARD CHOCOLATE LAUNCH THE CALIFORNIA COOKIE
Crafted with a recipe specially developed by Claire, the California Cookie celebrates the work of both Claire and Guittard Chocolate, demonstrating the craft of Guittard's chocolate making and Claire's propensity for seasonal flavours and artful pairings. The cookie uses two chocolates from Guittard's offerings – a 31% cacao Milk Chocolate Baking Chip and a 35% cacao Soie Blanche White Chocolate Baking Wafer – both of which are certified Fair Trade by Fair Trade USA. In the spirit of an uplifting springtime flourish, Claire has paired the two chocolates with powdered strawberries for an intense yet refreshing burst of flavour. Topped with festive rainbow sprinkles to mimic the colours of the season, the California Cookie is thick, chunky and brimming full of fantastic ingredients with each bite.
Beyond their shared West Coast roots, the collaboration was a natural fit given the longstanding friendship between Claire and Amy Guittard, 5th generation at the family-run company. The two first met in New York City on Claire's book tour, where their shared adoration of food and passion within their respective fields led to a blossoming friendship that has since spanned years and even countries. Claire grew up using Guittard Chocolate in her baking—combined with Guittard's San Franciscan roots and identity as a family-operated company, their partnership is a wonderful showcase of California's finest, collaborating in cookie form across the pond in celebration of their home state.
Founded in San Francisco in 1868, the Guittard Chocolate Company remains the oldest continuously family-owned and operated chocolate making business in the United States. Today, it's run by the 4th generation Guittard President, CEO and Chocolate Maker Gary, who is joined by his daughter, Amy, and nephew Clark. Under their family leadership, Guittard continues to raise the bar with their passion for honourable sourcing, crafting the highest quality chocolate, providing the best service, and setting new standards for the industry, an approach that is illustrated by their mission to Cultivate Better™.
10% of profits from all of the California Cookie sold will be donated to Bloody Good Period, who fight for menstrual equity, giving period products to those who can't afford them, providing menstrual education to those less likely to access it.
HOW TO SLEEP IN NOISY PLACES
EXPERT TIPS SO YOU DON'T HAVE TO STRUGGLE SLEEPING AMONGST HIGH NOISE LEVELS LIKE MOLLY-MAE
There's nothing worse than being kept awake at night by unwanted noise. With yesterday's news of Molly-Mae Hague struggling to sleep in her new home due to ongoing construction, Silentnight's sleep expert, Hannah Shore reveals top tips on how to combat and have a better night's sleep.
White noise
Soothing, ambient sounds known as white noise can be helpful to dilute and mask louder, harsher sounds with a more tolerable noise. These sounds are made to help you relax, which in turn helps you to fall asleep quickly.
Check out your app store for apps that play soothing sounds to help drown out background sounds or sudden noises that could interrupt your sleep.
Earplugs
If you're suffering from living with an ongoing noise and are struggling to fall asleep, earplugs are probably the most effective solution for you. You can purchase a good set of earplugs pretty much anywhere and they'll certainly be worth the investment. After all, we think a good night's sleep is priceless.
Communication
If you're living with a serial snorer who's keeping you awake at night, there's almost always a resolution. We've got plenty of good snoring solutions they can try. Check Silentnight's Luxury Anti-Snore Pillow, and our tips on how to stop snoring.
Or are you living with someone who grinds their teeth at night or sleep talks? Again, there are options to help prevent these night time habits and the best thing you can do is to communicate with the person dealing with these problems and address them together. It may even turn out they're not getting a great night's sleep either.
Rearrange your furniture
If you're living in a shared house, or your bed is on a connecting wall to your neighbours, the secret to a quiet night's sleep could be simple – try distancing yourself from the source.
Try rearranging your furniture, moving your bed to the opposite side of the room, or as far away from the noise as possible. Also positioning large pieces of furniture such as wardrobes against a noisy wall can help to muffle sound coming through.
Hang thick curtains
If the noise that's keeping you up is coming from the street or noisy neighbours, soundproofing your windows is always an option. For a cheap solution try hanging a thick set of curtains from your bedroom windows to help block out external noise.
ENDS
For more tips on how to improve your sleep quality, please contact the Silentnight press office at silentnight@wearebrazenpr.com
HOW TO SLEEP IN NOISY PLACES
EXPERT TIPS SO YOU DON'T HAVE TO STRUGGLE SLEEPING AMONGST HIGH NOISE LEVELS LIKE MOLLY-MAE
There's nothing worse than being kept awake at night by unwanted noise. With yesterday's news of Molly-Mae Hague struggling to sleep in her new home due to ongoing construction, Silentnight's sleep expert, Hannah Shore reveals top tips on how to combat and have a better night's sleep.
White noise
Soothing, ambient sounds known as white noise can be helpful to dilute and mask louder, harsher sounds with a more tolerable noise. These sounds are made to help you relax, which in turn helps you to fall asleep quickly.
Check out your app store for apps that play soothing sounds to help drown out background sounds or sudden noises that could interrupt your sleep.
Earplugs
If you're suffering from living with an ongoing noise and are struggling to fall asleep, earplugs are probably the most effective solution for you. You can purchase a good set of earplugs pretty much anywhere and they'll certainly be worth the investment. After all, we think a good night's sleep is priceless.
Communication
If you're living with a serial snorer who's keeping you awake at night, there's almost always a resolution. We've got plenty of good snoring solutions they can try. Check Silentnight's Luxury Anti-Snore Pillow, and our tips on how to stop snoring.
Or are you living with someone who grinds their teeth at night or sleep talks? Again, there are options to help prevent these night time habits and the best thing you can do is to communicate with the person dealing with these problems and address them together. It may even turn out they're not getting a great night's sleep either.
Rearrange your furniture
If you're living in a shared house, or your bed is on a connecting wall to your neighbours, the secret to a quiet night's sleep could be simple – try distancing yourself from the source.
Try rearranging your furniture, moving your bed to the opposite side of the room, or as far away from the noise as possible. Also positioning large pieces of furniture such as wardrobes against a noisy wall can help to muffle sound coming through.
Hang thick curtains
If the noise that's keeping you up is coming from the street or noisy neighbours, soundproofing your windows is always an option. For a cheap solution try hanging a thick set of curtains from your bedroom windows to help block out external noise.
CBI NI TO HOST BUSINESS EVENT WITH POLITICAL LEADERS
From the collapse of Stormont to the cost-of-living crisis, Ukraine, COVID-19 and the NI Protocol, 2022 has been another difficult year for business.
Against that background, CBI Northern Ireland is for a third time bringing five of the region's political leaders together on the morning of 28 April 2022. Political representatives will both reflect on the past year and debate how we navigate the challenging months ahead.
Chaired by BBC NI's Economics and Business Editor John Campbell, this in-person event will provide a unique opportunity for companies to hear first-hand from NI politicians. The event is kindly sponsored by Fibrus.
Political party representatives include:
• Alliance Party: Naomi Long MLA, Party Leader
• Democratic Unionist Party: Sir Jeffrey Donaldson MP, Party Leader
• Sinn Féin: Michelle O'Neill MLA, Party Vice-President
• Social Democratic & Labour Party: Claire Hanna MP
• Ulster Unionist Party: Mike Nesbitt MLA, Economy Spokesperson.
Adrian Doran, CBI Northern Ireland Chair, said:
"NI businesses have never faced a more challenging period. In what will be one of the most important Assembly elections in living memory, this event is an unrivalled chance to put the priorities of Northern Irish firms back on the political map.
"Companies from across Northern Ireland will be able to connect with local politicians and have their voices heard on the topics that matter for their business and the wider economy in these unprecedented times."
25 April 2022
Media are invited to attend the CBI NI's An Audience with Northern Ireland's Political Leaders event on 28 April 2022.
To attend as an audience member, request an interview with a CBI spokesperson, or to obtain footage or photography, please contact CBI Press Office at press.office@cbi.org.uk. There is limited space, so timings and venue location will be provided on confirmation of your place to attend.
About the CBI:
Across the UK, the CBI speaks on behalf of 190,000 businesses of all sizes and sectors. The CBI's corporate members together employ nearly 7 million people, about one third of private sector-employees. With offices in the UK as well as representation in Brussels, Washington, Beijing and Delhi, the CBI communicates the British business voice around the world.
Lizi's Passion Fruit and pistachio granola is the perfect way of taking your Bank Holiday Breakfast to the Tropics.
(RRP: £4.00 from Waitrose)
Whether you have it on its own or on top of some yogurt with fresh fruits and honey it's a delicious way to start the bank holiday.
The Soul of Madrid comes to London in time for May Bank Holiday weekend
Experience a culture clash of Madrid and London's food, art and music
Guest musicians, Lady Leshurr and Fusa Nocta, will perform an exclusive secret gig on Friday 29th April from 10pm
Vinegar Yard's Nanny Bill's will be serving up a new Madrid inspired burger range
Kojey Radical and Boa Mistura will be showcasing an incredible new Madrid inspired artwork
LONDON, 25th APRIL 2022 – Madrí Excepcional, the Mediterranean style lager, will serve up the Soul of Madrid to Londoners in time for the May Bank Holiday weekend (29th April – 2nd May).
By fusing the creative and progressive energies of Madrid and London via food, art and music, Madrí Excepcional will create an experience for Londoners designed to pique all their senses, at London Bridge's Vinegar Yard.
Music
Special guest musicians from Madrid and the UK, Fusa Nocta and Lady Leshurr, will soundtrack your Friday night, collaborating to showcase the unique sound from both capitals to create a genre-spanning soundscape that channels the spirit of each capital city. Their unique set will inspire the soundtrack for the whole weekend, serving up the perfect sonic embodiment of both cities.
Food
Guests will also be able to taste this unique cultural combination as Nanny Bill's, award winning burger vendor at Vinegar Yard, is set to tantalise tastebuds with its new range of Madrí Excepcional inspired dishes. From The Madrí Burger to the Manchego and salsa loaded fries, the new range is a progressive take on their best-selling items incorporating Madrid's most iconic ingredients, all designed to perfectly pair with an ice-cold Madrí Excepcional.
Art
If that wasn't enough, a progressive, original piece of art will be created especially for the weekend by a leading Madrid-based artist group Boa Mistura, and British creative muse Kojey Radical. The bespoke piece of artwork will fuse the unique, forward-thinking and restless cultures of both Madrid and London, to bring the Soul of Madrid to life. Guests will be able to get up close and personal with the artwork, with a lucky few being able to take a coveted piece home with them.
Event details
Discover the Soul of Madrid in London for yourself this Bank Holiday at Vinegar Yard. In addition to tasting the Nanny Bills Madrí Excepcional burger range, you'll hear from Lady Leshurr and Fusa Nocta, and see the progressive art creation of Kojey Radical and Boa Mistura.
Dates:
• Friday 29th April – Monday 2nd May 2022
o Secret music set by Lady Leshurr and Fusa Nocta from 10pm on Friday 29th April 2022 only
• The new Madrí Excepcional inspired Nanny Bills menu will be available until 27th May 2022
Headshots accessible here: https://we.tl/t-NiS0AUY6Zk
Outdoor cushions, including Indian-inspired Jaipur Acorn Cushions, £45
Soft and wool-like, Weaver Green's extensive range of gorgeous garden cushions are water-resistant, UV stable, machine-washable and resistant to stains and critters. Perfect for alfresco living, the choice of colours and patterns will breathe new life into your patio area and add bags of charm to your picnics.
Juno Rugs come in a range of sizes, starting from £70
Weaver Green Rugs are perfect for laying on your patio to add a beautiful pop of colour, or settle down on one to sunbathe in the garden. To complement the rugs, Floor Cushions come in a choice of designs and colours, ideal for lazing in the sunshine. Easy to clean, they're as suitable for sticky fingers as they are for pet beds!
100cm x 75cm Floor Cushions come in a range of designs, £185
Weaver Green's tablecloths are made to look and feel like French linen. But unlike traditional fabric cloths, these lightweight alternatives are resistant to stains (even red wine!) and are machine washable. While being endlessly practical, these stylish tablecloths will add an air of elegance to your alfresco dining table. And to complement your table setting, French faux-linen napkins are the perfect match.
Tablecloths come in two sizes, starting from £65 each. Available in a choice of stripes and checks. French Linen Napkins are from £35 for a 4-pack.
Whether you choose classic stripes or colourful prints, you'll be adding boho style, comfort and practicality whilst also making a sustainable choice.
To see the full collection visit www.weavergreen.com or call 01548 431902.
How stand-up paddling tops the outdoor season 2022
Spring is here and with it, the preparation phase for the ultimate SUP season 2022 begins in German latitudes as well! So what about your own fitness and SUP equipment? What should SUP enthusiasts train for or purchase now? Sebastian Grazzini from SUP brand CALA has put together a few useful tips on the subject:
Those who are physically fit have more endurance on the SUP
If you've been down a bit in terms of sports this past winter, you should now strengthen your own fitness. Although stand-up paddling is also best suited for absolute beginners, it becomes much easier with a good sense of balance and a strong body core. Even advanced paddlers who may want to paddle in more challenging waters this year need to be sufficiently fit to do so. Sebastian recommends the following exercises especially for strengthening the core muscles:
Coast by Coach: New Routes to South West launch ahead of May Day Bank Holiday for just 99p
+ FlixBus will visit Plymouth, Taunton, Bridgwater and Exeter, expanding the network to 30 locations across the UK
+ The new service will launch in time for consumers to travel over the May Day Bank Holiday Weekend
+ Tickets on the route start from just 99p
London, 25 April 2022 – The UK's fastest growing coach provider FlixBus will launch new London to Plymouth routes on Thursday 28 April, allowing consumers to enjoy the May Day Bank Holiday in the South West for just 99p.
Plymouth, Taunton, Bridgwater and Exeter have all been added as destinations on the growing network of towns and cities offered by the affordable and eco-friendly travel operator, increasing the total number of locations on the FlixBus network to more than 30.
Devon and Somerset, previously voted in the top five most popular English counties[1], will be accessible to tourists through FlixBus for less than £1, ahead of the May Bank Holiday Weekend. The introductory ticket offer will be running until 26 May.
Coaches will run to and from Plymouth five days a week, offering an eco-friendly transport alternative for increasingly climate-conscious consumers, with additional trips added over the summer to meet rising demand.
FlixBus UK Managing Director Andreas Schorling said: "It's wonderful to be able to offer passengers more destination options than ever before, particularly these new routes in the South West, which will be in high demand. We know that the cost of living is soaring, so, at prices like ours, it is worth remembering that coach travel is the most cost-effective way to get around!"
Plymouth, known as Britain's Ocean City, is in an enviable location sandwiched between the stunning South West coast and Dartmoor National Park. The largest city in Devon, top attractions include:
• Art deco open-air swimming pool Tinside Lido, overlooking the ocean, open from May to September each year.
• National Marine Aquarium, the largest in the country and home to more than 4,000 animals including sharks, stingrays and Friday the Green Turtle.
• The Box, the city's new museum and gallery showcasing everything from contemporary art to natural history collections. Items on display include 14 monumental ships' figureheads, thousands of natural history specimens and a full-size woolly mammoth replica.
• Smeaton's Tower, a red-and-white striped lighthouse which is now one of the city's most distinctive landmarks –climb to the top for views out across the water of Plymouth Sound.
Plymouth's waterfront location means it is also now home to the Plymouth Sound National Marine Park, a UK first, which aims to increase connection with the natural environment and make access to the ocean easier so that everyone can enjoy all the benefits that being on, in or under the sea brings.
FlixBus will also be adding new direct routes from Glasgow to Manchester from 28 April, with additional new stops at Preston and Lancaster.
Tickets can be purchased now from www.flixbus.co.uk
TOP TIPS FOR A DIY DECK
Create the perfect outdoor space to entertain, relax and enjoy
Deck planning can be done from a laptop and most materials ordered online and delivered to your door, it has never been easier to replace an old wood deck with something fresh and worry-free.
According to a survey by composite decking brand Trex, nearly all survey respondents (97%) indicated that it's important that their home has an attractive and inviting outdoor living area. Adding a deck to your garden is a simple way to add value to your home and choosing composite decking has a number of benefits including being eco-friendly, low-maintainance (just wash with soap and water every so often as needed) and lasting for 25+ years, so you can enjoy your deck for years to come.
The experts at Trex offer their top tips and guidance on re-surfacing a deck to make it a simple and easy weekend project.
The Plan
The decking colour is key to the overall look of your outdoor space. Magazines, manufacturers' websites and Pinterest are great starting points to get an idea of what shades will work for your home. The right decking colour can enhance your scenery, complement your home or make your deck stand out.
Beyond colour, there are a number of tools available to help guide you through the planning process, from home improvement blogs and deck planning checklists to how-to installation videos. When determining budget, for example, the Trex Cost Calculator is an easy-to-use tool that estimates materials costs for a deck build or resurfacing project based on size, substructure and whether railing is being considered – helping you make informed decisions.
When building a deck, it's important to choose quality materials that withstand wear and tear. High-performance, wood-alternative composite decking, such as Trex, is resistant to fading, staining, scratching and mold and requires very minimal maintenance. With a wood deck, the cost of regular sanding, staining and painting compound considerably over time. Over the life of a composite deck, the reduced maintenance costs of simple soap-and-water cleanings add up to a greater return on investment – not to mention the value of all the time spent enjoying the deck rather than maintaining it.
The Build
Once you have decided on your design and shade, use the Trex step-by-step video tutorial and these simple instructions, and in no time at all you will have a decking that you can be proud of and enjoy all summer long.
Step 1: Examine the substructure
Before removing any boards, check your deck's foundation. Start from the ground up by examining the footings, posts and joists. Pay close attention to the condition of the wood. Soft wood indicates rot and should be replaced before proceeding. If the existing framing and substructure are sound, you're good to go
.
TIP: To help ensure your substructure lasts as long as your new composite deck boards, use a protective tape, such as Trex® Protect™ to shield wooden joists and beams from moisture that can lead to rot and the loosening of deck screws and fasteners.
Step 2: Remove old deck boards
Remove any existing railing and begin prying up the nailed decking boards leaving the substructure and framing in place. Start from the outside and move toward the house so you have a solid, safe platform from which to work.
Step 3: Level it out
To ensure a level surface for the new deck boards, make sure the joists are flat and even with one another. If any joists are bowed, you may need to plane or cut them.
Step 4: Install new deck boards
Begin laying out the new composite boards. Starting near the house, face screw the first board to the frame. Closely follow the instructions for spacing from the manufacturer's installation guide. As you progress, check the spacing between the house and the deck boards to make sure they stay parallel with the house. Correct variations a little at a time over several rows to avoid large, tapered gaps.
For more inspiration and information on Trex products, visit www.trex.com/uk. Trex is available from Arbordeck www.arbordeck.co.uk.
London Lions go invincible in their first WBBL Championship win
The Lions finish with a perfect season after a 90-76 win over Sevenoaks Suns
Brett Burman, General Manager of the London Lions, discusses the London Lions WBBL season
The London Lions women have achieved invincibility this season, with their latest win taking their record in the league to a perfect 24 wins from 24 games. Having already secured the WBBL title with a win over the Essex Rebels on Friday, it was only the Sevenoaks Suns that stood in the way of the Lions gaining invincible status. The team produced a comeback 90-76 win over the Suns yesterday, allowing the team to finish the regular season on a high as they head into the playoffs.
The victory means the team have the potential to complete a domestic clean sweep, with the WBBL Championship win marking their third triumph of this season – adding to the WBBL Cup and Trophy success.
The Suns provided a stern test as they looked to spoil the Lions unbeaten record at the last available opportunity, going into the break with a 7-point lead. London displayed their brilliance in the second half, being led by stand out performers Shanice Beckford-Norton and Joey Leedham-Warner who scored 17 and 16 points respectively. The Lions limited the Suns to only 14 points in the fourth quarter as they secured a 90-76 comeback win.
With the championship and invincible season secured, the Lions will now go into the playoffs brimming with confidence as they look to achieve an unprecedented domestic clean sweep.
General Manager Brett Burman comments on the fantastic performance of the London Lions team:
"I'm extremely proud of the way the team has played this season – to win the Championship and finish unbeaten are two incredible achievements. The morale in the team at the moment is extremely high – they came into the game full of excitement and enthusiasm and the performance showed this.
"The team showed real resilience and a desire to win coming back from being down at half time.
With the championship already secured, complacency could have been a problem, but this team continues to impress and succeed at every available opportunity. We hope that we can continue this form going into the playoffs and try to secure the last title to mark an unbelievable season."
Brett, General Manager of the London Lions, and the team's players are also keen to discuss the following:
• The Lions' ambitions for the 2021-22 season
• Why providing an environment of inclusion at games is a key part of the Lions plans
• The importance of providing young people with strong role models to look up to in UK professional sports
BEE PREPARED… SALES OF INSECT SWATTERS SKYROCKET AS BRITS BRACE FOR INVASION OF KILLER HORNETS
Sales of insect swatters have skyrocketed this week, according to latest data, as Brits prepare for an influx of killer Asian Hornets that's reported to descend on the UK over the coming weeks.
The increase in sales follows reports that Asian hornets, which feast on bees and possess a potentially deadly sting, have been spotted on the Channel Islands for the first time this year.
The sighting of the world's largest species of hornet has stoked fears that the pesky insects will enter France next, before voyaging across the Channel and into the UK over the coming weeks.
Savvy Brits have cottoned on to the news, and responded by snapping up insect swatters at record rates, with sales figures from OnBuy showing a whopping 250% increase.
Liam Tickner, Garden and Outdoor Living Category Manager at OnBuy said: "We've seen an enormous increase in sales of insect swatters this week, with sales spiking by a staggering 250%.
"The surge fell perfectly in line with news reports of killer Asian hornets being spotted on the Channel Islands, with Brits responding to the news by snapping up swatters at record rates."
Native to south-east Asia, Asian hornets were first spotted in the UK in 2016. Not only do the insects pose a danger to the public, they also represent a threat to native bee populations and the wider environment.
Experts have warned that the environmental damage caused by Asian Hornets in the UK could amount to over £7.6 million a year.
However, there are several ways to deal with large swarms, including destroying their nests and trapping the insects with bait.
Mr Tickner added: "At this time of year, flies, gnats, and wasps increasingly become an annoying part of our lives.
"Moving into summer, as we open our doors and windows, plus spend more time outside, we are increasingly exposed to flying pests.
"In addition to this, with reports that killer hornets are set to flood the nation in the coming weeks, it seems people have decided to prepare themselves.
"At OnBuy, we sell a range of fly swatters, alongside other summer essentials such as insect repellent and sun cream – everything you need to comfortably enjoy the outside."
For OnBuy's range of Garden and Outdoor Living products, visit: www.onbuy.com/gb/garden-and-outdoor-living/
PRIVATE SECTOR ACTIVITY CONTINUED TO GROW IN THE THREE MONTHS TO APRIL – CBI GROWTH INDICATOR
Growth in private sector activity remained steady, +19% from +18% in the quarter to March, according to the CBI's latest Growth Indicator.
Activity within consumer services stabilised, after falling in the quarter to March (+3% in the quarter to April from -23%). Business & professional services activity (+22% from +25%) and distribution sales (+25% from +27%) continued to grow solidly in the quarter to April. But growth in manufacturing output slowed somewhat (+19% from +27%).
Looking ahead, private sector activity is expected to grow at a similar pace in the next three months (+22%).
Within this, consumer services expect a return to growth (+9%) and business & professional services firms expect growth to pick up further (+33%). Manufacturers expect a similar pace of growth (+17%), while distribution firms anticipate growth to slow (+11).
Alpesh Paleja, CBI Lead Economist, said:
"While private sector growth seems resilient so far, near-term challenges are growing. Strong inflationary pressure is hurting businesses through higher costs, and is leading to an acute cost-of-living crunch for households. This will weigh on the economic outlook for this year.
While the Chancellor announced support for low-income households in his Spring Statement, this should be kept under review in light of febrile pressures on living standards. To combat rising cost pressures, firms may also require further support prior to the Autumn Budget."
The CBI Growth Indicator is a composite measure of activity, based on responses to CBI surveys. In total, 513 firms responded between 24 March and 13 April 2022.
Supercharge Travels with Samsung's Ultimate On-The-Go Tech Companions
London, UK – 21 April 2022 – Whether planning a relaxing trip or perhaps opting for a backpacking adventure tour, Samsung has everyone covered with a selection of travel-friendly devices that will level up holiday season.
Capturing travel memoirs with the Galaxy Z Flip3
The Galaxy Z Flip3 makes for the ultimate holiday camera. Forget packing a tripod thanks to Flex Mode – simply fold the device to the perfect angle and rest it on a surface, then capture hands-free summer selfies with ease. What's more, Dual Preview takes the camera experience to a whole new level, allowing travel pals to check they've mastered their pose before capturing.
Folding to fit even small-sized pockets, this is the go-to travel device for Instagram-worthy content.
Staying entertained on-the-go with Galaxy Tab S8 Ultra
The lightweight Galaxy Tab S8 Ultra is the perfect travel companion – thin enough to pack and light enough to carry, it boasts the biggest, boldest display and most powerful performance Galaxy Tab S has ever offered.
Its intelligent long-lasting battery[1] supports hours of video playback[2], so travellers can breeze through movie marathons on long haul flights or soak up their favourite series in the sun. What's more, travelling gaming enthusiasts will love the speedy processor, making for unbeatable performance and an immersive, lag-free gaming session every time.
And if other devices are low on charge, it can even power-boost on-the go. Simply connect the Galaxy Tab S8 Ultra to a Galaxy smartphone with a USB-C cable, and the tablet's incredible fast-charging battery can double as a portable charger[3].
Taking holiday audio to the next level with Galaxy Buds Pro
From catching up on a series mid-flight, to evening gaming sessions or cranking up the poolside playlist, audio is always better with Galaxy Buds Pro. Available in four slick colours — Phantom Black, Phantom Violet, Phantom White and Phantom Silver, these wireless earbuds are equipped with intelligent ANC – active noise control – which lets users seamlessly switch between noise cancelling and fully adjustable ambient sound.
Keeping track of wellness with the Galaxy Watch4
Packed with an array of wellness features to track daily activities and stay motivated, the Galaxy Watch4 makes for a great travel accessory.
Those on an action-packed adventure can make the most of the Galaxy Watch4's comprehensive suite of features. Whether it's hiking up a mountain or taking a stroll around the city, users can track their daily step count and pace, monitor their heart rate and blood pressure[4], measure blood oxygen[5] and for the first time, calculate body composition[6].
For more relaxing breaks, beachside yoga buffs can enjoy a moment of mindfulness with built-in meditation programmes accessible via Samsung Health. And with more guided workouts than ever before, users can partake in group challenges with family and friends throughout the holiday and beyond.
Keep tabs on lost luggage with SmartTag+
Samsung's Galaxy SmartTag+ makes keeping track of holiday luggage simple. The Bluetooth powered device can easily be attached to suitcases or backpacks, so when travellers are hustling and bustling in new locations or travelling through passport control, they can keep valuables close.
Because Galaxy SmartTag+ is both BLE and UWB-enabled[7], travellers can now use AR technology to visually guide them towards their missing item. And Galaxy SmartTag+ can also leverage SmartThings Find's powerful helper network, allowing users to locate tagged items on a map[8].
Availability
All devices are widely available in Samsung channels, Samsung KX and major UK retailers. For more information, please visit www.samsung.com.
About Samsung Electronics Co., Ltd.
Samsung inspires the world and shapes the future with transformative ideas and technologies. The company is redefining the worlds of TVs, smartphones, wearable devices, tablets, digital appliances, network systems, and memory, system LSI, foundry and LED solutions. For the latest news, please visit the Samsung Newsroom at news.samsung.com/uk/
San Jose, CA – April is National Rebuilding Month and local civil engineering firm Sandis is taking the opportunity to give back to San Jose resident Edward Garcia, a 100-year-old World War II veteran.
Sandis has partnered with Rebuilding Together Silicon Valley to sponsor improvements to Mr. Garcia's East San Jose home. The Sandis volunteer team will be painting the entire home, which Garcia purchased brand new in 1954.
WHAT: Sandis Civil Engineers Sponsor Rebuilding Day
WHERE: 3326 San Mardo Avenue, San Jose, CA 95127
WHEN: April 30, 2022, 8 am – 5 pm
WHO: Sandis, Rebuilding Together Silicon Valley, Edward Garcia
Stories abound with this 3-stripe Army Sergeant who was part of the second wave at the Invasion of Normandy. A longtime grocery store worker, Garcia received a presidential commendation from President Harry S. Truman for executing a top secret operation, while saving 300 soldiers' lives.
Rebuilding Together Executive Director Deanne Everton said, "On behalf of all of our clients, and especially Edward Garcia, all of us at Rebuilding Together Silicon Valley are extremely grateful to Sandis for not only financially supporting our vision of safe homes and communities for everyone, but for showing up to help make our vision a reality."
Sandis Vice President Laura Cabral said, "We are truly honored to be able to give back to our community. By advancing the work of local community organizations like Rebuilding Together, we are able to foster employee engagement, and also do our part to improve the lives of our neighbors. We encourage other companies to do the same."
Please join us at the Rebuilding Day on Saturday April 30, or call to arrange a time to meet with Mr. Garcia, representatives from Sandis and Rebuilding Together to learn more about this amazing story.
There is more work to be done and not just for Mr. Garcia's home, which is also in need of a new roof and driveway repairs. Unfortunately Rebuilding Together has limited resources to cover the community's needs. As a non-profit organization, Rebuilding Together relies upon donations, which they fully maximize by leveraging contributions, rallying volunteer labor, and securing discounted or donated materials. The need is great.
Siya Kolisi wants to give back to his beloved sport through Red Bull Roots, a multi-year partnership with the Kolisi Foundation by building the next generation of young rugby players with a clinic to help upskill and empower them.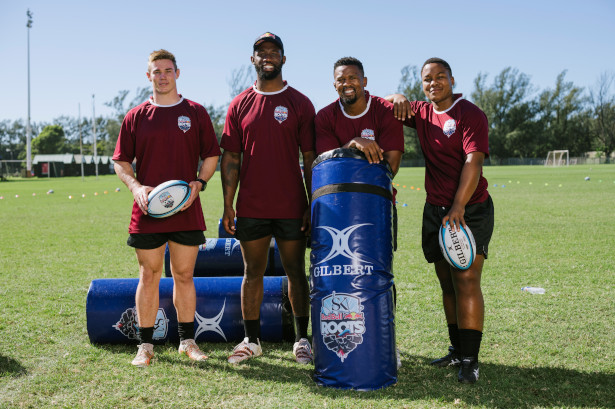 The first clinic held at the Kings Park stadium in Durban, saw some of rugby's young rising talents from around Kwa-Zulu Natal, both female and male, go through a day of motivation and inspiration from Kolisi and some of the country's finest rugby players. Babalwa Latsha, Sikhumbuzo Notshe and James Venter were there alongside Kolisi to impart key rugby skills, as well their wisdom and passion to the young rugby players.
"Red Bull Roots and the one-day clinic is all about going back to where it all started for me… grassroots rugby. It's important to me to be giving back and making sure that we're creating opportunities for young people."
"I strongly believe that representation is everything. I believe that in shared leadership we can accomplish anything," says Kolisi.
The Kolisi Foundation has the vision to construct a state-of-the-art sports complex in Kolisi's hometown, Zwide, in the Eastern Cape in the near future. "I hope this sports centre will bridge the gap in terms of unearthing and developing talent."
"I think the challenge is the resources and communities investing in grassroots sports and that's what we're doing with Red Bull Roots, " explains Kolisi.
Shaping minds at a young age is beneficial to creating the right mentality and fostering the right culture within the sport of rugby. "The more people have access to rugby, the more people play rugby, the bigger the pool of talent that you can work from. The sport isn't just about "making it", it also teaches you a lot of things, a lot of values like discipline and accountability," concludes Kolisi.
As in any other sport, female representation within rugby is equally important. The inclusion of young women at Red Bull Roots clinic highlights the importance of a level playing field and enables young girls to strive and reach the heights that Kolisi has achieved with the World Cup-winning team. It's also important for them to see themselves in women like Latsha.
Speaking on this, Latsha, said: "This project is all about us passing on core memories and skills; the belief that in the fact that we can have another Babalwa Latsha or Siya Kolisi in the near future. This type of project is very close to my heart because, I, like them, was a youngster who was from the township and found the sport of rugby. The sport has opened so many doors for me and gave me the opportunity of being the first-ever woman in Africa to play professional rugby overseas."
Investing in the youth of South Africa through the sport of rugby is one of the reasons Siya Kolisi established the Kolisi Foundation. He is committed to tackling the challenge of inequality in rugby, by providing the youth of South Africa with equal opportunities to thrive in their sporting abilities and positively change their lives.
TV gardener Alan Titchmarsh calls on people to create a Pit Stop for Pollinators this spring, providing butterflies and moths with the plants they need for survival.
Wildlife is in crisis – 76% of butterflies in the UK have declined since 1976 – which is why Butterfly Conservation has joined forces with TV gardener Alan Titchmarsh to encourage people to create pit stops for pollinators this spring, and help insects get from one area of habitat to the next.
Pit stops of all sizes are needed, which means everyone can get involved, no matter how large or small the space they have available is. Even a small plant pot on a doorstep or balcony could help provide butterflies and moths with an important foodplant or nectar.
Whether you live in a city or village, everyone can contribute to support our vital pollinating insects, and have butterflies and moths in your garden day and night.
Alan Titchmarsh, who is Vice-president of wildlife charity Butterfly Conservation, says: "By providing a pit stop for pollinators, you will be doing your bit for the insects that allow us to survive. Without them, we are gone. Plants aren't pollinated and crops don't grow. We need pollinators and we need to look after the planet for them.
"A really good pit stop for pollinators will have open flowers, which are needed for adult butterflies and moths to feed on, and also some plants on which butterflies and moths can lay their eggs, and for caterpillars to feed on. Something as simple as a bunch of nettles in a sunny corner is one good way to provide this."
Sarah Hancocks, Marketing Projects Manager of Vivara, official partner of the Pit Stops for Pollinators campaign, said: "Back gardens can provide essential pit stops for insects. Whatever space you have, make it inviting to wildlife whilst enjoying doing your bit to help nature thrive on your doorstep. We've developed a range of new wildlife borders designed to help you give a corner of your green space back to wildlife, and even have one specifically to encourage butterflies. It includes an array of butterfly-friendly plants including Black-Eyed Susan, Lavender Hidcote, White Coneflower, Garden Catmint, Verbena bonariensis and White Dwarf Buddleja."
What to plant for an insect-friendly garden:
Nasturtiums provide a foodplant for the caterpillars of both the Large and Small White butterfly.
Pot Marigold will provide nectar for adult butterflies
Buddleia is known as the 'butterfly bush' for a reason! The long purple or white flower heads are very attractive nectar sources for butterflies like Peacock and Small Tortoiseshell.
Verbena bonariensis is an excellent alternative if you don't have space for a large Buddleia. It sends up tough, thin stems topped with masses of purple flowers that are a magnet for insects. It also seeds itself, so you will see it popping up in new places around your garden year after year.
Lavender 'Hidcote' is regarded as one of the best lavenders for the British climate. Butterflies and moths with shorter tongues can access the nectar inside its small flowers. A good plant for pots in sunny places as it prefers dry conditions.
Ox-eye Daisy is the UK's largest-flowered native daisy with beautiful white petals and a yellow centre that is very inviting to butterflies. It will enthusiastically self-seed.
Viburnum davidii is a great shrub for a variety of situations in the garden. It can be grown in full sun or in partial shade. The white, shallow flowers come out in May and will be visited by smaller butterflies and moths, as well as short-tongued bees and hoverflies.
Field Scabious is a herbaceous perennial with blue-violet flowers that attract a large number of pollinators. Likes full sun but tolerates partial shade.
Honeysuckle is a plant that will twine through a tree but needs some support to grow up a fence. This native climber is an attractive and sweet-scented night-time source of nectar through the summer months for Privet and Elephant Hawk-moths. It is also a foodplant for Early Grey and Twenty-plume moth caterpillars.
For more of Alan's top tips for creating a pit stop for pollinators, you can download a free guide, at www.butterfly-conservation.org.
TITANIC NAMED THE UK'S FAVOURITE PERIOD DRAMA MOVIE
• JAMES CAMERON'S 1997 BLOCKBUSTER BEAT GLADIATOR AND THE KING'S SPEECH TO TOP SPOT
• DOWNTON ABBEY NAMED THE NUMBER ONE FILM BRITS WISH THEY COULD BE A PART OF
• THE HISTORICAL DRAMA ALSO CHOSEN FOR BEST PERIOD COSTUME AND BEST HOUSE ON THE BIG SCREEN
James Cameron's Titanic, starring Leonardo DiCaprio and Kate Winslet, has been named the UK's favourite period drama movie of all time, according to new national research published today1.
The 1997 blockbuster was chosen by a quarter of Brits (25%), ahead of Russell Crowe's Roman epic, Gladiator, and Oscar-winning British film, The King's Speech (both 18%), which rounded off the top three, according to the research by Showcase Cinemas.
The much-loved 2019 film adaptation of Downton Abbey was named the number one movie Brits wish they could be a part of (15%), taking top spot from Gladiator (11%) and Pride and Prejudice (10%).
Downton Abbey completed a clean sweep in three categories, after also being named the period drama film with the best costume design, and the movie with the best house – in honour of the Crawley family's magnificent stately home in Yorkshire.
Showcase Cinemas has released its research findings today, in celebration of the sequel, Downton Abbey: A New Era, which hits the big screen on Friday. The cinema chain has also honoured the release by creating its very own afternoon tea with a twist, complete with nachos, mini hot dogs, popcorn and pick and mix.
Elsewhere, the UK chose the Swinging Sixties (17%) as the film era they'd most like to live in, while classic movies like The Great Gatsby and Back to the Future helped the Roaring Twenties (16%) and the 1980s (14%) complete the top three.
When it came to TV shows turned into movies, sci-fi epic Star Trek took top spot with almost one fifth of selections (19%). Meanwhile, Tom Cruise's Mission: Impossible came a narrow second (18%), with Downton Abbey in third (17%).
1969 classic The Italian Job only just beat Harry Potter to be named the UK's favourite British film of all time, with both attracting more than one in five selections (21%).
However, the Wizarding World franchise handily took the spoils when it came to the nation's favourite Maggie Smith film, with almost a quarter of people choosing Harry Potter. Downton Abbey appears once again, close behind witth 19%.
There were significant generational divides when it came to the nation's favourite period dramas, with the majority of over 55s (50%) choosing The King's Speech, compared to just one in ten (10%) people aged 18-24.
Meanwhile, almost a quarter (23%) of the same age group chose 21 Jump Street as their number one TV show to be turned into a movie, compared to a fraction (1%) of those aged 55-64.
More than half of Brits (53%) aged over 55 chose Downton Abbey as their favourite TV show to be turned into a film, while just one in ten (10%) people aged 25-34 and 35-44 went for the same movie.
Mark Barlow, UK General Manager for Showcase Cinemas, said: "The big screen has provided us with so many incredible dramas over the years, but Titanic was an instant hit on its release 25 years ago, becoming the highest grossing film of all time surpassed by Avatar in 2009. For that reason, it's definitely a worthy winner of best period drama.
"Elsewhere, the magic of Downton Abbey has certainly translated to cinema, with the iconic period drama being named winner in three separate categories.
"Therefore, we expect the next instalment, Downton Abbey: A New Era, to prove just as popular – and we can't wait to see excited cinemagoers fill our screens when it releases on Friday."
Tickets for Downton Abbey: A New Era can be booked online now: https://www.showcasecinemas.co.uk/film-info/downton-abbey-a-new-era
Imagery of the cinema's limited edition Afternoon Tea can be downloaded here.
UK'S TOP 10 PERIOD DRAMA FILMS
1. TITANIC (25%)
2. GLADIATOR (18%)
3. THE KING'S SPEECH (18%)
4. DOWNTON ABBEY (16%)
5. BRAVEHEART (14%)
6. DUNKIRK (13%)
7. 12 YEARS A SLAVE (12%)
8. PRIDE AND PREJUDICE (11%)
9. BEN-HUR (11%)
10. 1917 (10%)
UK'S TOP 10 PERIOD DRAMA FILMS THEY WISH THEY COULD BE A PART OF
1. DOWNTON ABBEY (15%)
2. GLADIATOR (11%)
3. PRIDE AND PREJUDICE (10%)
4. BRAVEHEART (9%)
5. LITTLE WOMEN (8%)
6. MOULIN ROUGE! (8%)
7. THE KING'S SPEECH (7%)
8. BEN-HUR (7%)
9. SENSE AND SENSIBILITY (7%)
10. THE IMITATION GAME (6%)
The Ideas Fund £1.2 million grant extension – New funding opportunity for community groups in North West Northern Ireland
Today (Wednesday 27 April), The Ideas Fund has announced it will be opening its next round of grant funding to support up to seven new partnerships in North West Northern Ireland. The Fund will focus on ideas related to mental wellbeing, with £1.2 million funding to support community initiatives in four geographical areas of the UK: North West Northern Ireland, the Scottish Highlands and Islands, Oldham and Hull.
The Ideas Fund is a grants scheme, run by the British Science Association (BSA) and funded by the Wellcome Trust, that enables the UK public to develop and try out ideas that address problems related to mental wellbeing through collaborating with professional researchers.
For this latest round of funding, the BSA have changed the application process based on the feedback and learning they received from organisations who applied in 2021 (the pilot year). This revised application process should reduce the time applicants need to spend on their submission. By providing more in-depth support to shortlisted proposals, the BSA hope to help applicants with innovative ideas to realise their visions.
The expression of interest for submissions will open from Wednesday 27 April 2022 and the application deadline is midday on Wednesday 8 June 2022 for both community groups and researchers. The BSA are particularly interested in applications from those who are keen to work in partnership to develop the project collaboratively. To support applications a document has been created to provide more detailed information www.theideasfund.org
In 2021, The Ideas Fund awarded 49 grants, totalling £1.8m, to its first projects, connecting communities with researchers to work together on mental wellbeing projects. In North West Northern Ireland, the nine projects that received funding, which totalled £384,156, were:
o Dennett Valley She Shed
o Informing Choices NI: www.informingchoicesni.org
o Sole Purpose Productions: www.solepurpose.org
o The Junction: www.thejunction-ni.org
o The Yellow Wood Group
o Youth Action Northern Ireland: www.youthaction.org
o Parenting NI: www.parentingni.org
o Far and Wild: www.farandwild.org
o Engaging with Ageing
Webinars
A series of webinars will be held to give more information about the Fund and the submission process for organisations that are interested in applying for this next round of funding.
With the Queen's Platinum Jubilee around the corner, please see below some of the best 'garden party' recipes – perfect for celebrating the day with friends and family in the garden.
Swish Crackers
WHAT YOU NEED
• 150g tube of Primula Cheese – any flavour
• 20g bresaola (This also works well with parma or salted ham)
• 8g sea salt flatbread or any other fancy cracker
• Basil, finely chopped
• Chilli flakes
HOW YOU DO IT
• Spread a generous squeeze of Primula cheese onto each cracker.
• Top with bresaola, a sprinkle of chilli flakes and finely chopped basil.
• Kick back, relax, and enjoy!
Share a flatbread
WHAT YOU NEED
• 380g ready rolled flat bread dough
• 150g Primula Cheese
• 125g cherry tomatoes, quartered
• 40g rocket, watercress and spinach salad
• Jalapeños, diced (if you like it hot)
HOW YOU DO IT
• Cut approx. 10cm circles from the dough and place on a lined baking tray.
• Cook per packet instruction (flipping the flatbreads halfway through baking helps to get an even bake).
• Remove from the oven and allow to cool.
• Top with Primula Cheese
Dirty Fries
Description:
We've given our Dirty Fries recipe a healthy twist with yummy peppers, cherry tomatoes and avocado for a colourful and flavoursome feast! Add to that a sizeable squeeze of Primula Burger Cheese and you're onto a winner!
Ingredients:
500g frozen Spicy Potato Wedges
2 peppers, deseeded and each cut into 8 pieces
400g cherry tomatoes on the vine
1 avocado, peeled and cut into wedges
140g Primula Burger Cheese
Sprigs of dill to serve, if liked
Method:
1. Preheat oven to 220C, 200C fan, Gas 7.
2. Arrange the potato wedges on a large baking tray with the peppers and cherry tomatoes and cook in a preheated oven for about 20 minutes until the potato wedges are golden and crispy.
3. Add the avocado to the vegetables on the tray. Squeeze over a generous amount of Primula Burger Cheese and serve straight away, sprinkled with a few sprigs of dill if liked.
Serves: 4
Hot & Spicy Chicken Bites with Sriracha and Pickled Vegetables
Description:
Feeling peckish? Our Hot and Spicy Chicken Bites are sure to be a crowd-pleaser. Enjoy them as a tasty snack or serve with rice for a flavoursome dinner.
Ingredients:
For the pickled vegetables:
1 carrot, peeled and cut into fine matchsticks
½ cucumber, cut into fine matchsticks
4 radishes, cut into fine matchsticks
2 teaspoons salt
1 teaspoon sugar
125ml white wine vinegar
350g hot & spicy breaded chicken breast pieces
140g Primula Hot Cheese 'n' Sriracha
Method:
1. Put the carrot, cucumber and radish matchsticks into a bowl and sprinkle over the sugar and salt. Massage the vegetables gently for a few minutes then squeeze out the excess moisture.
2. Pack into a clean jam jar and pour in sufficient vinegar to half fill the jar. Top up with water so that the vegetables are covered, seal with the lid and shake to mix together. Leave to stand for at least 20 minutes.
3. Empty the hot and spicy chicken pieces onto a baking tray and cook according to pack instructions.
4. Divide the chicken pieces between 4 bowls. Top each with a generous squeeze of Primula Hot Cheese 'n' Sriracha and pickled vegetables and enjoy!
Serves: 4
ecoegg, the laundry must-have that helps save money in an eco-friendly way
The reusable Laundry Egg costing just 10p a wash
With energy prices rising and difficult decisions being made on where to cut costs, the ecoegg Laundry Egg means your washing isn't an area you need to worry about. The eco-friendly, refillable ecoegg Laundry Egg completely replaces washing detergent and conditioner, reducing single use plastic in the home but also helping save the pennies. At just £9.99 for an ecoegg Laundry Egg, and £4.99 for refills, it works out at just 10p per wash when you refill and reuse.
The innovative, egg shaped, eco-friendly ecoegg Laundry Egg is filled with mineral pellets that clean with a gentle formula for a more environmentally friendly wash. Rated 'excellent' for sensitive skin by Dermatest, the intendent dermatology institute, the ecoegg Laundry Egg comes with a 10 year guarantee and doesn't contain any of the following "nasties": enzymes, chlorine bleaches, phosphates, parabens, SLS/SLES or palm oil.
"With household bills soaring, many households are making the touch decision about where to cut costs. When it comes to those piles of laundry, the ecoegg Laundry Egg is an affordable solution that also helps to reduce plastic. With the ecoegg Laundry Egg costing just 14p per wash and then 10p per wash when refilled and reused, users can rest assured their washing isn't an area they need to worry about." says Lisa Whalley-Smth, Head of Brand and Marketing, Ecoegg UK.
The white and black mineral pellets in the egg case work together in the water to effectively draw dirt from your clothing fibers and soften your clothes leaving your laundry clean and fresh without using chemical laden detergents. If you switch from liquid detergent and fabric conditioner to a Laundry Egg, as well as saving money, you are also doing your bit for the environment as you can save up to 40* bottles of plastic each year. (*Based on 7 washes a week and 18 wash bottles.)
The ecoegg Laundry Egg comes in three colours, pink, with a spring blossom scent, blue scented with fresh linen and yellow which is fragrance free and has been awarded the Allergy Friendly product award by Allergy UK.
Ecoegg has a range of eco-friendly products that can be used in the home so if your Easter is about cleaning up after the kids during school holidays or simply embarking on your spring clean, the ecoegg Bamboo Towels are the reusable replacement for kitchen roll. With 20 washable sheets giving approximately 1700 uses, you're not only saving money but helping the environment. Made from 90% bamboo fibers, they can be used to wipe away spills and dry or dust surfaces, washed and then reused and cost £7.99.
To find out more or purchase your own ecoegg Laundry Egg or Bamboo Towels, head to ecoegg.com