THE DEFENDER opecialist application for acne suferers who want to sunbathe! From the multi-million dollar turnover skin specialists BANISH ACNE. PROVIDING NEW BREAKTHROUGH TREATMENTS

www.banish.com

for adults and kids, & even babies! Protect yourself during exposure! Founded by lean leader Daisy Jing, YouTube vlogger who founded a now multi-million beauty product line named Banish As a mompreneur CEO.
This product is perfect to use by everyone (adults and kids, even babies), THE DEFENDER SPF 50 MINERAL SUNSCREEN > https://banish.com/products/the-defender-spf-50-mineral-sunscreen
SPF 50 facial sunscreen with skin blurring effect. Non greasy & gentle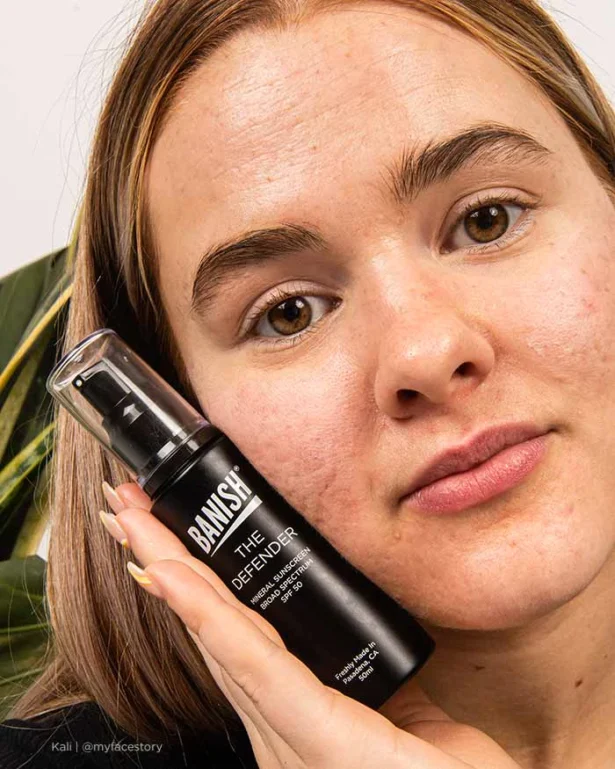 A light and non greasy broad spectrum mineral sunscreen that's great for everyday use.. Has a skin-like finish and doesn't feel like anything is on your skin. Ideal for acne prone skin and made with organic ingredients to help your skin heal and fight off sun damage! Protect your skin with SPF 50 all day long so you can get the most out of your skincare.
Contains both non nano zinc oxide and titanium dioxide to reflect UV rays away from your skin.Fragrance Free – Benzone Free – Paraben Free
Why Sunscreen Is Important Each Day: UV damage accumulates with each exposure leading to more dark spots, fine lines, and loss of collagen in the skin. Prevent the damage with this gentle Sunscreen!
Size: 50ml
Key Ingredients Include:
Cucumber Fruit Extract
Hydrates and softens skin, diminishes pores, and has anti-inflammatory properties, perfect for those with acne prone skin.
Passion Flower
Contains several antioxidant compounds and lycopene, an antioxidant common to tomatoes.
Palmitoyl Peptides
Supports the synthesis of collagen and reduces the look of fine lines and wrinkles.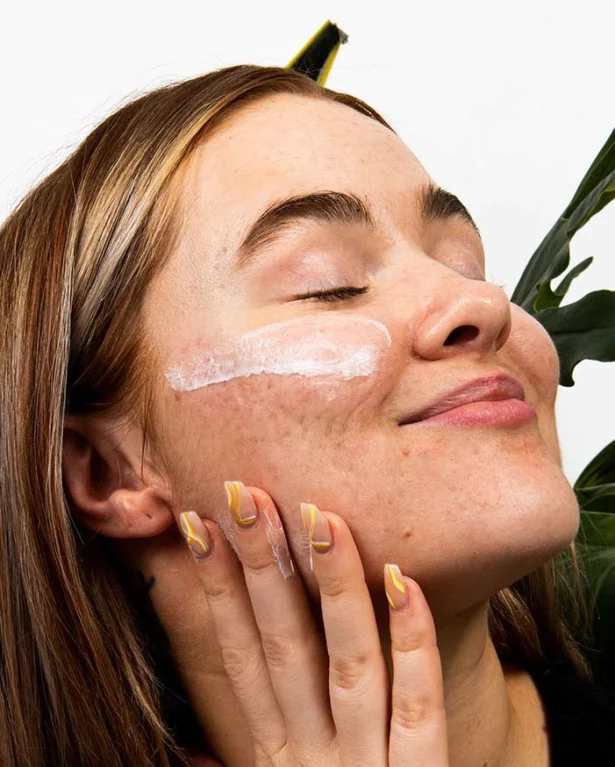 Avocado Seed Oil
Helps moisturize and protects skin from UV rays and increases collagen metabolism. It also minimizes inflammation, perfect for those with acne prone skin.
Jojoba Seed Oil
Moisturizes dry skin and has antibacterial properties, perfect for eczema, acne and psoriasis.
HOW TO
Apply the sunscreen on your face and neck before sun exposure. Reapply every 2 hours or after swimming. Store at room temperature or lower and keep out of the sun.
Active Ingredients: Titanium Dioxide 7%, Zinc Oxide 7%, Mica 3%
"I am lean leader Daisy Jing, an OG YouTube vlogger who founded a now multi-million beauty product line named Banish https://banish.com/
As a mompreneur and CEO, I am proud to bootstrap my business that ranked #152nd fastest growing company in INC500 and to be included in Forbes 30 under 30. I am also a speaker who loves to share my knowledge and experience in business and marketing, which led me to have a TEDTalk
recently.
Growing up "ugly,"
I learned that a lot of the skincare products I use have harmful ingredients, such as fragrances or fillers, that break out my skin.. Out of frustration, I created my own skincare products in my kitchen, documented the whole process and progress on my YouTube channel, which now garners over 70M views. (https://www.youtube.com/channel/UCLfpBAyfXl_2VTMigDlGonA)
Thankfully, my own products worked on me and my acne community of over 500,000 followers saw my huge development. They eventually encouraged me to launch my own skincare line. Fast forward to today, I and my diverse team focus on inspiring others and sharing a positive vibe all over the world. Together with the Banish Warriors https://www.instagram.com/banishwarriors/ and Soldiers, we join you in your skin journey.