Ballymena U10 Rugby squad create Irish rugby history in European Festival.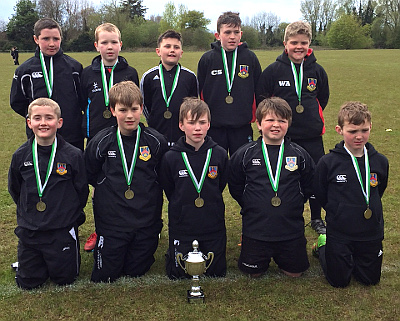 Ballymena U10 mini rugby team has created history by being the only Ulster and Irish squad who has won outright the U10 tournament at London Irish. This festival is recognized in Europe as being one of the toughest competitions for youth rugby.  What is more remarkable is that the squad won both the A & B Cups with only a squad of 19 Players covering both competitions, meaning every player fully participated in a comprehensive schedule of games. Coming after their success in Dublin, Clontarf, a few weeks back this recognizes the teams skill, dedication and passion for the game.
London Irish has been recognized by many in the rugby community as the largest and most challenging with a chance to win a cup at each year group. With over 3500 players attending from 7 European nations, it sets the standard which all aspire to. Ballymena was the only Ulster squad to attend the U10 this year.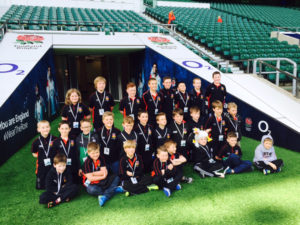 Travelling from Belfast to London on Saturday morning, the squad enjoyed a Tour at Twickingham Stadium and the rugby museum. After being given a send off at Eaton Park on Friday evening and an inspirational talk by Willie John McBride they were delighted to see the Braidman in the Rugby Hall of Fame at the museum, giving all a sense of pride. The squad then set up base in the Lensbury Hotel, which was the 2015 base for the World Cup winners New Zealand. All of them enjoyed an afternoon of training on pitches overlooking the Thames river.
Although all the Players were nervous on Sunday morning, they settled into the rhythm with a convincing win over Blackrock, Dublin, proceeding to play an unbeaten run against Frankfurt, London Irish A & B, Guilfordians A & B, Old Albanians, Oxford Harlequins, Chipstead, Farnham Battersea Ironside. They proceeded into the final against last years winners Ealing A & B in both competitions.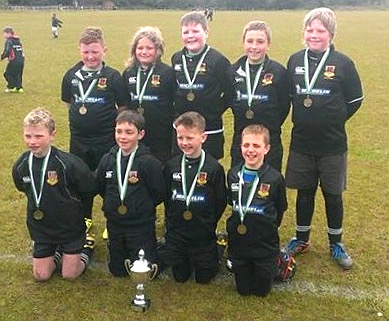 At the prize giving Eric Griffith, London Irish Festival Chair, spoke about the Ballymena side and reflected on their strong performances, even putting out the hosts. The Players secured many admirers from many of their opposition throughout the days, even some ex French and English Internationals coaching the other teams. Eric confirmed that no Irish side has even won the cup in both the A and B U10 competitions, which provides this squad with an historic sense of achievement.
All the boys received a cup winners medal and memories that will last a lifetime. Their Brothers also enjoyed participation in the U8 tag event on the day, also achieving strong performances.
The Players are now looking forward to the Ballymena Festival on Saturday, which will see nearly 1500 players attend.
The 19 player squad included,
Conan Scullion, Reece Williamson, Daniel Vercoe Rodgers, Corey McKillop, Sean McKay, Oliver Stinson, Henry Casson, Tom Coulter, Ben Robinson, Daragh Bradley, Stephen McCampbell, Hayden Smith, Jude Osbourne, Deon Fleming
Callum Irvine, Josh Dobbin, Callum Mustoe, Alexander Carson and Will Alexander.