Autumn / Fall & Thanks Giving & Christmas Essentials! – LAC Birds Greeting Cards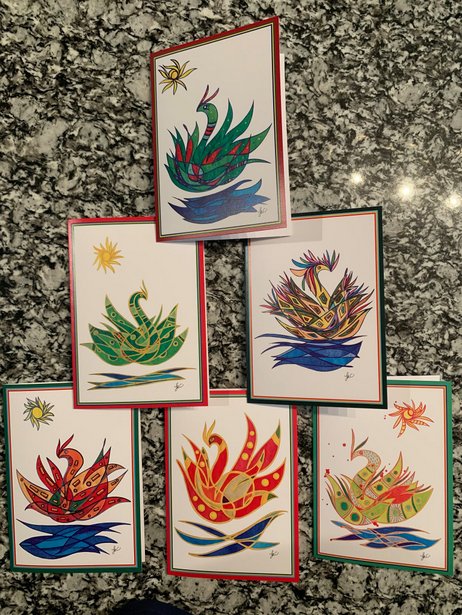 How wonderful getting a handwritten card in the mail makes someone feel. With people staying inside and preparing for the holidays, writing out greeting cards to send to people is a great activity to start the holiday season off with loving kindness. These cards are also a great gift for someone who sends handwritten cards to people and likes to keep different cards on hand for various occasions.
Product Name: LAC Birds Fine Art Greeting Cards
Description: Stylistic Abstract Swan and Pink Flamingo fine art blank and holiday fold over greeting cards are created with the artwork of Laura Ann Cohn (LAC). They are printed on Cougar White 80# Cover Paper with matching envelopes and descriptive stories of the birds on the back of the cards written by the artist. Each card has a colored border making it a ready to frame printed piece of art. Made with love in Texas, USA
Website: www.etsy.com/shop/LACBirds
Price:
Holiday Swans: 6 packs – $22..50 | 12 packs – $42.00
Pink Flamingos: 4 packs – $16 | 8 packs – $30 | 12 packs – $42.00
Swans: 6 packs – $22.50 | 12 packs – $42.00
Free shipping when you buy a 12 pack.
Use Code: LAC10 to Get 10% Off Purchases of $20 or More.
10% of all proceeds donated to charity..
The original drawings in the store are being sold to raise money for an animated film project LAC Birds are looking to produce next year with the birds.
etsy.com/shop/LACBirds
facebook.com/lacbirds
instagram.com/lacbirds