"No Slade = no Oasis. It's as simple as that."
Noel Gallagher
SO HERE IT IS
How the boy from Wolverhampton rocked the world with Slade
The Autobiography by Dave Hill
18th October 2018 | PB £8.99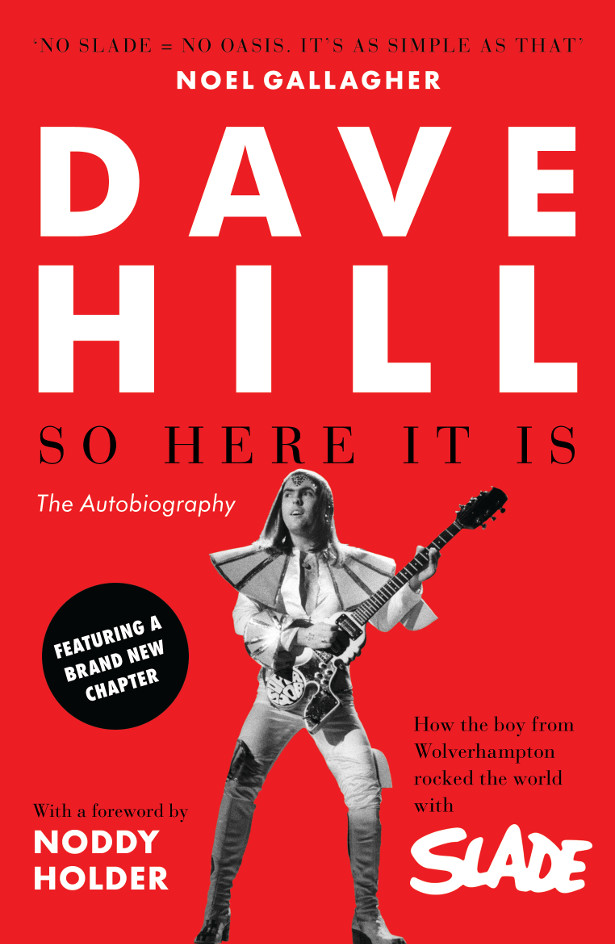 • Featuring a foreword from Noddy Holder and an afterword by Noel Gallagher
• Slade own Christmas with their classic anthem, 'Merry Xmas Everybody', which has sold over a million copies and charted every year since 1973
• Packed with never-before-seen photos from Dave's personal collection, plus a brand new chapter
With six consecutive number one singles and the smash hit 'Merry Xmas Everybody', Slade were unstoppable. Now, the man whose outlandish costumes and unmistakable hairstyle made Slade one of the definitive acts of the Glam Rock era tells his story.
But there's more to Dave's life than rock 'n' roll and good times. So Here It Is also covers the band's painful break-up, Dave's subsequent battle with depression, and his recovery from the stroke that threatened to cut short his performing career.
If you've ever wondered what it feels like to be a working-class lad from the Midlands suddenly confronted by unimaginable fame, So Here It Is is the definitive account, told with heart and humour and filled with never-before-seen photos.
About Dave Hill
Dave Hill was born in a castle in Devon and moved with his parents to Wolverhampton when he was a year old. As a teenager he taught himself to play guitar and in 1966 formed the band Slade.
After the break-up of the original band, Dave eventually reformed Slade, and twenty-five years later they are still regularly touring the world, playing to hundreds of thousands of fans. Dave married his wife Jan in 1973, and they have three children and six grandchildren. They still live in Wolverhampton.
Dave tours extensively with Slade but will be available for interviews and events around publication.