Aircharge Wireless Keyring Dual Adapter. www.air-charge.com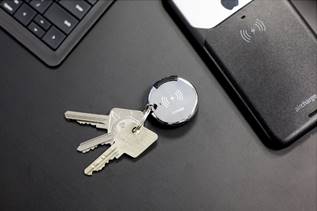 FACEBOOK | TWITTER | PINTEREST | YOUTUBE | INSTAGRAM | FLICKR
From Aircharge, the global leader in wireless charging solutions.
Wireless Keyring Dual Adapter. This product turns any smartphone without inbuilt wireless charging capabilities into a wireless charging receiver.
The Keyring Dual Adapter ‐ crafted with premium materials and featuring both an integrated Micro USB and MFi Lightning Connector ‐ adds wireless charging capability to any older phone model without Qi built in or other accessories like wireless headphones. Attach the smart Keyring Dual Adapter to your keys for a quick boost wherever you go. The Keyring Dual Adapter is available for £29.99.