"A wonderful tasting experience"… as a newbie I had always heard of Scottish Whisky and the unique amazing tastes… now i understand… they are amazing… what a great idea and gift idea from the Whisky Tasting Company" whiskytastingcompany.com
It has been such an incredible pleasure to taste these whisky's from the Whisky Tasting Company… and i would thoroughly recommend any of their sets as a wonderful gift that will open a new world of taste to the new whisky drinker and delight the established officiando…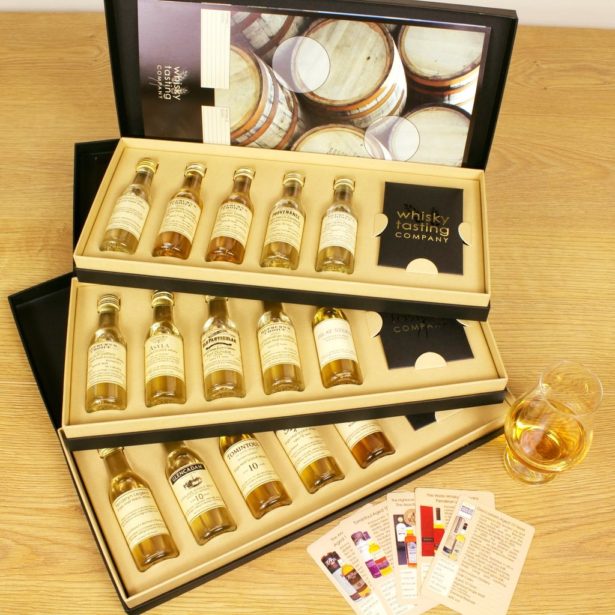 It is very very interesting to have the different whiskys together beside each other and to approach the experience as a tasting.
And even bring out your favourite bottles from the cupboard and have a more diverse range to taste from…
Uniquely I could not help realising… you know… how else would someone taste these whisky's unless the Whisky Tasting Company provided these affordable 5cl bottles decanted from the original full size bottle!
Full bottles from the samples we tasted were ranging from £30 to £90 for a bottle to £150+ for a bottle. to have bought all 5 bottles would have cost us well over £300 at least.
The packaging is perfectly done. There are many ways to present an experience like this and we were very impressed by a very nicely plainly but professionally and tastefully done presentation box. Included is tasting notes for each whisky. There is also a large note sheet which is done again in a very tasteful way on a higher grade of paper that no one would expect. This page includes a beautiful picture of the Scottish Isles close up which we thought possibly may have shown the location of a distillery. Certainly in its own way the picture showing islands and the other side showing whisky casks did add to the experience.
The Whisky's themselves were all amazing and all of them tasted better than the bottles at home that we though were good. The oily peat tastes were amazing! Tasting whisky like this you get a brilliant idea of the different tastes and can taste the rich peaty flavours of some compared to the more fruity and punchy flavours of others. The after taste of oil was really somethying else!
As a gift this is magnificent. Wonderfully presented and has a charm to it and once you open the box its delightful. Starting the tasting thereis immediately something to talk about if you taste with another persopn. My fellow taster had actually been on the Scottish Whisky Trail and thoroughly enjoyed the opportunity to taste these!
A fantastic epxerience please do visit them to find out more. They also have annual monthly subscriptions, a three month subscription and single month purchase option available! With ranges great for Birthdays, Father's Day, and all perfect as Christmas presents!