A SPAMTASTIC™ SPOOKY TIME THIS HALLOWEEN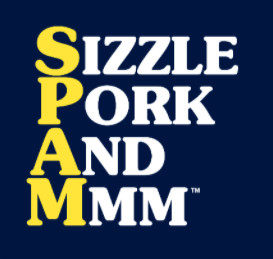 Get planning the spookiest family party in your street, with some fun ideas from iconic meat SPAM® Chopped Pork and Ham. It's time to get the can out of the cupboard and the fritters out of the freezer!
Open a can and get slicing and sizzling with tasty SPAM® Chopped Pork and Ham, made from a minimum of 90% shoulder pork and leg ham. In no time at all you'll make quick and easy-to-make spooky SPAM® Snacks that will ensure you have a frightfully fun night.
SPAM® Spooks – (serves 8)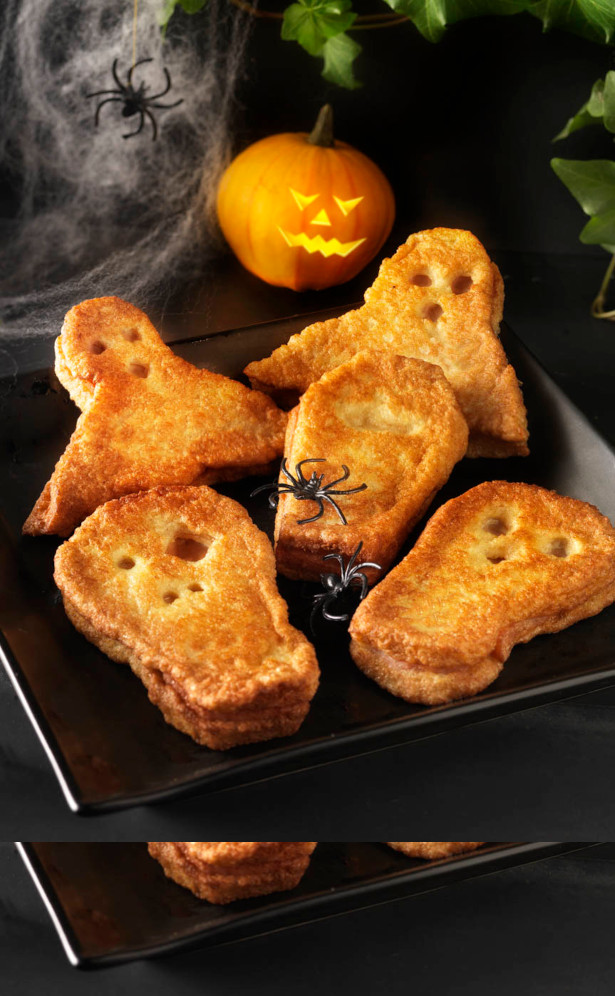 Ingredients
200g can or tub of SPAM® Chopped Pork and Ham (cut into 8/10 slices)
2 gloves of garlic minced
16 slices medium cut white or 50/50 bread from a large sliced loaf
2 extra large organic eggs, well beaten
Vegetable oil for frying
Cardboard for templates
Method
With the cardboard cut out templates of ghosts, skulls and coffins
Place a template on to a slice of bread and with kitchen scissors, cut around the template making two for each SPAM® Spook
Cut the slices of SPAM® Chopped Pork and Ham to fit into the middle of each shape and press well together
Pour the oil and minced garlic into a large frying pan to approximately 2/3 cm deep and heat until a cube of bread quickly fries to golden
Dip each SPAM® Spook into the beaten egg, coating each side and carefully place into the hot oil
Fry for approximately 1 minute until golden, carefully turn over and repeat. Carefully take out of the hot oil and drain on absorbent paper. Repeat with the other SPAM® Spooks
Serve on a warm serving plate
Or….
Using the new frozen SPAM® Fritters from Iceland or Food Warehouse (pack of four), we give you…..
The Franken-Fritter!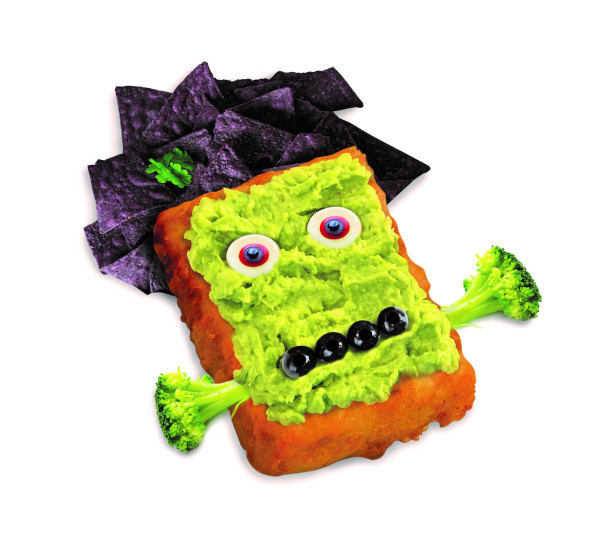 Freak up your SPAM® Fritters by spreading avocado or mash for face; broccoli for neck bolts; olives for mouth; chickpeas for eyes and red cabbage for hair. This makes a fun yet nutritious Halloween meal, that will make all the family scream with delight not terror!
200g can and tub, plus a 340g can, is available from all major UK supermarkets. A four pack of frozen SPAM® Fritters is now available from Iceland or Food Warehouse, priced around £2.
Follow SPAM® Chopped Pork and Ham on Facebook, Twitter or Instagram @OfficialSPAMUK and see further recipes at www.spam-uk.com