A Mum-Friendly Christmas
Christmas is a time for gift-giving and a little overindulgence. Caught up in the whirlwind of buying presents for everyone including the dog, it comes as no surprise that the UK is a nation of frivolous gifters. In fact, the UK produces over 688,000 tonnes of Christmas waste every year.
A large percentage of holiday waste making its way to landfill are the 23 million unwanted gifts received each year and many of these gifts are bought for young children and babies. The UK spends a lot of money on children's gifts that will eventually fall to the bottom of the toy box, lay forgotten under the bed or end up in landfill where they damage the planet.
Becoming a parent is life changing and many parents become more aware of the world in which they live and that the choices they make have a far greater impact on their baby's future than their own. The first Christmas with baby is extra special and a great time to re-evaluate present buying habits and become a more intentional gifter.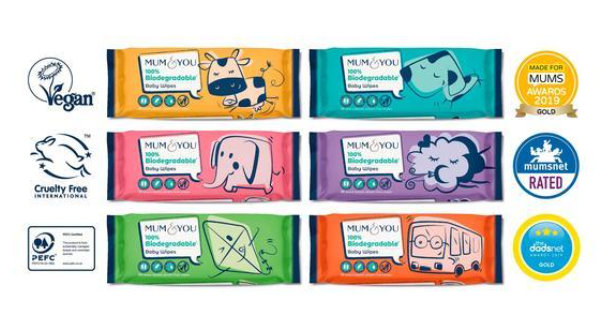 While it is very tempting to splash out on all things cute and fluffy for the new little one, the person appreciating the gifts is actually Mum. The best gifts a mum can receive are the ones that are practical and make her life a little easier like a few extra baby grows, nappies and biodegradable baby wipes.
"When I had my baby, the gifts that meant the most were the practical ones," says Rachel Porter, mum of 3 and Lead Digital Marketing Manager for Mum & You. "Cute baby clothes and toys are lovely but in all likelihood they end up on the ever-growing pile of baby "stuff." I soon felt overrun by gifts and trinkets for my baby so receiving a gift I could use and help me save some money was especially appreciated."
Here are five stocking filler ideas that are kinder to the planet and also make a real difference to mums:
 Organic cotton cloths and muslins – a mum can never have too many
 Biodegradable wet wipes – Mum will get through around 36,000 baby wipes over 4 years and many of these are not biodegradable, taking up to 100 years to break down
 Handknitted baby mittens or booties
Nappies – not glamourous but always gratefully received!
A 1st Christmas handmade tree decoration – something to treasure forever
"The first Christmas with a new baby is an exciting and special time," says Rajiv Chandra, Mum & You CEO. "It is also the time when a baby is showered with gifts of clothes and toys, many of which are duplicated or quickly outgrown. Speaking to our forum of mums, the vast majority appreciate gifts that are useful and don't add to the overwhelming baby "clutter" or have a negative impact on the environment."
Mum & You 100% Biodegradable Eco-Friendly Baby Wipes have been developed to look after baby's delicate skin and the world they live in. They are made from sustainably sourced, naturally derived viscose from the most abundant and renewable wood fibre on Earth. Gentle and kind on baby's skin, they contain 99.4% water and every ingredient is hypoallergenic and suitable for sensitive skin. They are 100% plastic-free too.
Mum & You eco-friendly baby wipes – wipes that don't wipe out the planet!
Now available nationwide in Tesco.