"two awesome new flavours of MAXIMUSCLE Protein Bar have been released and at the Intouch Offices we got the chance to try them and since we are using Maximuscle as part of our performance and recovery diety the protein is welcome! They are delicious! So if you are looking for a healthy snack and to supplement protein then these bars are perfect!" Best wishes InTouch Rugby Fitness, and Personal Stats Editor!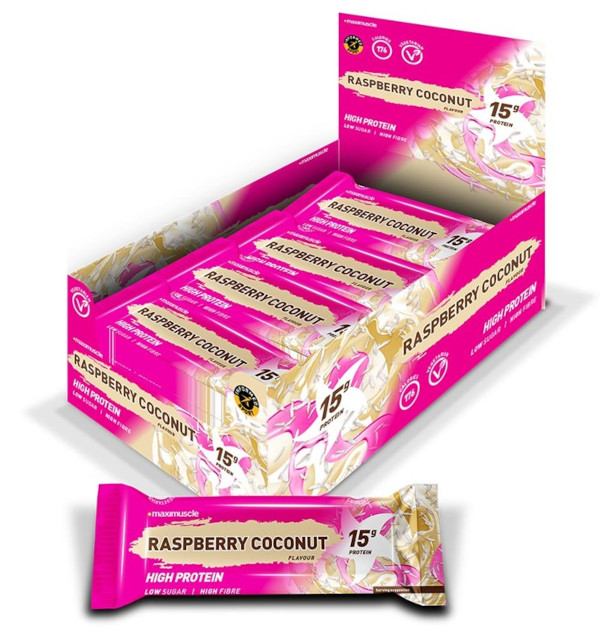 Prices start from £21.00 for 12 45g bars
Looking for a tasty treat that won't let you down? Well, look no further! With a texture which is softer than ever and tasty toppings in 7 eye-catching delicious flavours, we wouldn't question you if you have to look twice at the nutritional information. Unbelievable taste that is nutritionally sound.
Maximuscle protein bars offer 15g of protein in every bar to support your diet, from a conscientious healthy eater to the elite athlete. Every 45g bar is high protein, high fibre and low sugar. Just what you need to satisfy your cravings but keep you on track.
Every box is 12 Maximuscle Protein Bars and comes in 7 delicious flavours: Cookies and Cream, New York Cheesecake, Salted Caramel, Dark Chocolate Orange, Raspberry Coconut, Caramel Millionaires and Cinnamon Swirl. Less than 175 calories per bar makes these a great snack alternative to top up your daily protein. Unlike other protein bars out there these are made without collagen, making them suitable for vegetarians.
Maximuscle Protein bars are free from artificial colours and collagen free. An excellent snack for on the go and is suitable for vegetarians. Plus, the Maximuscle 100% guarantee is our assurance that we use only natural colours and flavours to give you a delicious protein bar that doesn't compromise on taste.
The entire Maximuscle range is screened for banned substances and accredited on the Informed-Sport programme. Perfect support for a new protein consumer or a seasoned sports professional.
You could eat a bar at any point throughout the day. The perfect (healthier) snack alternative that provides 15g of protein. Perhaps throw one in your gym bag or in the glove box, ready for when you need it. Consume up to 2 bars a day.