16 PERSONALITY TYPES YOU NEED TO KNOW PROFILED IN:
SMALL MISTAKES, BIG CONSEQUENCES
DEVELOP YOUR SOFT SKILLS
TO HELP YOU SUCCEED
Amazon: https://amzn.to/353Zlni (UK)
Amazon: https://amzn.to/34zvRNS (US)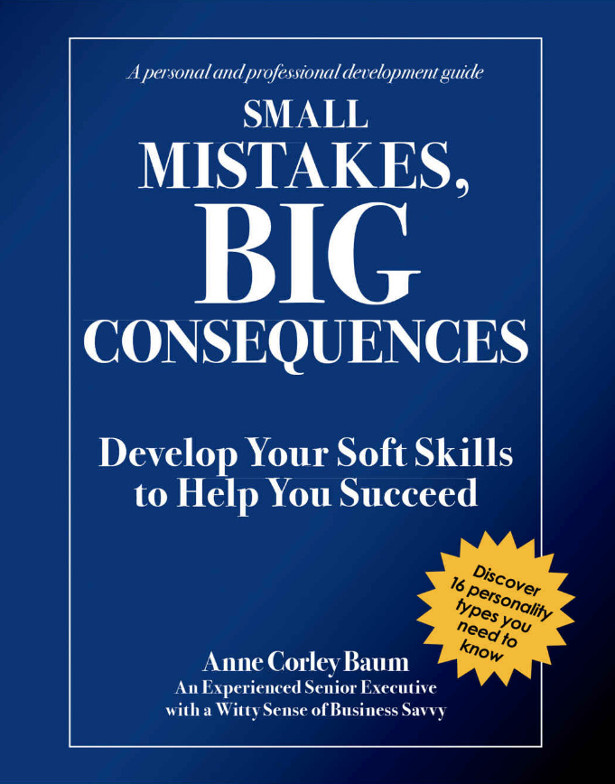 Lehigh Valley, PA (November, 9 2019)
Small Mistakes, Big Consequences Develop Your Soft Skills to Help You Succeed (Momosa Publishing LLC, ISBN 978-1-7323016-2-7, e-book ISBN 978-1-7323016-2-7, March 1, 2019, $10.00) is the first book in the Small Mistakes, Big Consequences series.
Written by Anne Corley Baum a well- known Lehigh Valley executive & vice president distribution channels & labor relations for Capital BlueCross, the book is a lighthearted look at the top 16 business mistakes that people make without realizing the potential consequences.
Baum says "her goal is to share lessons that she has learned throughout her career with others so they can learn about those subtle mistakes that can determine their future- the things others won't tell you, but definitely notice." She wrote the book to share common small mistakes that people make that prevent them from being successful and to emphasize the fact that our body language and most importantly behavior can have a major impact on how we are perceived by others.
She has spent years serving in leadership roles and teaching leadership to high potential employees on their way to the C Suite. She is a certified protocol and etiquette consultant and has run programs on perfecting your professional image, leadership and executive coaching, how to succeed in the international arena, and dining at the corporate table. She has also led programs for young adults including interviewing and job skills and etiquette and dining programs for children and teens.
Baum states "the book profiles the personality types you inevitably will encounter on your path to success and offers practical solutions to responding to them. Additionally, she sees the book as an indispensable guide to those just starting out in the business world and for those already in the workforce. It's an accessible, warm and friendly way to identify the common character mistakes that can make or break relationships.
Readers will discover how to:
· Be perceived as sincere and trustworthy
· Empower your team for greater success
· Help team members take accountability for their actions
· Encourage others to listen to your perspective
· Present your best, most professional self.
Facts, data and technical knowledge are only one set of factors that lead to success. Equally crucial is your behavior and how it is perceived by others. "It take time, patience and practice to get it right, but once you have mastered it, your career path is wide open" says Baum.
About the Author:
Anne Corley Baum is the Lehigh Valley executive & vice president, distribution channels and labor relations for Capital BlueCross. Prior to joining Capital BlueCross, she taught leadership to high potentials on their way to the C suite through the executive coaching programs and seminars of her company Vision Accomplished. She has received numerous awards for her leadership, including the Athena International Award and Pennsylvania Best 50 Women in Business. Anne was certified by the Protocol School of Washington as a protocol and etiquette consultant, and holds a BA in Biology from the University of Illinois and a master's degree in Health Systems Management from Rush University, Chicago IL. Anne resides in Bethlehem, PA with her husband and two children.
About the Small Mistakes, Big Consequences Series:
Small Mistakes, Big Consequences book series is filled with simple, actionable business tips to help you succeed. It's your guide to navigating the speed bumps on the road to the corner office.