www.coolclutch.net
A very popular range of ladies handbags that all have an element of cooler bag in them. So for ladies wanting to carry protein shakes, diet meals, water or their lunch they can do that with one handbag, and with total style!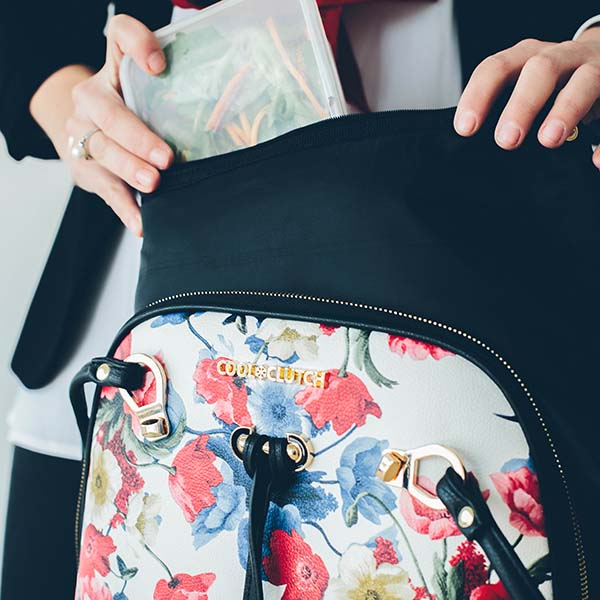 Sunkissed the Collective.

Sunkissed the Collective curate a gorgeous collection of designer womens fashion. Their specialty is designer dresses and swimwear perfect for weekend getaways or chic dinner dates. Their style is feminine with bohemian flourishes.
You can check out their curated edit at www.sunkissedthecollective.com.

Cookies by Design's new Valentine's Day gift basket featuring handmade, hand-decorated cookie hearts and a huggable Valentine's Bear from Build-A-Bear workshop!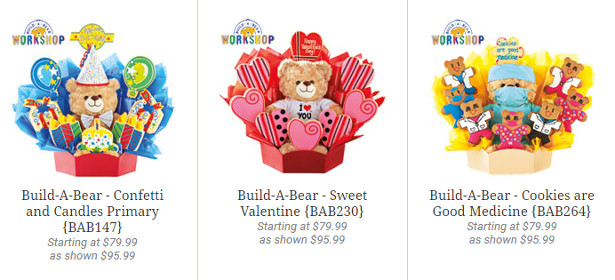 The made-to-order cookie bouquets are completely customizable for personal love notes and photos printed right on the cookies. For those on a time crunch, ready-made baskets can be hand delivered the same day for last-minute gift givers who want to treat their someone special to a delicious gift.
www.cookiesbydesign.com
Kizoa
www.kizoa.com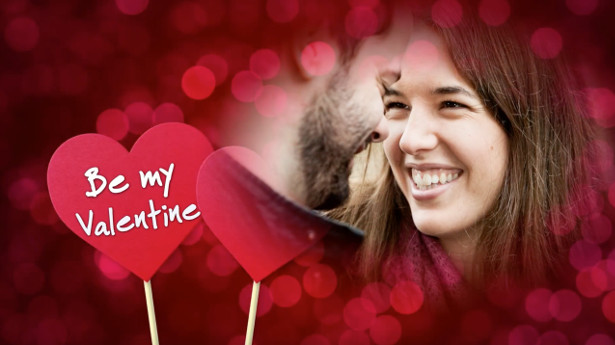 Kizoa, a free revolutionary, online movie maker application. With Valentine's Day right around the corner, this is the perfect way to express your love for that special person.
Kizoa is one the world's top leading, online movie editing platforms where unforgettable moments, such as the ones you'll be sharing with your loved ones, are morphed into beautiful, story-esque multimedia creations. This is a unique way to capture memories that will be sure to last a lifetime.
GO DIGITAL IN 2017 WITH GREAT DEALS FROM LAPTOPSDIRECT.CO.UK
Get 2017 off to a great start and make huge savings on top tech from LaptopsDirect.co.uk. Pay less and save on a range of brand new and refurbished laptops, desktops, Macbooks and gaming products for all the family.
The full range of products can be found with all their details on the website, LaptopsDirect.co.uk.
Fast and Efficient
For those who take their work with them wherever they go, and need to get the job done without stress, the speedy HP 250 G5 laptop (NOW £429.97, WAS £499.97, SAVING £70.00) is the perfect solution.
Designed with business in mind, this laptop makes those tough tasks much easier. With fast loading times and the top specifications, anything is possible.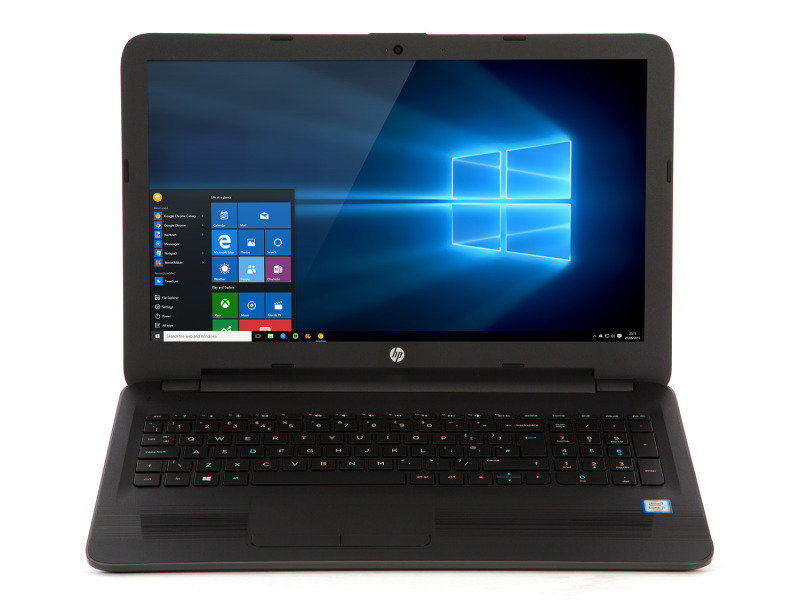 Is your partner a lover of games? Or perhaps you're looking to give your other half hugs and kisses of a different kind this Valentines Day? Then, SmartGames IQ XOXO is the perfect gift!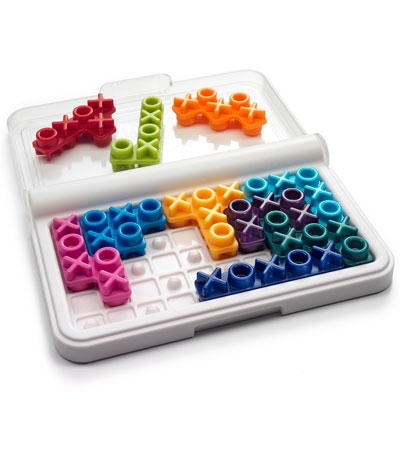 The IQ XOXO is literally that, hugs and kisses for your brain. Using logical thinking, the player has to fill the grid with 10 colourful double-sided pieces, leaving X's and O's in a sequence. This one-of-a-kind new IQ game also includes 120 multi-level challenges, a sure fire way to keep you enthralled all day. A perfect travel companion, this compact set retails at only £8.99.
Matcha Dark Chocolate Chip Cookies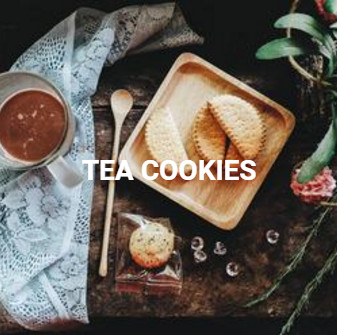 1. Great Matcha Taste – We have tested hundreds of recipes to come up with the perfect combination of Matcha and dark chocolate.
2. The Chocolate Chip cookie— reimagined – We took an American favorite and took it up a notch by adding Japanese Matcha.
3. A Fun New Product – Our cookie is the first on the market, and is well received among the tea community.
www.newyorkteaco.com
Les Georgettes
Les Georgettes are a Parisian cuff brand, specialising in inter-changeable leathers. With over 17,000 variations, you're guaranteed to find the perfect gift.
 
www.smartbuyglasses.com
SmartBuyGlasses Optical Group, a global leading designer eyewear e-retailer with websites in over 30 countries. SmartBuyGlasses offers an enormous range of the world's best brands in fashion sunglasses, prescription eyewear and contact lenses.
For Her:
The Polo Ralph Lauren are an ideal choice for any Women user. The frames are made of Acetate which provides a strong and long lasting eye wear. All sunglasses provide suburb UV protection against harmful rays.
www.smartbuyglasses.com/designer-sunglasses/Polo-Ralph-Lauren/Polo-Ralph-Lauren-PH4097-513413-275352.html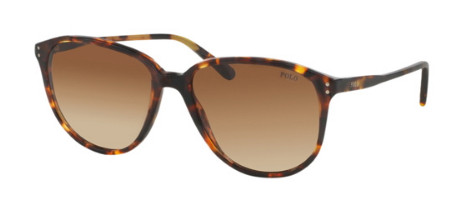 The award-winning Boisset Collection.


Our luxury wine portfolio consists of over 100wines, and our proprietor Jean-Charles Boisset owns 26 wineries in France, andthe Napa/Sonoma area. We are the #1 wine producer in Burgundy France, #3 in allof France and in the top 25 in the US! You probably have heard of some of ouraward winning wineries like Raymond, Buena Vista, DeLoach, and JCB. See our wineportfolio here —https://my.boissetcollection.com/Tiffany.Bradshaw/products/catalogs/wine
Memorable and Unconventional Wine-Related Gifts:
1. Gift a Wine Tasting: We can have one of our Wine Ambassadorscome to a home or office and lead a traditional guided sit-down tasting for upto 15 guests (starting at just $100) https://my.boissetcollection.com/tiffany.bradshaw/products/catalogs/wine_flights
2. Gift a 1-year Boisset Wine Society Club Membership. Averages$100/quarter for 3 bottles of Wine. https://my.boissetcollection.com/Tiffany.Bradshaw/wine-club
3. Gift a Wine Budget: Designate a set dollar amount for a luckyrecipient(s) and one of our Wine Ambassadors will work directly with therecipient to find some great wines within the budget and have them shippeddirectly from the winery to that lucky person.
4. JCB CollectorsMembership:secure access to the most allocated & prized JCB wines, including N°1 &N°10 Cabernet Sauvignon, N°3 Pinot Noir and The Surrealist by JCB, through anautomatic, recurring futures reservation. Starts at $500. https://my.boissetcollection.com/tiffany.bradshaw/become-jcb-collector
Wine Club: Boisset Wine Society—Our members get GOOD wine fromall 26 of our wineries.
· No Cost to join –Instant 20% Savings on all other wine orders.
· ComplimentaryTastings at all 26 Boisset properties around the World (for you and 3 guests!)
· Customizable shipmentsfrom monthly to quarterly
Join or get more info here: https://my.boissetcollection.com/Tiffany.Bradshaw/wine-club
Tiffany Victoria Bradshaw, MBA
SeniorWine Ambassador–Boisset Collection
https://my.boissetcollection.com/Tiffany.Bradshaw
Valentine's Day is right around the corner… have you thought about what to gift your sweetheart yet?
www.weteachme.com
With the WeTeachMe Gift Card, you and your Valentine will be able to share a wondrous experience on the most romantic holiday of the year. Whether you've been together forever, just started dating or are proudly single, there's a perfect class you can pour your heart into. With the WeTeachMe Gift Card, simply choose the amount and set the stage to the perfect retreat to romance.How about skip the clichés and impress your Valentine by treating them to something really extraordinary? Show them how much they mean to you by gifting them with an unforgettable experience where you both learn, grow and make memories for a lifetime.
WeTeachMe is the go-to place for people to discover and book the best and most popular classes in Australia. Every class at WeTeachMe offers an amazing learning experience ̵ 1; one that will have you discovering new things, as well as making new and unforgettable memories.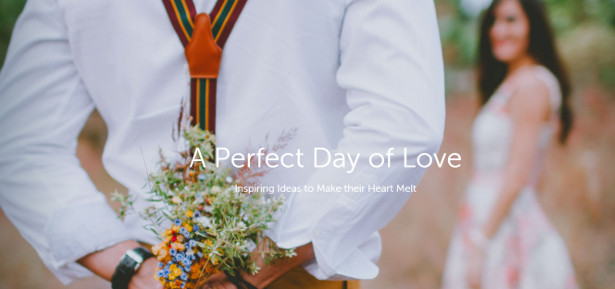 Eureka 89, the boutique dining space situated at the top of Eureka Tower, presents a Valentine's Day dinner 300 metres above the ground.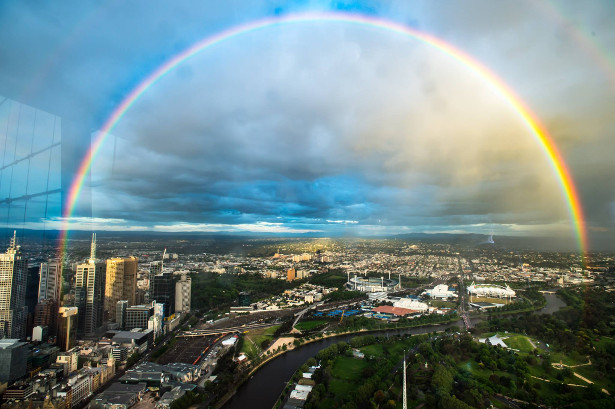 Take in the setting sun and stunning surrounds through floor-to-ceiling windows with a signature cocktail on arrival, before being treated to a mouth-watering four-course dinner prepared by Executive Head Chef Renee Martillano.
What: Valentine's Day Dinner
When: Tuesday 14th February 2017
Time: 6:30pm – 9:30pm
Cost: $240 per person all-inclusive with premium beverage package.
Where: Level 89, Eureka Tower 7 Riverside Quay Southbank VIC 3006
Bookings are essential. To reserve a table, contact 03 9693 8889 or events@eureka89.com.au.
el8te, a luxurious Australian-made and owned natural skincare brand is for a Valentine's Day.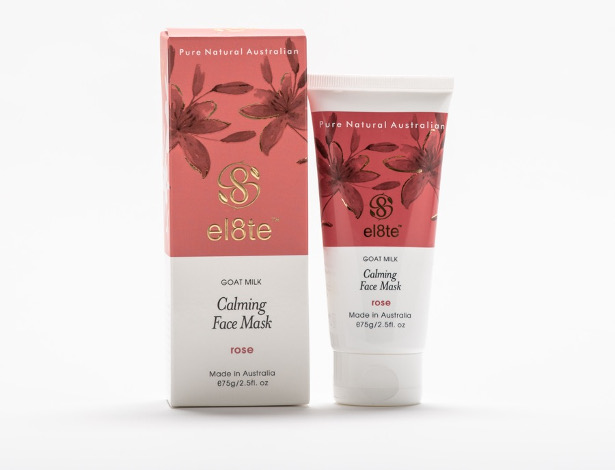 Rose-filled products are the perfect skin treat for a pamper session this Valentine's Day, not only do they smell divine but leaves the skin soft and supple.
el8te is free from harmful chemicals and hidden nasties, meaning el8te is not only good for you but also good for the environment.
Made for Australian skin the range includes antiaging, soothing and natural ingredients like fresh goats milk, rose oil and vitamins A, C B5, E and folic acid.
The Goat & Rose range is perfect for:
Any particular colour or pattern features you may have (gold, red, floral)
Any rose-filled beauty products
Price points (prices range from RRP: $24.95 – $39.95)
el8te's Goat Milk & Rose includes:
Calming Face Mask
Hydrating Face Cream
Foaming Face Cleanser
Moisturising Hand & Body Wash
Nourishing Hand & Nail Cream
The brand is stocked online at http://el8teaustralia.com.au.
The floral packaging is so gorgeous and would make for a gorgeous gift!
A lovely gift box for new mums, or mums to be – a wonderful idea for Valentine's Day and all natural. Organic too… www.avidiva.com.au/product/natural-little-new-mum-pamper/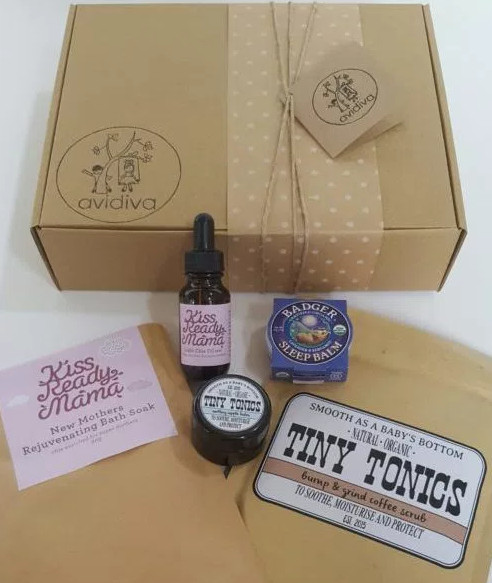 Natural New Mum Pamper Gift Box is a gorgeous selection of all natural products to spoil any new mum. This gift box will truly nourish from head to toe, rejuvenate, and make mum feel pampered and lovely!
The gift box includes Tiny Tonics coffee body scrub, for a great aroma and revitalising scrub in the shower. Kiss Ready chia oil for ultimate hydration, help with stretch marks, and healing. The nipple balm from Tiny Tonics is also a must have. Perfect for breastfeeding, no need to wash off as it's completely safe for newborns. The new mama bath soak is designed to heal after childbirth, and rejuvenate busy mums. Badger Balm is an all natural organic sleep aid with lavender and bergamot, for when mum really needs some shut eye. Great end the day, and to help the mind unwind and relax.
Samantha Moses, beautiful hand made Jewellery – made & designed in Melbourne
www.samanthamoses.com

This Valentine's surprise her with supportive sportswear that doesn't compromise on style.
Tested at the United Kingdom's University of Portsmouth's world renowned Research Group in Breast Health,
this season Triumph introduces new technology which sees fashion meet innovative functionality, Triaction by Triumph. Leading the Cardio range is Triaction's Dynamic LITE® collection, featuring a 3D powertech process which fuses
multiple layers for all-round anti-bounce compression, extreme support and soft comfort that adjusts to your
curves. With a minimum of 73% overall bounce control reduction, the collection guarantees one of the best
support levels on the market, enabling women to feel secure and stylish whilst enjoying any sporting activity.
Also new this season is Triaction by Triumoh Magic Motion, a sports bra based on best-selling lingerie fits and features Magic Motion Air technology. This Studio style offers the support of a wire but with extra comfort and flexibility for the wearer. The smart fabrication has quick dry properties and the perforated cups allow for increased breathability.
This Valentine's Day, we're spreading the love with a range of gifts sure to be on everyone's lips. Write a love letter with a stunning Cross Pen, relax in a bubble bath with the new Bath Pillow from Annabel Trends, Bake a Love Cake with a Jordan Rondel Cake Mix from MELT or fill the room with loved filled balloons from Lark.
 
"The Chocolate Fast: Embracing Your Bliss One Truffle at a Time" by Stasia Bliss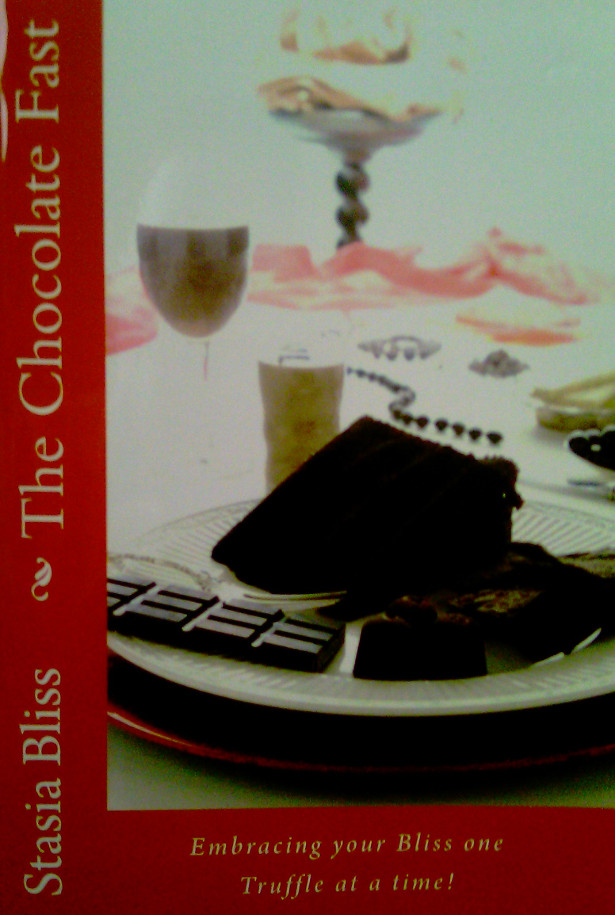 (with a box of chocolate of course) is the perfect Valentine's gift to both support her love of chocolate and her desire to improve herself and find her inner bliss.
Available worldwide on Amazon.com
Link to purchase:
https://www.amazon.com/Chocolate-Fast-Embracing-Bliss-Truffle/dp/1440463328/ref=sr_1_1?ie=UTF8&qid=1485210019&sr=8-1&keywords=The+Chocolate+Fast+by+Stasia+Bliss
For more info visit: www.blissinthehouse.com
LUVVU Mirror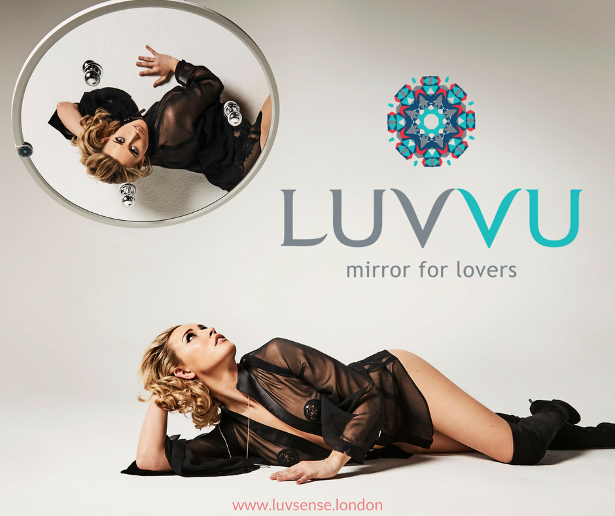 The LUVVU mirror is the world's first detachable ceiling mirror, created for lovers to enjoy an intimate reflection of their own enjoyment; it provides an erotic visual experience for more intense pleasure.
The height and the angle of the LUVVU mirror are adjustable for a range of viewing options. Each mirror has the choice of a clear and red reflection.
The LUVVU mirror keeps playtime private; when it's not in use it can be effortlessly detached from the ceiling and discreetly stored, all that remains visible is an inconspicuous ceiling fixture.
The LUVVU mirror is an ideal product for couples seeking new ways to enhance their intimacy, for Valentines and beyond.
The LUVVU mirror costs £285 and is available from luvsense.london.
P touch Label Maker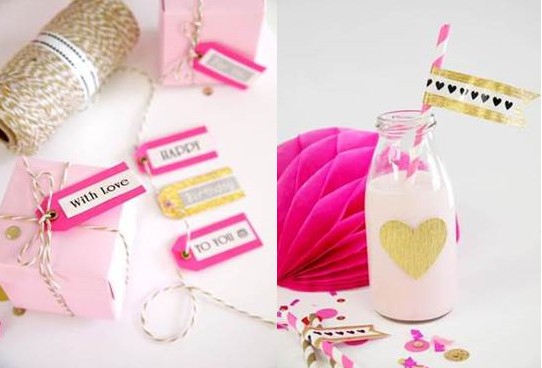 P touch Label Maker (available at Amazon for $30) is the perfect tool to add a personal touch to a Valentine's Day gift. With this easy-to-use machine, you can customize any gift— whether it's for your office spouse, new bae or longtime lover—using an assortment of fun colors and fonts that are available with the P touch.
Some of the creative ways you can use the P touch to make your gift personal and memorable include:
· Upgrade Your V-Day Cards: Go beyond the Hallmark card and type out the lyrics of a special poem or song that will pull at your Valentine's heartstrings
· Create a Real "Sweet Nothing": Type out your own sweet nothings for your Valentine to discover on his/her V Day desserts (see Macaroon flags below)
· Create a Standout Note: Don't let the florist throw a generic note in your bouquet – type out a personal note and message that is worthy of saving
Tell a Love Story with Valentine's Day Wines, Pairings and Cocktails
This year, gift loved ones more than just a stale box of chocolates and overpriced flowers. Whether you are celebrating a romantic night with your significant other, a catch-up session with your best friends or enjoying family time at home…these wines, chocolate pairings and cocktail recommendations offer a meaningful way to show you care.
Ø Romance is in the glass:Wine options that tell a love story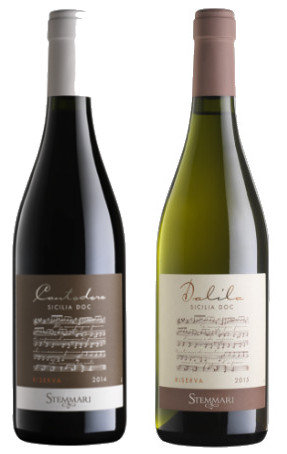 o Stemmari Dalila and Cantodoro – These two wines will taste like music to your ears, literally. The music notes pictured on the bottles belong to a song that describe an Italian love story between the daughter of the winery owner, Dalila, who falls in love with one of the field workers, Cantodoro – and they lived happily ever after, of course! ($9.99)
o Stemmari Baci Vivaci – Named after the Italian term for "Lively Kisses," this bubbly wine is the perfect bottle to share while enjoying a romantic dinner with the one you kiss! ($12.99)
Ø Port Wine and Chocolate:A match made in dessert heaven
o Fonesca Bin 27 Porto ($20.99): This full-bodied fresh and fruity Port wine pairs with Chocolate Covered Strawberries or brownies.
o Taylor Fladgate 10 Year Old Tawny ($31.99): With an amber tawny color, this wine has sweet, elegant apricot flavors. Pairs with almonds, berry fruit desserts and dark chocolate bars.
Ø Pink Corks:Galentine's Day Rosé Style
o Rotari Rosé($19.99): Pop the cork with your Gal's this Galentine's Day (February 13) and enjoy this bubbly rosé all year long ($19.99)
o Croft Pink ($19.99): Who needs flowers when you can taste floral notes in this rose style Port full of fresh fruit flavor? Pass the Port this Galentine's Day with Croft Pink, serve chilled or over ice (or how about an easy to make Frosé?)
Ø Cupid's Cocktail:The Honeymoon Lookout
Ø Honeymoon LookoutCreated by bartender – Sable Kitchen & Bar, Laura Kruming
0.75oz Vodka
0.75oz Taylor Fladgate 10yr
0.75oz Mathilde Pear
0.5oz vanilla syrup
0.5oz lemon juice
3 drops Fee's Old Fashioned Bitters
Shake, strain, coupe
Ukulele for girls to get InTouch with their musical sides!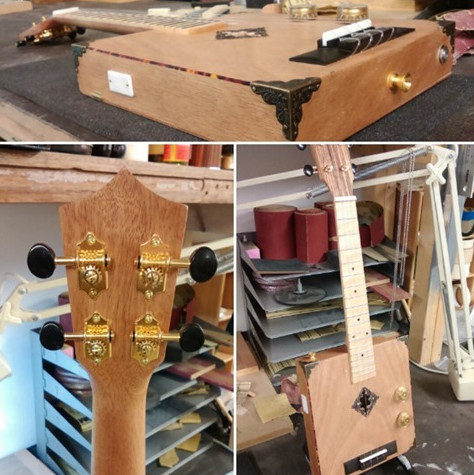 Check www.stringitandstrumit.co.uk for some really cool Electric Cigarbox Ukuleles as well as handmade acoustic ukuleles from high quality tone-wood, up to Tenor size so fine for fellas and ladies with big hands.
www.stringitandstrumit.co.uk
The gift that keeps on giving. MADI Apparel elegant underwear!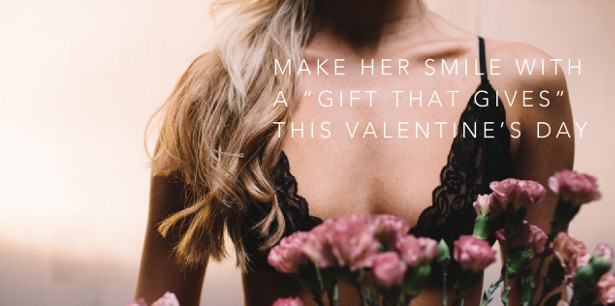 You might not think of underwear as a rugby related gift, but these underwear are the perfect gift for people on the go —see below the amazing self wicking properties of bamboo.
MADI Apparel, (which stands for Make a Difference IntimateApparel), is a line of elegant underwear, sleep tops and bralettes, that donates a new pair of underwear to women in domestic violence shelters,homeless shelters and rape crisis centers for every MADI garment purchased. Buy one, give one. MADI is the TOMS Shoes of underwear. Why underwear? Underwear tops the most urgent needs list of nearly everydomestic violence and homeless shelter and rape crisis center. Those organizations receive clothing and household goods donations, but rarely new underwear.
Another plus, the underwear is made in the US from viscose from bamboo, beautiful high-end fabric that is self wicking, anti microbial and quick drying so women on the go and women in need can hand wash and hang dry a pair overnight -important for women with little access to washers and driers as well as to travelers. MADI is a woman-owned small business and they hire woman-owned cut and sew teams to manufacture the underwear in the US, substantially lowering their carbon footprint.
So far, MADI has donated over 3,500 pairs of underwear to women in need through 26 partnered organizations including domestic violence shelters, homeless shelters, rape crisis centers and international aid organizations.
The underwear cost between $30 and $34, bralettes are $46 -$48 and the sleep tops are $54- 56. We will be happy to provide photos and any additional information that will be helpful. MADI has been featured in a wide variety of media, television, print, online including being named one of the 10 Coolest Feminist Shops on the Internet by NYLON www.nylon.com/articles/feminist-online-shops
Here is a link to the online store
MADI Apparel
America's Most Impactful Intimates
www.madiapparel.com
Minivan Mafia™ Travel Mug
www.pagetwosixtyone.com
Wanna be the baddest mom on the block? Join the mafia here! Hauling kiddos around is no joke so you might as well look good doing it. Rock your mug at their game or in the carpool lane and rest assured no one will mess you with you, mama!
 
Piibu
Offering a monthly subscription box that sends you an assortment of facial sheet masks from well-known brands, for $15/month.
www.piibu.com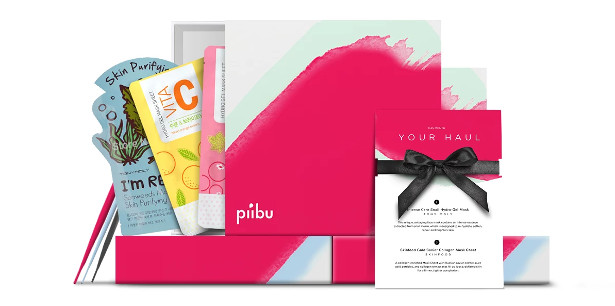 Sahara Rose luxurious Healthy skin Gift Set, is perfect for any occasion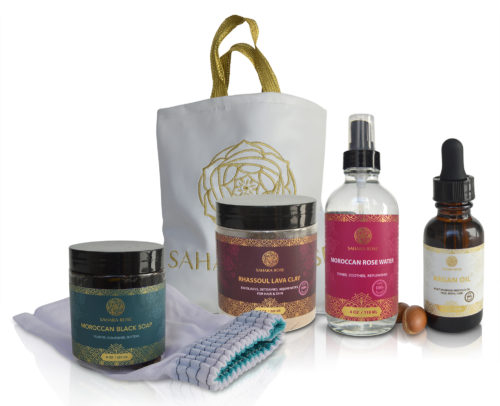 All in a Limited Edition handmade leather bag.
www.sahararose.com/index.php/product/sahara-rose-healthy-skin-set/
Set Includes:Powerful-Pure Argan Oil (1 fl. oz.)Super Detoxifying Rhassoul Clay (8 fl. oz.).Ulta Plumping Rose Water Toner ( 4 fl. oz.)Deep Cleansing Moroccan Black Soap (8 fl. oz.)Deep Exfoliating Mitt Body ScrubLimited Edition Sahara Rose hand embroidered Leather bag.
Sanders is a classic chocolate company that first opened its doors in Detroit in 1875.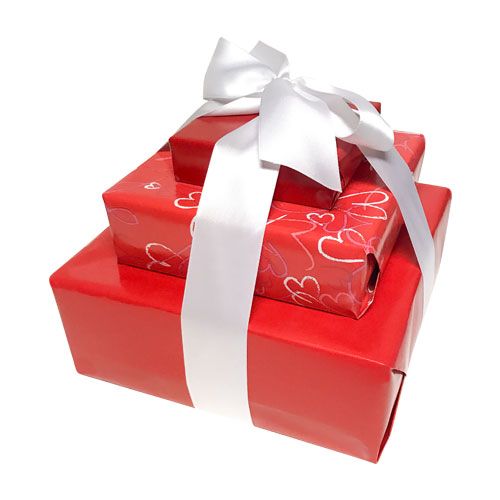 Known for items like our Sanders Hot Fudge, Bumpy Cakes and Dark Chocolate Sea Salt Caramels. Their fine chocolates have always been a Valentine's Day favorite. One popular gift is our pre-wrapped Valentine's Day Chocolates Gift Tower:
Boulevard Collection Boxed Chocolates Valentine Tower – $33.99
A beautiful arrangement of our Boulevard Boxed Chocolates stacked and covered in Valentine's Day themed gift wrap – this Valentine's Day tower of boxed chocolates features elegantly wrapped Boulevard Collection Boxed Chocolates including 14oz Dark Chocolate Sea Salt Caramels, 3..5oz Milk Chocolate Pecan Torties and our popular 2oz Four Favorites Assortment.
www.sanderscandy.com/boulevard-collection-boxed-chocolates-valentine-tower.html
Tramps Fashion Compression Hosiery.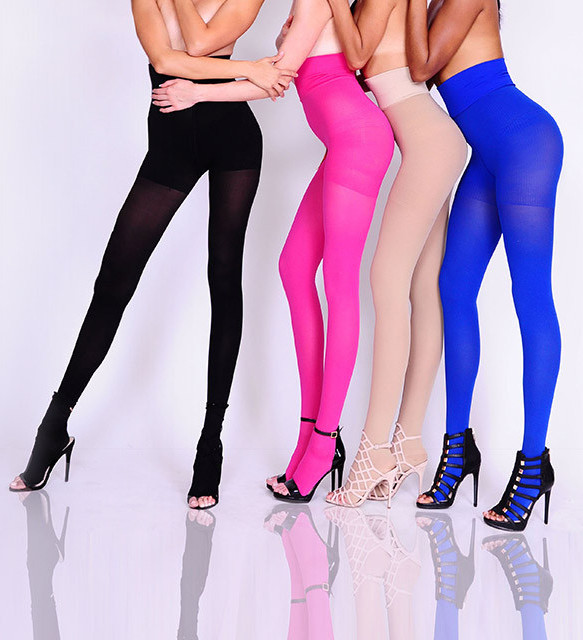 A new line of modern, colorful compression hose for women who work on their feet and need to protect their legs but also want to look and feel great doing it. www.trampshosiery.com.
Valentine's Day Gifts for the Fit Chick!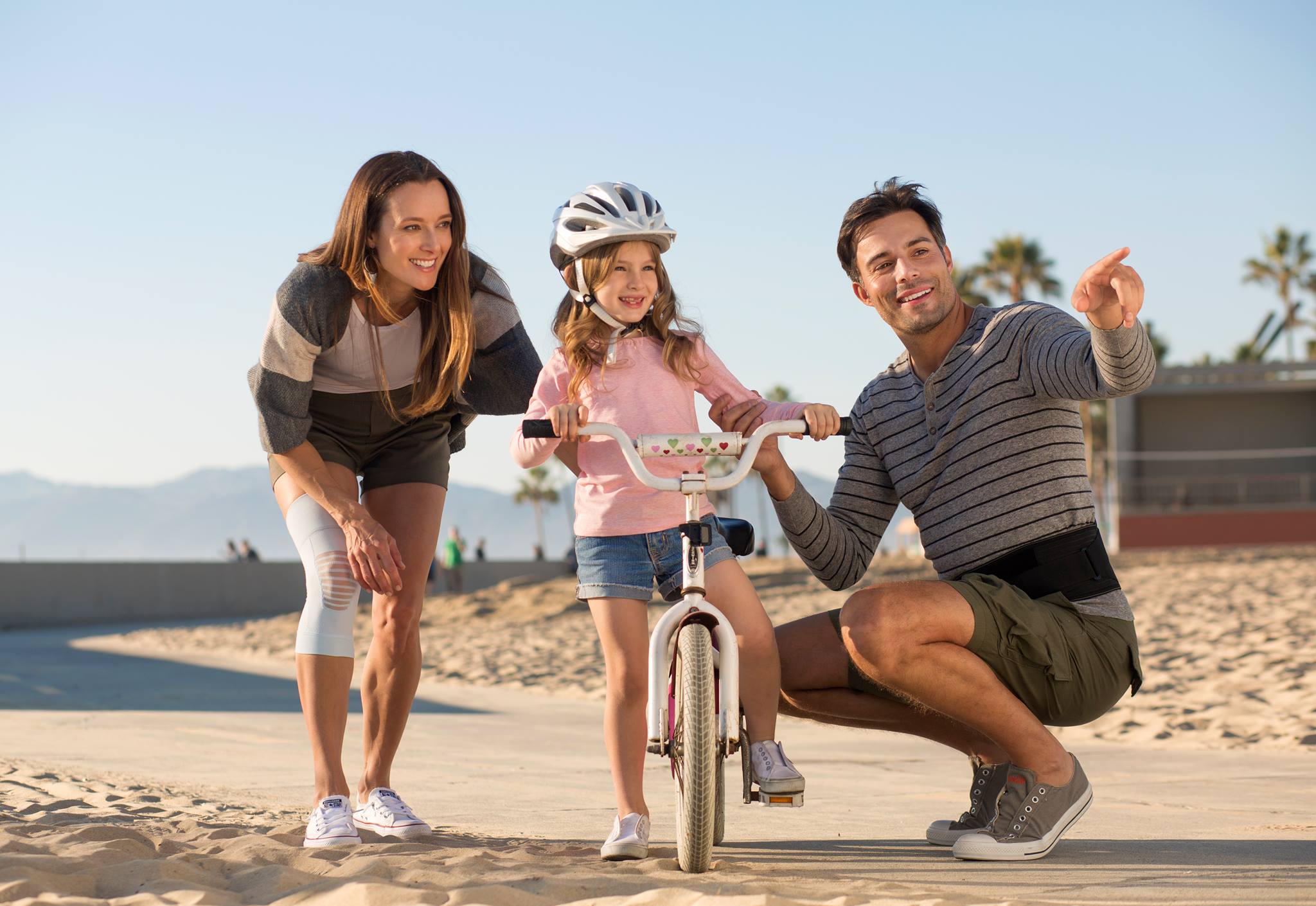 Vantelin power calf and knee athletic compression supports that use Kinesiology taping technology theory.
Benefits of the supports may include:
– joint protection
-compression, which allow tendons and muscles to work in a more cohesive ways
-increased blood circulation—which is needed for recovery and alleviating sore muscles.
-increased energy
-lessen muscle fatigue for the user
-prevention of future injuries
-placing your body in correct alignment, which allows your body to work more efficiently
www.ilyssalonda.com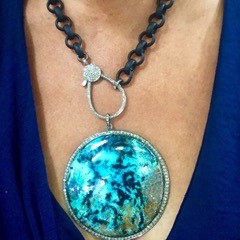 I have loved making and wearing jewelry for as long as I can remember. Attending college on the West Coast, I was inspired by the various indigenous earth elements found in the mountains and desert. I found it to be so cathartic to be creative as I spent hours in bead shops creating necklaces, bracelets and earrings I made for friends and myself. The moment came when I started to develop finer jewelry for myself. This started by recycling my own jewelry. I came up with a design for a ring and implemented it by taking stones out of earrings I owned and melting down gold from old pieces- Making my first signature ring which I still love and wear today, 9 years later. In the spring of 2015, I decided to share my jewelry designs and commit to the trade in a way like never before. I can't wait to share my designs!
Grokker is an on-demand video wellness service for busy people on-the-go.
Whether you have 5 minutes or 50, Grokker has fitness, yoga, meditation, and healthy cooking videos that fit into your work day. Automatic calendaring and reminders help busy people schedule time for their health. And the videos are all levels so they can use Grokker for a 5-minute breathing meditation or a 30-minute HIIT abs class. The instructors are all on Grokker's free online community, answering real questions and giving advice every day.
Your sweetheart can access Grokker on their phone, TV (Amazon, Comcast, Apple TV, Roku), PC, or Apple watch.
Bravely (www.bravely.org)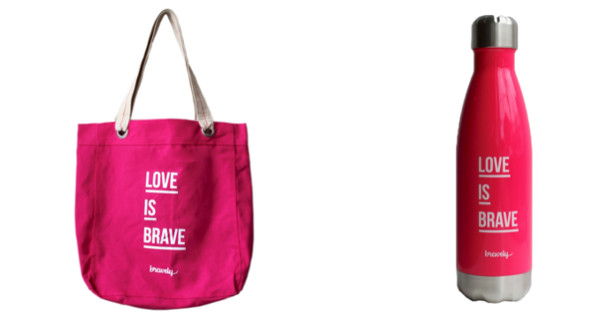 These are great, feminine gifts for women who would appreciate that their gift gives back to women in need. Two valentines products are: our pink water bottle, which is double-walled, vacuum sealed, and keeps drinks hot or cold for an entire day. And our pink tote bag, which is fully lined with an interior zip pocket. Both of these products feature our tagline, "love is brave" reminding everyone that choosing to love is a brave choice.
Bravely employs women who are recovering from sexual exploitation and addiction. They design, market and sell these products, all while getting hands on job training and earning and living wage.
Find your missing piece this Valentine's Day!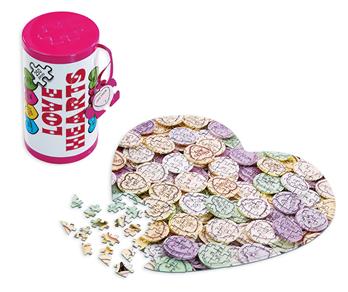 Gibsons, the independent, family-owned British jigsaw puzzle and games company, have the perfect chocolate alternative for Valentines' Day this year.
Although every lucky lady appreciates flowers and chocolate treats on the special day, Gibsons' Love Hearts jigsaw puzzle is a great gift for anyone who is looking to take more of an unconventional approach this February. Love Hearts is a 250 piece jigsaw that has been inspired by the iconic Swizzles sweets that have been a part of our lives for over sixty years. Packaged in a sturdy tin that is designed to match the classic Love Hearts tube, the adorable heart shaped puzzle features hundreds of love hearts with all of your favourite corny captions. It's the ideal gift for every sweet lover…but without the calories!
Gibsons' jigsaw puzzles are made from 100% recycled, high quality puzzle board. The Love Hearts jigsaw puzzle is part of a British classics range which includes Marmite, Mr Men and Pringles.
Love Hearts is available in high street stores, independent retailers, garden centres and online, including Argos, Amazon, John Lewis and Ocado. Find your nearest retailer here: http://gibsonsgames.co.uk/where-to-buy/
RRP £10
www.crosleyradio.com
Crosley's Cruiser Deluxe features a stylish design alongside advanced pitch control and Bluetooth. It's perfect for the more fashionable that loves all things vintage, and comes in 9 colors – ranging from blue to pink. (http://www.crosleyradio.com/turntables/product-details?productkey=CR8005D&model=CR8005D-BK)
www.incredi-bull.net
ANTI VALENTINES RETURN -with a special offer!
Incredi Bull is proud to release an anti-valentine for Trump and, we are making a special offer.
The Trump anti-valentine makes a politicalstatement with a movement. And we will donate 45% of the price to the cause ofyour choice. You have the right to freeexpression and free assembly but effective protest costs!
Don't join a movement, SEND ONE!
www.incredi-bull.net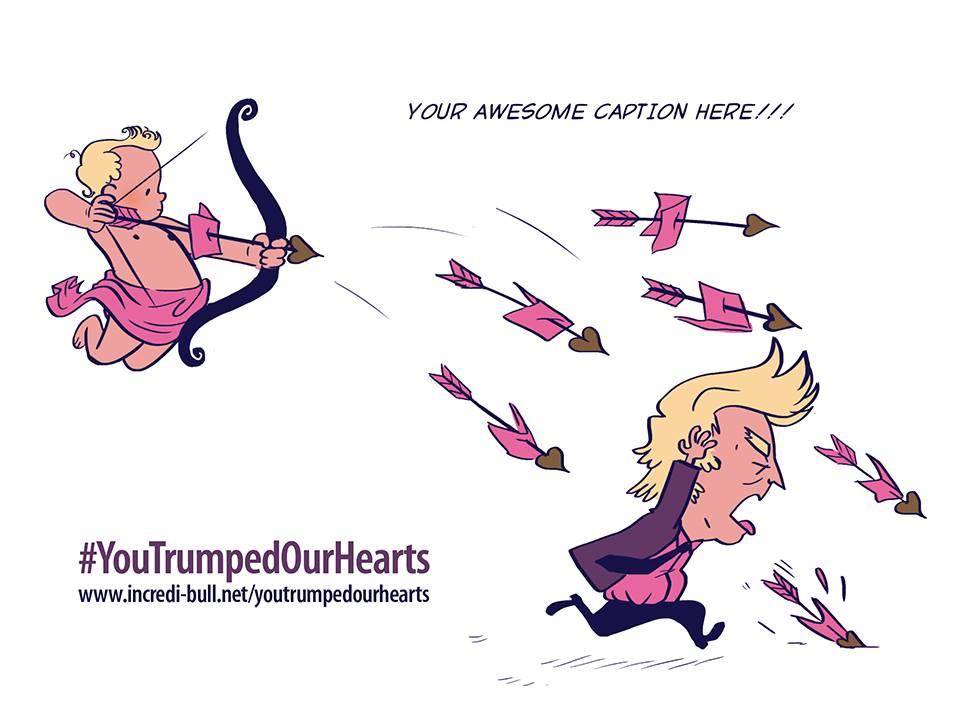 Fall in LOVE with a RedBalloon experience this Valentine's Day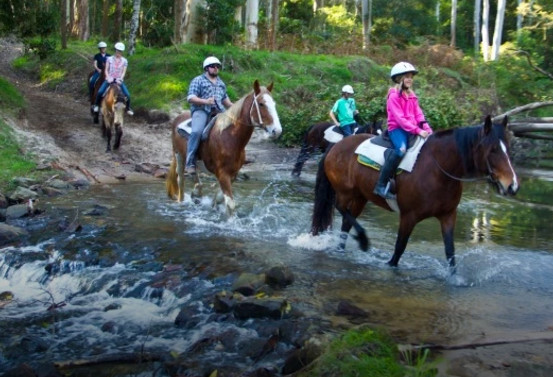 Roses are red, violets are blue, and this year RedBalloon has the perfect Valentine 's Day gift for you! With the most romantic day of the year just around the corner it's time to start planning your gift for that special someone.
Whether your heart yearns for the outdoors, a quiet dinner for 2, a relaxing massage or the adventure of a lifetime, RedBalloon has it covered with almost 4,000 unique experiences to choose from Australia wide.
To ease the decision making process we have put together our favourite His and Hers experience from each state, Please find links to the imagery here.
Alternatively, for those who don't quite know what to buy then perhaps their gift card is for you, which are available through selected major retailers nationally, including Coles, Woolworths, Big W, Australia Post, Target, Kmart and Officeworks.
For further information and to browse all the RedBalloon experiences available for Valentine's Day simply their visit website: https://www.redballoon.com.au/valentines-day-gifts
NSW
Experience for Her – 2 hour Guided Horse Trail Ride
https://www.redballoon.com.au/product/outdoor-activities/horse-riding/guided-horse-trail-ride-2-hours
Experience for Him – Helicopter Flight over Sydney
https://www.redballoon.com.au/product/flying-experiences/helicopter-flights/helicopter-flight-over-sydney
VIC
Experience for Her – Glamping in Melbourne
https://www.redballoon.com.au/product/getaways/luxury-retreats/luxury-rooftop-glamping-in-melbourne-cbd-midweek-for-2-adult
Experience for Him – Luxury Lambourghini car hire
https://www.redballoon.com.au/product/driving-experiences/sports-luxury-car-hire/lamborghini-passenger-ride
QLD
Experience for Her – Brisbane Kayak Tour
https://www.redballoon.com.au/product/water-sports/kayaking-canoeing/brisbane-kayak-tours
Experience for Him – Abseiling at the Kangaroo Point cliffs
https://www.redballoon.com.au/product/adventure-sports/abseiling/abseiling-the-kangaroo-point-cliffs-
SA
Experience for Her – High tea with Champagne Weekend for 2
https://www.redballoon.com.au/product/gourmet-gifts/high-tea/high-tea-with-champagne-weekend-for-2
Experience for Him – Wine tasting class at Darenberg
https://www.redballoon.com.au/product/gourmet-gifts/wine-tasting/wine-blending-class-at-darenberg
WA
Experience for Her – Sunset Catamaran cruise with Champagne for 2
https://www.redballoon.com.au/product/water-sports/sailing/sunset-champagne-cruise-by-catamaran-for-2
Experience for Him – 30 Minute Tiger Moth Scenic Flight
htt ps://www.redballoon.com.au/product/flying-experiences/scenic-flights/30-minute-tiger-moth-scenic-flight
NT
Experience for Her –1 hour Sunset or Sunrise Camel Ride
https://www.redballoon.com.au/product/outdoor-activities/animal-experiences/sunset-or-sunrise-camel-ride-
1-hour
Experience for Him – Uluru Daytime Tandem Skydive for 2
https://www.redballoon.com.au/product/flying-experiences/skydiving/uluru-daytime-tandem-skydive-12-000ft-for-2-adult
TAS
Experience for Her – Winery Tour Lunch and Mono Art Gallery entry for 2
https://www.redballoon.com.au/product/gourmet-gifts/wine-tasting/winery-tour-lunch-and-mona-art-gallery-entry-for-2
Experience for Him – 20 Minute Scenic Helicopter Flight over Hobart for 2
https://www.redballoon.com.au/product/flying-experiences/helicopter-flights/scenic-helicopter-flight-over-hobart-20-minutes-for-2
ABOUT REDBALLO ON
RedBalloon.com.au is Australia's most awarded online experience retailer and home of 'things to do'. RedBalloon has sold almost 3 million experiences since it was established in 2001. Today it offers more than 3500 unique experiences from more than 1000 providers across Australia and New Zealand. RedBalloon also distributes gift cards through selected major retailers nationally, including Coles, Woolworths, Big W, Australia Post, Target, Kmart and Officeworks. Visit redballoon.com.au for more information.
ALL FOR HER – RY'S PICK OF THE BUNCH FOR VALENTINE'S DAY
As Australia's largest online hair, skin and makeup retailer – there is no better one-stop-shop for all her Valentine's Day wants. RY.com.au has pulled its top gift ideas that she's sure to love, no matter the budget:
COSMETICS:
LIME CRIME MINI VELVETINES TRIO SET – RY PRICE: $40

The original liquid-to-matte lipstick, Velvetines, is now available in minis! Brand new, never-before-seen shades as well as Lime Crime classics are wrapped up in a stunning keepsake tin, which is a treat of its own. Award-winning Velvetines formula goes on liquid and dries transfer-proof. The perfect gift for a makeup lover, it makes your lips feel luxurious and velvety and lasts up to 10 hours with minimal touch-ups. Available in Red Rose, Pink Rose, Champagne Rose, Fuchsia Rose or Blue Rose.
PONI COSMETICS BROW KIT – RY PRICE: $55.00
This is an easy to use kit, designed to help you create flawless eyebrows every day. A great value pack that comes with Brow Powder, Brow Wax, Brow Highlighter and Pro Brow Brush. Each product will help you achieve salon results at home. Palomino suits Blonde to light brown hair. Includes 1 x Brow Pop Eyebrow Highlighter 7.5g, 1 x Brow Powder, 1 x Brow Wax and 1 x Pro Brow Brush.
LULU & LIPSTICK BRUSH SET – RY PRICE: $118.95
Lulu & Lipstick signature brush set contains 12 magenta & gold trimmed brushes that are everything you need for a flawless face. Each brush is created with a purpose in mind but is aimed to be multi-functioning to best suit your needs and help you achieve whichever look you please. A great alternative to a makeup sponge, these brushes are created with only the finest quality bristles that eliminate bacteria growth and product absorption. Brushes come packaged in convenient pink faux leather travel roll for use on-the-go and are the perfect travel companion for any trip. All Lulu brushes are made from high quality fibers and are completely 100% vegan and cruelty free.
HAIR:
NAK AROMAS SMOOTH TRIO PACK – RY PRICE: $40.00
Nak Aromoas Smooth Trio Pack is perfect for those trying to tame frizzy, unruly hair. The pack contains a smooth shampoo to rehydrate and restore dry hair, a moisture rich conditioner that assists to restore and maintain condition along with a smooth straightening crème designed to smooth, soften and straighten hair. All three possess the nourishing benefits of argave oil.
MOROCCANOIL THE REPAIR COLLECTION – RY PRICE: $72.95
This hair care pack repairs, strengthens and protects damaged, coloured and chemical treated hair. The moisture repair shampoo is loaded with antioxidant argan oil and reconstructive keratin to help strengthen the hair, along with fatty acids to nourish the hair. The moisture repair conditioner helps restore elasticity, moisture and manageability for damaged hair while also being free of sulfates, phosphates and parabens. And the pack's treatment oil absorbs instantly to fill gaps in hair created by heat, styling and environmental damage.
WELL SP LUXE OIL PAMPER PACK – RY PRICE: $75.00
Transform your hair with liquid luxury. The professional shampoo gently cleanses impurities while keratin and panthenol penetrate the hair to anchor water molecules with hair proteins for strength and hair reconstruction. The conditioning cream instantly softens and works in synergy with a luxurious blend of argan, jojoba and almond oils to intensely rejuvenate the hair. The reconstructive elixir is a quality non-greasy, lightweight oil that will leave hair feeling great and smelling amazing without weighing down the hair.
SKINCARE:
DERMALOGICA BRIGHTENING DUO – RY PRICE: $79.00
This best-selling duo is the simplest solution to healthy, glowing skin. Dermalogica Daily Microfoliant, is its number one exfoliant, with fine beads that are gentle enough for daily use but powerful enough to slough through dead skin cell. Dermalogica PreCleanse is a light, plant-based cleansing oil that effectively liquefies sebum without disturbing natural barrier lipids. These oils then emulsify when you add water to encapsulate and remove the trapped debris, allowing for glowing, and healthy skin.
KORA ORGANICS BY MIRANDA KERR CLEANSE PACK – RY PRICE: $89.95
Value pack including purifying day and night cream, a light-weight daily moisturiser blended with natural and organically grown plant extracts of grapefruit, mandarin and green tea that help to control excess oil while providing the skin with optimum hydration. This gift also includes a foaming cleanser that is gentle, soap free, foaming and formulated for oily to combination skin. Natural ingredients including aloe vera, green tea and sandalwood protect the skin from free radical damage while leaving it feeling fresh, invigorated, and clean.
ENDOTA SPA ORGANIC HYDRATING SKINCARE PACK – RY PRICE: $100.00
Ideal for dry to normal skin, this pack contains essentials from Endota Organics skincare range to nourish and restore dehydrated skin. Includes the moisture restore cleansing milk to help nourish while removing make-up and impurities, the Hydrate Me Mist will set make-up and revitalise skin during the day and the deep hydration face moisturiser will deeply replenish lost moisture and help strengthen skin elasticity.
THALGO NO.7 EXCEPTION ULTIME SOLUTION SKINCARE PACK – RY PRICE: $279.00
Ultimate trio pack to smooth out skin and diminish the appearance of dark spots and circle. Includes a time solution cream to smooth wrinkles for a redefined face, serum for re-plumping the skin in an instant to reveal the youthful beauty of skin and an eye & lip cream containing a precious concentrate of active molecules with lifting, anti-puffiness and anti-dark circle benefits.
Valentine's Day Hampers
www.livingorganicco.com.au
Be Mine (for her) $75
Show your special lady some love with our Be Mine hamper.

This hamper includes drinking chocolate, dark organic chocolate, Turkish Moon body lotion with a warm, floral, spicy scent including frankincense and patchouli and a Lakshmi Lip Tint which is made entirely from natural and organic ingredients, bringing out the natural rosiness of lips and nourishing them with organic coconut and olive oils.
Love Pamper Hamper (for her) $117
Surprise her with our Love Pamper Hamper, created to spoil and relax her and make her feel like the beautiful goddess that she is.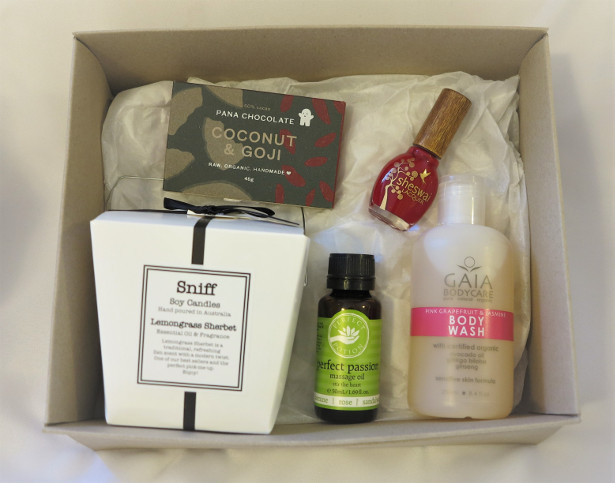 This hamper includes a Perfect Passion Massage oil, coconut & goji Pana Chocolate, Lemongrass Sherbet soy candle, Sheswai bright red Honeyfox lacquer that's fun & flirty and GAIA Pink Grapefruit & Jasmine body wash.
Stamped Wit Love
Personalised Hand Stamped Jewellery. Each piece is Unique and Personal.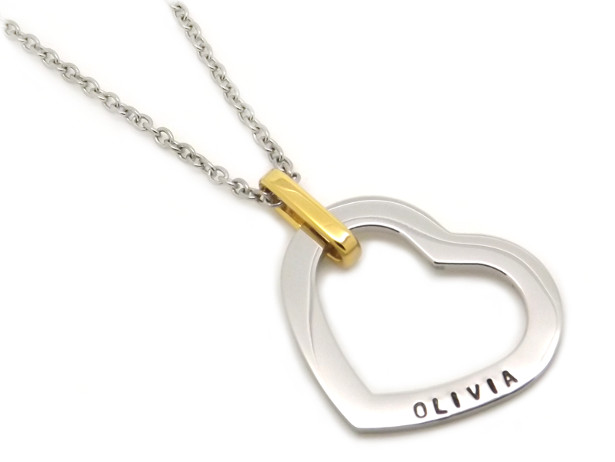 They have a range of Valentines Jewellery pieces in our Collection which caters for 'Her'.
They invite you to visit our website to view our full Collection.
Please visit www.stampedwithlove.com.au
Lauren St. Julian
Lauren St. Julian is a line of sterling silver jewelry with fresh water pearls and gemstones. Two of the pieces they are featuring for Valentine's day are:
Sterling silver freshwater pearl earrings:
squareup.com/market/lauren-st-julian/aimee?square_lead=item_embed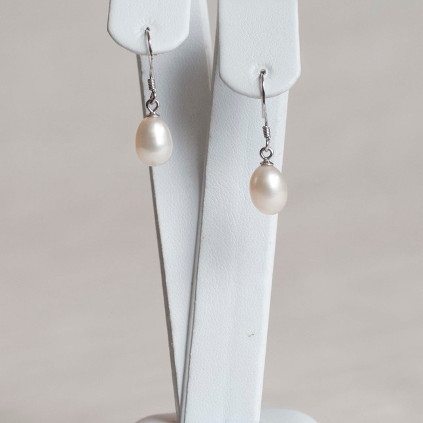 As well as fashion ring available in sizes 6 thru 9
squareup.com/market/lauren-st-julian/je-ne-sais-quoi?square_lead=item_embed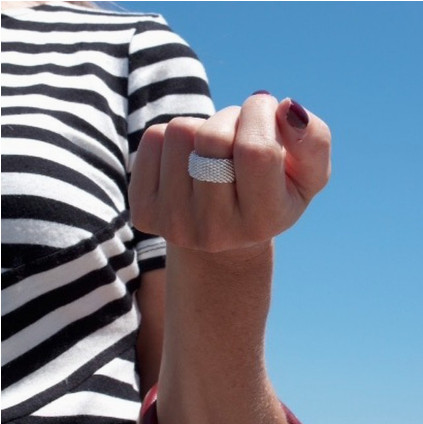 www.stylereform.fashion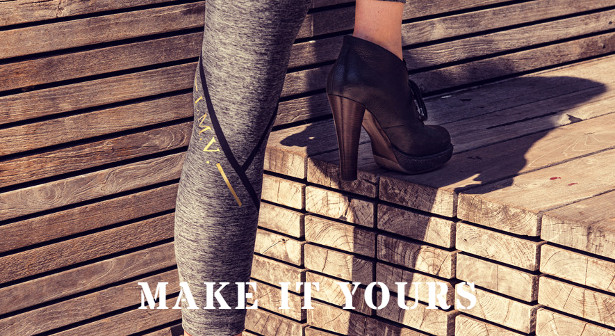 Not every woman loves flowers, and one month into our health and fitness resolutions, we don't all want our partner to give us a huge box of chocolates. So what's the perfect gift for the fitness fanatic or a gift for yourself? A pair of workout leggings from our Valentine's Day collection.
Whether you've just started dating or have been together for years, the customizeable leggings from Style Reform are the perfect fit (pun intended). One of the only athleisure brands to offer custom monogramming using your initials, name or cute V-Day emojis. Check out images of the styles and monogramming here.
Created by a designer in the industry for 17 years, Christy Teloh was sick of the overpriced "luxury" leggings on the market costing hundreds of dollars. Style Reform offers a collection that is high performance and high fashion for a fraction of the price – $60.
Gift a Wine Tasting, Wine Club or wine budget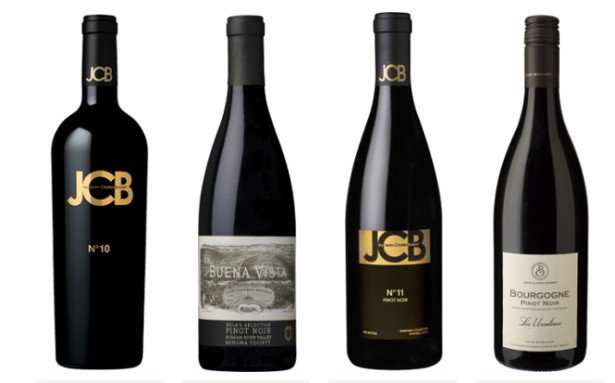 Wine is always a Great Gift: Consider wine tastings, wine club, custom label bottles, wine dinners, wine budgets, wine memberships, charity gifts and wine accessories
Here is a little info about theaward-winning Boisset Collection.
Our luxury wine portfolio consists of over 100wines, and our proprietor Jean-Charles Boisset owns 26 wineries in France, andthe Napa/Sonoma area. We are the #1 wine producer in Burgundy France, #3 in allof France and in the top 25 in the US! You probably have heard of some of ouraward winning wineries like Raymond, Buena Vista, DeLoach, and JCB. See our wineportfolio here —https://my.boissetcollection.com/Tiffany.Bradshaw/products/catalogs/wine
Memorable and Unconventional Wine-Related Gifts:
1. Gift a Wine Tasting: We can have one of our Wine Ambassadorscome to a home or office and lead a traditional guided sit-down tasting for upto 15 guests (starting at just $100) https://my.boissetcollection.com/tiffany.bradshaw/products/catalogs/wine_flights
2. Gift a 1-year Boisset Wine Society Club Membership. Averages$100/quarter for 3 bottles of Wine. https://my.boissetcollection.com/Tiffany.Bradshaw/wine-club
3. Gift a Wine Budget: Designate a set dollar amount for a luckyrecipient(s) and one of our Wine Ambassadors will work directly with therecipient to find some great wines within the budget and have them shippeddirectly from the winery to that lucky person.
4. JCB CollectorsMembership:secure access to the most allocated & prized JCB wines, including N°1 &N°10 Cabernet Sauvignon, N°3 Pinot Noir and The Surrealist by JCB, through anautomatic, recurring futures reservation. Starts at $500. https://my.boissetcollection.com/tiffany.bradshaw/become-jcb-collector
Wine Club: Boisset Wine Society—Our members get GOOD wine fromall 26 of our wineries.
· No Cost to join –Instant 20% Savings on all other wine orders.
· ComplimentaryTastings at all 26 Boisset properties around the World (for you and 3 guests!)
· Customizable shipmentsfrom monthly to quarterly
Join or get more info here: https://my.boissetcollection.com/Tiffany.Bradshaw/wine-club
Cardly.net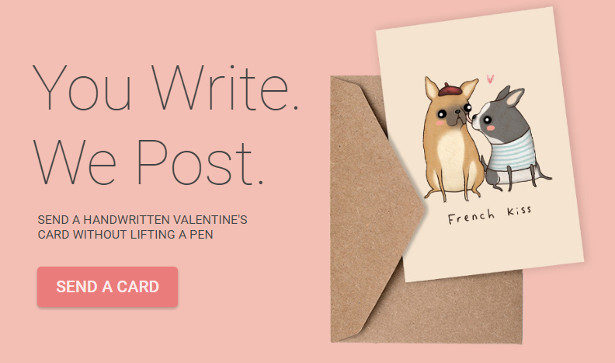 Cardly.net is a new service that allows you to handwrite and doodle inside beautiful, funny and quirky cards using your phone or PC.. We then print and post it from New York, London or Sydney.
We print using the latest digital technology and the finest stock to produce a super high quality card for just $4.95 including the stamp. And we have beautiful designs from 50 amazing artists from around the world – the sort of cards that you'd find at a design market. So any partner is going to be impressed receiving a beautiful, heartfelt handwritten card from us.
But it only takes minutes to do! 🙂 So it's perfect for anyone short of time this Valentine's Day.
www.drawmesexy.com
Draw Me Sexy are gifts for women who want to give their man something fun, sexy, and original. You can see samples of their work here: drawmesexy.com/?gallery=new-gallery
Rejuvenate Your Muscles With Born Skincare
Renew your gym membership – and your skin – this New Year
Did you make a New Year's resolution to hit the gym this year? Born Skincare will be there to spot your aching muscles and keep your skin glowing with their key unique ingredient: grape seed oil. Derived from a variety of grapes, this oil is a natural anti-inflammatory and is loaded with vitamins C and E, essential fatty acids, and antioxidants that help to absorb faster than any other seed oil for lasting results.
The perfect solution for athletes to relax their overactive muscles and for yogis to assist with their breathing, Born Skincare's The Source For Muscles originated from an ancient and powerful remedy for aches and pains. Take a break from your daily cardio and learn how this versatile healing oil can help you recover from a long day at the gym:
The Source For Muscles is a blend of organic muscadine oil, eucalyptus oil and menthol, which allows for the all-natural anti-inflammatory benefits to sooth sore, tired muscles.
With the calming aroma of eucalyptus, this oil is perfect to apply after a tough workout to restore muscles, reduce inflammation and be ready for another day at the gym.
With a Think Dirty rating of 0, this healing oil contains no harmful ingredients, only essential oils and menthol. To be more aware of the potentially toxic ingredients in your cosmetics or personal care products, download the Think Dirty app.
Apply a light layer of oil on sore areas twice daily and massage into the skin to experience the nourishing benefits and allow your muscles to relax.
As an added bonus: Cold & flu season is just around the corner – rub the restorative oil of The Source for Muscles on you, or your little one's, chest and sinuses for a healthier alternative to clearing up congestion.
Ring in the New Year with Born Skincare for radiant results for your fresh, healthy skin and muscles. You'll have no pain, and lots to gain from the refined, rich oils in this skincare line. Made without the use of harsh chemicals, you can get pumped about this Certified Toxic-Free, PETA-approved, and Cruelty-Free brand.
Michaels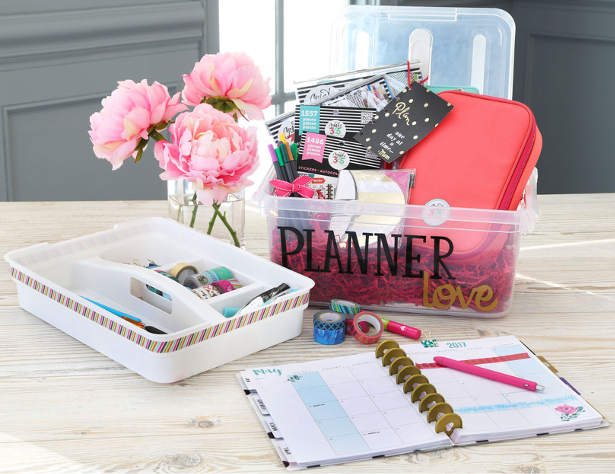 We never need an excuse to celebrate our loved ones, but at Michaels we're suckers for a good theme and Valentine's Day is a perfect occasion to make something special. Whether spending a romantic evening with your S.O. or a night in with the girls, Michaels has all of the resources to help make the perfect gifts and treats for the special people in your life.
Here's a preview of the type of content we can help with:
· Deck out your drinks. Think tassels, glitter, decorative straws and more! Michaels has several projects that take 15 minutes or less to put together and are sure to give your party a special touch. Best part is that this party trick will help guests remember which flute is theirs – i.e. less to clean up!
· Dolled up décor. In the market for wall hangings, tablescapes, streamers or garlands? Well, look no further than your closest Michaels. With ready-made décor to easy DIY, you'll get your home dressed in no time.
· Sweets for your sweethearts. We all know the way to a person's heart is through their stomach! Bake some delicious treats and decorate them to be fun and festive. You can even create DIY goodie bags and baskets to complete the look.
· Write from the heart. Step up your game with handmade, one-of-a-kind Valentine's Day cards for the ones you love. You'll just need some simple tools (think glue, embellishments and printed paper) and a little bit of time to craft a sweet note from the heart.
· Give the gifts that keep on giving. Frame up special moments with your loved ones. It's an easy, cost-effective way to show you care while giving them something they can continue to hold onto.
· Plan something special. Put together a cute and unique organization gift basket with a 2017 planner and accessories. For even more fun – mark a special event or upcoming date night!
· Add an accessory. Rather than wipe out your wallet, choose to make something by hand and from the heart. You can find lots of jewelry projects and trendy pieces at Michaels to create a one-of-a-kind accessory.
PEAK 10 SKIN® is a spa/salon brand of skin, body and sunscreen luxury products.
 HEAD TO TOE gift box from PEAK 10 SKIN® as a perfect way to win your Valentine's Heart and attention.
shop.peak10skin.com/HEAD-TO-TOE-gift-set-1-HTGS.htm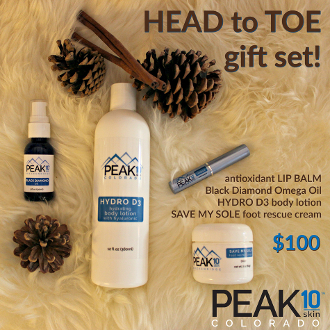 It comes gift wrapped and ready for gifting by Cupid! It comes complete with a lip balm to make those lips luscious and kissable, a luxurious body lotion fit for any princess and suitable for a massage, a special treat of Black Diamond Omega oil a blend of the best beauty oils to be used on your face, lips, cuticles and more…and finally a fabulous foot cream, SAVE MY SOLE! A gentle foot massage will always win your ladies's heart!
Our products are born in the Rocky Mountains and focused on elevating the health and hydration of your skin, with pure, clean, effective products! We were recently featured in Conde Nast Travelers: www.cntraveler.com/story/skiing-skincare-everything-you-need-to-know
www.PEAK10SKIN.com
RunLites – completely rechargeable gloves with super bright built in lights:
www.gorunlites.com
They are perfect for running at night or camping and are available in half length gloves or mittens for the winter.
Queen Necklace
www.aaryah.com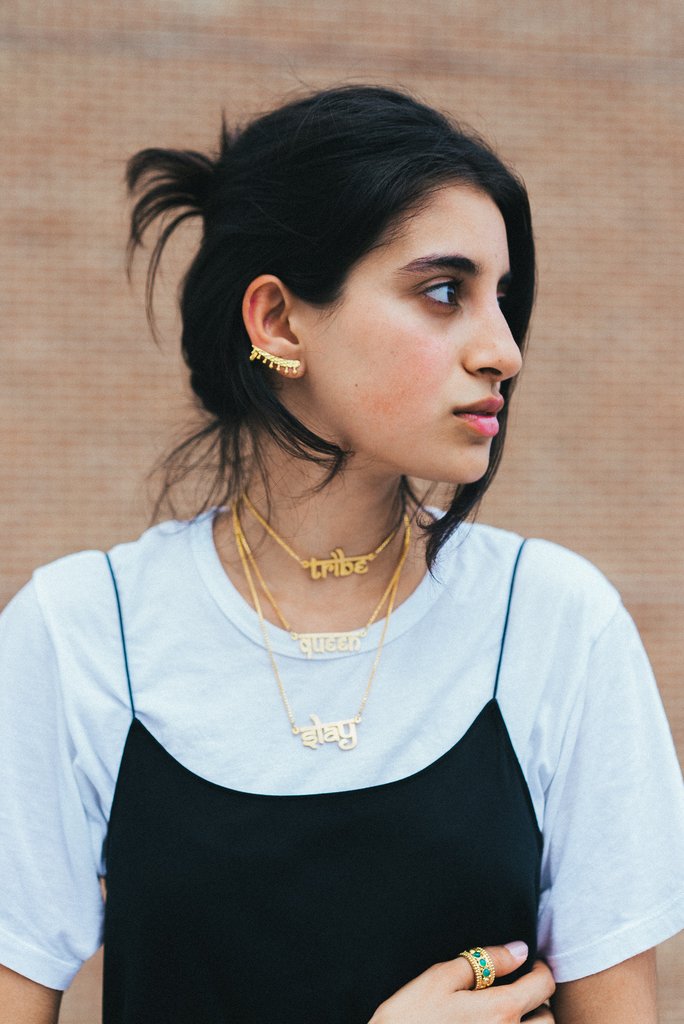 Under $110 and is the perfect gift for the special someone if your life.
She is intriguing, bold, and determined to defy the rules. Uplifted by the unwavering support of her tribe, she fearlessly slays any challenge that crosses her path. Empower the fierce AARYAH queen in your life with a must-have statement piece from the AURAT collection. Indulge yourself or deliver the ultimate gift for an unstoppable female.
It comes in rose gold, gold and silver.
SAMSUNG TECHWIN AMERICA UNVEILS SMARTCAM HD PLUS TO EXPAND SMARTCAM PORTFOLIO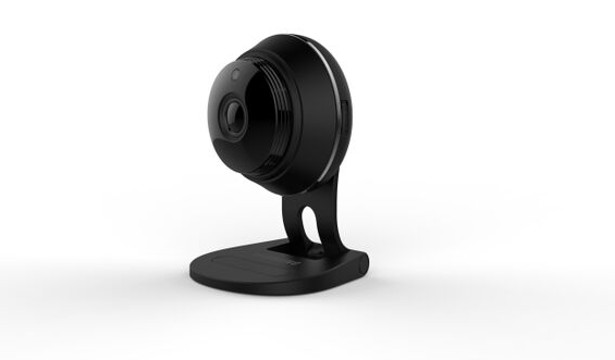 Samsung Techwin's Latest SmartCam Monitoring Camera Amplifies Security for Consumers with Advanced Motion, Audio Detection
NEW YORK CITY – Samsung Techwin America, a leader in consumer video monitoring and security products, today announced the availability of its next generation home monitoring camera – the SmartCam HD Plus.
The new camera offers 1080p HD streaming, 130 degree ultra-wide angle lens and night vision capabilities up to 32 feet, enabling users to monitor a wider range of activity at their homes and businesses via mobile devices. This model includes a Motion Zone Select feature, which allows users to monitor movement in specific areas within the camera's field of view.
The latest addition to Samsung's extensive home security lineup also touts a sleek design with a removable base, providing consumers with the flexibility to position the camera in various locations for an exhaustive view of the vicinity.
"Samsung Techwin America is committed to providing users with a simple, reliable way for consumers to remotely monitor their homes and businesses from anywhere in the world," said Richard Simone, Samsung Techwin America VP of Sales and Marketing. "With the SmartCam HD Plus camera's ease-of-use and wide range of advanced features, users will be better equipped to monitor their loved ones and properties."
The SmartCam HD Plus builds upon preceding models and includes new advancements that will empower consumers to virtually monitor their home or business and peacefully enjoy their travels.
Advanced Features
Motion and Audio Detection – The SmartCam HD Plus distinguishes between true motion and minor repetitive noises, such as swaying shades, falling leaves and rain. If a loud incident occurs or if person or pet enter the vicinity, the user will be immediately alerted of these events through mobile push notifications.
Motion Zone Select – This feature allows consumers to monitor specific areas within the property and receive notifications about any activity in that locale. For example, if a user would like to track anyone that approaches their doorway or window, he or she could simply draw a box around those regions and the camera would share alerts of any movement in the area. The SmartCam HD Plus permits users to select up to three motion zones in its field of view.
Email and Mobile Notification – If the devices detects significant motion or sound in the purview, it is equipped to immediately send push and email notifications to a user's mobile device. Upon receiving the alert, the consumer will be able to monitor the occurrence in real time or set the SmartCam to record up to 30 seconds of footage for review at a later date.
True Day and Night – The SmartCam HD Plus enables users to securely monitor their homes and businesses around the clock. An advanced IR Cut Filter allows the camera to provide accurate, vibrant colors during the day and deliver crisp video in complete darkness.
Ultra-Wide Angle – The SmartCam HD Plus covers more ground than ever before with its expanded, 130 degree ultra-wide angle lenses. This feature will give consumers a more, detailed view of the property because every inch counts.
Local Video Storage – This model has doubled the previously-allotted storage space of its predecessor, allowing users to save up to 128 GB of video on the SmartCam HD Plus through the microSD memory card. Users can also leverage three recording options – set your camera to continuously record or record only when activity is detected in order to save storage space.
The Samsung SmartCam HD Plus is now available at Costco clubs and online at www.costco.com with a MSRP at $189.99. For additional information regarding Samsung Techwin America consumer video monitoring and security products, please visit www.samsungsv.com.
About Samsung Techwin America
Samsung Techwin America is a leading supplier of advanced video surveillance solutions. Building on the company's history of innovation, Samsung Techwin America is dedicated to providing system solutions with the highest levels of performance, reliability and cost-efficiency. As a subsidiary of a $117 billion international market maker, Samsung Techwin America is committed to the continued development of innovative products for professional and consumer security applications. For more information, visit www.samsungsv.com.