Can't decide what to give Dad on Father's Day? Check out the cool collection of items below for the grilling enthusiast and backyard BBQ king!
Burger Lift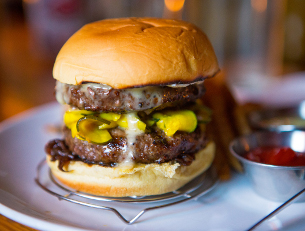 Is Dad the king of the BBQ? He will love The Burger Lift, a device designed to elevate the burger above the plate and give one of America's favorite foods a proper throne to rest upon while the family enjoys dinner! Whether you like to eat veggie burgers, turkey burgers, or beef burgers, the Burger Lift does not discriminate – it does its duty to your delicious burger! For your backyard or beach barbecue this summer, the Burger Lift is a must-have new item! The original Burger Lift is constructed from stainless steel and is dishwasher safe. The design is both lightweight and easy to grab, but sturdy enough to withstand the test of time. It is also available in PP plastic in a vibrant red color. Both styles are sold in a set of four. $10.99 – $24.99.
The Great Plate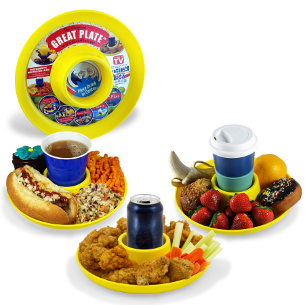 Stop juggling that plate of food and drink at Dad's backyard BBQ! Give Dad and his buddies an extra hand with The Great Plate, an innovative plate and cup holder – in one! It is the perfect companion for every event, from throwing a backyard bash to hosting game night with family & friends. The Great Plate™ easily allows you to hold both your food and beverage comfortably in one hand, leaving your other hand free for eating, drinking, and socializing. Available in a variety of bold colors, The Great Plate is BPA-free, dishwasher/microwave safe, reusable and recyclable. Sold in a set of 4 for $15.
Blends by Orly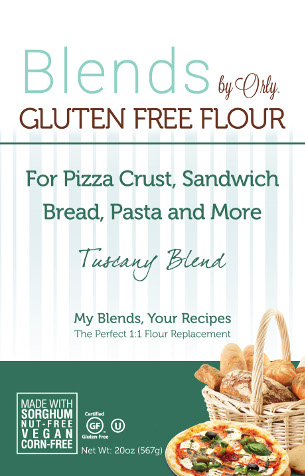 Does Dad suffer from celiac disease or a sensitivity to gluten? Now he can whip up gluten-free burger buns with ease using the Tuscany Blend from Blends by Orly! Store bought gluten free hamburger buns can be dry and gritty, as most are made with primarily rice flour. The burger buns that created using Tuscany Blend have a soft and slightly crusty outside and a fluffy and airy inside. They are a perfect bun for beef and veggie burgers, pulled chicken bbq sandwiches, Sloppy Joe's and more! Blends by Orly are made with the highest quality wholesome gluten free ingredients, providing an easy way to prepare baked goods that are so delicious that people would have no idea they are eating something that is gluten-free! Blends by Orly allows you to make your exact favorite recipes by just replacing the wheat flour with one of the Blends by Orly. Blends by Orly are sold in stores throughout the USA on Amazon and online. MSRP is $8.99 per blend.
Mistaken Lyrics Stainless Steel Glasses
https://mwmade..com/collections/mistaken-lyrics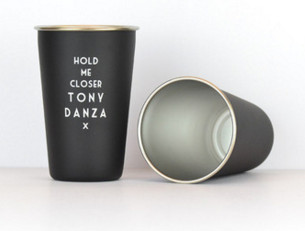 Everyone's got a favorite misheard lyric that are far more entertaining than the originals. It's a well-known fact the Elton John has less than perfect elocution… heck let's be honest, he mumbles many of his lyrics. But we all love him and we love his classic hit "Tiny Dancer" too, but the lyrics he's singing definitely are not "Hold me closer, Tony Danza," Ha! The stainless steel tumbler is a great gift for the fun-loving music-mishearing loved one in your life. Each pint glass comes carefully packaged in a lovely gift box. 15 mistaken lyrics glasses to choose from featuring different song lyrics. $14.50