Essential Oxygen Brushing Rinse provides a better way to brush your teeth for a healthy and radiant smile.

LINKEDIN | FACEBOOK | YOUTUBE | TWITTER
Essentail Oxygen Organic Brushing Rinse is about health! It is great for health-focused people, and is biodegradable so it's eco-friendly and great for outdoors / camping / backpacking.
It's the #1 selling natural oral rinse, and is a toothpaste + mouthwash combo that's anti-cavity, fights bad breath, whitens teeth, and restores gum health. We also NEVER use fluoride, SLS, glycerin, alcohol, parabens, lead, or carrageenan.
Health and green minded people will fall in love with it (if they already aren't) and the new 3 oz. TSA-friendly travel size makes the perfect stocking stuffer!
Essential Oxygen Organic Brushing Rinse retails for $10-13 (USD) and can be found online at essentialoxygen.com, Amazon, Thrive, iHerb, Vitacost, and thousands more online stores. We're also in over 8,000 brick-and-mortar stores across the US, Canada, and Australia including Whole Foods, Sprouts, Pharmaca, Wegmans, New Seasons, PCC Natural Markets, Publix, New Leaf, Natural Grocers, Lassens, Akin's Natural Foods, Raley's, Mrs. Green's Natural Markets, and Nuggets.
IT WORKS
Great for
Whiter Teeth
Fresher Breath
Healthier Gums
Tooth Sensitivity
Morning Mouth
Canker Sores
Tartar
IT'S CLEAN
Free of
Sodium Lauryl Sulfate
Chlorine Bleach
Animal Testing
Pesticides
Fluoride
Glycerin
Alcohol
Buy at >> essentialoxygen.com/products/organic-brushing-rinse/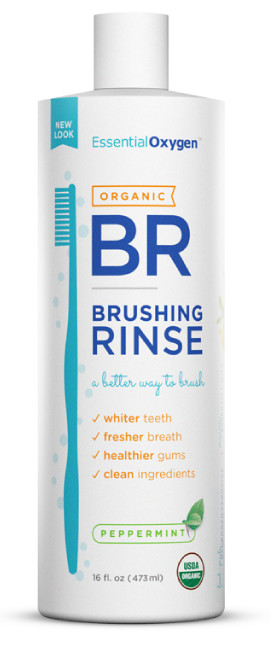 History!
In 1413, four French perfumers by day, thieves by night, robbed plague victims yet never contracted the deadly infection themselves. The thieves remained healthy by dousing themselves with a potent alchemy of essential oils. Upon their arrest, the Magistrate granted them leniency in exchange for their secret formula. Today Essential Oxygen brings you this same powerful blend for your oral health and beauty.